A battle of the Hollywood salons is shaping up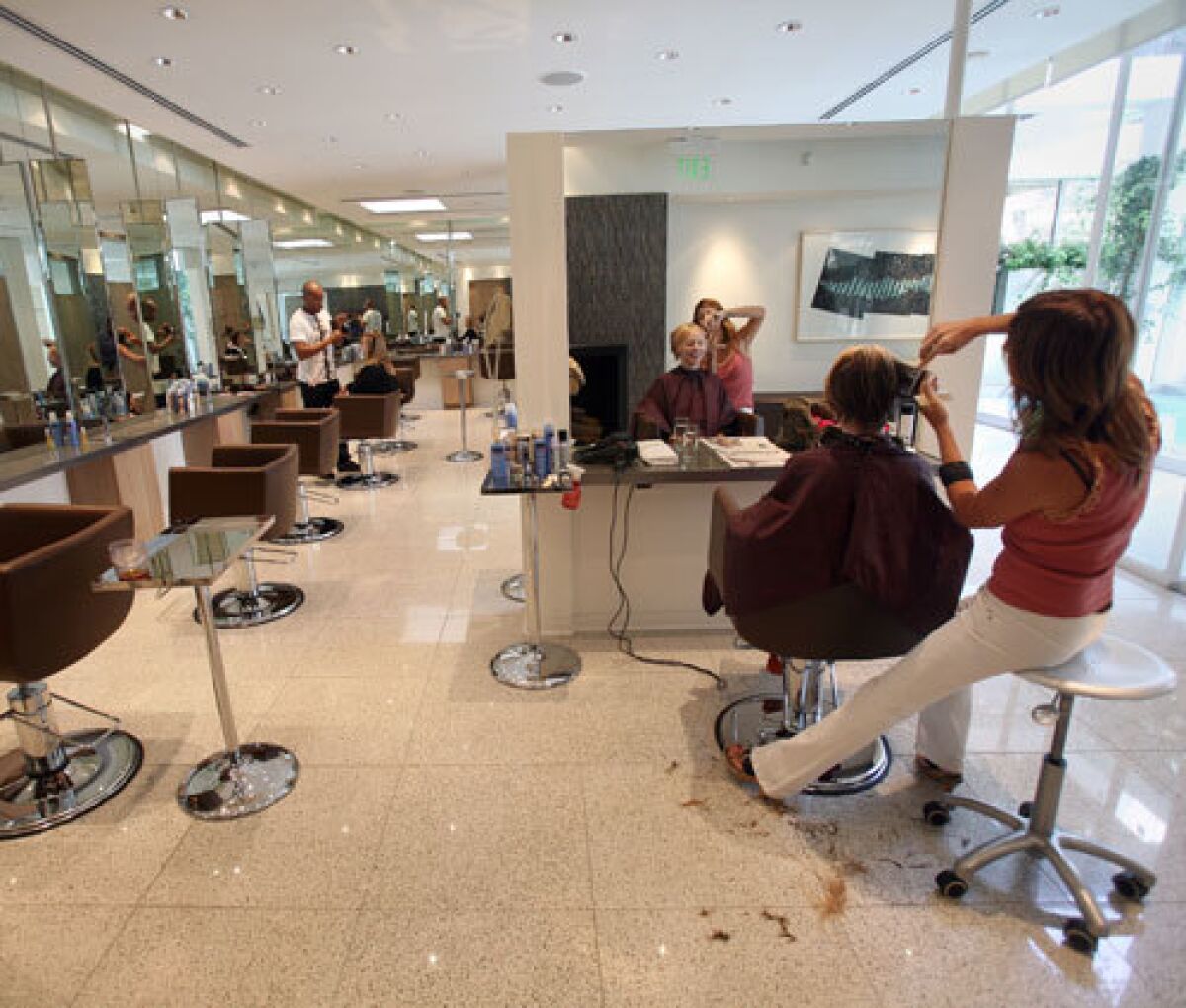 Los Angeles Times Staff Writer
YOU WOULD think they were talking about a defaced historical landmark, the way the gossip was going: "The place used to be so serene, I didn't even mind that it took three hours to get my hair done," said one highlighted regular of the John Frieda Salon on Melrose Place. "I loved it before they redid it. Now it looks like a coke den," chirped another.
Change is hard -- especially for those who shell out $600 for the ne plus ultra of SoCal blond highlights. And, for a certain social set in L.A., the John Frieda Salon has been an oasis since it opened eight years ago, a steadfast spot where chitchat flies and stylists are intimate with every cowlick, split end and gray strand on the heads of their clients, including Hollywood royalty Jennifer Nicholson, Hollywood wife Shawn Southwick (the sixth Mrs. Larry King) and Hollywood actresses Jane Fonda, Katie Holmes and Kate Hudson.
The salon's white minimalist interior, centered around a light-infused courtyard with a crystalline pool brimming with floating flowers, was part of the pampering experience. So was its California-born coif star Sally Hershberger, famous for creating Meg Ryan's shag -- charging $800 for that signature cut -- and rumored to be the inspiration for the character Shane on "The L Word," the Showtime series about chic lesbians living in Los Angeles. She built and managed the salon, then called the Sally Hershberger at John Frieda Salon, and cultivated the considerable talent there, including queen colorist Negin Zand.
But when Hershberger split with Frieda in 2006 to focus on other projects, including two Manhattan salons, her namesake hair-care line and a gig on Bravo TV's hair-styling competition, "Shear Genius," the salon's luster began to fade like 8-week-old highlights. Now the tension between old and new is reshaping the loyalties of the stylists' oh-so-pampered clientele.
For those who think this is much ado about nothing, remember that in Hollywood, hair can be a shortcut to fame and fortune. Jose Eber made his name with his winged style for Farrah Fawcett, and Chris McMillan's "Rachel" cut for Jennifer Aniston spawned a million look-alikes. Before Jon Peters was a producer and studio chief, he was clipping the head of Barbra Streisand. And Warren Beatty got a career boost playing a sexy Beverly Hills stylist in the 1975 film "Shampoo." His character was based on Jay Sebring, the consummate ladies' man (who was killed, along with Sharon Tate and others, in the brutal Manson murders).
In this latest hair-raising tale, after Hershberger left, Frieda (the venerable British hairdresser who built an empire on the drugstore product Frizz-Ease) brought in a new celebrity hairdresser, Serge Normant, from New York. Normant's credentials were impressive -- he tends to the tresses of Julia Roberts and Sarah Jessica Parker -- but his outlook was decidedly, well, East Coast. He'd been at the helm of Frieda's Manhattan salons since 2004.
Eager to put his stamp on the beauty spot, Normant gave the salon "a face-lift," adding stainless steel and chrome to the tranquil, sun-dappled space. Where Hershberger was naturalistic, Normant was industrial. Suddenly, wall-mounted lockers were a design element, and the hidden cash desk, which almost made you forget you were spending $1,000 on your hair, was transformed into a cash station with exposed bolts and a metal cash register.
It didn't take long for chatter around the shampoo stations to go from the wonders of "The Secret" and the latest Balenciaga bag to the decline of the upscale hair haven, which had paved the way for the tony fashion boutiques that now line Melrose Place.
Then last month, before L.A. newcomer Normant had settled in long enough to tell a Pinkberry from a Pink's hot dog, Hershberger was back, opening her own salon barely a scissors toss away on La Cienega Boulevard.
Half of Normant's staff gave notice.
The exodus
HIGH-PROFILE colorist Zand, who counts Cate Blanchett and Scarlett Johansson as regular clients, worked at the Frieda salon for 8 1/2 years before moving to Hershberger's salon. She left out of loyalty to Hershberger but also because of the cosmetic changes. "I feel like John wasn't around, and he let other people do their thing without watching over it," she said.
Karine Joret, president and partner in the public relations firm HL Group in L.A., used the word "unfortunate" to describe the nips and tucks. A longtime client of the Frieda salon, before following her stylists to Hershberger's, she added, "The original space was really serene and soft and tranquil, and some of the new pieces felt harsh and not consistent with the original salon."
Normant, who, by all accounts, is an amiable and talented guy, said he wanted to bring a little New York into the salon. "I introduced a lot of stainless steel and raw materials mixed with modern art and lots of great colors," he said. "It's not like we destroyed the place."
Frieda, who lives in London, said he was in on all the decision-making. "And at the end of the day, clients aren't coming in for the décor. They're there for the services.
"I think sometimes when people have worked in a place a long time and they're suddenly confronted with a decision -- shall I go to Sally's or whatever -- they want to justify that decision. I felt that there were a lot of people looking to find fault."
It does seem like a tempest in a teapot. And who cares what a salon looks like if you leave feeling foxy? Sure, the bulky additions are somewhat out of sync with such a quintessentially California space. But a less-than-flawless redesign doesn't explain the mass exodus of talent -- 10 hairdressers (four colorists and six cutters), a manager and a receptionist.
The loss forced the salon to put assistant hairdressers on the floor (at least temporarily) and has some wondering what the next chapter holds for Frieda and Normant.
When a mentor leaves a salon, it's common for a few stylists to trail after, but a wipeout of this size is rare. When Neil Weisberg left Chris McMillan for Art Mix to co-launch the Neil George salon in Beverly Hills, for example, he made a point of not taking anyone with him.
"When Sally left, she told me that she would probably open a new salon. And they're her people," Frieda said. "She brought them here; she trained them."
But the resignations were so fast and furious, he flew in to hold a staff meeting, during which, according to hairstylists, he implored them to stay. For some, it was too little, too late.
Frieda, who sold his hair-care business to Kao Corp. in 2002 but maintained control of his salons, had not been involved in the Melrose Place salon's day-to-day operation. Had Hershberger been replaced immediately, that might not have been an issue. But in the absence of leadership, some top-earning hairstylists thought Frieda should have made his presence known.
"I had never met John until that day of the meeting, and I worked there for almost four years," said Demetrius Pombo, a Brazilian-born hairdresser whose clients include Holmes and Linda Evangelista, and who left Frieda last month for Hershberger's. "The only reason he came to the salon is that he found out that we were leaving. It's hard to promote a salon for four years and never meet the owner, then have him show up and say we have to come together as a team. It's like, we've been here working . . . . every day. I don't even know who you are."
Adrian Castillo, who assisted Hershberger for two years before earning his own chair in the salon, left after he had to remind Frieda of his name a few times.
"I don't know the hairdressers in L.A.," Frieda conceded. "I haven't worked in a salon in 17 years. I have salons in London that I almost never go into. The salon was built around Sally. She's the one who wanted to have a salon in L.A., and I said, 'OK.' "
Frieda added that there was a "void in leadership" for a time after Hershberger left.
A few hairdressers who left said they were frustrated that they weren't earning a larger percentage of the fees for their services -- which are based on how in-demand a hairstylist is. (Prices for haircuts range from $125 to $600 at Frieda and from $150 to $800 at Hershberger's salon.) Castillo noted that he's "definitely" making more at the new salon.
There was also the feeling that the Frieda salon was losing its buzz. "The celebrity quotient had dropped off," Castillo said, "and there was always a lot of press coming out about all of us -- and that all just stopped. It started to feel like a Beverly Hills salon. Serge is definitely fashion-forward and he's a great hairdresser, but Sally brings a certain edge."
Normant, who unwittingly stepped into a contentious situation, is circumspect about what's happened. "I respect that they were faithful," he said. "I think it says a lot about Sally and her way of keeping a team together. We have that kind of following in New York."
And he says he's in no hurry to fill the stations. "It takes a while to staff back up, and financially it can also be challenging," he said. "But we never really cared about re-staffing a whole place right away. What I want to make sure is that we wait to get the right people."
New York style
INCIDENTALLY, Hershberger also used New York as a design motif in her new salon. On the third floor of a building owned by interior designer Kelly Wearstler, the place resembles a Brooklyn loft: white, stark and minimal, with dark-wood inlaid floors.
Stations are arranged in short rows, with top-to-bottom mirrored panels creating smaller spaces within the massive room. On the walls hang high-fashion photos of Kate Moss and Agyness Deyn. A huge water feature with floating flowers will eventually be installed -- perhaps a nod to her first L.A. salon.
Hershberger, who had approached Frieda about buying the Melrose Place space when she was looking to open her own salon, said, "I'm really not into chilling out when I'm working. It's about high energy and the pulse of the city. I wanted it to feel futurist, and I wanted it to be really sexy."
And sexy it is. Those photos of Deyn and Moss? They're nude. Let the chirping begin anew.
---
Life is stressful. Our weekly mental wellness newsletter can help.
You may occasionally receive promotional content from the Los Angeles Times.