Leggings make a comeback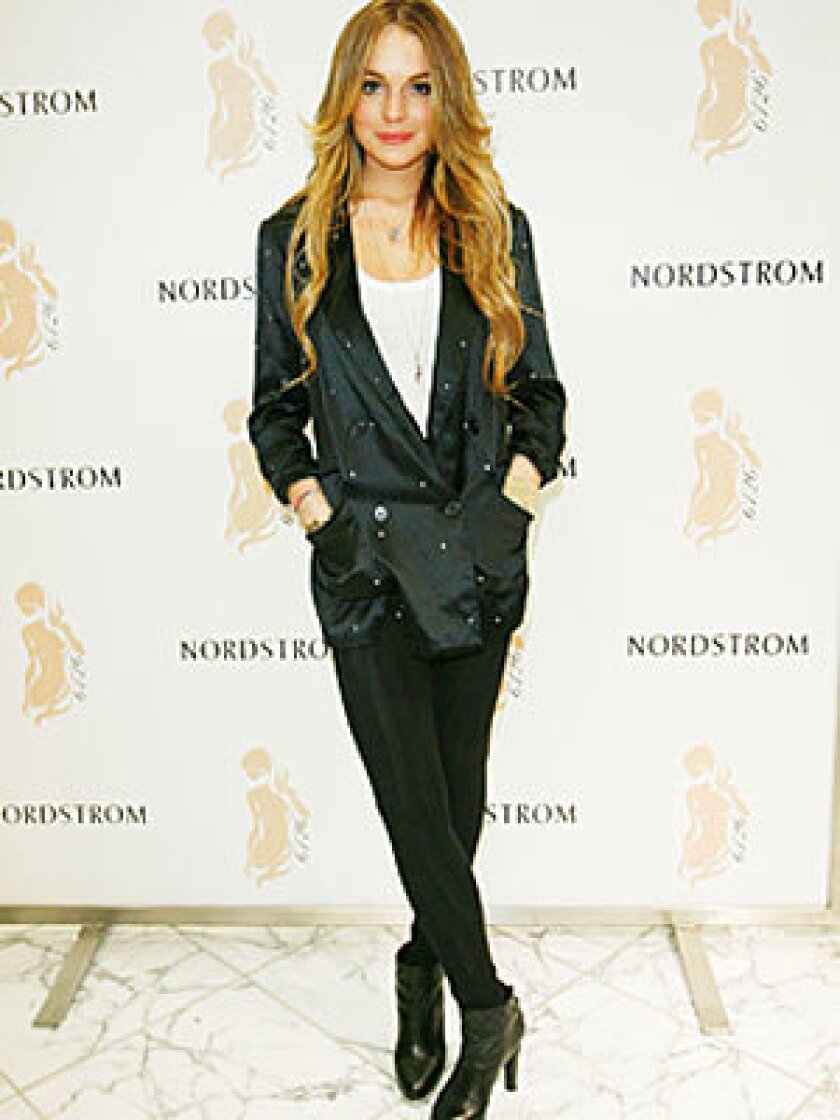 Love 'em or hate 'em, leggings -- those stretchy, skin-tight stand-ins for pants -- refuse to die. In fact, the leggings trend has grown tremendously recently, with several brands dedicated solely to creating them. This time around, they're more than a casual look to wear from yoga to the supermarket or when you're feeling especially '80s. Several new lines are creating print versions designed to look like tuxedo pants, even "denim jeans." Members Only, the revived '80s it brand, is doing leggings ($88 to $110) modeled after five-pocket jeans. With no actual pockets or pocket linings to bunch up at the upper thigh, they create a lean silhouette -- for those who find stovepipe jeans too roomy.
Costume Dept. is a splashy Bea Arthur-does-Vegas (but, oddly enough, in a good way) leggings collection. With gold foil geometric prints, Japanese florals and zebra stripes, these pieces, $35 to $79, would certainly be the focal point of any outfit.
And for the right sort of black-tie affair, DL Collection's slick black tuxedo leggings would look perfect with a tux-front graphic T-shirt and a corsage of pink carnations.
"Leggings have become as important to a girl's wardrobe as her favorite pair of jeans," says Kelli Delaney, creative director and designer for Members Only. "And just like you need all kinds of jeans, you now need all kinds of leggings." Members Only's "liquid" leggings have done especially well with pop stars such as Rihanna, Fergie and Miley Cyrus, who appreciate what Delaney calls their "look at me" quality.
Another high-profile fan, Lindsay Lohan, has her own leggings line, 6126 (the name is a reference to Marilyn Monroe's birthday, June 1, 1926).
Lohan made a low-key appearance at the Grove recently to promote 6126, wearing her solid black leggings with a rhinestone studded tux jacket and black ankle boots with jeweled stack heels -- a relatively subdued choice considering that the majority of 6126 styles, which run $44 to $132, have animal prints, sport metallic details or are made of solid lace.
"I was wearing leggings all the time and wanted to improve the comfort," she said, explaining the line's origin. "Chanel did these great tights that I wished were leggings, so Karl [Lagerfeld] said, 'Why don't you make them as leggings?' " She also took inspiration from Azzedine Alaia, whose lace leggings cost a cool $1,500 -- about 10 times more than the ones that Lohan designed for 6126.
Why leggings? The super-thin Lohan looks svelte in them (she wears a Size 0 in 6126 and her 14-year-old sister, Ali, wears a Size 1). But on most women, the form-fitting style isn't the most intuitive choice. "I never liked my thighs when I was younger, and I don't always feel comfortable with my body, so I understand that," Lohan says. "Pair a big sweater with leggings or layer, that's what makes them so good for winter" -- at least in colder climes.
Nicole Chavez, who dresses Scarlett Johansson, Rachel Bilson, Katherine Heigl and Catherine Zeta-Jones, calls leggings "a chic alternative to the sweat pant" and recommends layering them with a sweater or blazer and scarf. "Black [leggings] are the most flattering," she says. "For a longer, leaner look, stay monochromatic. A solid black heel, bootie or riding boot looks best."
And proportion is key. "A classic tunic sweater should be about a 34-inch length that goes just past your behind," Delaney says. "You don't want to show too much."
---
The essential weekly guide to enjoying the outdoors in Southern California. Insider tips on the best of our beaches, trails, parks, deserts, forests and mountains.
You may occasionally receive promotional content from the Los Angeles Times.