Manny Ramirez's mixed-fashion sense fits in L.A.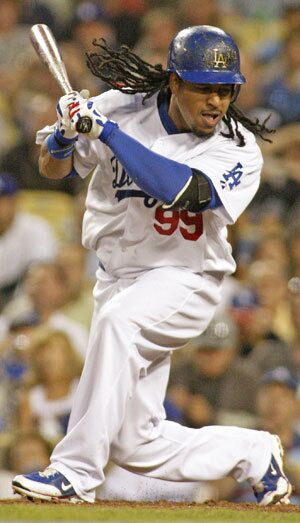 Long-haired hitter Manny Ramirez ducks a Ubaldo Jimenez pitch in an Aug. 19 home game against the Colorado Rockies. The week before, Dodgers manager Joe Torre answered reporters' questions about speculation Ramirez would cut his hair per his manager's request. "I asked him to clean it up a bit and that's what he did," said Torre about the inch or so trim. "Right now it's just about around the shoulders, and it's not covering his name up and all that stuff, so we'll continue to monitor and talk about it."
(Luis Sinco / Los Angeles Times)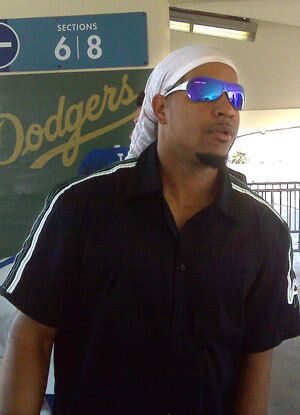 Ramirez's unique sense of style came west with him, as was evident on an Aug. 1 tour of Dodger Stadium before his first game as a member of the team. His trademark hair wrapped in a white do-rag, he was wearing a goatee and outsized sunglasses, along with a short-sleeve shirt with athletic-style shoulder stripes.
(Lori Shepler / Los Angeles Times)
Arriving in Tokyo on March 20 for the Red Sox season opener against the Oakland Athletics, Ramirez's ensemble included a light blue, high-collared dress shirt worn open at the neck over a crew-neck T-shirt. He also wore a brown micro-check three-button, notch-collar blazer and boot-cut jeans.
(Koichi Kamoshida / Getty Images)
Los Angeles Times Staff Writers
MANNY RAMIREZ is a 36-year-old Dominican-born slugger with two World Series championship rings, a head full of dreadlocks and a legacy of laissez-faire antics that make him a one-man soap opera on and off the field.
From the length of his hair to the number he wears (99), he knows the impact every stylish detail can have. Last year, he made Sports Illustrated's list of best-dressed baseball players (in an online poll he placed seventh, between Mike Piazza and Andruw Jones).
So, when he unexpectedly became a Dodger earlier this month, trading Fenway Park for Chavez Ravine, it was time to trek out to Dodger Stadium to get a closer look at the Manny, the myth and the legend.
A blatant disregard for the norm makes him one of the game's biggest renegades. "Manny being Manny" is the catchphrase the Boston media coined to describe behavior such as taking extended midgame bathroom breaks, making cellphone calls from the field and snubbing the White House in February, when, for the second time in four years, Ramirez ditched a scheduled Red Sox audience with President Bush.
So it wasn't shocking that Ramirez shrugged off an offer to talk about style.
Before a recent home game, manager Joe Torre fielded several questions about what must be the most talked-about haircut the city has seen since President Clinton got his $200 trim on the tarmac at LAX.
"He haunts me with this," Torre told reporters. "Every time he gets a hit, he says it's the hair. I continue to tell him, 'If it was the hair, I would've snuck into your apartment when you were in Boston and shaved your head.'" He noted that Ramirez had trimmed his locks a bit. "Right now, it's just about around the shoulders, and it's not covering his name up and all that stuff, so we'll continue to monitor and talk about it."
Of course, Ramirez himself didn't want to talk about it. Instead of getting the money quote in the locker room, we saw Manny being Manny -- and the only up-close-and-personal moment was a stolen glimpse of his locker and the bottles of vitamins and organic deodorant he keeps there.
But in today's 24-hour-news age, no Manny is an island, and if the insouciant slugger was reluctant to talk, his past wardrobe choices would have to speak for him.
On the field, he's baggy Ramirez, sporting trousers with legs roomy enough to stow an Olympic gymnast, his Medusa-like mane wrapped in a team color do-rag with the occasional Rasta-colored ribbon peeking out. Within two weeks of his arrival in L.A., stadium vendors debuted a do-rag/dreadlocks headpiece.
Ramirez is also known for his signature selection of sunglasses, including the sleek Oakley MP3-playing pair he wore during a game and the retro movie star-style he wore striding through LAX when he arrived in town Aug. 1.
When he does dress up, it's a half-casual approach. Strolling through the Tokyo airport in March (for the Red Sox season opener against the Oakland Athletics), he wore a generously cut three-button, micro-check blazer that hung to midthigh, a white crew-neck T-shirt layered under a light blue button-down with a tall collar, faded boot-cut jeans and cap-toed sneakers.
When he took to "The Tonight Show" couch in November to chat with fellow car aficionado Jay Leno, he was sporting a roomy black pinstripe suit with an unbuttoned, high-collar white dress shirt and no tie -- and entered from offstage wearing wraparound sunglasses.
The combination of suit, shades and shoulder-length dreads might turn heads in any other area code, but it plays in L.A., the swagger capital of the country -- so it's only fitting now that Manny does too.
---
Get our L.A. Goes Out newsletter, with the week's best events, to help you explore and experience our city.
You may occasionally receive promotional content from the Los Angeles Times.