The communal rooftop kitchen and spin room might still be premium amenities in new luxury Los Angeles residential developments — but they're no longer enough.
Your pup, after all, needs a place to play too.
A crop of new developments around Los Angeles are geared specifically for pet owners, incorporating dog runs, rooftop parks for puppy play dates and on-site pet-washing services.
And it's not just about amenities, either. Pet owners are spending more than ever on their precious charges — the American Pet Products Assn. estimates some $69 billion will be spent on domestic pets this year. As a result, designers are rethinking everything from dog dishes to cat beds, creating urbane and design-savvy products that fit in with a modern home space.
Here are some developments that enthusiastically welcome pets — as well as ideas for creating a chic environment that takes your furry friend into consideration.
Rooftop dog run
Slated to be ready for occupancy in October, Next on Sixth in Koreatown will have a 900-square-foot dog run on the rooftop and dog-washing services on site. "Tenants can get home at 10 p.m. and instead of taking the dog out can just head up to the roof," said Randy Fifield, principal at Century West Partners, developer of Next on Sixth. "There will be water bowls and bags for convenience." 620 S. Virgil Ave. NextOnSixth.com
In-house grooming
K2LA, another Century West property in Koreatown, has a pet grooming station at one of its three buildings. Tenants in all the 460 units have complimentary use of the facility. 680 and 688 S. Berendo St., 685 S. New Hampshire Ave. LiveK2la.com
Bark park on the premises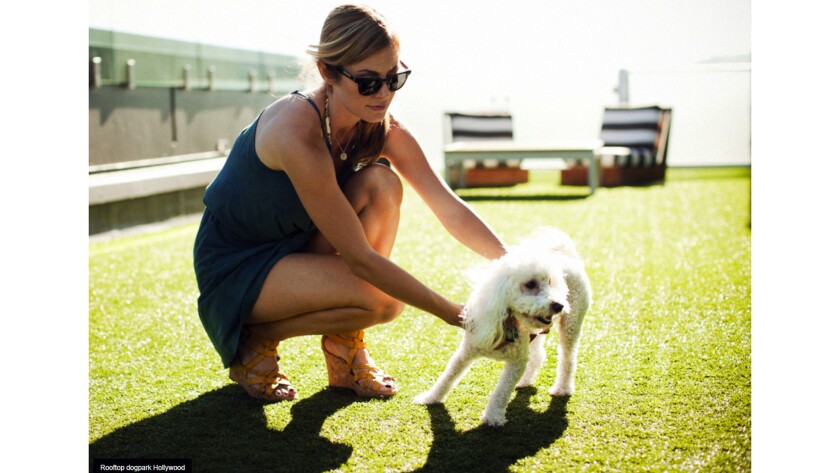 A dog park on the 23rd floor is available to all occupants of the W Residences — which also includes the five residences that are part of the Above the Penthouses homes. 6250 Hollywood Blvd. whollywoodresidence.com
'Time for a B-A-T-H'
Tower 1 of the Metropolis development has a dog park and dog washing facilities as part of a 41,000-square-foot indoor/outdoor amenity deck that also includes a pool, fitness studio and Zen garden. Tower 2, slated to open in June 2018, will offer similar conveniences. 777 S. Figueroa St. MetropolisLosAngeles.com
A spa. For your pet
The "Pet Spa" at Eighth & Grand is outfitted in soothing shades of gray and white and could pass for a high-end people spa. 770 S. Grand Ave. CarmelApartments.com
Dog walker on call
An enclosed 2,000-square-foot dog run and pet spa are among other lavish amenities at Ten Thousand. For an additional fee, a staffer will walk your dog and offer full-service pet grooming on site. 10000 Santa Monica Blvd. LiveTenThousand.com
::
ALL MOVED IN?
Pet-friendly couch
There are lots of ways to balance design with function. First, according to Maureen Welton, creative director at furniture brand Article, seek a couch that is made of full-aniline leather: the material is dyed with soluble dyes and is given no topcoat, so it develops a natural patina — and hides pet-related stains and scratches. An example is Article's Sven sofa in Charme chocolate and walnut. $1,799. Article.com
Your pet needs a mattress
Essentia, a maker of organic foam mattresses for humans, has something for your dog: the Kingston is made of shredded, natural latex. $149 to $239. MyEssentia.com.
A bespoke dog bed?
Sure — but you'll have to have it shipped in from the UK. British brand Pink Whiskers makes a Regal Leather bed. The oval-shaped cushion is stuffed with feathers and covered with a vintage-inspired equine print cushion, and encased in leather. It comes with a matching pillow and faux fur blanket, the whole thing mounted on sculpted wooden legs. About $515. pinkwhiskers.co.uk
A Batcave … for your cat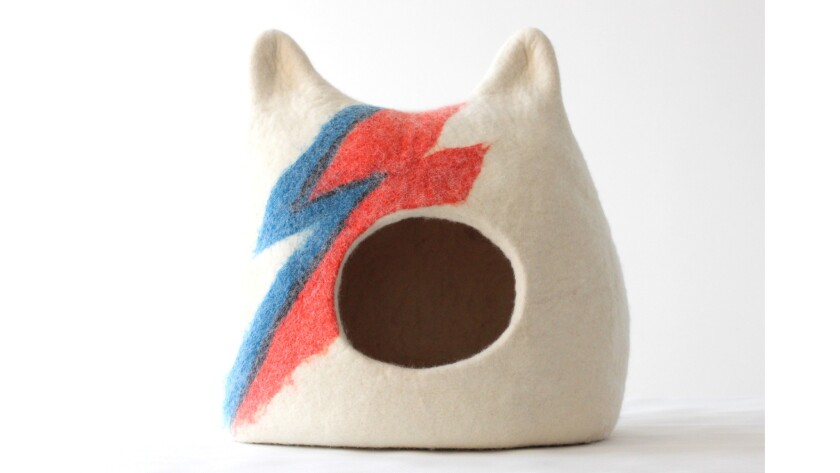 This "cat cave" from Lithuanian brand Agnes Felt is handmade from white wool and given cute pointed cat ears. Dogs can use it too. Starting at $91.20. Etsy.com
Sit, shake …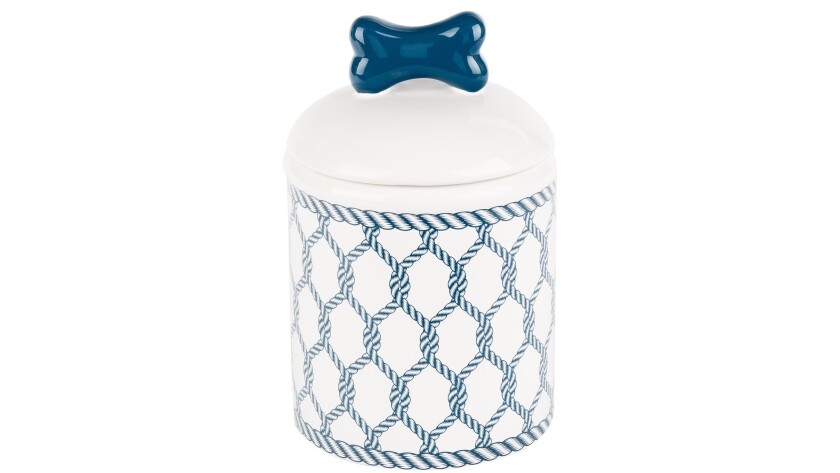 Worthy of counter space in the sleekest kitchens is this Nautical Treat Jar from the Creature Comforts brand. The small version holds three cups of treats, the larger one seven cups. $33.99 to $43.99. Houzz.com
Chow time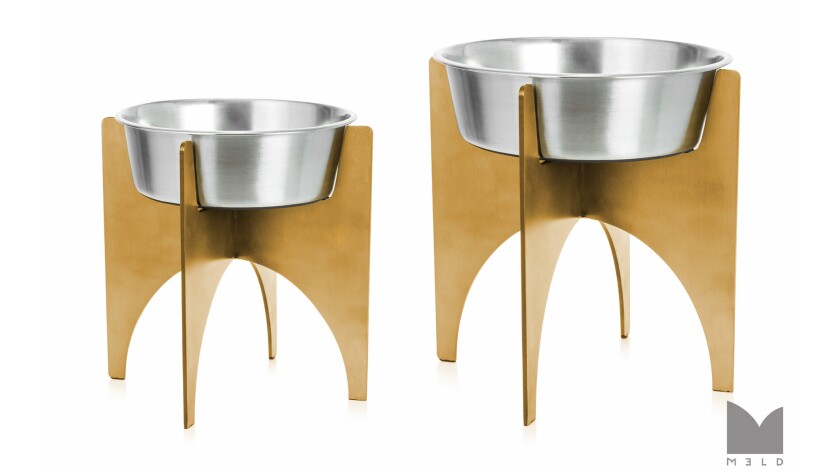 A contemporary take on the dog bowl is Heavy, a version from Utah-based design brand M3LD composed of a stainless steel bowl atop a burnished brass base (the base also comes in matte black.) The product is available in three sizes, for tiny dogs and cats up to large breeds. $69 to $96. m3ld.com
Let's play!
Fashion and accessory brand Orvis has created an attractive dog toy storage unit: the Wine Barrel Dog Toy Chest is made from retired white oak barrels and white pine. A wide opening allows your canine to fetch what he or she wants. $219. Orvis.com
Kitty litter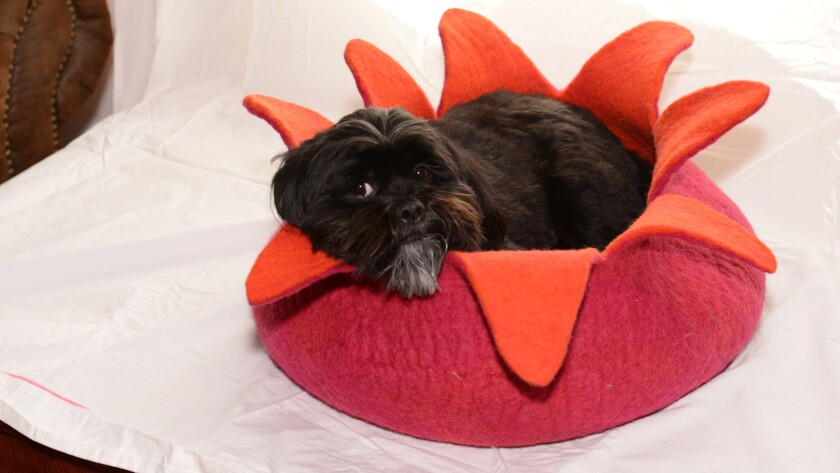 If you have a smaller pet (up to 25 pounds) or are currently housing a litter of kitties or puppies, consider this Magenta Petals Basket from Dharma Dog Karma Cat. It's made from Himalayan wool that contains lanolin — the oil that helps condition paws and fur. The basket is handmade in Nepal. $55 to $65. DharmaDogKarmaCat.com
Forget the goldfish bowl
Have an herb garden instead. The AquaSprouts Garden converts a standard 10-gallon aquarium into a little ecosystem. The waste produced by the fish is pumped into the grow bed directly underneath, becoming nutrients for the plants. A kit without the aquarium is $169.95. $29.95 for an aquarium. AquaSprouts.com
Watering hole
Choose from 20 prints to customize a pet mat for the kitchen floor; the neoprene mats, which measure 10" x 16", have rubber backing to avoid slipping. $9.49. Jane.com
Roped in
The sturdy, colorful, ombre-shaded rope leashes from Brooklyn-based Found My Animal were inspired by a fisherman in the family of one of the designers, and look good just hanging on a hook by the door: the leashes come in several colors including blush pink, rainbow and hunter green. $54 and up. FoundMyAnimal.com
On Now
In goat yoga, the point isn't to sweat. It's to have a baby goat climb on your shoulders during your plank
0:51
On Now
On Now
Hanging out with Instagram's famous cats Nala, Coffee and Luna
1:15
On Now
Poolside with Kaley Cuoco, Norman, Shirley, Rose and friends
1:08
On Now
Watch a pet therapy dog at work
1:09
On Now
Visit the Pug Nation Rescue
2:10
On Now
Visiting the dog beach with Shari Sandberg
1:32
On Now
Video: The scene at CatConLA
1:53
---