Four great dog bakeries in and around L.A.
Dog treats have come a long way from those boxes of desiccated bone-shaped crackers stacked in the pet food aisles of grocery stores. These days, your local bakery might have a tray of dog cookies displayed next to the kouign-amann and caneles, and the pet shop down the street is likely to carry organic, gluten-free meals made in-house, resembling a farm-to-table bistro more than a feed store.
Some pet shops have taken this even further, opening dog bakeries inside their stores, with elaborate pastry cases, even dedicated pastry chefs. This is a lot of fun for dog lovers who appreciate the artistry of a good pastry kitchen, and of course an awful lot of fun for your dog.
These baked goods are specifically calibrated for your pet, it should be said, with carob instead of chocolate, little or no sugar, salt or artificial coloring, and ingredients that dogs tend to love and that are suited to their nutritional needs (lots of peanut butter and yogurt). And they're human-grade quality, so that if your kid happens to share your pet's hamburger-shaped pastry or Dodger-decorated cookie, there's no problem.
Here are four dog bakeries in and around L.A. where we go to scratch that itch:
The Dog Bakery
A big warehouse filled with pet supplies along Venice Boulevard in Mar Vista, this is both the flagship — there's a shop at the Original Farmers Market and a kiosk at LAX — and the bakery's production center. Amid the more utilitarian shelves stocked with cat food, dog beds and hay for rabbits, there's a counter and a big pastry case, behind which are sheet pan racks of baked goods fresh from the oven. Dessert pedestals are loaded with treats in the fashion of your favorite, you know, people bakery. You can also order birthday and celebration cakes.
Don't miss: Watermelon peanut butter cookies, snickerdoodles, frosted bone-shaped cakes, "animal-style hamburger" cookies, "barkin brownies," barbecue rib- and cheese-flavored bone-shaped cookies, creme pies, carob chip cookies, mini carrot cakes and pawcakes.
Resident dogs: Blue, a shepherd-husky mix, and Kopi, an Akita-shepherd.
12112 Venice Blvd., Mar Vista, (310) 313-1801, also in Los Angeles, Pasadena and LAX, TheDogBakery.com.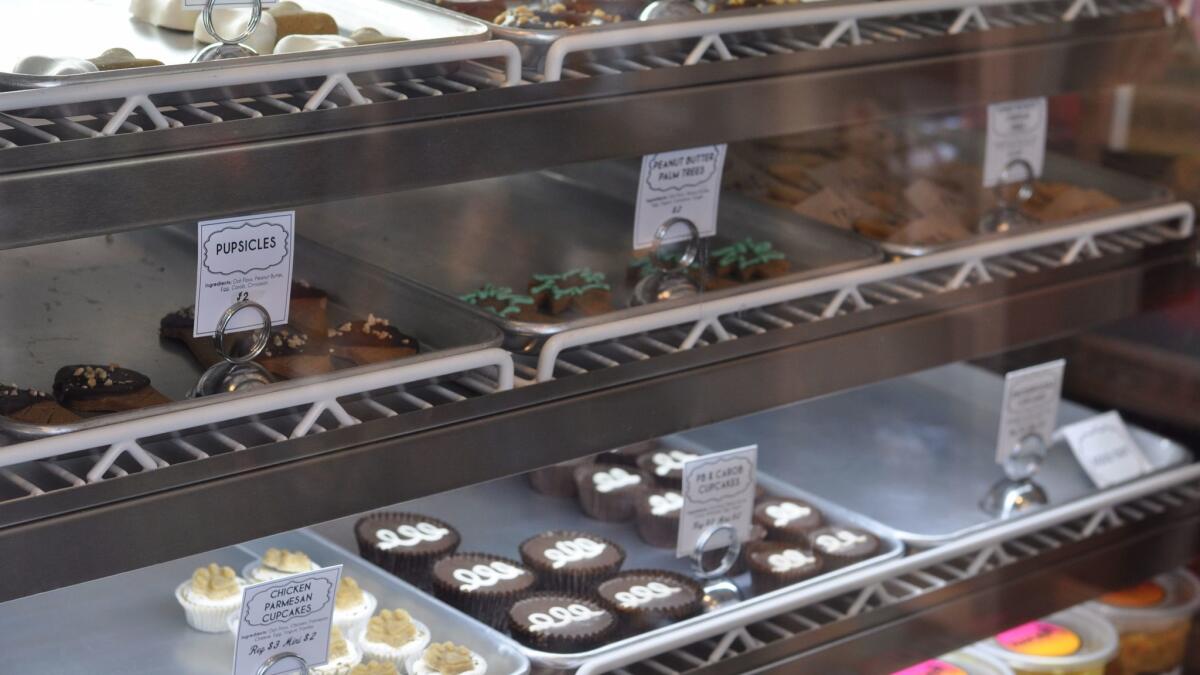 Naked Dog Bistro
Open since 2013 a few blocks up from the ocean in Laguna Beach, Naked Dog Bistro is a small shop run by the mother-and-daughter team of Charlotte Bloom and Lindsay Poe. Poe is the baker, and her impressive pastries (the carob cupcakes look remarkably like the Hostess cupcakes of your childhood) fill the case in the shop that also has a good selection of pet supplies, including the organic, small-batch dog food that Bloom makes, plus rhinestone dog collars, spiked metal dog bowls and other somewhat less extravagant supplies. You can special order cakes and cupcakes. The shop also sells Puppy Scoops, an ice cream mix (maple bacon!) to which you add water and freeze. It's also sold frozen by the scoop — for those particularly hot beach days.
Don't miss: Palm tree-shaped cookies, peanut butter and carob cupcakes, bacon cupcakes, sweet potato-cheddar "fries," chicken-Parmesan cupcakes.
Resident dogs: Weimaraners Kona and Haley, who's pictured on the shop's logo.
424 Forest Ave, Laguna Beach, (949) 715-9900, NakedDogBistro.com.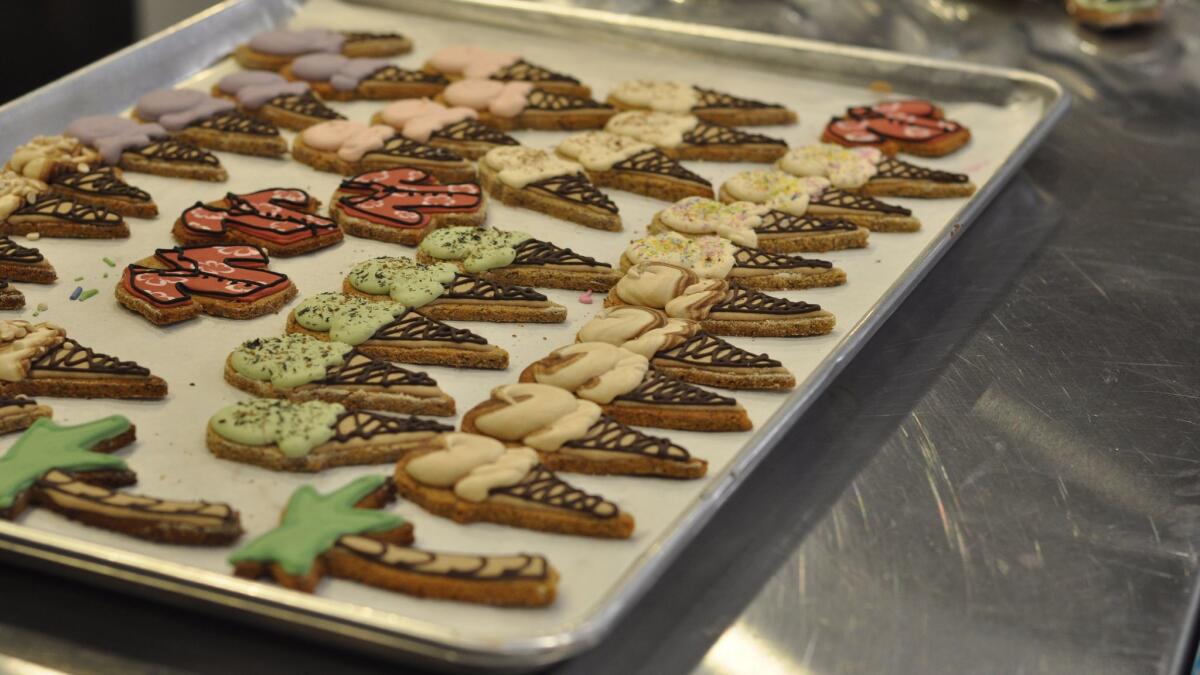 Pussy & Pooch
This swank Beverly Hills shop is a whole lot more than a pet store: The two-story location houses a grooming salon, day care and training rooms, an overnight boarding facility, a boutique, a "caterium" room for two resident cats, a "pawbar" cafe and a bakery. This is where Ashley Cano bakes the treats for all three locations, including grab-and-go cakes and an impressive array of decorated cookies. Cano, a former Food Network bakery assistant who worked on "Cupcake Wars," makes cookies from ingredients such as peanut butter, flax seed and oat flour; frosting from yogurt, rice and tapioca; and her own jars of sprinkles colored with dehydrated fruits and vegetables. Cano bakes elaborate cakes to order; they also do birthday brunches at the shop, with items such as canine quiches on the menu. She also bakes and decorates cookies made with CBD for "fireworks, storms, crowds and travel." And yes, they cater.
Don't miss: Cookies in the shapes of palm trees, ice cream cones, sharks, Hawaiian shirts, pineapples, flamingos and others, individual bundt cakes, birthday layer cakes.
Resident dog: A German shepherd named Dexter.
9388 S. Santa Monica Blvd., Beverly Hills, (310) 221-8644, also in downtown and Long Beach, pussyandpooch.com.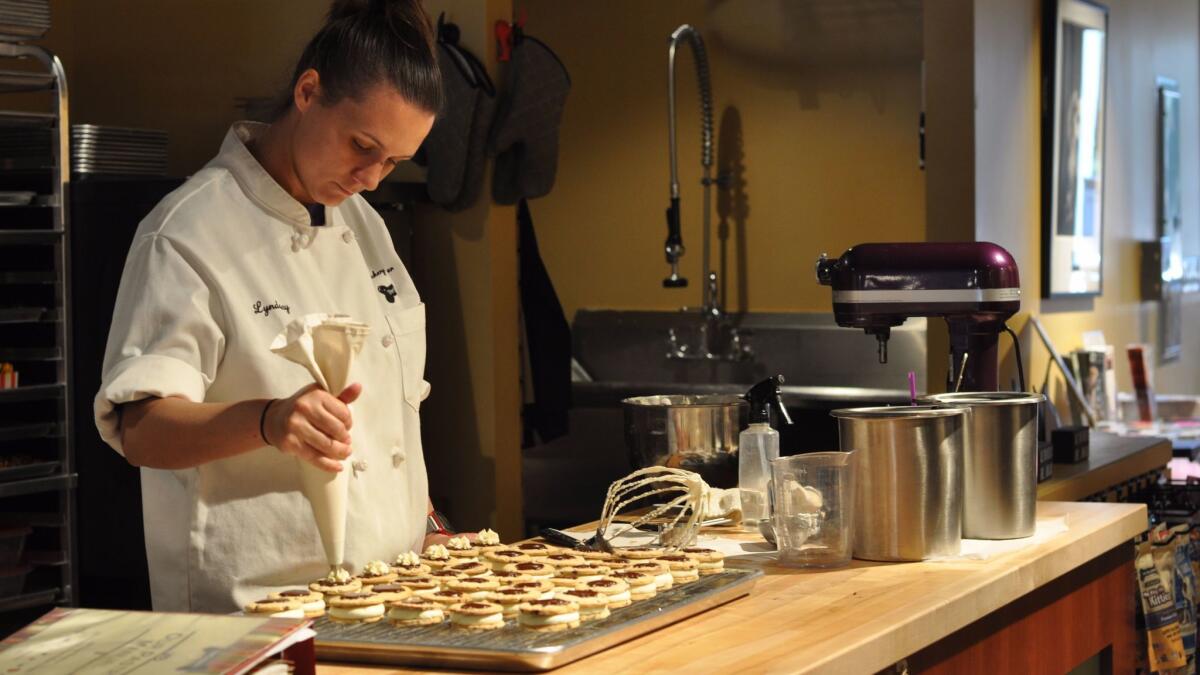 Three Dog Bakery
The focal point of Three Dog Bakery, the Encino outlet of a Kansas City, Mo.-based chain, is the kind of island you'd want in your own kitchen: a spacious butcher block pastry counter under a shiny overhead (dog-themed) utensil rack. There, bakery manager Lyndsay Price decorates the "collie cannoli," hamburger pupcakes and cookies piped with the Dodgers insignia, a KitchenAid on the counter, sheet tray racks behind her. Open since late last year, the well-stocked shop has seasonal bakery items (baseball-themed, Halloween), made-to-order birthday cakes and a bound recipe book from which you can pick your dog's treats and even try making them at home.
Don't miss: Dog tacos, "pet-it-fours," "collie cannoli," hamburger pupcakes, bone sandwiches, peanut butter cups, "pugs in a blanket," Dodger Dog cookies, ice cream sandwiches.
Resident dog: Leyna, a rescued boxer.
17301 Ventura Blvd., No. 3, Encino, (818) 935-6966, also other locations across the country, threedog.com.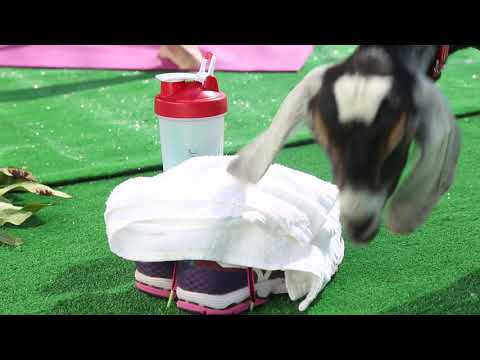 On Now
In goat yoga, the point isn't to sweat. It's to have a baby goat climb on your shoulders during your plank
On Now
On Now
Hanging out with Instagram's famous cats Nala, Coffee and Luna
On Now
Poolside with Kaley Cuoco, Norman, Shirley, Rose and friends
On Now
Watch a pet therapy dog at work
On Now
Visit the Pug Nation Rescue
On Now
Visiting the dog beach with Shari Sandberg
Get our L.A. Goes Out newsletter, with the week's best events, to help you explore and experience our city.
You may occasionally receive promotional content from the Los Angeles Times.