Oh, we Americans love our pets! Here's proof: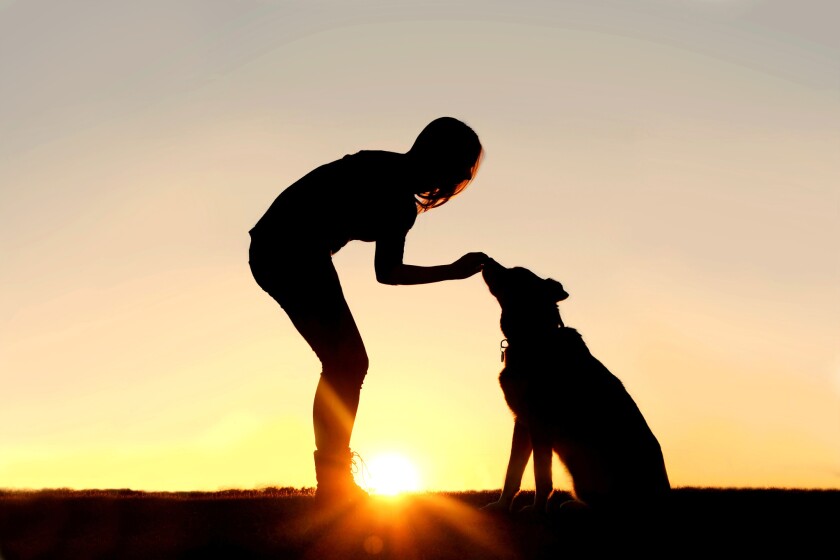 What with Grumpy Cat and therapy goats, $150 granite cat food bowls and $2,600 Gucci dog carriers, it's easy to think that a society that has dedicated pet bakeries, canine-only cable channels and a cat with more Twitter followers than the Dalai Lama has (forgive us) seriously gone to the dogs in recent years.
Even a cursory look at the statistics would indicate that something is afoot: According to an annual survey conducted by the American Pet Products Assn., 65% of American households (79.9 million) are currently home to a pet (up from 56% in 1988) and annual spending on care and feeding is estimated to hit $60.59 billion in 2015.
Has our relationship with domestic animals fundamentally changed in the last few years?
"The answer is yes and no," says Stanley Coren, psychology professor emeritus at the University of British Columbia and author of several books about dogs, including "The Pawprints of History: Dogs and the Course of Human Events." "They've found a grave from the Natufian era — about 11,000 years ago — on the border between Israel and Syria in which an elderly man was buried with his hand resting on what appears to be the skeleton of a 9-week-old puppy. Obviously that dog was precious."
Share your photos: Show us your pets, and tell us how you "met"
Coren says human history is full of pets that have been treated as well as — or better — than members of the family by those who had the means to do so. This includes Frederick the Great of Prussia, who had a wing of his Sanssouci palace designed for his beloved Italian greyhounds. "When the dogs destroyed the furniture or the drapes," says Coren, "he simply had it all replaced. This was for his dogs, yet he never let his wife come and visit the palace. She had to stay in Vienna."
The big difference, Coren says, "is that nowadays we do have more disposable income — or are willing to take on more debt — to pamper our [pets]." He says that the willingness to spend dovetails with a need to nurture in a changing family demographic. "Nowadays, we no longer have the extended family all living within a half hour's drive from us ... and furthermore, we're living a hell of a lot longer. So there's a whole lot of people who live well into an era of life where the kids have gone away and they have empty-nest syndrome."
Megan Mueller, associate director of the newly formed Tufts Institute for Human-Animal Interaction, which focuses on human-pet relationships, says, "If you look at the statistics, yes, people have more animals that they consider pets than they used to.
"And, yes, a lot of people talk about their animals as being members of their family, but we simply don't have a lot of research about what people's relationships were like with their companion animals 50 years ago."
On the other hand, she adds, "The increase in this area of research is certainly indicative of these relationships becoming important."
What you'll find on the following pages is a snapshot of the current state of petdom in Southern California (and beyond): advanced medical treatments, most popular names, feeding, services (yes, the list includes pet birthday parties) and an attempt to explain our devotion to all those creatures that can't talk back.
Here's one thing about the relationship that's crystal clear: We'll do just about anything to make our animal companions happy.
MORE:
Clothing essentials for the fashion-forward dog
Haute dog! Stylish pet furniture that suits your home decor
How to pamper your pooch with massages, parties, photo sessions and more
---
Life is stressful. Our weekly mental wellness newsletter can help.
You may occasionally receive promotional content from the Los Angeles Times.