At age 91, Mel Brooks will play Vegas for the first time. Guess who talked him into it?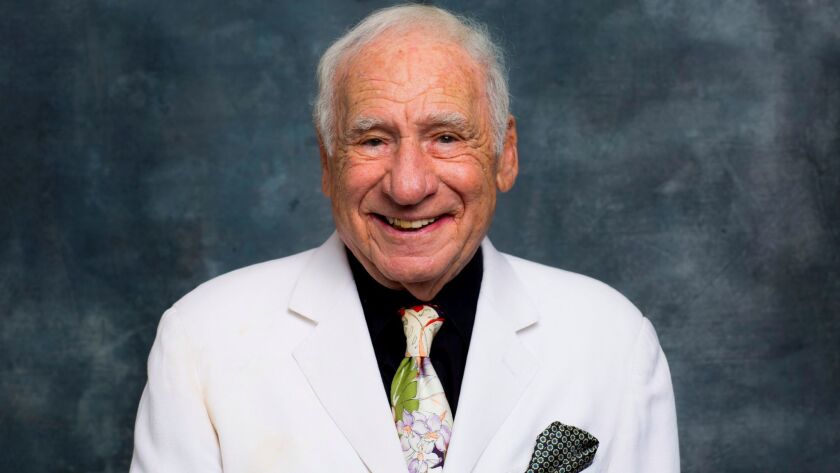 When he arrives in Las Vegas at the end of June, Mel Brooks will have just blown out 91 candles on his birthday cake.
Brooks' first Las Vegas appearance comes in the form of a one-man show called "An Evening With Mel Brooks," which gives a behind-the-scenes look at his long, Hollywood-centric life.
During his career, the actor, director and film producer has won four Emmys, three Grammys, one Oscar and three Tonys. He said it was hotel mogul Steve Wynn who asked him to perform in Sin City.
Brooks told Wynn he had "a little time at the end of June and the very beginning of July." Wynn pressed for two nights instead of one.
Now, Brooks will take the stage at Wynn Las Vegas on June 30 and July 1. (His birthday is June 28.)
What took so long? "Many years ago, Carl Reiner and I got tremendous offers [to play Vegas], but we had other careers," he said. "We just didn't want to take the time and do it."
Now all that has changed. The Hollywood legend said his Vegas shows will be a mix of movie clips and personal stories. About half the time will be reserved for questions and comments from the audience.
"I'm going to show what I consider some of my funniest clips from my funniest pictures, hopefully starring me in them, for about 15 or 20 minutes," he said.
"Then I'm going to come out and I'm going to talk about my life. I'm going to go all the way back to being a little kid in Williamsburg in Brooklyn."
"I will tell them what has kept me alive, what I think is a good rationale for living every day, stuff like that," he said. The funnyman quickly added that even his nuggets of wisdom will have a humorous spin.
The two Vegas shows come on the heels of one-night sellout shows in New York and Chicago. Brooks said a surprising number of millennials were in attendance.
"They were screaming and yelling and throwing out questions. It was a laugh and love fest," he said. "A joke that works, works through the ages. It would work for Henry the VIII, and it would work tomorrow. Funny is funny."
Tickets in the $75-to-$150 price range remain for both shows. The most expensive seats and meet-and-greet packages are sold out.
"It's a bit egotistical and braggadocio, but there's every good chance that there will not be a seat available on either night," he said.
Despite his age, Brooks continues to actively pursue his show business career.
About a month after his Vegas shows, he is tol travel to London to oversee rehearsals of his "Young Frankenstein," a musical based on his popular 1974 film. It is set to open Sept. 28.
"I'm immemorial," he said. "I've come a long ways since I was a corporal in the army." Brooks' brief service in Germany was 72 years ago, at the end of World War II.
Info: Wynn Las Vegas, (702) 770-9966
ALSO
How these neon signs tell the history of LGBT performers in Vegas
Go boldly into zero gravity in Vegas with 'Star Trek's' William Shatner
You can't take a road trip without pit stops. Here's the lowdown on 7 spots
Flamingo plans $90 million to upgrade rooms. Thank goodness they'll still be pink
---
Get inspired to get away.
Explore California, the West and beyond with the weekly Escapes newsletter.
You may occasionally receive promotional content from the Los Angeles Times.