405 Freeway lane closures near LAX may delay evening drives to the airport for next three weeks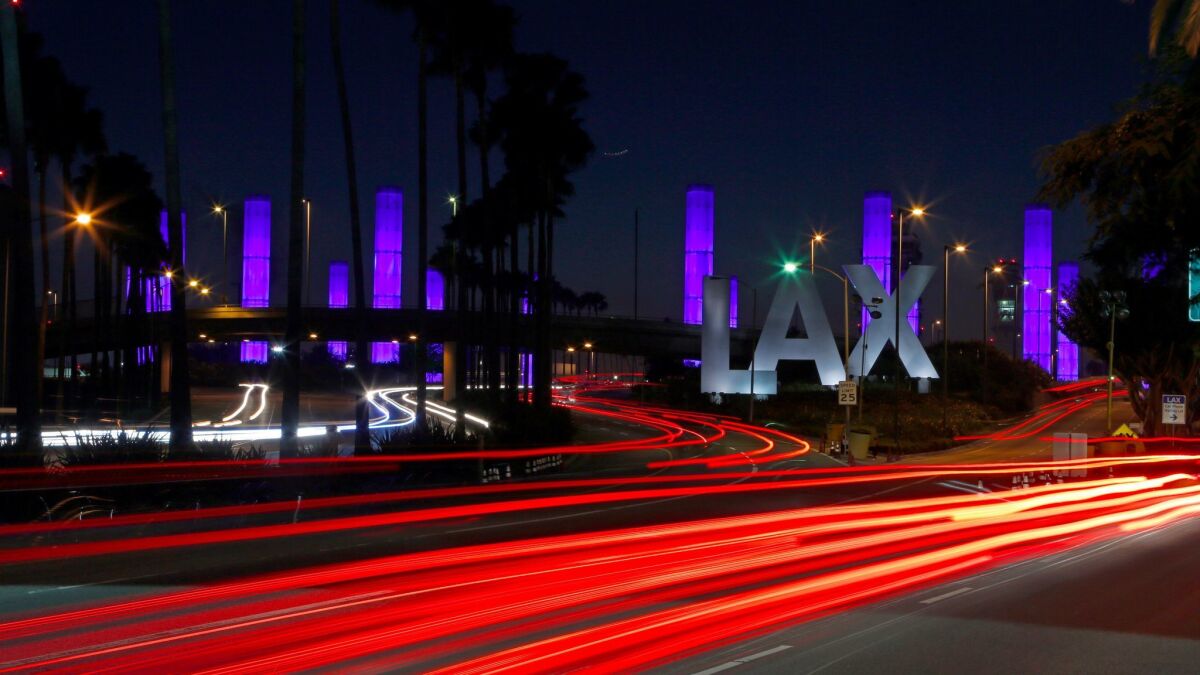 If you're making an evening run to Los Angeles International Airport in the next three weeks, it's best to avoid parts of the 405 Freeway. Lanes on the busy freeway that many drivers use to get to and from the airport will be fully or partially closed at night for 15 weekdays.
The reason: Workers will be removing wood framing from a bridge over the freeway that will be used for the light-rail Crenshaw/LAX Line.
Starting at 10 p.m. Monday, northbound lanes — sometimes all lanes, sometimes two lanes only — will be shut between Century and La Tijera boulevards, an airport news release said. Lanes are to reopen by 7 a.m. Saturday, Aug. 5, a Caltrans release said
To work around the closure, northbound travelers should exit at the La Cienega/Manchester offramp and then turn left on Manchester Boulevard, right on La Tijera Boulevard and continue to the northbound 405 entrance to reenter the freeway.
From 10 p.m. Aug. 7 to 5 a.m. Aug. 12, the north and south carpool lanes as well as two left lanes will be closed, officials said.
From 10 a.m. Aug. 14 to 7 a.m. Aug. 19, the southbound lanes of the 405 will be closed between La Cienega and La Tijera boulevards.
Drivers heading south on the 405 should use the Florence/Manchester exit, travel south on La Cienega Boulevard and return to the freeway.
And they can take La Cienega Boulevard to Century Boulevard and then hop back on the 405 to the westbound 105 Freeway and enter on Sepulveda Boulevard.
Lanes of the 405 will be open on weekends during the construction period.
ALSO
After a near-record 270 days, Mammoth Mountain's snow season is coming to a close
Want to watch the upcoming total solar eclipse from 35,000 feet?
A part of Highway 1 in Big Sur has reopened, but other issues remain on the coastal route
---
Get inspired to get away.
Explore California, the West and beyond with the weekly Escapes newsletter.
You may occasionally receive promotional content from the Los Angeles Times.