Picture this: Your vacation photos. In print. Online. For the world to see. See how
Our annual summer vacation photo issue is almost here. What will you submit for possible inclusion in our Sept. 18 issue?
Summer vacation is still on — and we'd love to see pictures of where you've been. For the seventh year, the Los Angeles Times' Travel section is asking readers to share their best photos for the print and online edition of Summer of 2016 Photo Fiesta on Sept. 18.
You have to have taken photos between the unofficial start of summer (May 27, start of Memorial Day weekend) to its unofficial end (Sept. 5). That means, there's still time to go somewhere, shoot and submit.
What do we like? Photos that show a sense of place, that go beyond the usual vacation shots. Images of people and spontaneous action will win kudos too. Pay attention to lighting, composition and capturing moments too. (Check out selections from past years below that made the cut).
Times editors will select the best photos for the Sept. 18 print and online editions to showcase in the Photo Fiesta.
Submit your photos through email with the subject "Summer Vacation Photo Issue" to travel@latimes.com (note that photos larger than 10MB will bounce back), upload them to Flickr or hashtag them on Instagram with #latimestravel2016.
Here are more tips to make sure you catch our eye:
Large, high-resolution photos: They need to be at least 1600 pixels wide and at least 200 dpi (dots per inch). Photos should be at least 1 megabyte; 5MB is ideal, but 10MB is too large.
No pros: We're looking for talented amateurs, not professional photographers. If you make some of your living as a professional photographer, please do not submit.
No alterations: You can't use a photo editing tool to take out or add elements. If someone photo bombed your shot, sorry, but you can't erase him or her.
Summer 2016 photos: Photos must have been taken from Memorial Day to Labor Day of this year — that's from May 27 to Sept. 5.
Deadline for submissions: Sept. 7.
What to include: Send your name, city of residence, date and place of photo and an email or phone number where we can reach you for verification. We won't print your email or phone number, but we may need to clarify something about the photo.
Describe the photo: What's happening? Who is in it? Please include the names of the subjects. What prompted you to take the picture?
What kind of camera did you use? Smartphone photos are fine, by the way; we love knowing that they can be used for great photography.
Agreement: By submitting your photos, you agree that The Times may reproduce your photos in any format.
Limit: Please limit submissions to no more than 10 photos.
In July, Del Dickson spent a week in France's Dordogne River Valley. Every day, he would pedal his bike in a new direction, a Sony RX100 camera tucked in his shirt pocket. When he came across these sunflowers between the towns of Vitrac and Domme, he was ready. "It was early in the morning," Dickson wrote, and "soft light and light rain helped to bring the flowers to life."
(Del Dickson)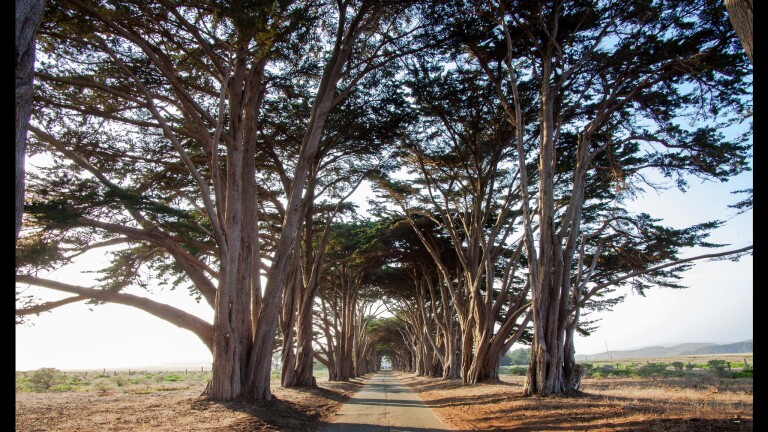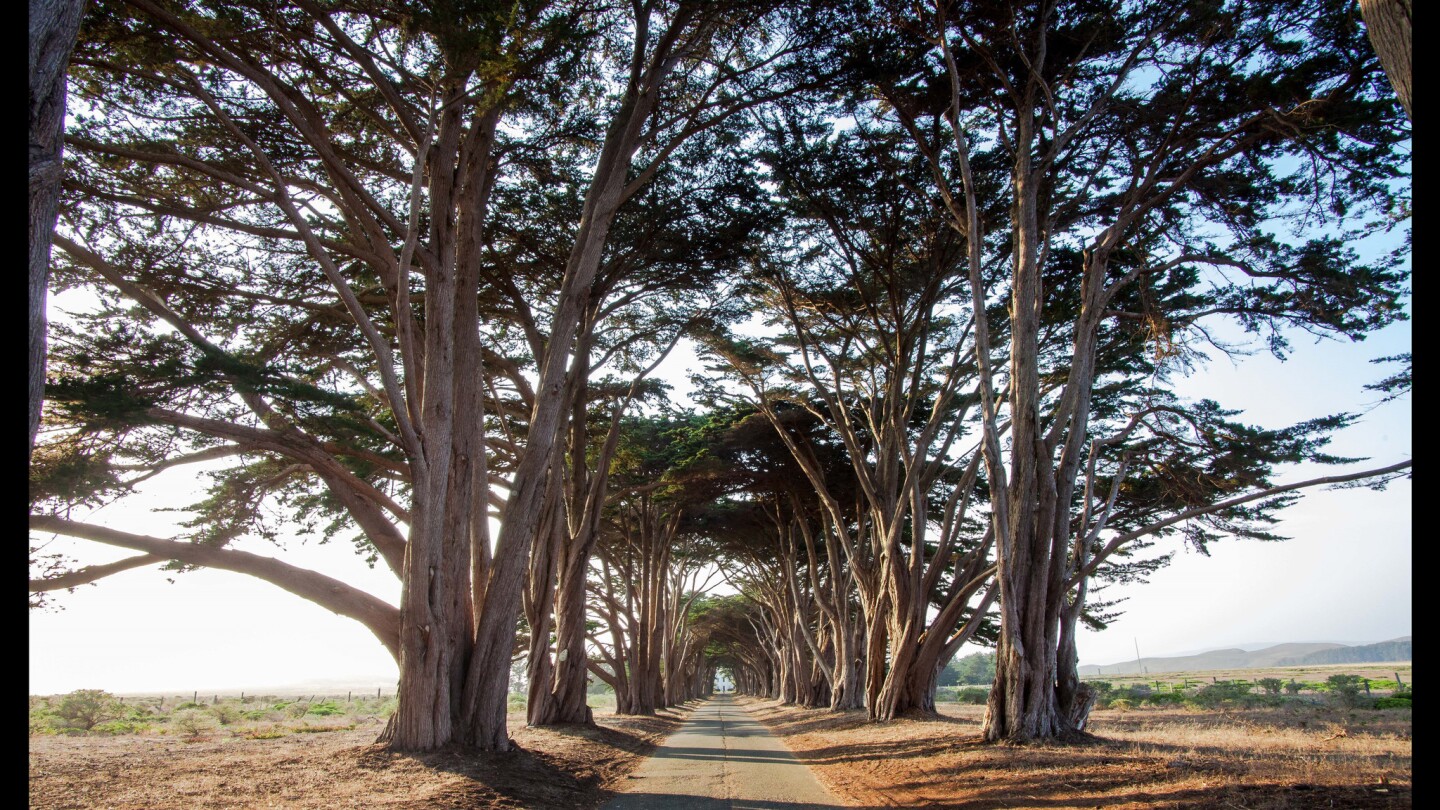 Spud Groshong, Portland, Ore. Point Reyes National Seashore, Calif. Shot Aug. 15 with a Canon 5D Mark II.
(Spud Groshong)
Neal Jenkins, of Long Beach, and his family were on vacation in Japan in August when he caught these women sharing a selfie stick at Kyoto's Kiyomizu Temple. Jenkins raised his Canon Rebel EOS Xsi and got three shots. This one, he said, showed the traditionally dressed women at their most animated.
(Neal Jenkins)
Nicholas Song, Pasadena. View from Sagrada Familia, Barcelona, Spain. Shot with a Sony a6000.
(Nicholas Song)
George Rimalower, Sherman Oaks. Lake Louise, Alaska. Shot with a Nikon D3300.
(George Rimalower)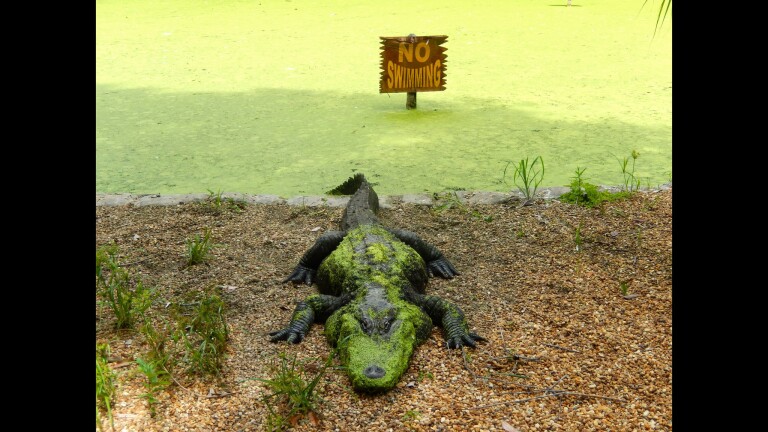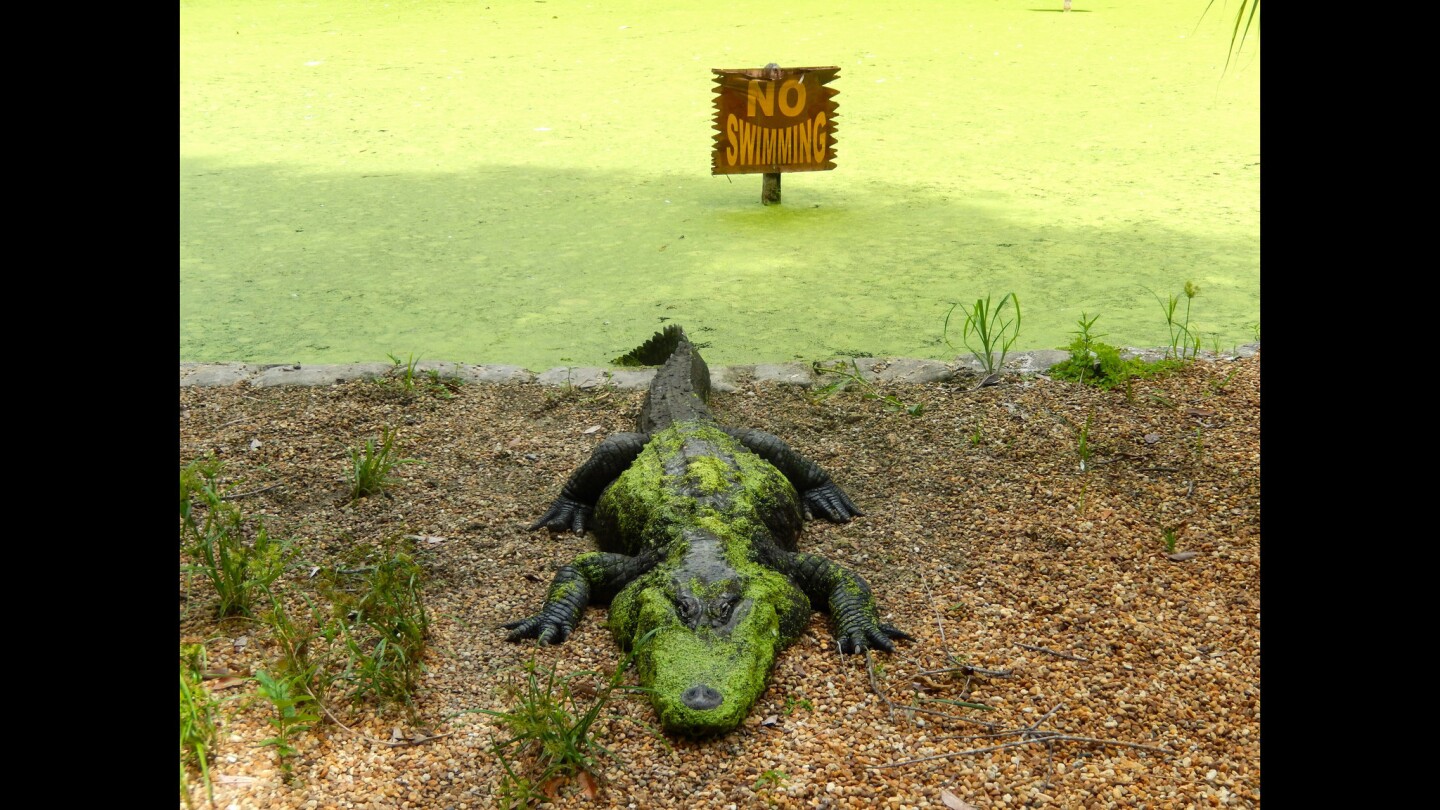 Laurie Galvan was on a month-long road trip in her camper through the South when she came across this scene in June at Ellie Schiller Homosassa Springs Wildlife State Park in Florida. Galvan said she'd "been bitten by every bug in Florida" and was hoping to swim. Instead, she clicked this with her Nikon Coolpix S950. The alligator never moved.
(Laurie Galvan)
Jerry Fer Damian, a Filipino expat living in the United Arab Emirates, caught this cat staring through a scratched windowpane at Al Ain Zoo on July 17 in Abu Dhabi. He used a Nikon D610. The lions, Damian wrote, seemed to be asking for freedom.
(Jerry Fer Damian)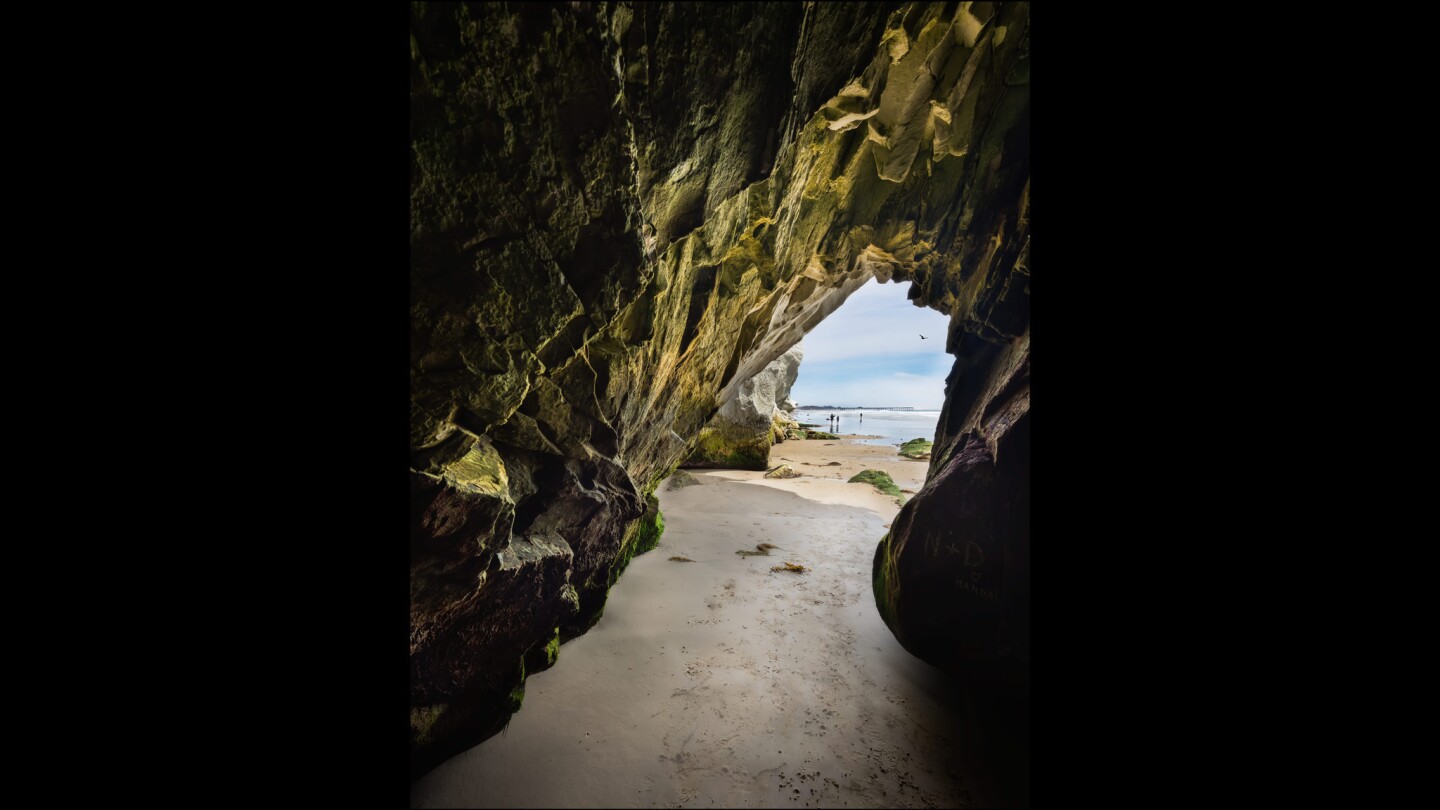 Don Lyons, Ladera Ranch, who runs a mortgage company, has been going to the Pismo Beach area for years. On a photo workshop in late May led by Larry Vogel, Lyons came across this cave north of Pismo's pier, put his Nikon D810 on a tripod and started snapping. "I've probably got 30 compositions and exposures" of the cave, he said.
(Don Lyons)
David Park of Los Angeles captured a double rainbow over Yosemite Valley.
(David Park)
Wayne Hunt of Los Angeles photographed California's Morro Rock at low tide during a bike ride.
(Wayne Hunt)
Delan Hilliard photographed a geyser at West Thumb Geyser Basin at Yellowstone National Park during a family vacation. "The depth and colors were mesmerizing," Hilliard said.
(Delan Hilliard)
Lexi Packer of Ashland, Ore., photographed a lilac-breasted roller resting on a tree in the Okavango Delta. "We saw a lot of lilac-breasted rollers in Botswana, but not many stayed still long enough to capture their singular beauty," Packer said.
(Lexi Packer)
All who wander are not lost, as Carson Lane Campman of Sherman Oaks proves with this photo. She and her mother were meandering through Rome observing the architecture and statues, she said, when her mother noticed that this piece depicted only women.
(Carson Lane Campman)
This photograph by Chris Tran of San Diego is memorable because of what it says about Fijian culture. Villagers would shout out greetings -- "Good morning!" or "Bula!" (hello). Tran had just returned the greeting when he snapped this shot of a little girl who was ready for church.
(Chris Tran)
Good lighting is key to great photos. Gene Cheltenham of Los Angeles, traveling the rugged coast on Highway 1 in Northern California about 50 miles northwest of San Francisco, came across this abandoned fishing boat. The gray of the early morning enhanced the drama and mystery.
(Gene Cheltenham)
Jim Tatosian of Harbor City saw 2-year-old Xiao Liwu of the San Diego Zoo at mealtime. "It is ... amazing to watch as the bears use their paws to grasp the bamboo," he said, "and then to watch as their powerful teeth break apart the bamboo," which adds an interesting layered element.
(Jim Tatosian)
These youngsters from a Tanzanian primary school, which had granted permission for photographs, radiated a joy and an innocence that came through because Philip Jen Kin of Cerritos used a focal length of 85 mm -- close enough to get good details but not so close that he intruded on the moment.
(Philip Jen Kin)
Timothy Guiteras of Los Angeles and his father, Tom, were snorkeling in Belize when Timothy dove 20 feet to the sea floor and looked up. Like many good photos, this one creates conflicting emotions: It illustrates the depths from which this was shot, which is exciting and worrisome.
(Timothy Guiteras)
Great photography takes great patience. Chuck Claude of Flagstaff, Ariz., said he was always in a hurry to get to his favorite climbing spot in Indian Creek in Utah, so he rarely stopped. But on this evening, as a thunderstorm threatened, he forced himself to slow down to see what was around him.
(Chuck Claude)
The more than 500 tufa formations of the Trona Pinnacles, about 20 miles east of Ridgecrest in the western Mojave Desert, are already surreal, and the long exposure -- 51 minutes -- sets the stars in a beautiful pattern against the night sky in this photo by Ken Lee of Los Angeles.
(Ken Lee)
The magic of the Magic Kingdom isn't the rides; it's the joy on the faces of the kids. The moment is sometimes as spontaneous as children themselves (Zach is trying to make the teacup whirl, and Madison is enjoying the ride), but a well-timed photo, such as this one by Mike Battin of Chino Hills, preserves a memory for the ages.
(Mike Battin)
Photographing animals takes skill and luck, and Lynn Novatt of Santa Monica had both with this shot in Volcanoes National Park, or Parc National des Volcans, in northwestern Rwanda. The golden monkey was high up among dense trees but exposed to sunlight, so the picture captured the details of its coat and the gleam in its eyes. "A trek in Rwanda is a trip highlight for many travelers," Novatt wrote. "Now, I can attest to that myself."
(Lynn Novatt)
Oh, to be a kid again. This photo by Greg Cosh of Sylmar captures the joy of a romp in the ocean and speaks of the power of the waves to wash away cares. The boy in this photo is Robinio McGraw, Cosh's nephew. He had recently come to this country from Haiti and was facing lots of cultural and linguistic challenges. "Yet he seemed to demonstrate a great deal of self-confidence as he plowed into the waves at the beach that day!" Cosh wrote.
(Greg Cosh)
Photographer Erick Hidalgo of Woodland Hills captures a moment on Mono Lake.
(Erick Hidalgo)
Steve Leff of Sherman Oaks captured this image of the Library of Celsus in Ephesus, Turkey.
(Steve Leff)
Jeff Brinda of Laguna Niguel took this image in Delft, Netherlands.
(Jeff Brinda)
Jake Fisher rides a wave in this image by Jackson Billups of Ladera Ranch.
(Jackson Billups)
Collette Golden of Santa Ana captured an image of umbrellas in London's Borough Market.
(Collette Golden, Santa Ana)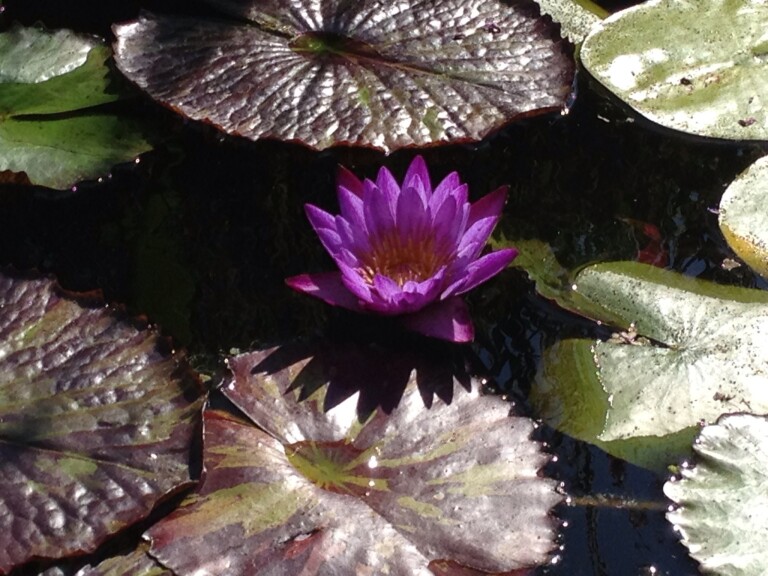 Nancy Hillhouse of Yucaipa took this lotus blossom shot at Mission San Juan Capistrano.
(Nancy Hillhouse)
Ken Lee of Los Angeles took this image of large, outdoor metal sculptures created by artist Ricardo Breceda in Borrego Springs, Calif.
(Ken Lee)
Michael Battaglia of Long Beach captures Jackson Lake in Grand Teton National Park in Wyoming.
(Michael Battaglia)
Joanne G. Landeros of Dana Point took this image of Great Fountain Geyser in Yellowstone National Park.
(Joanne G. Landeros)
San Francisco's Golden Gate Bridge is captured by Eric Burger of Rancho Cucamonga.
(Eric Burger)
Alaska's Prince William Sound is photographed by Anne Lai of Dana Point.
(Anne Lai)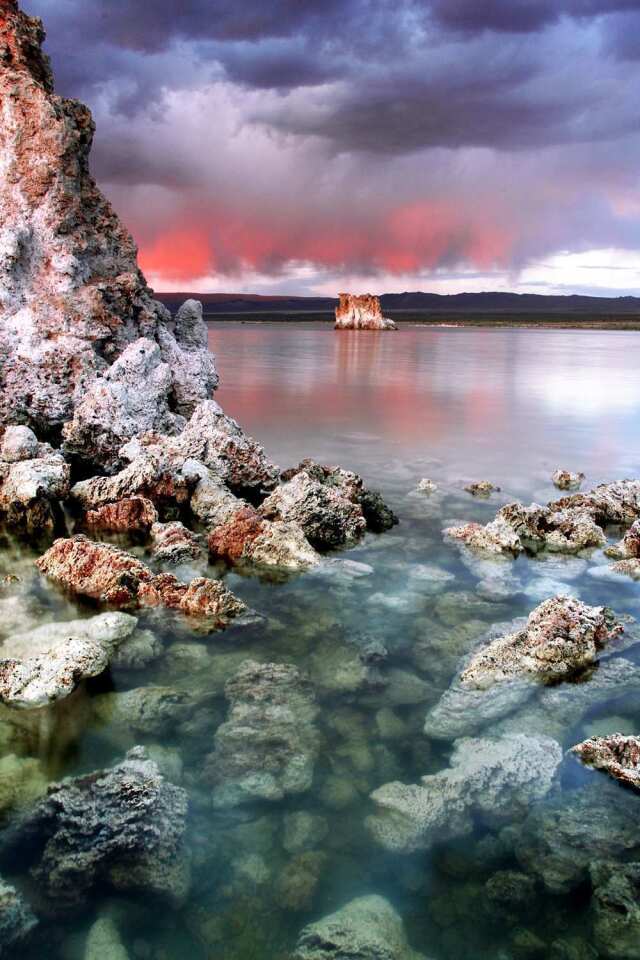 The texture and lighting of this photo of highly alkaline Mono Lake by Jeremy Tripp of Bethesda, Md., create an otherworldly sense. The image's many layers add to the enjoyment and mystery. Tripp used a Canon 7D to capture the shot.
(Jeremey Tripp)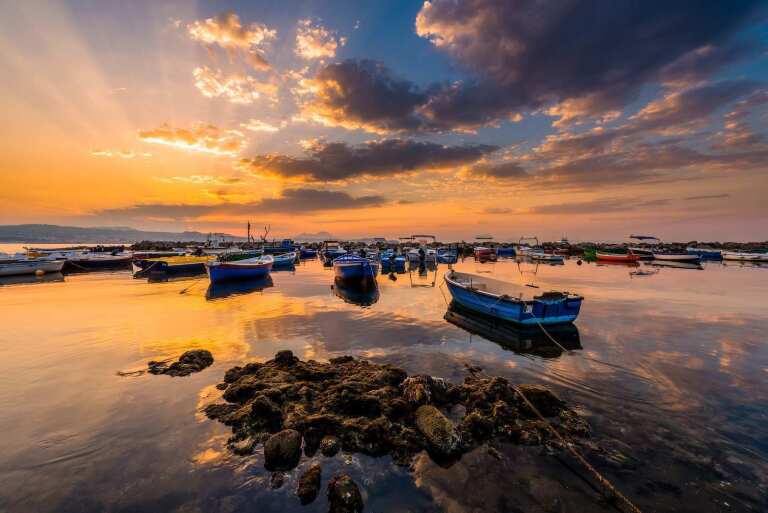 This picture, shot in Italy's Naples province, has all the elements a photographer dreams of, including amazing light and composition. Adam Allegro of Agoura Hills took the photograph with a Nikon D800.
(Adam Allegro)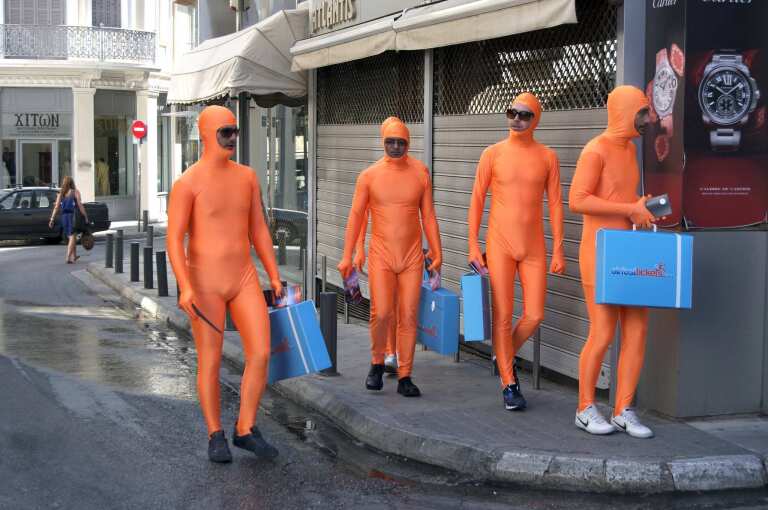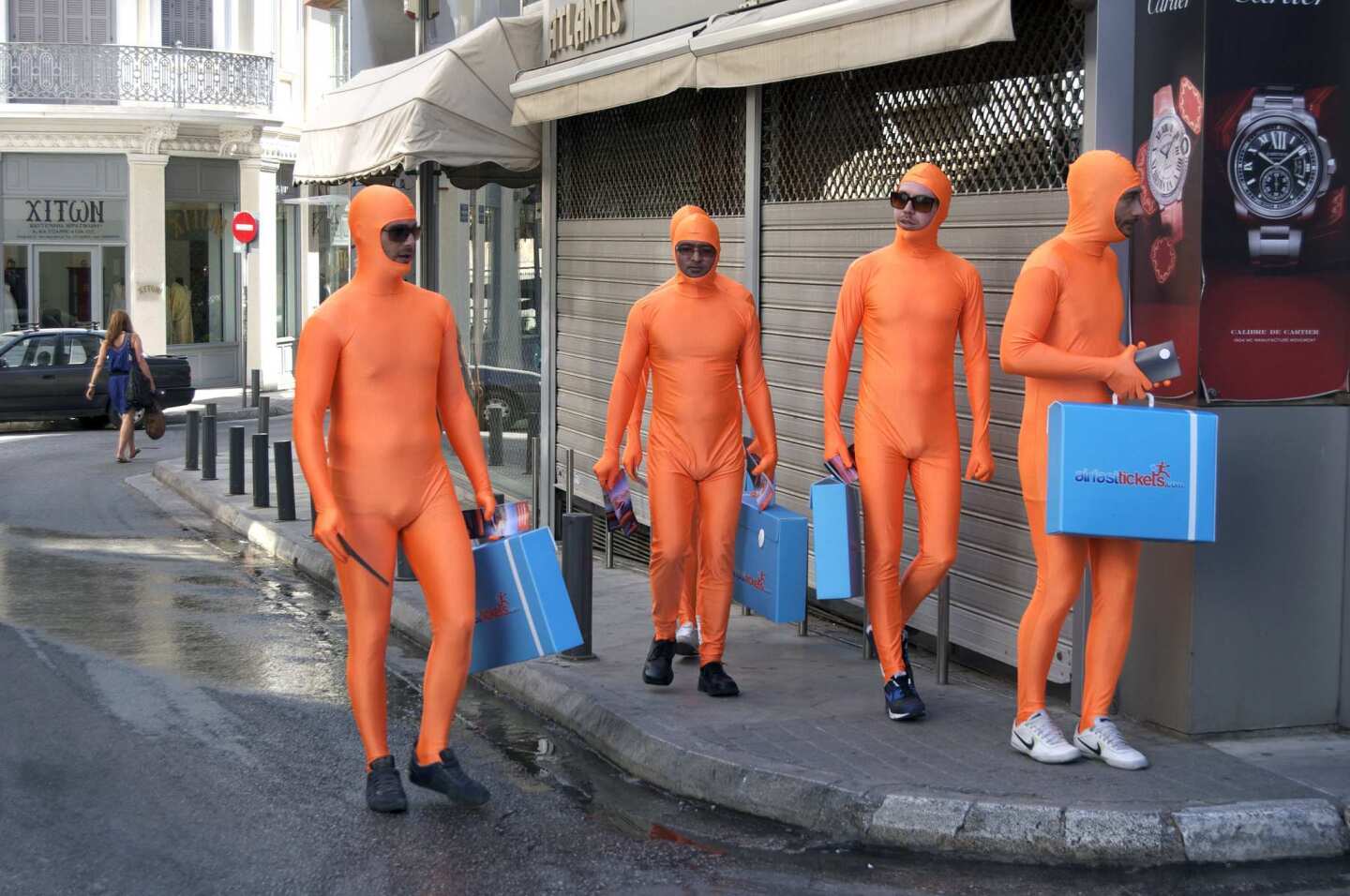 Move over, Acropolis. Here's the real memory maker. The unexpected makes for photos you'll remember. You'd hardly expect four orange guys in the middle of the Greek capital, would you? Dawn Rosenquist of Los Angeles took the image with a Nikon D90.
(Dawn Rosenquist)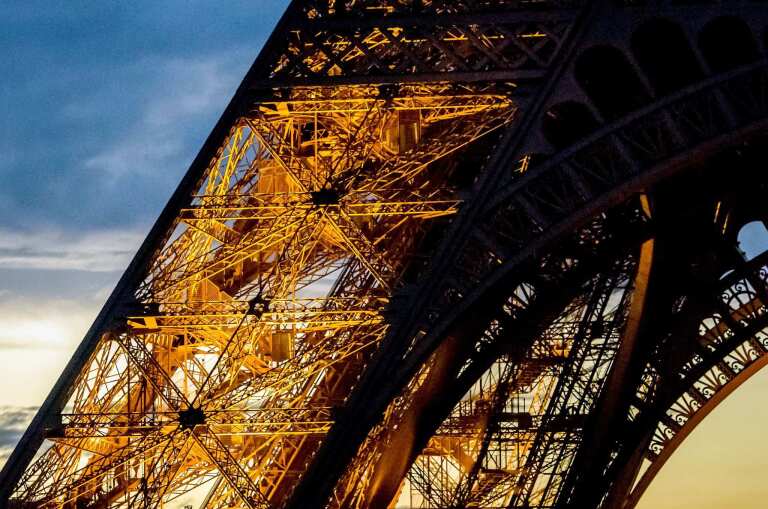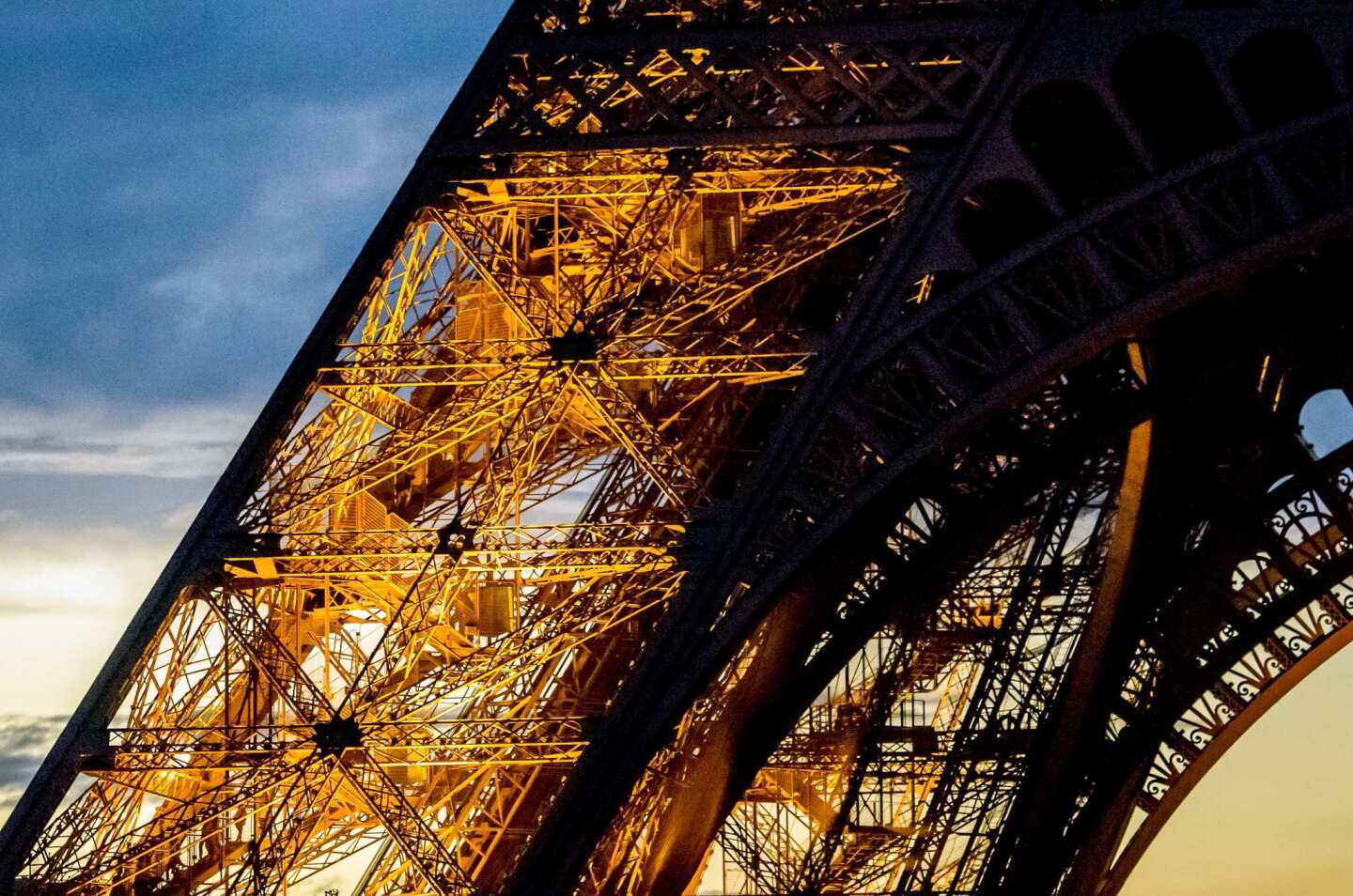 Finding a fresh way to capture a familiar subject can be a challenge, but Brian Rothmuller of Irvine rose to the occasion. This shot of a portion of the iconic 984-foot Eiffel Tower also exemplifies wonderful use of available lighting. Rothmuller used a Nikon D7000.
(Brian Rothmuller)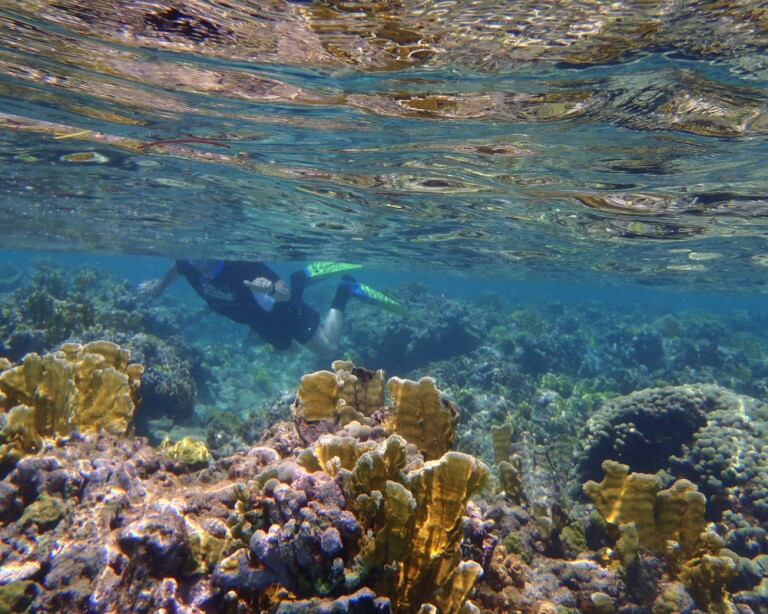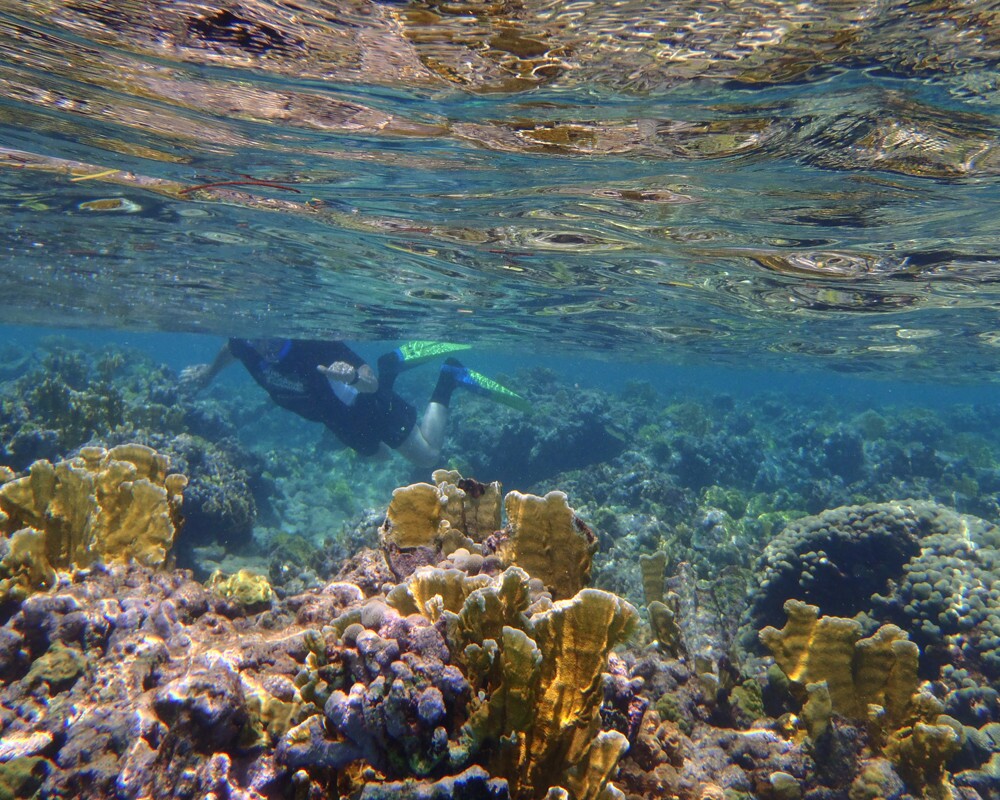 Felicia Tausig captured Australia's Great Barrier Reef with an Olympus TG-320 underwater camera.
(Felicia Tausig)
Adam Allegro of Agoura Hills captured this image in the Vatican Museums in Vatican City.
(Adam Allegro, Agoura Hills)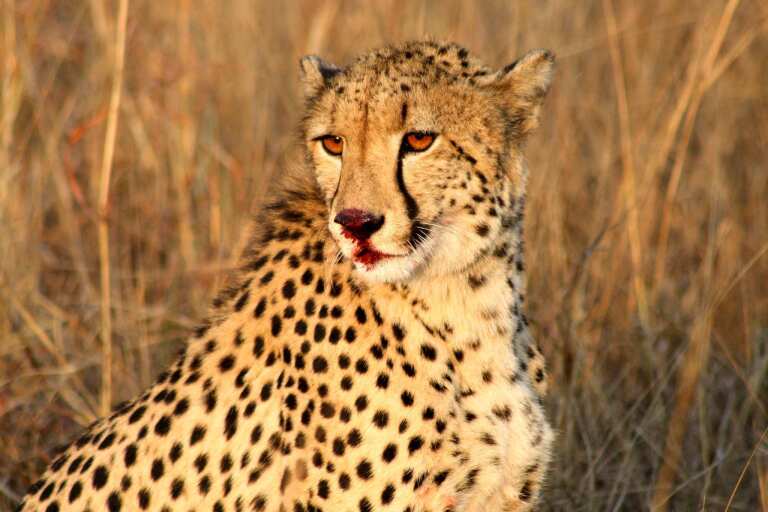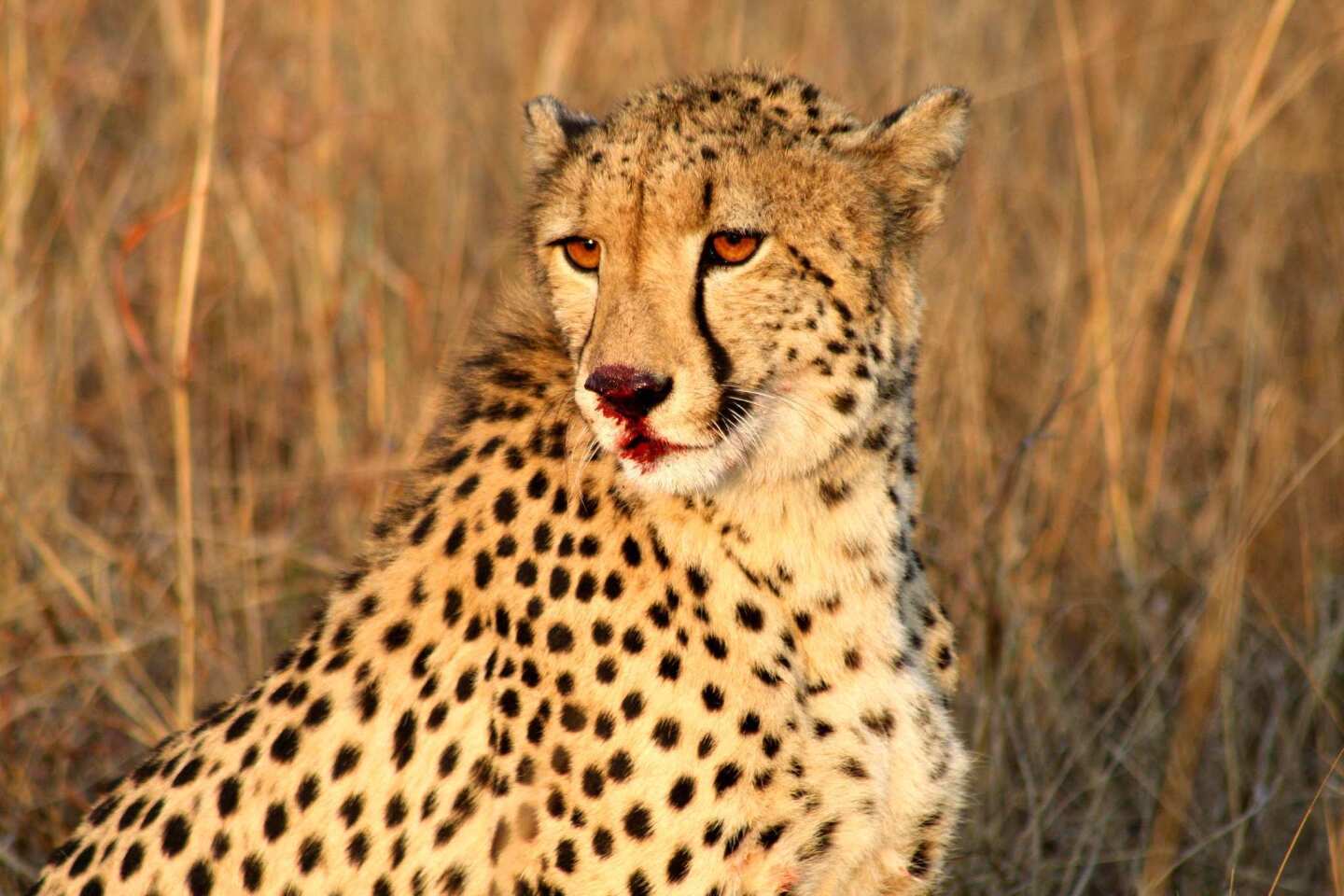 The lighting is ideal, but the bonus is the cheetah's "lipstick," which gives this photograph, taken on a safari, an element of surprise. Debra Griffith of Mission Viejo took the shot with a Canon EOS Digital Rebel XS.
(Debra Griffith)
T.D. Hathcock of Flower Mound, Texas, captures an image of a bear at Brooks Falls in Alaska's Katmai National Park.
(T.D. Hathcock, Flower Mound, Texas )
This image of a buffalo was taken in South Dakota's Custer State Park.
(Ken Kealey and Larry Tyler)
Anna Rolbin of San Clemente captures a humpback whale breaching near Juneau, Alaska.
(Anne Rolbin)
Cheryl Junod of Santa Monica took this underwater image in Oahu's Hanauma Bay.
(Cheryl Junod)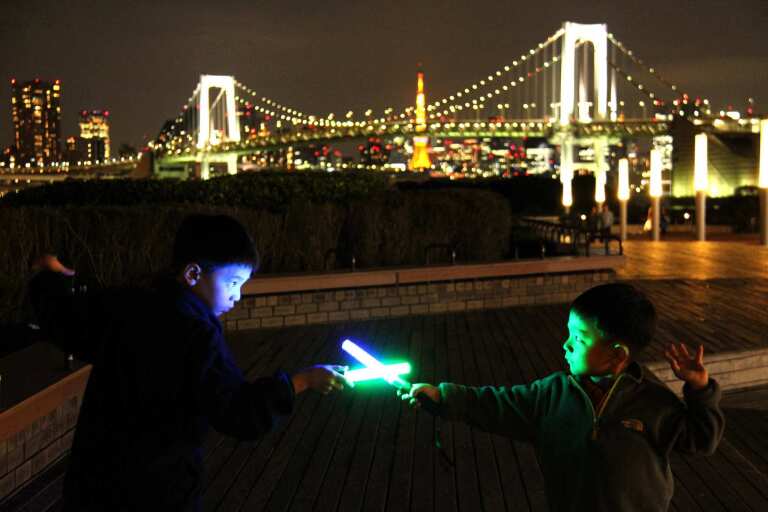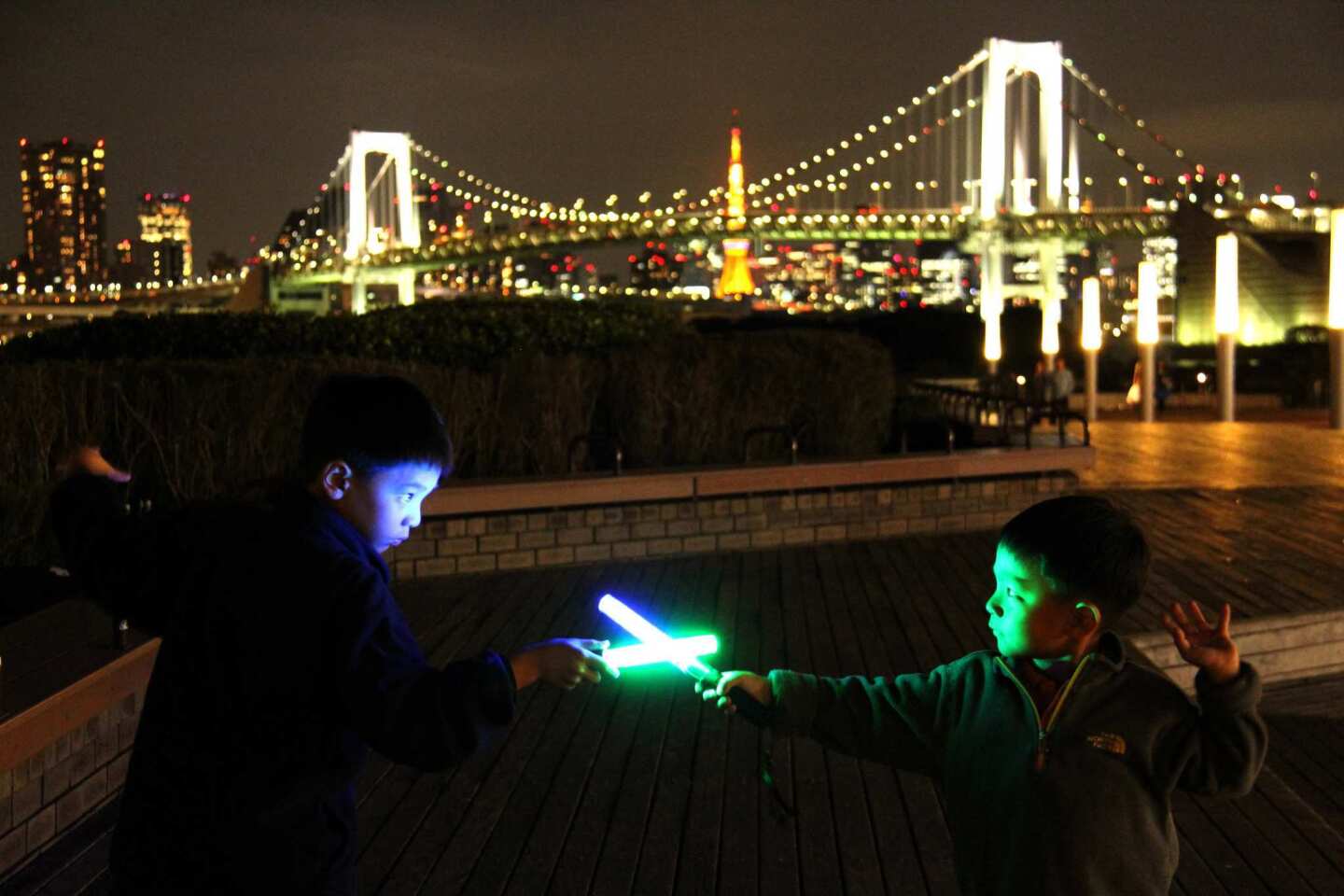 Michael Wong of Porter Ranch takes a photo of his sons David, 8, and Joseph, 4, on Odaiba Island, Tokyo, with a Canon EOS 60D.
(Michael Wong)
The arc of the water whipping from the hair of Glendale photographer Alan Steel's 9-year-old granddaughter catches and guides the eye through this picture.
(Alan Steel)
The contrast -- the dark fish against its colorful brethren -- plays well in this tightly framed photo by Andrea Ashley of Hidden Hills. The fish eyes create a sort of dot-to-dot visual game as well.
(Andrea Ashley)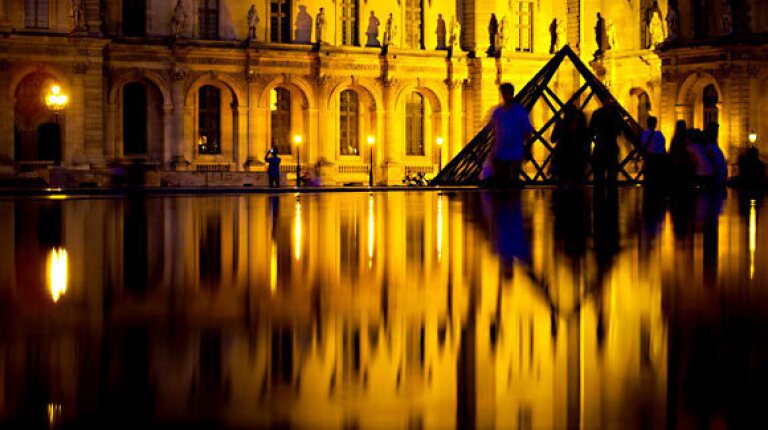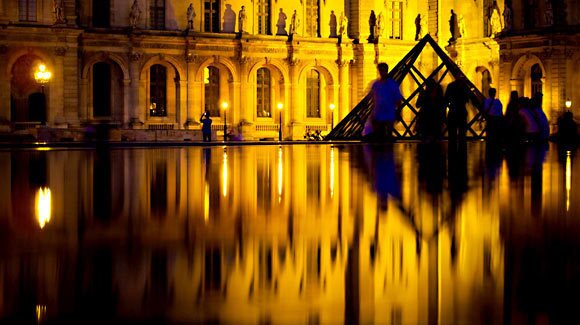 "On the 4th of July, I was walking around Paris and landed at the Louvre at sunset. It was striking," said photographer Danielle Klebanow of Marina del Rey.
(Danielle Klebanow)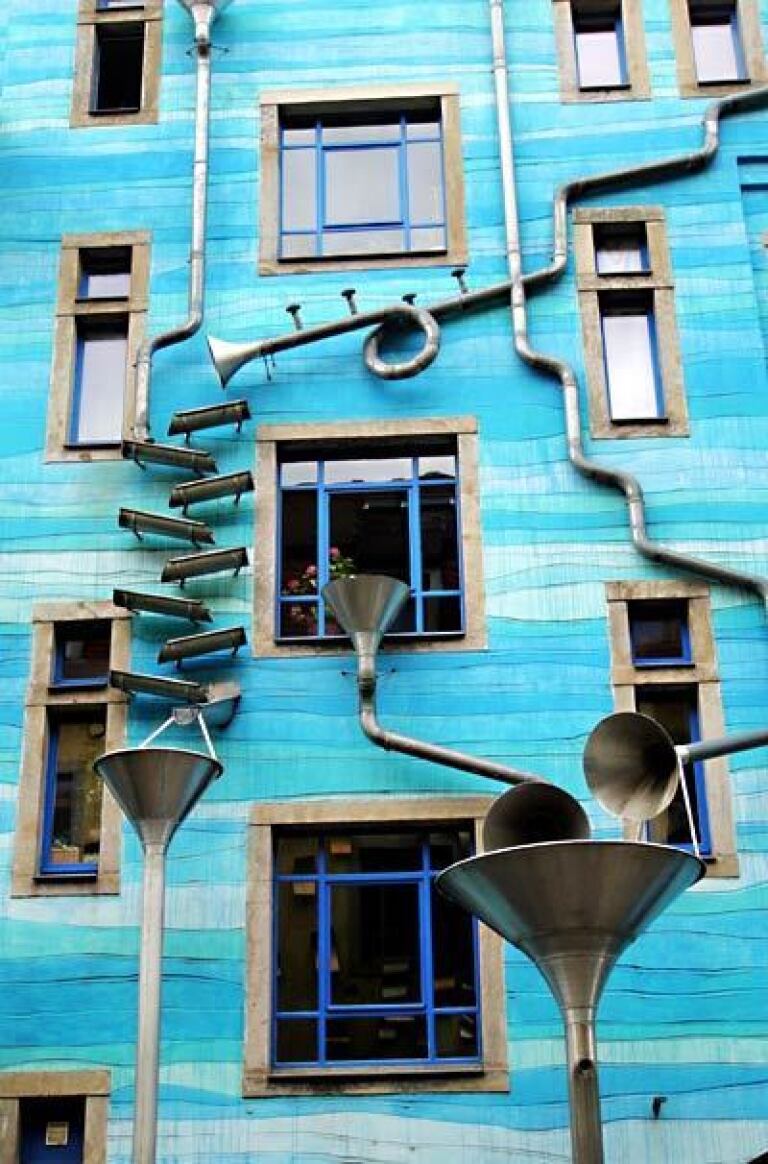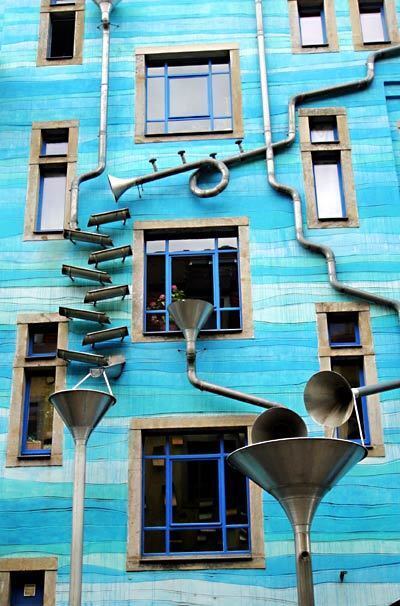 Photographer Ken Breuer of Encinitas said: "Our family was on the final leg of a European trip that concluded with four days in Dresden, Germany. Our 14-year-old daughter Natalie's friend Beryl had recently moved to Dresden with her family from the San Diego area, and we vowed to take Natalie for a visit. The two families had a final day of sightseeing June 13, which turned out to be a local holiday, so the shops in Kunsthofpassage -- an artists' village in the heart of new Dresden -- were closed. However, this colorful Kunsthofpassage building, with its imaginative drainage system, entertained us all."
(Ken Breuer)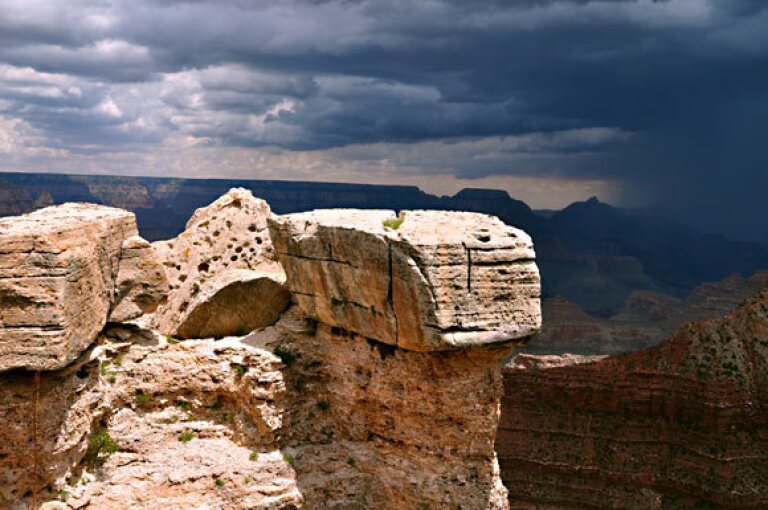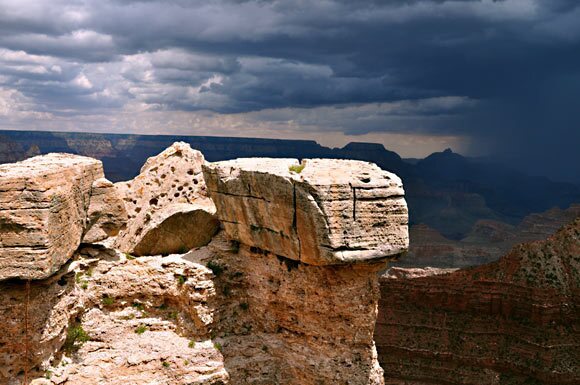 Photographer Jennifer Martin of Tustin said: "We took our children to the Grand Canyon for the first time -- they are 5 and 2½. There were amazing puffy, white clouds on our drive from Flagstaff to the Grand Canyon that morning, and we had an hour or so of sunshine at the rim before the summer storm approached through the canyon. We knew there was heavy rain, thunder and lightning headed toward us, but it was such a dramatic sight, I kept turning around to take photos as we headed for shelter in the gift shop."
(Jennifer Martin)
Photographer Rebecca Seed of Venice took this image in Nusa Lembongan, Indonesia.
(Rebecca Seed)
Carol Hahn of Malibu took this image in England.
(Carol Hahn)
Terns at Bolsa Chica Ecological Reserve are captured in this image by Cliff Getz of Laguna Beach.
(Cliff Getz)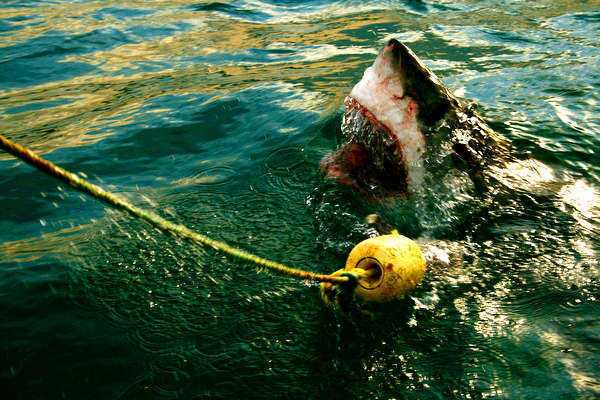 Cory Robinson of Santa Monica captures an image of a shark in Mossel Bay, South Africa.
(Cory Robinson)
Deborah Liu of Los Angeles took this shot in Hong Kong.
(Deborah Liu)
Diana Lustig of Huntington Beach took this image of a child in Paris.
(Diana Lustig)
Diana Ma of Sherman Oaks captures a shot of Paris' Eiffel Tower.
(Diane Ma)
Katy Lester of Lake Arrowhead captured this image of a cat in Panama.
(Katy Lester)
Kevin Meagher of Moorpark took this photo of a geisha in Kyoto, Japan.
(Kevin Meagher)
Lauren Sloan of Calabasas captures a view of Los Angeles from the Griffith Observatory.
(Lauren Sloan)
Mark Steinberg of Los Angeles took this photograph in Beijing.
(Mark Steinberg)
This photo is a potent reminder of the real joy of travel. No one knows how to beat boredom like a 9-year-old, who opened a window and let the rain tickle his face on the hour-long ride from the airport to the hotel in Costa Rica. Margie Temme of Santa Ana took the shot.
(Margie Temme)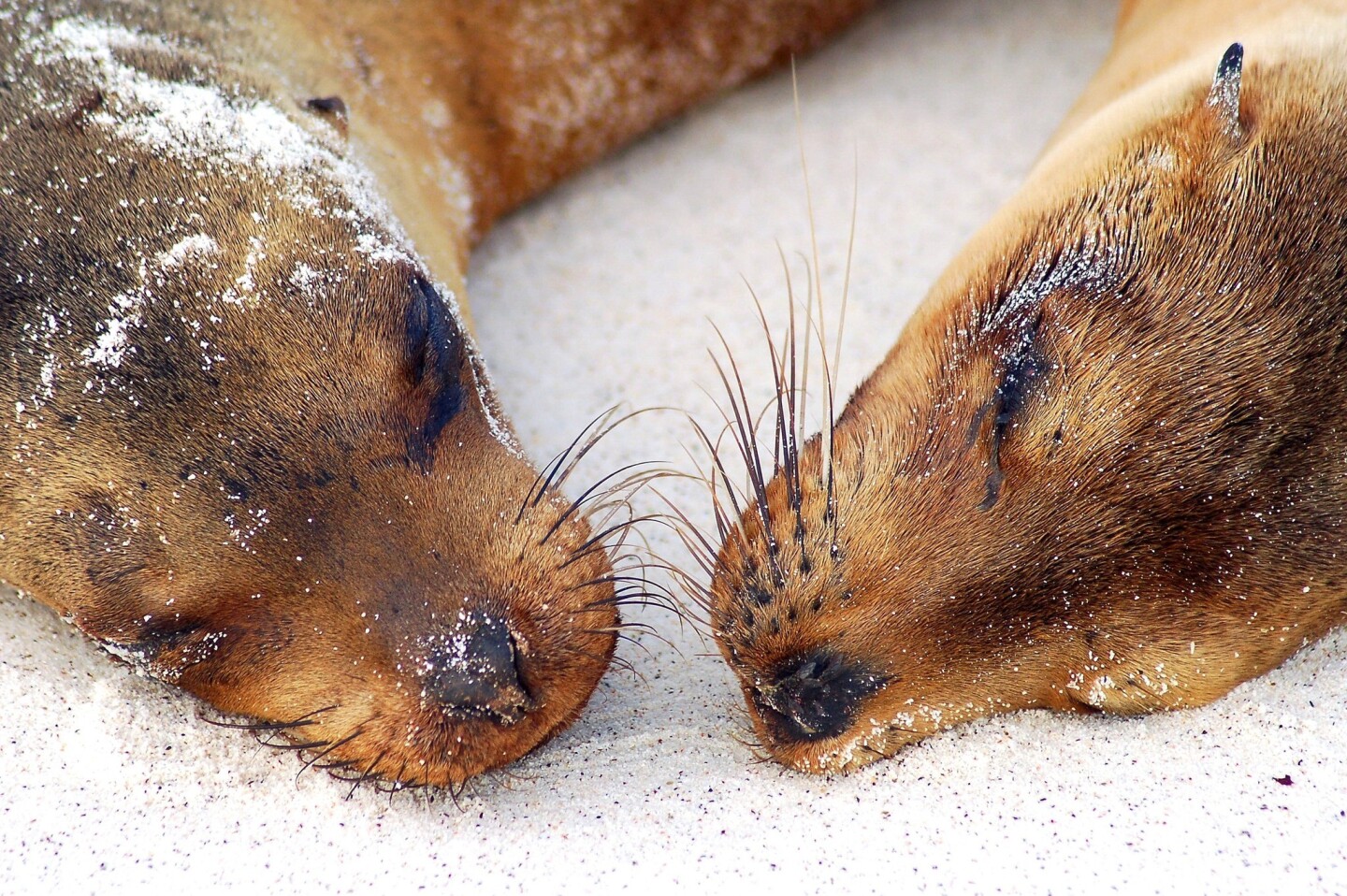 Photographer Linda Boyd of Anaheim got in so close that you can't help but feel you're on the beach sunning yourself with the sea lions. By filling the frame with the animals, the lovable details emerge, even down to their whiskers.
(Linda Boyd)
Being flexible and having a good eye help. Photographer Felix J. Bonomo of San Marcos, Calif., had disembarked to shoot the train but found this scene instead. Subtle colors create an air of mystery. Like a great painting, it invites you to gaze at it.
(Felix J. Bonomo)
This is a unique take on the Western Wall, which is a familiar subject. Photographer David Katz of West Hills used a long exposure for this nighttime shot, which created an ethereal effect when the men walked into the foreground.
(David Katz)
Sheri Forbes of Houston took this lightning shot in Destin, Fla. It's so vivid you can almost feel the electricity.
(Sheri Forbes)
Stephen Krupnick of Laguna Beach took this shot at the Cheyenne Frontier Days Rodeo in Wyoming.
(Stephen Krupnick)
Chicago is reflected in "The Bean" sculpture in Millennium Park in this image by Jim McIntire of Thousand Oaks.
(Jim McIntire)
Clark Woodford of Los Angeles took this image of a giraffe at the Toronga Zoo in Sydney, Australia.
(Clark Woodford)
Todd Stern of Venice photographed a young girl visiting a temple in Kathmandu, Nepal.
(Todd Stern)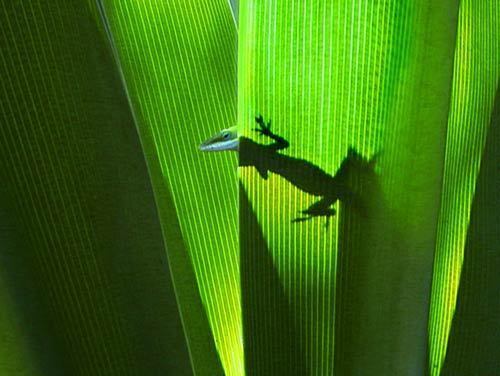 Howard Maize of Woodland Hills steals a shot of a gecko.
(Howard Maize )
Our highlights from previous years:
---
Get inspired to get away.
Explore California, the West and beyond with the weekly Escapes newsletter.
You may occasionally receive promotional content from the Los Angeles Times.