The Times' favorite summer vacation photos from readers in 2014
Get up early or stay up late. Move around. Remember details. Pay attention to lighting, composition and moments. Those are among the keys to making great photos, Times editors and photographers agreed in this story.
THE PHOTOS:

Great photography takes great patience. Chuck Claude of Flagstaff, Ariz., said he was always in a hurry to get to his favorite climbing spot in Indian Creek in Utah, so he rarely stopped. But on this evening, as a thunderstorm threatened, he forced himself to slow down to see what was around him.
(Chuck Claude)
This is the Alley of the Baobabs on Madagascar, an island off southeastern Africa. The fog lends an otherworldly feeling, and the soil contrasts nicely with the gray sky. The composition by Matt Cohen, of Phoenix, emphasizes the unusual tree, which legend says was planted, roots up, by the devil.
(Matt Cohen )
Timothy Guiteras of Los Angeles and his father, Tom, were snorkeling in Belize when Timothy dove 20 feet to the sea floor and looked up. Like many good photos, this one creates conflicting emotions: It illustrates the depths from which this was shot, which is exciting and worrisome.
(Timothy Guiteras)
When a cruise took Bob Callahan to the Pribilof Islands, he took an excursion to the bird cliffs of St. Paul in hopes of seeing puffins. Shooting these diving birds is a challenge, he said, but this shot of the "braking" moment shows once again how important the moment is in photography.
(Bob Callahan, Balboa Island)
On a People-to-People trip to Cuba, Donna Judd of Fullerton encountered this woman posing in Havana's old town. "I loved her attitude and the sparkle in her eyes," Judd said. "My passion is taking pictures of people that show our common humanity, regardless of cultural differences."
(Donna Judd)
These youngsters from a Tanzanian primary school, which had granted permission for photographs, radiated a joy and an innocence that came through because Philip Jen Kin of Cerritos used a focal length of 85 mm -- close enough to get good details but not so close that he intruded on the moment.
(Philip Jen Kin)
It doesn't always take the fanciest digital camera to snap a memorable moment, but it does take initiative. Using a Nexus 5 Google phone, Joshua Meindertsma captured this picture at Burning Man by climbing inside the welded bicycle sculpture to get a different angle on "Embrace."
(Joshua Meindertsma, West Hollywood)
Jim Tatosian of Harbor City saw 2-year-old Xiao Liwu of the San Diego Zoo at mealtime. "It is ... amazing to watch as the bears use their paws to grasp the bamboo," he said, "and then to watch as their powerful teeth break apart the bamboo," which adds an interesting layered element.
(Jim Tatosian)
Good lighting is key to great photos. Gene Cheltenham of Los Angeles, traveling the rugged coast on Highway 1 in Northern California about 50 miles northwest of San Francisco, came across this abandoned fishing boat. The gray of the early morning enhanced the drama and mystery.
(Gene Cheltenham)
This photograph by Chris Tran of San Diego is memorable because of what it says about Fijian culture. Villagers would shout out greetings -- "Good morning!" or "Bula!" (hello). Tran had just returned the greeting when he snapped this shot of a little girl who was ready for church.
(Chris Tran)
All who wander are not lost, as Carson Lane Campman of Sherman Oaks proves with this photo. She and her mother were meandering through Rome observing the architecture and statues, she said, when her mother noticed that this piece depicted only women.
(Carson Lane Campman)
Carol Cox, whose hobby is photography, credits an 80-400 mm lens for helping her capture great images during an African safari. Timing, anticipation, technique and equipment proved the magic combo for this beautifully illuminated photo.
(Carol Cox, Tucson)
These falls, spelled Iguazú on the Argentine side and Iguaçu on the Brazilian side, where this photo was taken, get their name from a word meaning "great water." Soumitra Sarkar traveled to Brazil for the World Cup and saw the falls just after heavy rains, which created a mesmerizing shroud.
(Soumitra Sarkar, Arcadia)
Ken Lee of Lake Balboa photographed a gnarled tree at the Ancient Bristlecone Pine Forest, one of his favorite places.
(Ken Lee)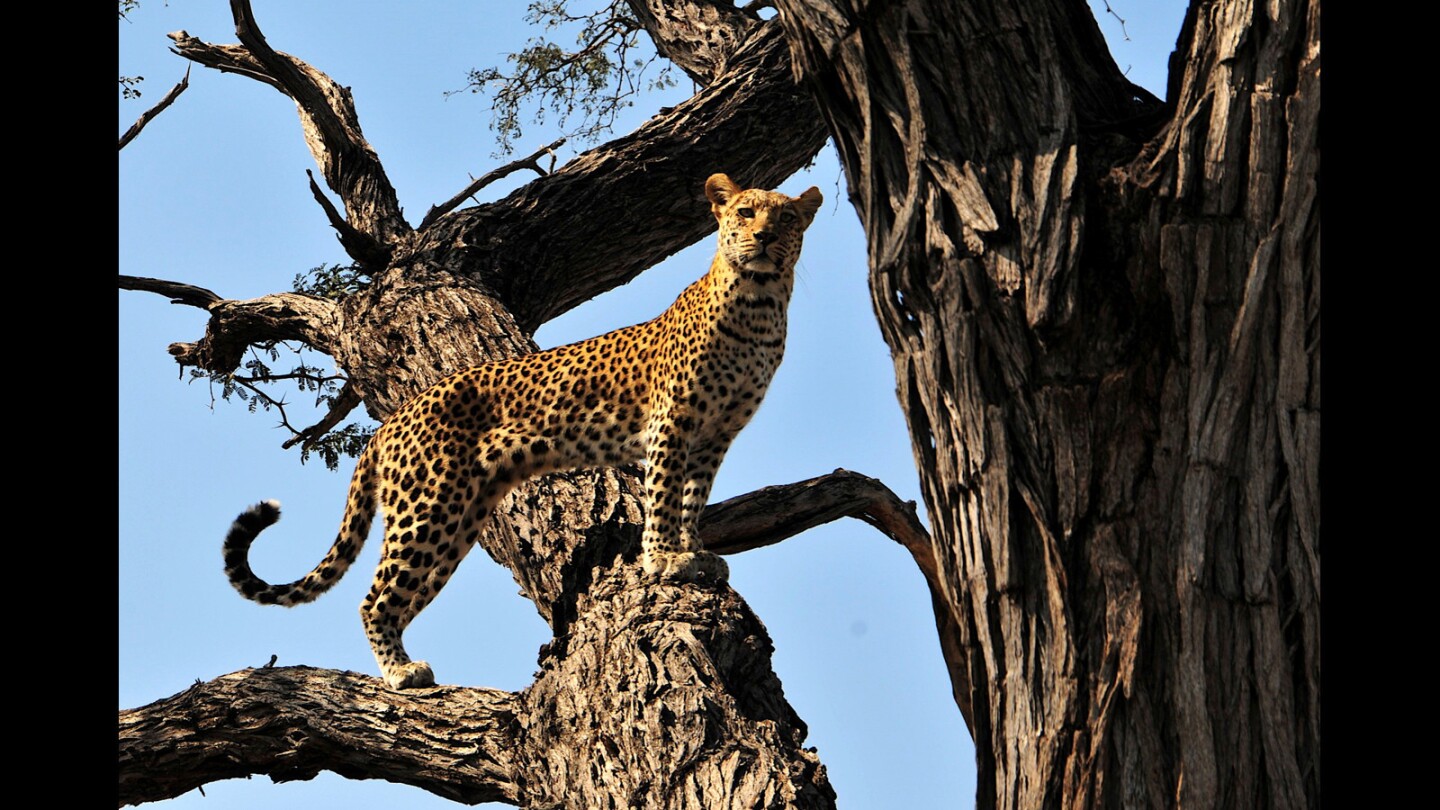 Humor is an important element in photography, and this photo of a big cat in a big tree can't help but bring a smile to your face. Whitesell spotted the leopard as she was on her way to the airstrip to fly to another camp, once again proving timing is everything.
(Wendy Whitesell, Newport Beach)
Rain doesn't always wreck a photographer's day. David Totheroh had been walking around tourist-filled Venice when on his return to his hotel on the Canale di San Marco, he saw a flash of lightning and heard thunder. Tourists disappeared almost instantly, leaving one pop of color.
(David Totheroh, Topanga)
Sander Fink, 15, was walking out of the Paris Métro station with his grandmother just as the rain began to let up. Capturing this moment may have been partly luck, but good photographs often result from a combination of preparation, anticipation and, yes, happenstance.
(Sander Fink, Hermosa Beach)
Tourists didn't discover the beaches of Costa Brava, in northeastern Spain, until the 1920s, but judging by Debra Trager Short's photo, they have made up for lost time. The colors of the suits and umbrellas and the blue of the water invite you and your towel to flop down onto the sand.
(Debra Trager Short, Tucson)
Joy Umbach photographed alpenglow on Mt. Russell during a backpacking trip.
(Joy Umbach, Los Angeles)
Erin Reed was in the shallows of Jumby Bay when she saw a dark mass beneath the surface. The "mass" was a school of fish that closed around her. The larger creature puts the number of fish into jaw-dropping perspective.
(Erin Reed, Pasadena)
David Park of Los Angeles captured a double rainbow over Yosemite Valley.
(David Park)
Lexi Packer of Ashland, Ore., photographed a lilac-breasted roller resting on a tree in the Okavango Delta. "We saw a lot of lilac-breasted rollers in Botswana, but not many stayed still long enough to capture their singular beauty," Packer said.
(Lexi Packer)
During a hike Chris Tanner happened on this colorful scene on Spooner Lake. Algae growing near the shore had painted this corner of the lake bright yellow and red, he said.
(Chris Tanner)
A break in storm clouds illuminates a float at Discovery Bay in a photograph by Al Corral.
(Al Corral)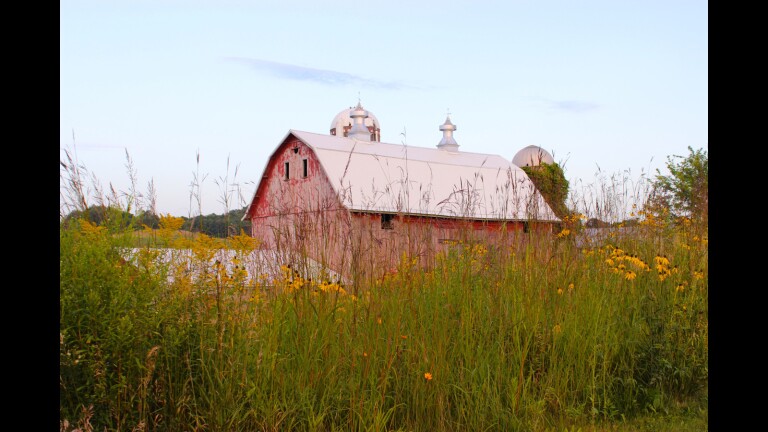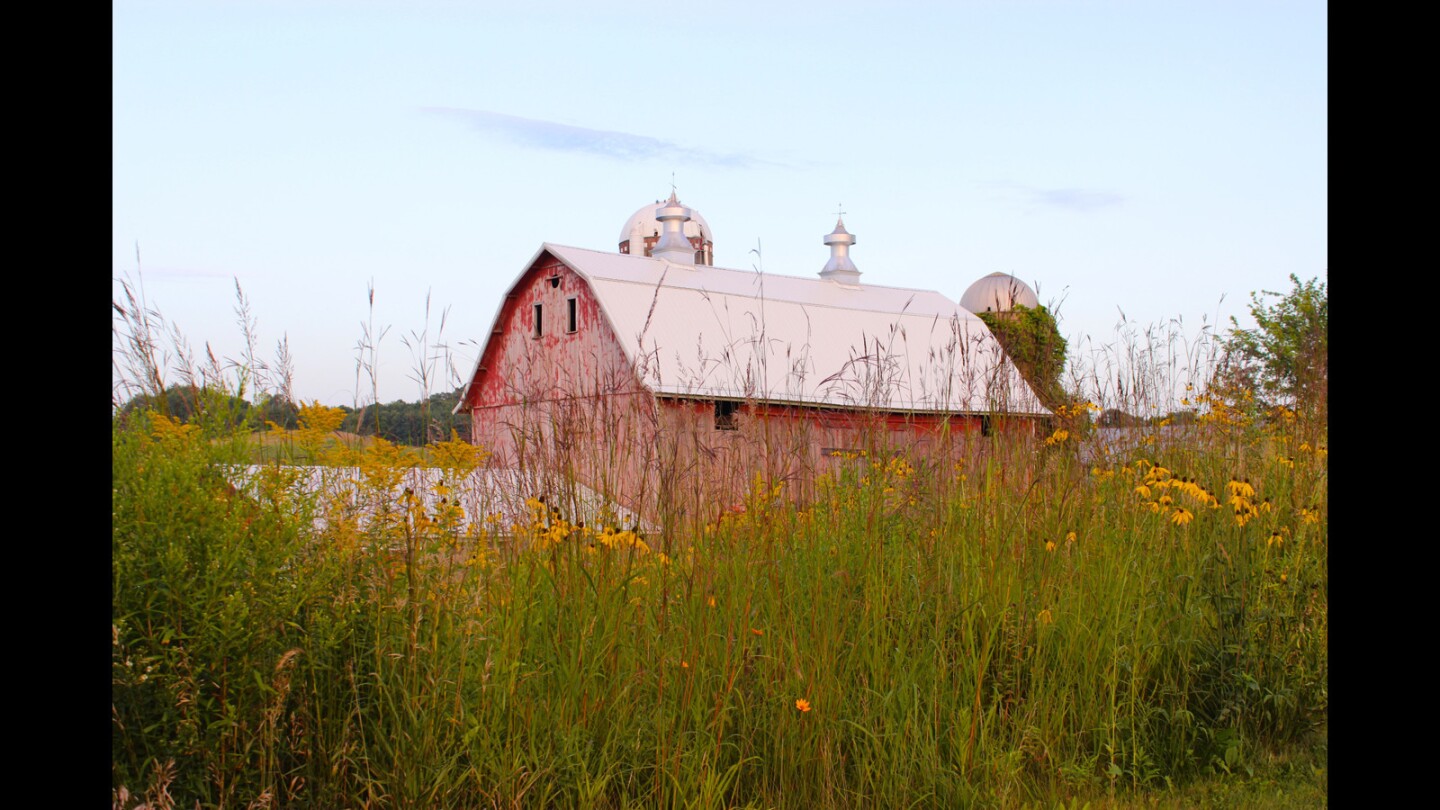 A barn, seen shortly before sunset. "I love how the lighting really brings out the different colors from the barn, the sky and the beautiful wildflowers," Blair Brown says.
(Blair Brown, Torrance)
David Frisbie of Rancho Cucamonga photographed a mother and her ducklings at Big Bear Lake.
(David Frisbie)
The sun peaks over rock formations at Bryce Canyon National Park in a photograph by Emerson Little.
(Emerson Little, Fullerton)
Delan Hilliard photographed a geyser at West Thumb Geyser Basin at Yellowstone National Park during a family vacation. "The depth and colors were mesmerizing," Hilliard said.
(Delan Hilliard)
A mother Barbary macaque and its baby, in a photo by Joel Swetow.
(Joel Swetow, Silver Lake)
During a two-week sailing adventure in the Gulf of California with her grandparents, Amber Larks photographed the sunset at Agua Verde, Mexico.
(Amber Larks)
Bruce Hanrahan spotted an African fish eagle during a cruise on the Chobe River in southern Africa.
(Bruce Hanrahan, Studio City)
Elaine Feuer-Barton photographed a moose grazing in front of the Teton mountains. He had been laying down nearby, but just as Feuer-Barton decided she had watched him long enough, he lumbered to the meadow, setting up this shot.
(Elaine Feuer-Barton, Encinitas)
Looking up at a canopy of bamboo on Maui, in a photo by Adam Anderson.
(Adam Anderson)
Scott Gutentag photographed Reflection Lakes at sunrise. "After three days of rain and very cloudy and cold weather, this shot appeared," he said.
(Scott Gutentag, Pasadena)
Matt Hoffman photographed his friend, Hunter Martinez, riding a wave during a surf trip in Nicaragua. "I love how this image portrays a simple and fun summer moment," he said.
(Matt Hoffman, Pasadena)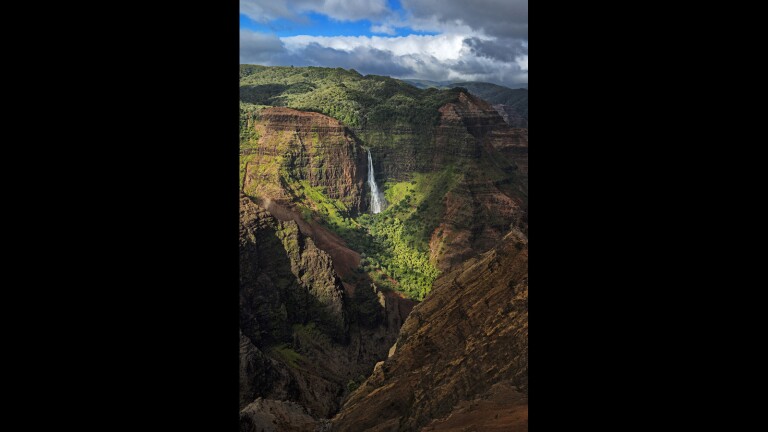 Sandy Davis took this photo at a vista point at Waimea Canyon after a hike to the top of Waipoo Falls (pictured).
(Sandy Davis, Pasadena)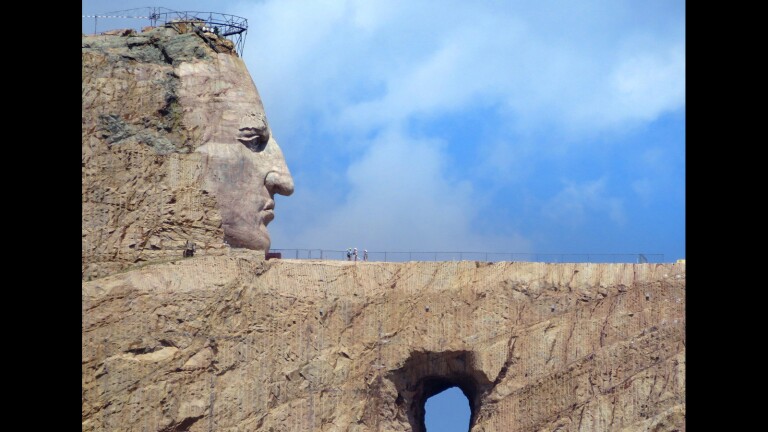 Sandi Khine took this photo of the Crazy Horse Memorial in South Dakota to capture its size. The head alone rises almost 90 feet.
(Sandi Khine, Arcadia)
Royce Adams photographed this pod of hippos during a family canoe trip on the lower Zambezi River.
(Royce Adams, Santa Barbara)
Beachgoers at Hilton Head Island in South Carolina at sunrise, in a photo by Dan Eskue.
(Dan Eskue, La Canada Flintridge)
Visitors get drenched by water from Victoria Falls in a photograph by Kenfield Kennedy.
(Kenfield Kennedy)
In an image by Karl Gerber, onlookers watch a performer create bubbles at Messeplatz in Basel, Switzerland.
(Karl Gerber)
John Dalton photographed Quake Lake at sunset. The lake owes its name to a 1959 earthquake that led to its formation.
(John Dalton, Santa Monica)
Bled Castle overlooking Lake Bled in Slovenia, taken shortly after the clouds had parted. "I love it because it transports me to another world," says Danielle Young.
(Danielle Young, Los Angeles)
Abigail Decter photographed her cousin on a rope swing during a family barbecue. "I thought her joy summed up the essence of summer," Decter said.
(Abigail Decter, Los Angeles)
Denise Swift took this photograph of children at play on a fallen tree at Prairie Creek Redwoods State Park.
(Denise Swift, Big Bear City)
Andrea Ashley photographed Château de Chenonceau during a three-week tour of the French countryside.
(Andrea Ashley, Hidden Hills )
Sue Bickford photographed a tree trunk with stones lodged in it during a camping trip. "This one looked like a gapped tooth smile to me," she said.
(Sue Bickford, Culver City)
A quiet moment at Crater Lake National Park, as photographed by David Worrell.
(David Worrell)
Cliff Reston stayed on the Zambia side of the Zambezi River during a trip to Victoria Falls, but took this photo on the Zimbabwe side. "If you go, it's a must to see the falls from both sides," he said.
(Cliff Reston, Lebec, Calif.)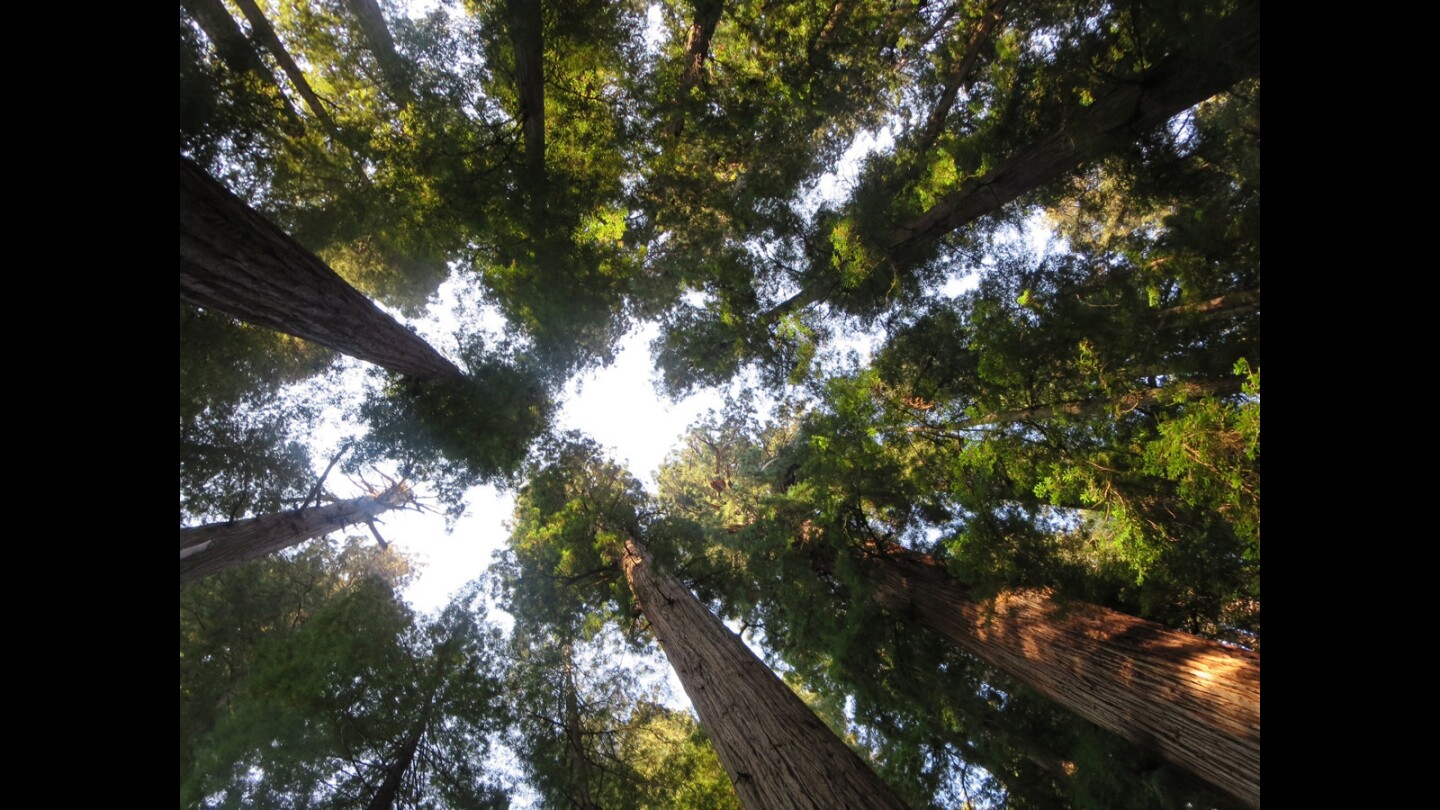 Towering trees at Redwood National Forest in a photograph by Amy Haeseler.
(Amy Haeseler, Long Beach)
Alan Steel photographed his granddaughters midair during a trip to Shaver Lake near Fresno.
(Alan Steel, Glendale)
Robert Dean captures a serene scene of boats docked at Colter Bay in Grand Teton National Park.
(Robert Dean, Lake Balboa)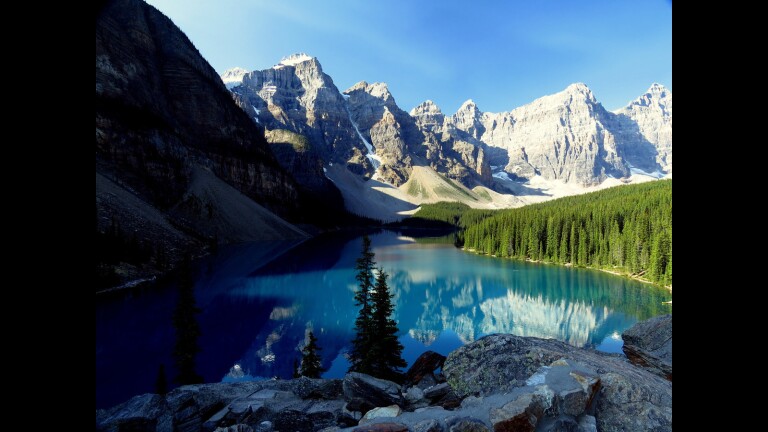 Michael Price captured this photo at Lake Moraine at sunrise. "The scenery is awe-inspiring and reminds people of the beauty of nature," he said.
(Michael Price, Oceanside)
Wayne Hunt of Los Angeles photographed California's Morro Rock at low tide during a bike ride.
(Wayne Hunt)
Jon Dickens photographed the sunset at Clover Pass Resort in Ketchikan during a fishing vacation.
(Jon Dickens)
People on board the vessel Expedition watch for polar bears off Spitsbergen Island.
(Brad Stolz, Covina )
Arshad Hussain took this photo of the town of Oia when his cruise ship stopped at Santorini.
(Arshad Hussain, Rancho Santa Margarita)
Judging by the photos that were submitted for our Summer Vacation Photo Issue 2014, people took to heart (or already knew) these suggestions. But others who submitted also ignored the "rules" to great effect. The result is a varied, fascinating collection from L.A. Times readers.
Of the more than 1,300 photos submitted, we've chosen these as examples of the most memorable pictures. Readers trotted the globe, bringing back photos from places as varied as Madagascar and Rome, Paris and Cuba. Their subjects are as diverse as their destinations: children, monuments, beaches, animals, starry, starry nights and more. But all of the pictures have one thing in common: They represent a photographer's memory of that time and place, of course, but they have meaning for the person who is seeing the work for the first time. In essence, the picture transports us to a place we may never see, but thanks to the generosity of the photographer, we now know a little better.
Favorite photos from past years:
---
Get inspired to get away.
Explore California, the West and beyond with the weekly Escapes newsletter.
You may occasionally receive promotional content from the Los Angeles Times.