Quick, grab a slice of cherry pie at 'Twin Peaks' Roadhouse. The pop-up bar will vanish soon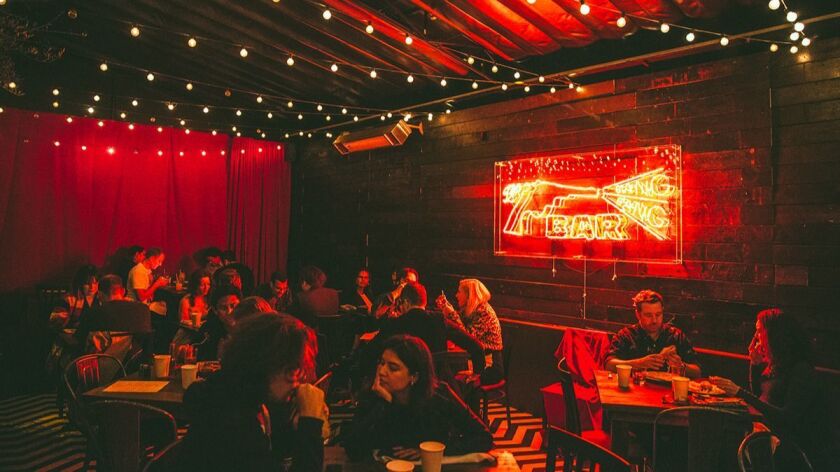 If you can't get enough of the cult favorite TV show "Twin Peaks," you can enjoy a cup of David Lynch coffee and cherry pie at the pop-up Roadhouse bar on Melrose Avenue in Los Angeles. But hurry, it's only open until Sunday.
The campy mystery-horror show lasted just one year after it launched on ABC in 1990. Since then, it has become an enduring cult classic. Showtime brought it back last year as a limited series with some original cast members, including Kyle MacLachlan as FBI special agent Dale Cooper.
Now diners can enjoy a "Twin Peaks" meal at Roadhouse, what the locals call the town's seedy bar. You enter through the Red Room, one of Cooper's fantasy places, and into the show's mysterious woods Glastonbury Grove. Inside, you'll be greeted by the red blinking "Bang Bang Bar" sign, the bar's official name.
The menu includes cocktails such as Killer Bob or Dr. Jacoby. Or you can order up a Betty Briggs meatloaf burger.
If you want to go, book quickly. You pay $25 for a 90-minute seat at the eatery, an amount that gets credited back to you when you enter.
It's open 5 p.m. to midnight from Wednesday to Sunday, and open for brunch from 11 a.m. to 3 p.m. Friday to Sunday. (Some times are already sold out.) You must be at least 21 years old.
The pop-up also has a Red Room Gift Shop with exclusive merchandise, such as a Laura Palmer T-shirt (remember, it's all about her) or a "Twin Peaks" T-shirt; $29.95 each. Or you can dress up as character Dougie Jones with a chartreuse jacket ($200).
Info: The Roadhouse, 7465 Melrose Ave., L.A.
---
Get inspired to get away.
Explore California, the West and beyond with the weekly Escapes newsletter.
You may occasionally receive promotional content from the Los Angeles Times.