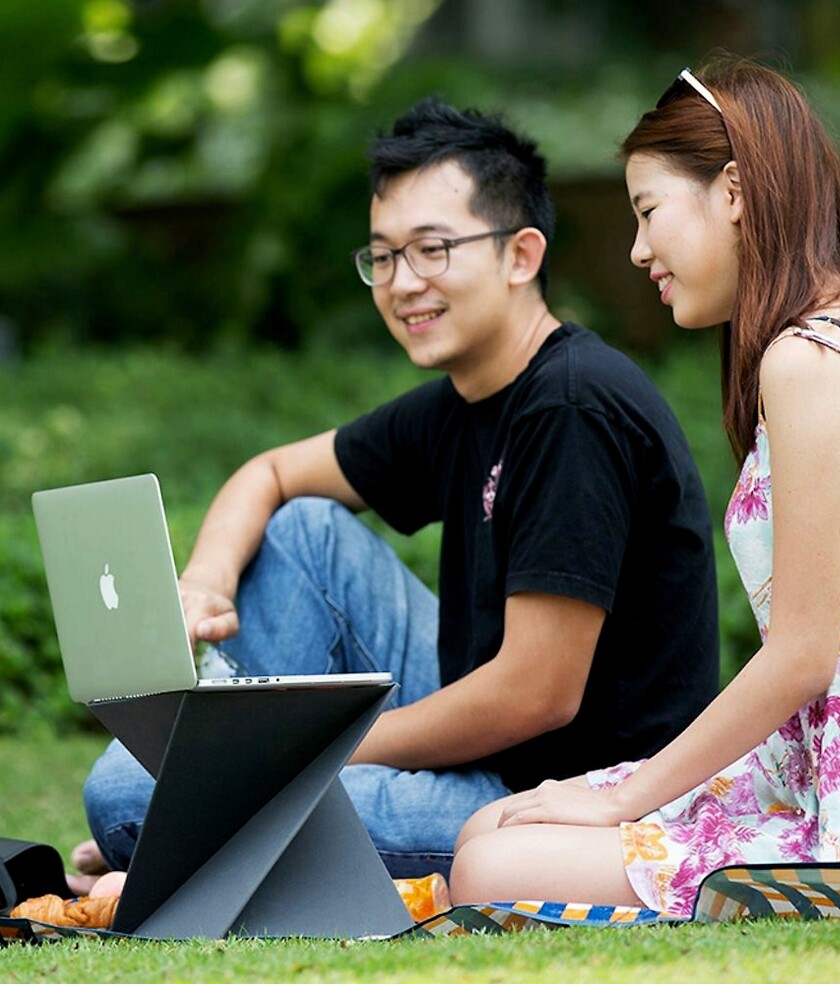 Portable help is at hand with a collapsible stand that looks like origami; a medical kit organized so you can get what you need fast; a walking cane that can retrieve what you've dropped; and a pop-up coffee brewer for a jolt in a jiffy.
A work of art
A small, collapsible laptop stand lets you set up a raised desk at the beach, in your hotel room or in transit. The Levit8 Foldable Laptop Stand, inspired by the traditional art of origami, is a lightweight and cool-looking take-along that was inspired by the paper art of origami.
The designers scored a single rigid acrylic board into triangular segments that lean against one another as the board is twisted to create a sturdy elevated laptop stand. Reverse twisting folds the stand nearly flat.
The stand is available in four heights, from 9 to 16.2 inches.
Cost, info: The Levit8 Foldable Laptop Stand begins at $23.95; lat.ms/levit8laptopstand
Finding first aid fast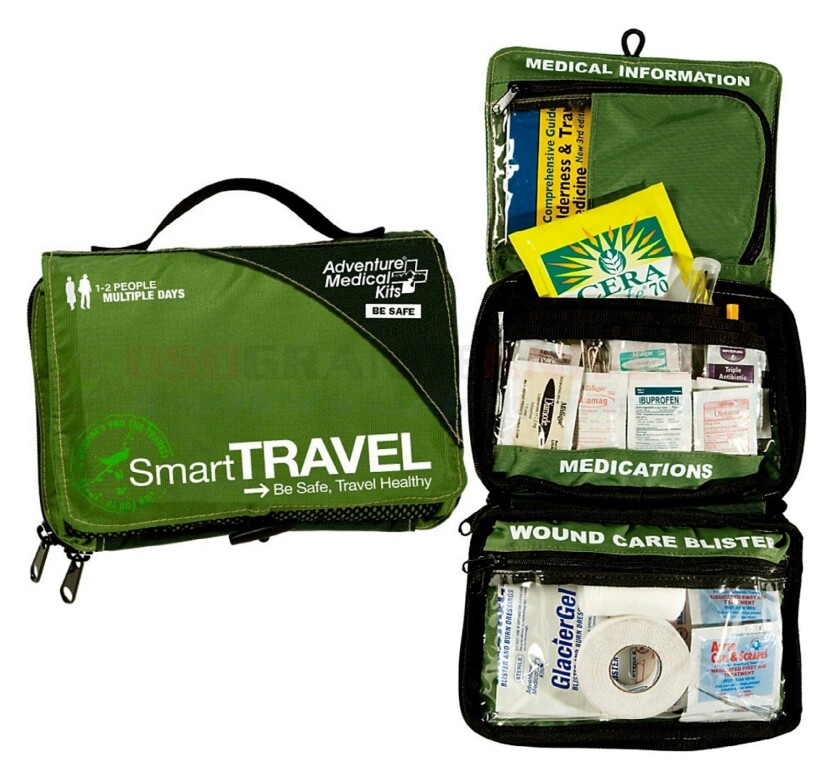 Adventure Medical Kits pioneered specialized emergency kits for mountain climbing, marine expeditions and other sports. The company's new Smart Travel Emergency First Aid Kit is for those who want essential medical supplies for more mundane pursuits.
It's organized in a trifold 8½-by-8-by-3¾-inch-thick canvas bag that has zippered transparent plastic compartments labeled to designate the ailment or injury the contents address. One section has medications for nausea, diarrhea, indigestion, headaches, dehydration and other ills. Another has bandages, sterile gloves, antibiotic creams and other supplies for wound care.
A double-sided plasticized "Visual Communication Tool" has medical illustrations that indicate bee stings, shellfish allergies, gluten, milk, peanuts and pollen allergies and other threats.
Cost, info: Adventure Medical Smart Travel First Aid Kit costs $50; lat.ms/smarttravelkit
A perker-upper and a picker-upper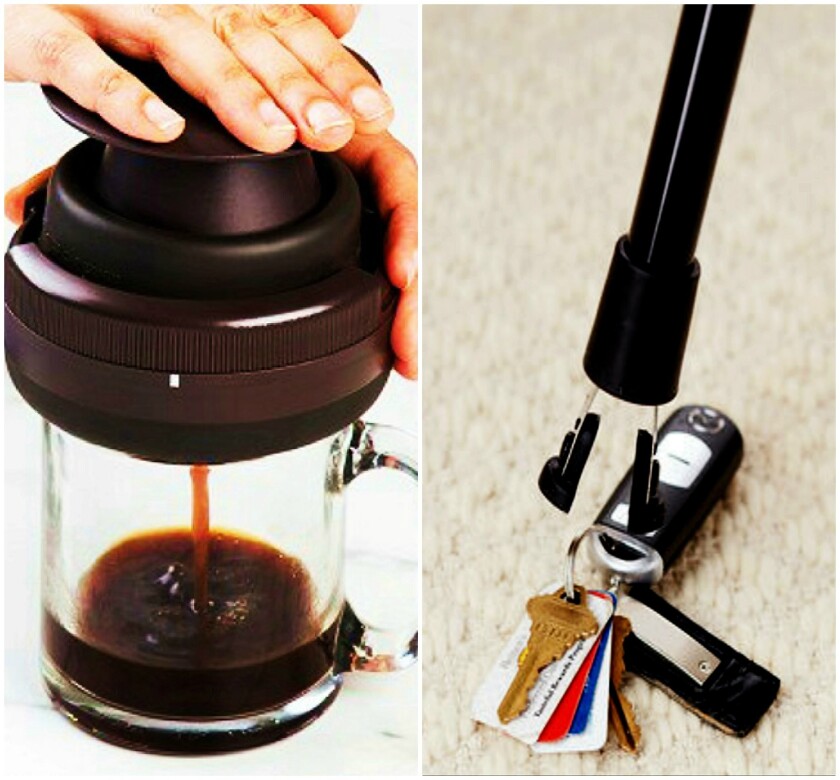 If you're particular about coffee, consider the new Palmpress Coffee Press. Just add ground coffee to the open container, pour in hot water, screw on the lid and let the mixture "brew" for a few minutes. Then flip the whole thing over onto a cup or mug.
As you press, slowly collapsing the container, 8 ounces of fresh coffee is forced through the lid's built-in filter.
It's not perfect. The Palmpress isn't electric, so you won't get really hot coffee unless there's a microwave (the Palmpress is not microwave compatible) or you have a heating coil.
This hand-press collapses to a 4¼-inch diameter and 2¼ inches deep.
Cost, info: Palmpress Coffee Press costs $39; palmpress.coffee
If you use a cane, retrieving something you've dropped is difficult and could be dangerous if you bend to pick it up. The 2-in-1 Snapper Cane, made of lightweight aluminum, has retractable rubber-tipped tongs concealed in the base.
Push a button at the top of the handle and the tongs are ready for grab-duty. A mechanism just below the handle lets you control retrieval, release and retracting of the tongs.
A removable, rotating plastic hook near the top of the cane can hold a bag or keys, or anything up to 17 pounds. The cane comes in 36 inches and 33 inches and in black, silver or anodized purple.
Cost, info: The 2-in-1 Snapper Cane costs $59.95; snappercane.com
---