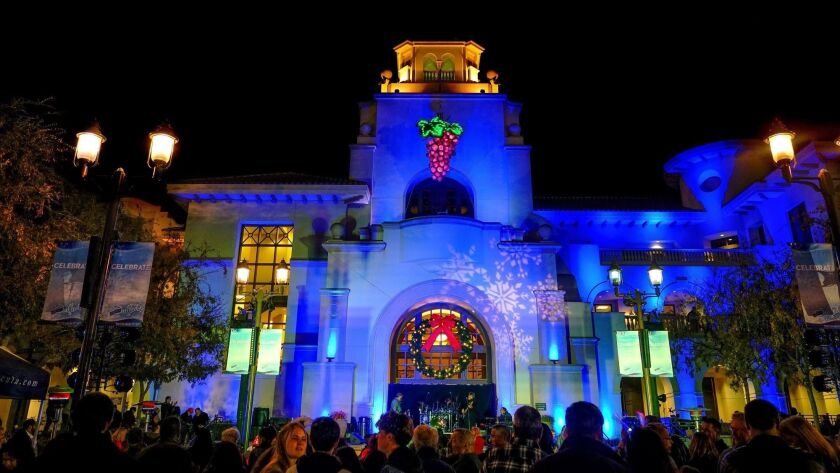 It's New Year's Eve! In California, you can count down the new year Monday evening with the drop of a cluster of grapes in Temecula or a giant Lego brick in Carlsbad. In other parts of the U.S., a 400-pound Peeps chick will descend in Bethlehem, Pa., and an illuminated chile pepper will signal the new year in Las Cruces.
Over the years, cities and towns inspired by the annual Times Square ball drop have created their own drop parties, using symbolic items.
In Temecula, people gather at the City Hall clock tower for two drops: one at 9 p.m. for the East Coast new year and one at midnight. The grape cluster weighs 150 pounds and is illuminated with more than 7,000 lights.
Those who gather can hear live music and go ice skating at the drop, which has been celebrated in the wine-growing region since 2009.
Legoland California Resort in Carlsbad holds a party that builds to the drop of a giant Lego brick at 6 p.m. for an early-to-bed New Year's celebration. Fireworks follow the party, which starts at 1:30 p.m. in Fun Town and 2:30 p.m. in Heartlake City. (Theme park admission required.)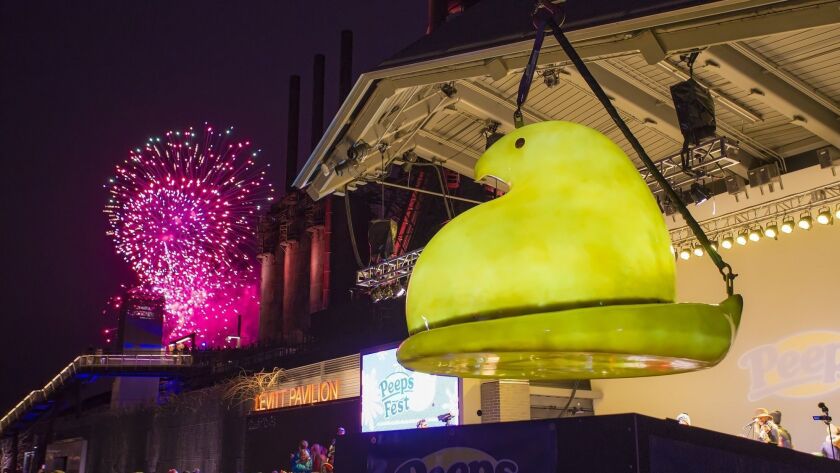 Elsewhere in the U.S., a giant illuminated yellow Peeps chick will descend at 5:15 p.m. in Bethlehem, Pa., the hometown of the candy company Just Born. It's the culmination of a two-day PeepsFest in honor of the sticky marshmallow creations.
In Las Cruces, N.M., folks gather at Plaza de Las Cruces to watch a 9-foot chrome chile turn red or green as it lights up 2019. The free party with food trucks and music starts at 9 p.m.
The Hard Rock Cafe on Beale Street in Memphis hosts a guitar-drop party for the 21 and older crowd. Tickets cost $100 for a FastPass.
Boise, Idaho, drops a big huge potato for all the "spec-taters" who come to welcome in 2019, Miami drops a giant orange amid fireworks at downtown's Bayfront Park, and Atlanta honors its Peach State moniker by dropping a peach down a 138-foot-tower of lights.
Mobile, Ala., is expecting about 50,000 people to turn out to watch a 600-pound electric Moon Pie descend from the RSA Tower. The MoonPie Over Mobile festivities include having a slice of an enormous MoonPie before you watch the drop with fireworks and a laser light show. Of course, it's sponsored by Chattanooga Bakery, which makes the treat.
And in the town of Tallapoosa in western Georgia, the stuffed opossum drop draws about 10,000 people. It started in the late 1990s when a local taxidermist created Spencer, which has become the town mascot, according to media accounts.
The party also will feature an Eagles tribute band and fireworks.
---