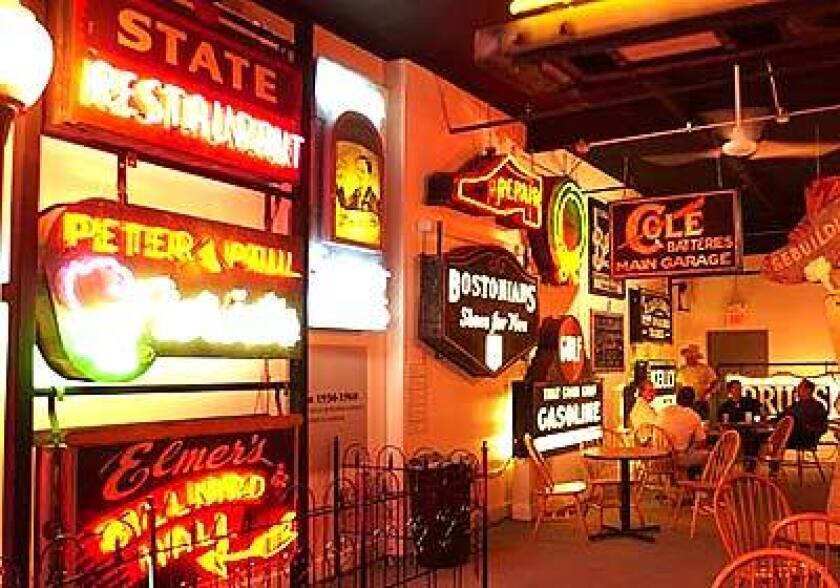 Special to The Times
As Tod Swormstedt faces his visitor while conducting a tour of the new American Sign Museum, the word "satellite" shines across the lenses of his eyeglasses. It's the reflection of one of his prized possessions.
This sign, which Swormstedt purchased from a Los Angeles collector, comes from Anaheim's Satellite Shop- land. The white incandescent-bulb-lined letters, which spell out the name, circle the 6-foot diameter of a plastic sphere. Eleven metal spikes shoot upward from the base, each marked by a colored light.
"Obviously, that's from the Sputnik era," Swormstedt says. "It was made by a guy in his garage, not a sign company, so it is a work of folk art. And it originally rotated, so I'm having a new rotator made for it. It's really funky."
Like that sign, the American Sign Museum also is a bit funky. The still-growing Cincinnati museum, which can be visited by reservation seven days a week at 2515 Essex, occupies leased space in an old inner-city industrial building that now houses art studios.
The museum is a serious enterprise for Swormstedt, who sees signs as important for their design and cultural history. His family owns Cincinnati's Signs of the Times magazine, which has covered the commercial-sign industry since 1906. The still-growing nonprofit museum has 2,500 objects related to the industry's history, including about 120 signs. (Much of the collection is in storage elsewhere — about 50 signs are on display.) Although Swormstedt collects nationwide, he works with L.A.'s Museum of Neon Art and the Los Angeles Conservancy to save L.A.-area signs.
The highlight of the museum, which opened in the fall, is a gallery where restored illuminated signs from 1900 to 1960 are featured. Some are veritable amusement-park rides, such as an Earl Scheib sign salvaged from Compton in which a Saturn ring of colored-neon cars encircles a large globe. Still others are mysteriously artful, such as an older Kelly Springfield Tires sign in which light bulbs shine through colored glass panes. It was found face-down in a California field.
"If I had the lights off except for that sign, it would look fantastic," Swormstedt says. "You can see why signs became popular; they would really liven up an area."
To make a reservation, call (513) 258-4020. A $5 donation per person is requested. For more information, visit https://www.signmuseum.org or call (800) 925-1110, Ext. 336.
---