Forest bathing, or how you can experience nature without getting wet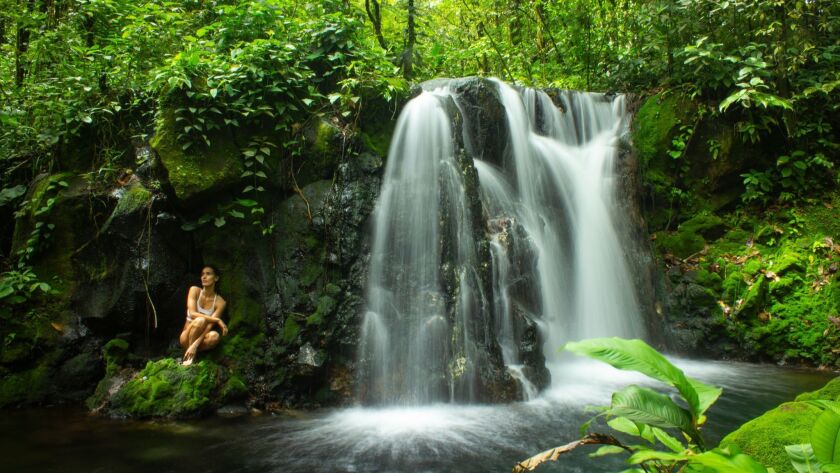 Forest bathing might sound like a synonym for skinny-dipping. Instead, it's spending time in a forested area (fully clothed) and soaking up the atmosphere — a metaphorical bathing of your senses in the forest.
In Japan, the practice of shinrin-yoku, which means "forest bathing," has been recognized for decades. Health benefits of "forest therapy," which it's also known as, include stress reduction and increased immunity.
With Earth Day on April 22, it's the ideal time to get out there and connect with nature. Here are six places to "bathe" yourself in the forest.
Sierra Nevada
Forest bathing is more about a slow, relaxed walk in the woods rather than strenuous hiking or exercising.
I have been forest bathing for years, not knowing it. One of my favorite spots is the Ansel Adams Wilderness of the Inyo National Forest. This landscape is filled with rushing waterfalls and colorful wildflowers along with countless places to lean against a tree and feel the sunshine on your face.
The Ansel Adams Wilderness — about 360 square miles of Sierra Nevada splendor — borders Yosemite National Park, but you will see a fraction of Yosemite's crowds here.
Even so, Yosemite (and most national parks for that matter) can offer prime opportunities for forest bathing. This weekend kicks off National Park Week. To celebrate, entrance fees to national parks will be waived on Saturday, April 20.
Info: Ansel Adams Wilderness, Yosemite National Park
San Francisco Bay Area
Forest bathing can be done anywhere where there are trees. Check out Muir Woods National Monument, part of the Golden Gate National Recreation Area, in Marin County less than an hour drive north of San Francisco. Muir Woods, named after naturalist John Muir, is known for its massive old-growth redwood trees.
Forest bathing, or connecting with nature, involves being mindful. That means no texting or taking photos. Better yet, choose a place such as Muir Woods where no cellphone service or Wi-Fi is available.
Sonoma County to the north is a forest bathing hub. In July, Forest Bathing International (abbreviated FOBI, not FBI in case you were wondering) will host its inaugural International Forest Therapy Conference, Congress and Celebration at Sonoma State University.
Info: Muir Woods National Monument, Forest Bathing International
Waldport, Ore.
The sign welcoming visitors to Waldport, along the Oregon coast about a three-hour drive south of Portland reads: "Where the forest meets the sea." Sounds as if it's ideal for forest bathing.
Make sure to explore the city's Woodland Trail, a mile-long path featuring a thick canopy of trees. The trail is also known for attracting diverse wildlife including cedar waxwings and rough-skinned newts.
Info: waldport.org
Costa Rica
After you've tried forest bathing, why not try rain forest bathing? The Costa Rica Tourism Board touts the country's "wellness tourism," including "forest baths," which it describes as "breathing in the fresh air of the forest."
Sensoria, an eco-tourism attraction in northern Costa Rica, offers a Forest Therapy Tour, which according to its website focuses on slowing down and connecting with the "primal energy of the forest and the planet." Sensoria's three-hour experience consists of a half-mile Forest Therapy Trail along a lush rain forest and ends in a private thermal pool.
Info: Costa Rica Tourism Board, Sensoria
Amazon rain forest
The world's largest tropical rain forest naturally lends itself to forest bathing. The Forest Bathing Club, based in San Francisco, will host a"Journey to the Amazon" Oct. 28 to Nov. 10. The club has teamed up with Pachamama Alliance to bring forest bathers "on a transformational journey to the most significant forest on Planet Earth: The Amazon."
The group's two-week trek includes a traditional Ecuadorian dinner, a bus ride through the Avenue of the Volcanoes and hiking in the rain forest.
Can't make it to South America? The club will bring forest bathing to Wanderlust Squaw Valley, a festival held July 18-21 in North Lake Tahoe.
Info: forestbathing.club/events
Southern California
Closer to home, forest bathing programs will be held at the Los Angeles County Arboretum and Botanic Garden in Arcadia on April 20, May 4 and 18 and June 1 and 15. The guided walks end with a ceremony in which participants sip tea made from plants foraged on site.
Info: arboretum.org/events/forest-bathing
---
Get inspired to get away.
Explore California, the West and beyond with the weekly Escapes newsletter.
You may occasionally receive promotional content from the Los Angeles Times.