What kind of Valentine's Day traveler are you? If you don't have this year's plan sorted out yet, you might be the doomed kind.
Then again, maybe you can write yourself out of this jam with some flowers and a note promising a future weekend at one of these places.
Here are seven lodging ideas, each reflecting a different way of seeing the world.
I'll start with the most affordable. And remember, I'm not choosing any of these destinations because they're running specials. I'm choosing them because I've been to these places and I've slept at many of them.
For rustic romantics
Deetjen's Big Sur Inn, Big Sur. This woodsy place in Big Sur dates to the 1930s, a few years before the Pacific Coast Highway was completed. A Norwegian couple more or less built it with twigs and ferns. Over the decades it grew in fits and starts, which you might guess, looking at its disheveled design.
The gardens are lush. The units — 15 bedrooms and one stand-alone cabin — are rustic and unique (though many walls are wooden and thin). As of Feb. 6, the inn still had one opening for Feb. 14 — the stand-alone Castro Cabin, perhaps its most romantic unit.
The restaurant, which does breakfast and dinner, usually resounds with classical music in homage to the founders' tastes. A few hiking trails lead from the property. No TVs. No Wi-Fi. No telephones, no cell coverage, nobody at the desk before 9:30 a.m. or after 4 p.m.
It's run by a nonprofit foundation aimed at preserving the old way of things in Big Sur. Rooms for two typically rent for about $115-$290, with a two-night minimum on weekends. Always check on the status of PCH because mudslides and temporary closures are a fact of life in these parts.
For hipsters, kitschophiles and nostalgics
The Madonna Inn, San Luis Obispo. Here are 110 rooms, no two alike, built by quirky entrepreneur Alex Madonna, who helped build Highway 101 through San Luis Obispo County in the middle 20th century.
That highway helped boost the popularity of just-opened Hearst Castle, and Madonna realized that the time was ripe for another sort of castle — a roadside attraction and romantic hideaway for road-trippers. Theme color: pink.
Alex Madonna is gone now, but legions of honeymooners have passed through, and the Madonna family has saved and augmented the inn's eccentric highlights, including the waterworks in the lobby restrooms and the hot pink tennis and basketball courts.
Such features once inspired writer Italo Calvino to include the inn in an essay on places of "hyperreality" in America.
"Let's say that Albert Speer, while leafing through a book on Gaudí, swallowed an overgenerous dose of LSD and began to build a nuptial catacomb for Liza Minnelli," Calvino wrote.
Besides the one-of-a-kind rooms, there's Alex Madonna's Gold Rush Steakhouse for upscale dining. For breakfast or casual meal, the Copper Cafe has long been a locals' favorite. Behind the hotel, trails lead to the top of Cerro San Luis.
For Valentine's night, the hotel is running horse-drawn carriage rides around the property and bartenders will be pouring Krazy Dazy cocktails. (Strawberry vodka and pink sugar are involved.) As of Feb. 6, about a dozen Feb. 14 rooms were still available at $209 and up, plus taxes and a $15 resort fee.
For desert denizens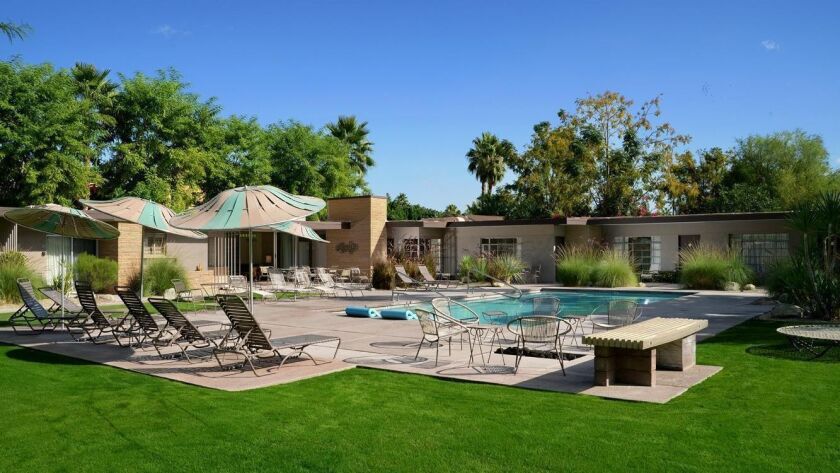 The Hideaway, Palm Springs. This 1947 Modernist hotel keeps a low profile. It has just 10 rooms, arrayed around the sleek pool in the city's Historic Tennis Club District. And it has every mid-century detail in place. Adults only. Rooms for two typically $199-$219. Be sure to thank them for not charging a resort fee. (Valentine's Day booked for 2019.)
For island lovers
Mauna Kea Beach Hotel, Hawaii. The resort, snuggling up against a very nearly ideal beach on Hawaii Island, is now part of Marriott Autograph Collection, which includes snazzy hotels worldwide.
At its birth in 1965, the Mauna Kea was the first resort hotel on the island of Hawaii, a pet project of mogul and hotelier Laurance Rockefeller, who used all his wealth and fame to create iconic resorts, often on properties never before opened to developers.
The Mauna Kea, in fact, was built atop a lava field on a part of the island without power or water supply. Its rooms show off pieces of Asian art that Rockefeller collected himself.
Many other resorts have since popped up on the Kohala Coast. But none can beat the Mauna Kea's beach. And there are families who have been coming for generations to share the clambakes and other rituals of the place.
Is it cheap? Oh, no. Rooms for two typically start at $600-$1,100 nightly. But after three decades of regular visits to the Hawaiian islands, when I close my eyes and picture a getaway with golden sand, murmuring surf and a beach bar close at hand, this is the place I see.
For mountain folk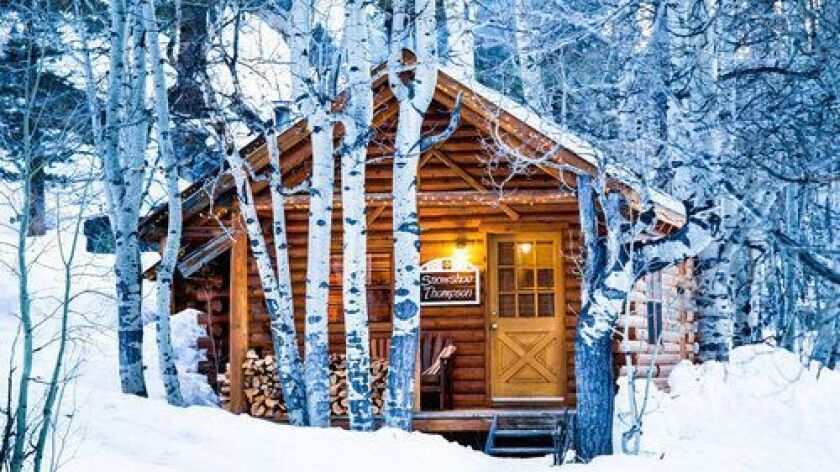 Sorensen's Resort, near Lake Tahoe. This haven includes 165 acres of Hope Valley, with aspen forest, 32 cottages and cabin units, restaurant, Norwegian-style wood sauna, snowshoeing and cross-country skiing.
Downhill skiing is 15 minutes away in Kirkwood; Lake Tahoe is 20 minutes away. Most rooms for two start at $165-$450 in winter. There's a Tesla charging station. Also, the same owners have a sibling campground nearby that's open in summer: Hope Valley Resort and Campground.
For SoCal beach people with deep pockets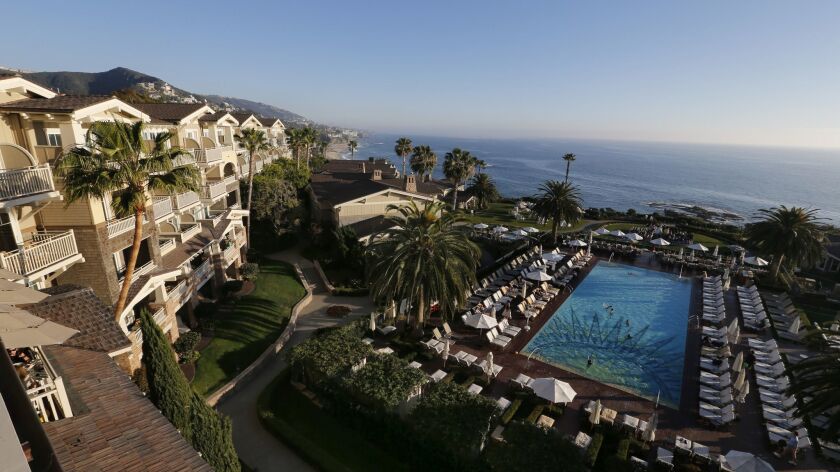 Montage Laguna Beach. For sheer Southern California good looks and prime coastal location, I don't think this place can be beat.
It has beach frontage with shapely rock formations, immaculately manicured gardens and an epic swimming pool with a signature sunburst pattern painted on the bottom. The buildings are neo-Craftsman, with 250 rooms and three restaurants.
Valentine's night 2019 was sold out weeks ahead, despite prices that are sure to make you swallow hard. Rooms for two start about $650, plus resort fee of $46.
For chic people seeking the latest thing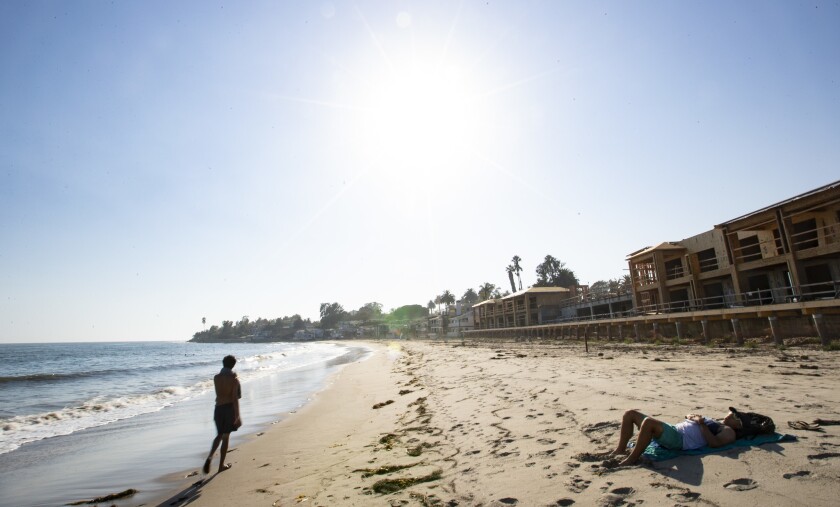 The Rosewood Miramar Beach. After a soft opening in February, the hotel is due to open to the public March 1 after years of delays and uncertainty. It was known and beloved by Santa Barbarans in decades past as the Miramar by the Sea Hotel, with the train tracks running through the beachfront property. It closed in 2000 after an ownership change.
Now it has been redone by Rick Caruso, the developer behind the Grove and the Americana malls in Los Angeles and Glendale. In its new alignment, the Miramar is 161 rooms and suites on 16 acres, with rooms for two fetching about $500 and up.
I haven't set foot on these grounds since the 20th century, but I will soon. The location is brilliant as ever and all the buildings are new. There are great possibilities here.
christopher.reynolds@latimes.com
Follow Reynolds on Twitter: @MrCSReynolds
---