Expedition cruise to Baja, Mexico, is a game changer, if a little pricey
Reporting from La Paz, Mexico —
Weekends are precious — hey, there are generally only 52 of them each year. With that in mind, I optimized one of mine in January by getting far, far away from it all on a mini cruise in the Gulf of California, a wild, pristine body of water off eastern Baja.
I saw sea lions, dolphins, thousands of seabirds, millions of stars and not a single Mexican resort or umbrella drink. It was heavenly. But it wasn't inexpensive. The three-night adventure cruise — called an expedition trip because it was aboard a small ship that can maneuver into coves and shallow waters where large cruisers can't go — cost $1,990 a person, double occupancy. I also paid $230 round-trip for airfare from LAX to Cabo San Lucas. But everything else was included: excursions, accommodations, meals, activities and travel from Cabo to La Paz, where the round-trip cruise departed. And I have plenty of memories. No souvenirs, because there weren't any shops along the route. But who needs another striped blanket or decorated margarita glass?
THE BED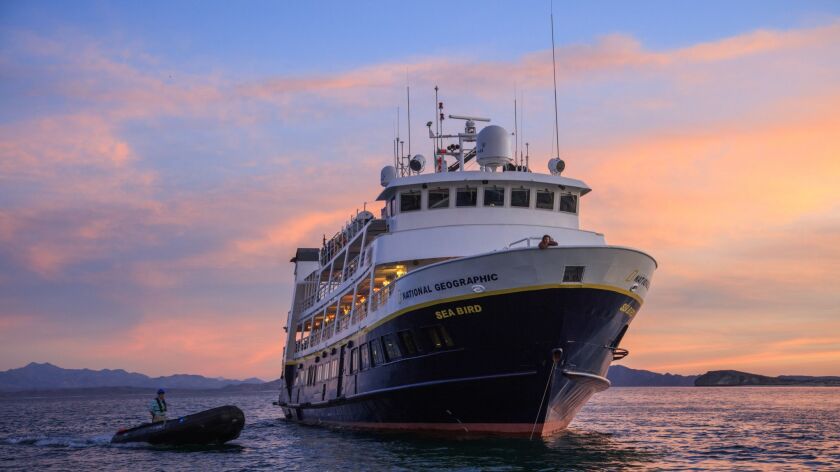 My Base Camp Baja trip, the Lindblad Expeditions cruise in alliance with National Geographic Expeditions, was aboard the National Geographic Sea Bird, a vessel that dates to 1982. It's 164 feet long (by comparison, Royal Caribbean's new Symphony of the Seas is 1,188 feet) , carries only 62 passengers (6,680 for the Symphony) and has none of the bells and whistles of large cruise ships— no pools or late-night buffets or even TVs in the staterooms. The cabins are spartan, and none is larger than 120 square feet. The ship was built so long ago that it has no balconies, but my cabin, on the second of three decks, opened to an outside hallway and had two windows. It also had a small but comfy bed. The combination toilet-shower stall was so tight that when I opened the bathroom door, it slammed into the bed. But creature comforts aren't the attraction of an adventure cruise. "You lack the amenities," said fellow passenger Randy Malcolm of San Diego, "but you get to see places you'd never see any other way."
THE MEALS
The cruise was a combination adventure-wellness trip featuring yoga and meditation classes along with hiking, kayaking and snorkeling. Meals reflected the wellness theme and had a healthful, clean-and-lean bent. Smoothies followed yoga each morning; a breakfast buffet usually included eggs as well as fruits, vegetables, oatmeal and yogurt. For lunch, a salad bar and sides; at dinner, an entree, often seafood, and healthful sides. Desserts were available, as was alcohol, which was included in the fare. About a third of the 40 cruise participants enjoyed spending the evening in the ship's lounge taking advantage of free spirits.
THE FIND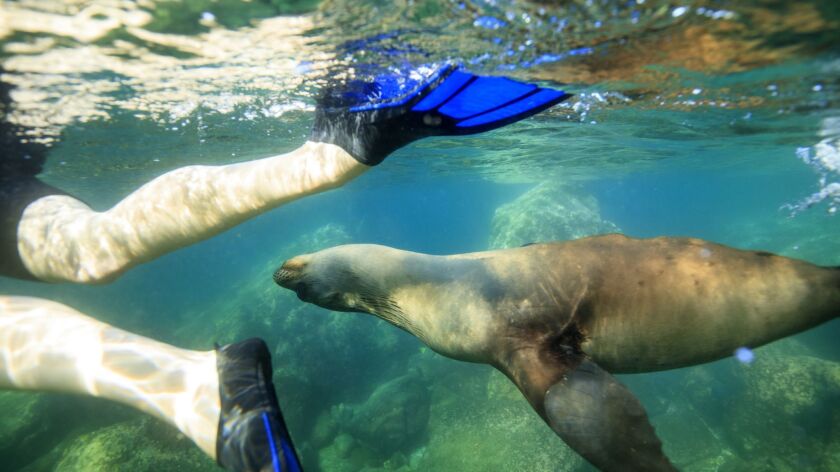 Our journey took us to uninhabited islands, including starkly beautifulIsla Espíritu Santo, a UNESCO World Heritage site. The island, which some consider the most beautiful in the Gulf of California, has dozens of bays whose white sand beaches and waters are full of marine life. We kayaked and snorkeled in its turquoise waters, spotting sea lions, manta rays and sea turtles. We also hiked through its red rock country, passing a forest of giant cardón cactus, a relative of Arizona's saguaro that is classified as the largest in the world. The cardón grows as tall as 60 feet, its prickly arms providing homes for desert birds and insects. Lindblad guides accompanied us on our hikes and other excursions, putting nature and conservation into context. A photographer also gave tips on what and how to shoot photos, then met with us back on the ship to help us edit them. In the evening, we returned to the Isla Espíritu Santo for a sunset barbecue.
THE LESSON LEARNED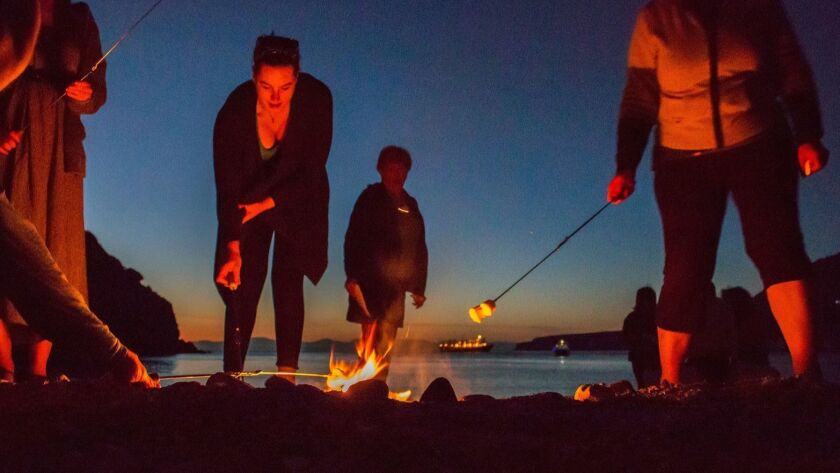 My mini-cruise offered a sampling of the activities that would be available on an extended expedition trip. This type of cruise caters to adventure-seeking travelers whose bucket-list trips include seeing, say, penguins in Antarctica and turtles in Ecuador's Galápagos Islands, cruises that usually last at least 10 days and often are as long as 21. I learned what it's like to sail with 40 people instead of 4,000. And I found that adventure cruisers have different goals: learning about conservation, history, geology and becoming a part of nature.
Base Camp Baja voyages will be offered later this year on the National Geographic Venture, a new ship. The four-night sailings will depart Dec. 22, 26 and 30 and Jan. 3 and 7 in 2019. Rates for those cruises will start at $2,650 a person, based on double occupancy. The ship is wheelchair accessible, but the trip is designed for guests who do not have mobility challenges.
ALSO
Two new PortMiami terminals will make world's busiest port even bigger
No plans for spring break? A cruise just might bail you out
U river cruises aimed at millennials drops age limit. Yes, baby-boomers, you can go
---
Get inspired to get away.
Explore California, the West and beyond with the weekly Escapes newsletter.
You may occasionally receive promotional content from the Los Angeles Times.