From the Archives: Bridge over Hollenbeck Park lake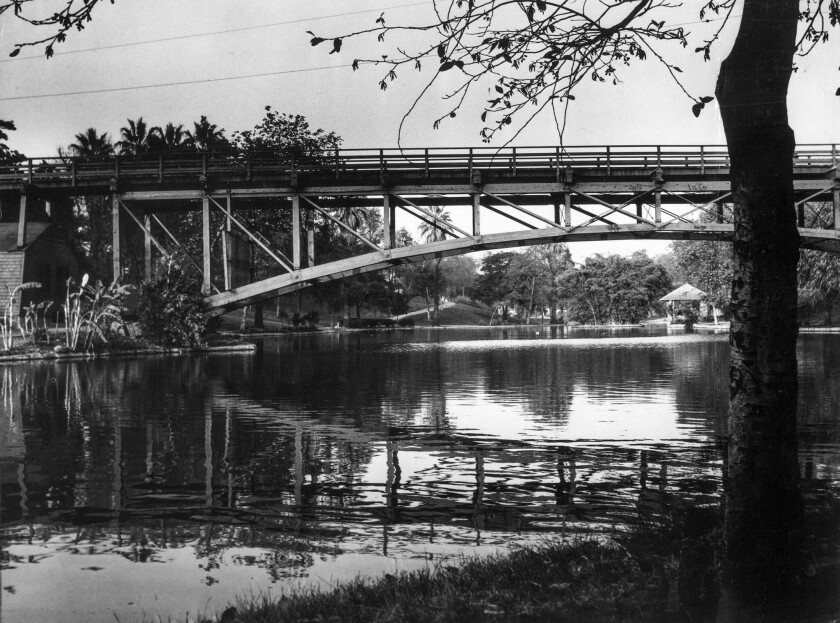 Fifty years ago, a large footbridge crossed the lake at Boyle Heights' Hollenbeck Park. Today the bridge is gone, replaced with a pontoon bridge.
The image above, by Frank Q. Brown, appeared in the Dec. 16, 1955, Los Angeles Times as part of the Know Your City photography series. The original caption reported:
KNOW YOUR CITY, NO. 29 — Look at that bridge again and you're almost certain to guess where this was taken. Only one place in town with a span like that. It's for people, not trains. See Page 32, Part 2.
ANSWER: Sure, it's the lake in Hollenbeck Park, the photo being made near the Boyle Ave. entrance. The park acquired its name for the very logical reason that most of its acreage was given to the city by Mrs. J.E. Hollenbeck.
Oops, some of the information was wrong. This correction appeared in the Dec. 31, 1955, Los Angeles Times:
Correction: In No. 29 of this series, a photo of Hollenbeck Park, it was erroneously reported that most of the acreage for the park was donated by Mrs. J.E. Hollenbeck. Actually, two-thirds of the property was donated by Mr. and Mrs. William H. Workman and it was their suggestion that the park be named for J.E. Hollenbeck, a close friend.
In 1970 the bridge was torn down and replaced, see photos below.
This post was originally published on Sep. 14, 2016.
---