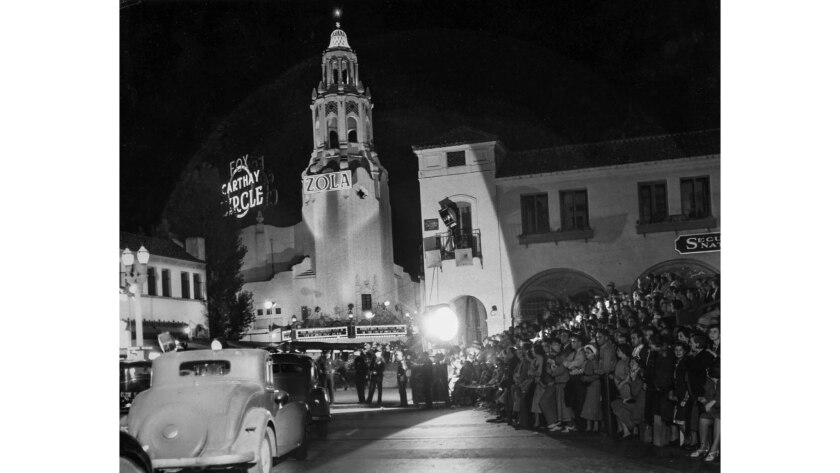 The Carthay Circle, built in 1926, was one of Hollywood's leading theaters in the 1930s and '40s with many red-carpet movie openings including "Romeo and Juliet" (1936), "Snow White and the Seven Dwarfs" (1937) and "Gone with the Wind" (1939).
The photo above, by Los Angeles Times staff photographer Maurice Terrell, was not published with the report of the premiere but found use later for its historic value.
The end for the Carthay Circle came quietly in 1969. In a brief item in his column, Matt Weinstock reported on June 22:
Dedicated landmark watchers may be disquieted to learn that the Carthay Circle Theater isn't there any more.
A high fence surrounds the site at 6316 W. San Vicente Blvd. and behind it a demolition crew last week finished breaking up what was once the elegant, 1,150 seat Carthay with its distinguishing tower. Built in 1926, it was the scene of many spectacular film premieres during the '30s and '40s.
Its last glamorous moment was the showing of the reissued "Gone With the Wind" (in 1967). When its final movie, "The Shoes of the Fisherman," closed about a month ago, the wrecking crew moved in.
When the debris is cleared, a five-story building, similar to the one alongside which houses National General Corp., will be built on the site.
In today's economy the Carthay was simply not economically feasible.
On YouTube is this RKO-Pathe newsreel of the 1937 premiere of Disney's "Snow White and the Seven Dwarfs" at the Carthay Circle.
This post was originally published on March 17, 2011.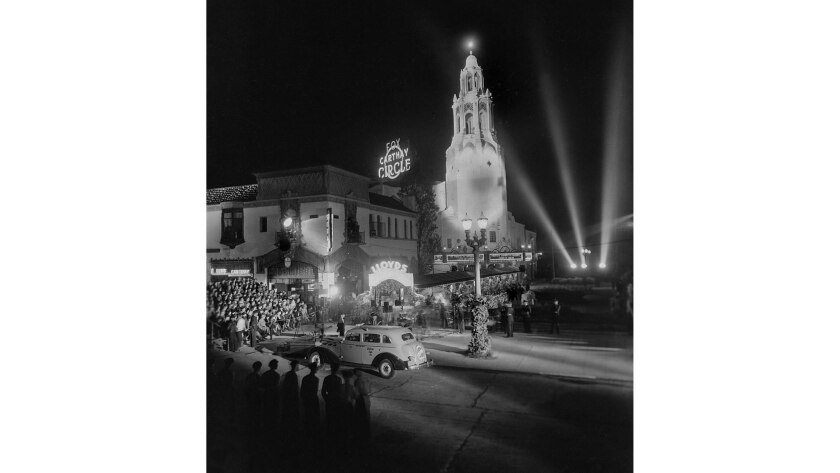 ---