From the Archives: The L.A. Rams beat the Cleveland Browns for 1951 championship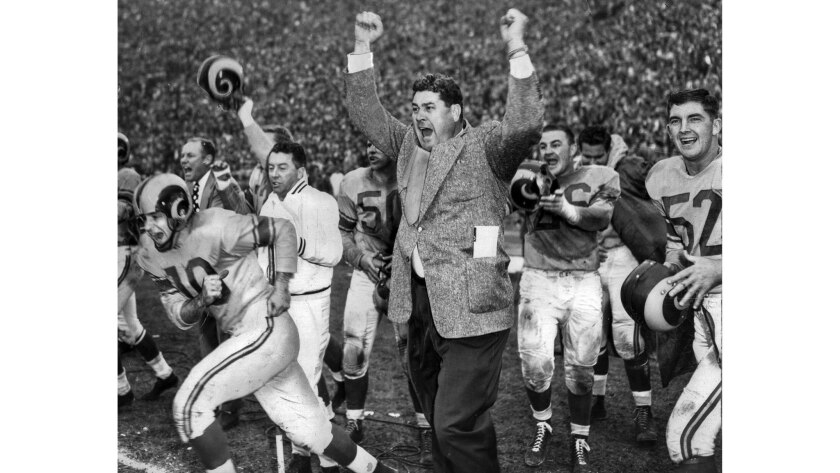 After losing the 1950 NFL championship game to the Cleveland Browns, the Rams gained a measure of revenge by beating the Browns in the 1951 championship game.
In the photo, the Rams' Tom Keane, No. 10, is on left and Joe Reid, No. 52, is on the right.
Writer Frank Finch reported in the next morning's Los Angeles Times:
They beat the Browns!
In their finest hour the Los Angeles Rams abruptly ended football's longest reign of terror by conquering mighty Cleveland, 24 to 17, to capture the National Football League championship yesterday.
And it took a perfect play to do it — Norm Van Brocklin's 73-yard scoring shot to tall Tom Fears. Coming midway in the final quarter, the pay-off pitch shattered a 17-17, deadlock which had threatened to send this tremendous battle of the giants into a "sudden-death" overtime period.
Thus, finis was written to a proud dynasty built up over the past five years by Paul Brown.
For four seasons Brown's hand-picked team dominated the All American Conference and when the two leagues merged last year the Browns never broke stride.
They whipped the Rams in the 1950 championship game, 30 to 28, and then ran rampant through their division this year on the crest of an 11-game winning streak.
The king is dead. Long live the king!
For it was a great team that the Rams beat yesterday. Make no mistake of that.
They were 7-points favorites at kickoff time and certainly looked the part at half with they left the field with a 10-7 lead.
But the inspired Rams, spurred on by the highly partisan crowd of 59,475 Coliseum fans, simply would not admit defeat to the team which had beaten them three times in as many previous meetings…
This photo by staff photographer Art Rogers was the lead art on the Dec. 24, 1951, Los Angeles Times Sports section front page.
This post was first published Jan. 7, 2014.
See more from the Los Angeles Times archives here
---