From the Archives: Tournament of Roses chariot races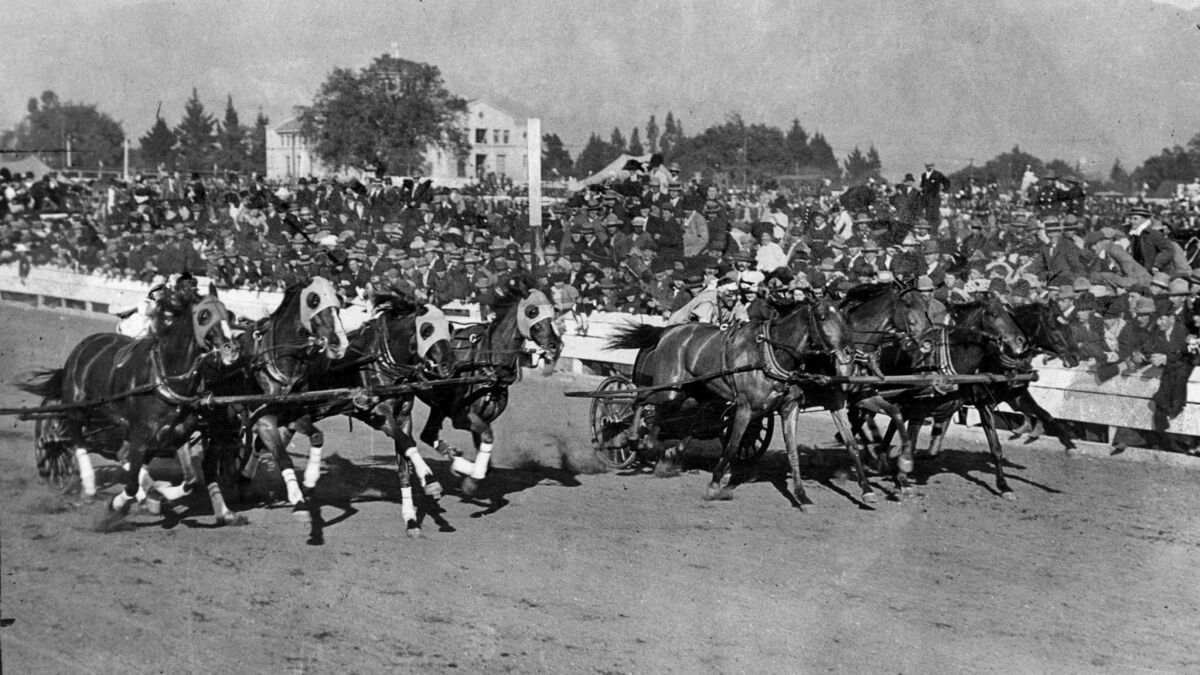 By 1901, the Tournament of Roses parade was a big success, and a search for post-parade activities began in earnest. In 1902, an East-West football game was tried. The first Rose Bowl game, called the "Tournament East-West football game," ended eight minutes early as Stanford, losing 49-0 to Michigan, conceded.
After the lopsided game, the Tournament of Roses tried other post-parade events, including chariot races from 1904 through 1915.
A non-bylined Los Angeles Times story published Oct. 17, 1963, explained:
The idea was suggested by Tournament of Roses President Dr. Charles F. Holder. E. T. Off, one of the directors, took a fancy to the idea and entered as a competitor.
The initial race was held in Tournament Park on Jan. 1, 1904. It pitted chariot and four-horse teams in a mile race. Competing were Off, Max Wiggins of El Monte, C.C. West of Arcadia and E.E. Turner.
When the dust cleared and the excited spectators looked at their stopwatches, Wiggins had nipped the other three in the fast time of 1:57.
Crowds of more than 20,000 attended, but chariot racing was very expensive — few could afford to put together horse teams. Also, as shown in the 1912 photo below, there was the danger of accidents.
In 1916, football was tried again. Washington State beat Brown, 14-0, and the extensive coverage in newspapers nationwide brought attention to Pasadena and Southern California.
Chariots were out; the pigskin was back in.
This post was originally published on Dec. 30, 2011.
---