'There will be a coronavirus in the fall': As mayors battle governors on reopening, experts warn of reviving outbreak
Divisions are growing in the U.S. between some governors and mayors over reopening their states as COVID-19's toll on both lives and jobs grows, leaving leaders torn between dueling demands to prevent more outbreaks and to revive the economy.
Leading the way to lift restrictions, with encouragement from President Trump, are six Republican governors across the South — in Georgia, Florida, South Carolina, Tennessee, Alabama and Mississippi — who have formed a coalition to coordinate reopenings, according to Florida Gov. Ron DeSantis, who earlier opened beaches in his state.
In Georgia, however, mayors have resisted Gov. Brian Kemp's call to open salons, tattoo parlors and bowling alleys this week as long as employees and customers take social distancing measures. Savannah's mayor called the plan "reckless." And on Wednesday, Trump joined the chorus against Kemp's move, a day after praising him at the White House and saying, "He knows what he's doing."
The president, who has frequently reversed positions over the weeks in his response to the coronavirus, said that he disagreed "strongly" with Kemp's reopening plans and described them as violating White House guidelines.
"I think spas and beauty salons and tattoo parlors and barber shops ... is just too soon," Trump said. Still, he added, Kemp "has to do what he thinks is right."
Eugene's Gulf Coast Cuisine in Houston begins serving customers again on May 1. Houston restaurants were allowed to reopen at 25% capacity.
(Brett Coomer / Houston Chronicle)
Protesters trying to enter the Michigan House of Representative chamber face off with Michigan State Police officers at the Capitol in Lansing.
(Jeff Kowalsky / AFP/Getty Images )
Armed protesters on the steps of the Michigan State Capitol in Lansing.
(Jeff Kowalsky / AFP/Getty Images )
Demonstrators at the Michigan Capitol in Lansing.
(Jeff Kowalsky / AFP/Getty Images)
Denise Gavitt, left, and Lauren Matheson attend to clients at Gavitt's Beehive Salon in Edmond, Okla., the first day hair salons have been allowed to reopen.
(Sue Ogrocki / Associated Press)
Waitress Fatima Hernandez, center, talks with Lulu Salcido, right, and Hamid Farzam at El Tiempo Cantina Friday, May 1, 2020, in Houston. The restaurant reopened their dining room for table service, with limited capacity.
(David J. Phillip / Associated Press)
Dan Krisman, left, and Mark Bartlett eat lunch on the patio of Roasters in Atlanta. Roasters is open for dine-in service with social distancing.
(Getty Images)
Wickenburg, Ariz., police officers inform Debra Thompson, owner of the Horseshoe Cafe, that she is violating the state's stay-at-home order by allowing guests to dine in on May 1.
(Christian Petersen / Getty Images)
A restaurant in Franklin, Tenn., reopens on Monday.
(Jason Kempin / Getty Images)
People demonstrate against stay-at-home orders in Denver on Sunday.
(Jason Connolly / AFP-Getty Images)
Natascha Updegrove, a stylist at Three-13 Salon, Spa and Boutique, cuts Karon Gilmore's hair on the first day that Georgia reopened salons, spas, gyms and bowling alleys.
(Jenny Jarvie / Los Angeles Times)
An employee wearing gloves and a mask greets patrons at a restaurant in Franklin, Tenn., on Monday.
(Jason Kempin / Getty Images)
Zenas Stalworth works out at a gym in Lilburn, Ga., on Friday. He was one of just two people in the gym.
(Tami Chappell / AFP-Getty Images )
Bartender Jake Glazier serves customers at a roadside bar in Atlanta.
(Chandan Khanna / AFP-Getty Images)
Carter Vu is back in business at his Atlanta salon.
(Michael Mathes / AFP-Getty Images )
Protesters in Madison, Wis.
(Kamil Krzaczynski / AFP-Getty Images)
Surin Nguyen works on the nails of a customer at a reopened salon in Atlanta.
(Tami Chappell / AFP-Getty Images)
A salon in Marietta, Ga.
(Ron Harris / Associated Press)
Reopening day at a Marietta, Ga., salon.
(Ron Harris / Associated Press)
In Wisconsin, protesters opposed to the coronavirus shutdown demonstrate outside the Capitol in Madison.
(Kamil Krzaczynski / AFP-Getty Images )
A flight from Atlanta to Baltimore.
(Rob Carr / Getty Images)
Even so, he added, "It's a beautiful thing to see" some states reopening. He underscored that Americans need to adhere to guidelines on social distancing and handwashing to prevent new infections.
On another matter, Trump pleaded ignorance when asked about a statement Wednesday from Dr. Rick Bright, the former director of the Biomedical Advanced Research and Development Authority, that he'd been removed from his job in retaliation for complaining that "politics or cronyism" was dictating decisions on scientific research — in particular related to an unproven drug, hydroxychloroquine, that Trump has promoted to treat COVID-19.
The office that Bright headed has been tasked with developing a coronavirus vaccine. "I never heard of him," Trump said Wednesday. "... If the guy says he was pushed out of a job, maybe he was, maybe he wasn't."
Even as some states take steps to resume a semblance of normal life, recent polls have shown a sizable majority of Americans believes the restrictions are proper and should stay. A survey released Wednesday by the Associated Press and the NORC Center for Public Affairs Research found 61% of Americans believe restrictions in their areas are appropriate, and 26% said the limits don't go far enough. Only 12% said limits had gone too far.
The president has said that he will be proven right on the nation's ability to test and reopen soon. The federal government will help states ramp up testing, Trump has said, yet he repeatedly has insisted that it is their responsibility. Health experts have warned against easing restrictions until more people can be tested to know whether they are carriers of the virus.
Some governors have clashed with him over the difficulty of acquiring testing supplies, including Republican Larry Hogan of Maryland. Hogan and his Korean American wife worked directly with South Korea to import 500,000 tests for his state, and took steps to prevent federal officials from confiscating the supplies to distribute elsewhere.
Several of the states opening up, including Georgia, South Carolina and Tennessee, underperform others in testing and have not seen decreases in new cases over 14 straight days, the metric that the White House this week recommended as a threshold for safe reopenings.
President Trump has pushed for the the U.S. to reopen amid the COVID-19 pandemic. But many state leaders say coronavirus testing lags too far behind to do it safely right now.
Still, the states are faring better than in previous weeks, and cities including New York, the pandemic's epicenter, Detroit and New Orleans have made strides in containing the virus.
Yet the lack of coordination at the federal level has led to the debate and patchwork of conflicting actions between states and cities.
In South Carolina, furniture stores, beaches and other businesses are open. While the Charleston mayor said he would comply with state orders on store openings, he expressed concerns that the state still doesn't have access to enough testing.
As Texas Gov. Greg Abbott this week eased restrictions statewide, county leaders in Houston announced new rules requiring the area's 4.7 million residents to wear masks in public for at least 30 days starting Monday. Abbott allowed the reopening of state parks, elective surgeries and curbside pickups at certain stores.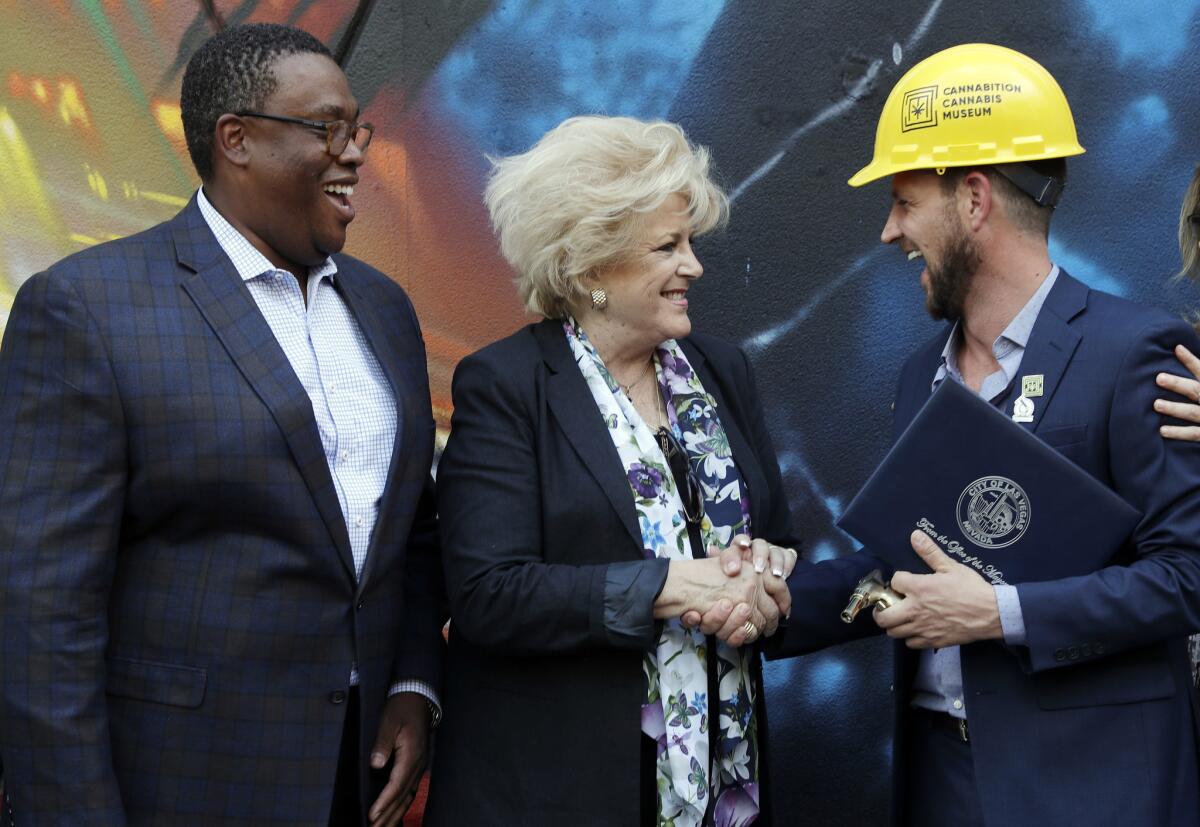 Perhaps the loudest resistance to continued shutdowns came Wednesday from Las Vegas Mayor Carolyn Goodman, who in a CNN interview called for the immediate reopening of hotels and casinos in the city.
"I'd love everything open.... We've had viruses for years," said Goodman, who called the closings "total insanity." Democratic Gov. Steve Sisolak said the state will move at a slower pace, describing its current status as "phase zero."
In Colorado, a stay-at-home order will expire on Sunday, yet the mayor of hard-hit Denver has said the city's restrictions could be extended further.
Oklahoma Gov. Kevin Stitt, a Republican, announced Wednesday that salons could open by appointment on Friday, followed by gyms and restaurants on May 1. But the mayor of Oklahoma City said the city would keep evaluating closures.
In New York, Democratic Gov. Andrew Cuomo announced Wednesday that the state would join New Jersey and Connecticut to partner on a contact tracing program with at least $10 million in funding from former New York Mayor Michael R. Bloomberg.
Washington state Gov. Jay Inslee, a Democrat, also announced a tracing program. Contact tracing uses technology including mobile phones to notify people who may have been exposed, and has proven effective in China and other Asian nations.
More than 46,000 people have died in the U.S. from COVID-19, the disease caused by the coronavirus. The number of confirmed U.S. cases is expected to hit 1 million within days. Studies have suggested that at least several times more people have been infected and are contagious without showing symptoms, which makes this coronavirus particularly difficult to contain.
After a slow and still spotty start, the U.S. is testing more than a million people per week for the infection. Public health experts say at least triple that number should be the goal before the nation can safely start resuming activities that bring groups of more than 10 people together.
Late Tuesday, new data showed that the coronavirus was in the U.S. much earlier than first believed. The Santa Clara County medical examiner released autopsy reports of two deaths, on Feb. 6 and Feb. 17, that showed they were caused by COVID-19. They are now the country's earliest documented deaths from the disease. Previously, a man in Washington state who died Feb. 28 was thought to be the first casualty.
Federal health officials have expressed caution about reopenings, fearing revived outbreaks. On Tuesday, the director of the Centers for Disease Control and Prevention, Robert Redfield, said in an interview with the Washington Post that the disease could "be even more difficult" next winter as it coincides with the normal flu season.
There is "a possibility that the assault of the virus on our nation next winter will actually be even more difficult than the one we just went through," he said. "We're going to have the flu epidemic and the coronavirus epidemic at the same time."
Trump objected to the article, tweeting early Wednesday that the director was "totally misquoted" and that Redfield would issue a statement to that effect. Instead of a statement, Trump had Redfield join him at the White House news conference to tell reporters that the report was wrong. But the director conceded, "I'm accurately quoted."
The article in question was headlined, "CDC director warns second wave of coronavirus is likely to be even more devastating," a description Trump disputed. Redfield also took issue with the word "devastating."
"I didn't say this was going to be worse," Redfield said. "I said this would be more difficult and potentially complicated because we'll have flu and coronavirus circulate at the same time."
"You may not even have corona coming back," Trump added.
But his health advisors weren't so confident.
Dr. Deborah Birx, the White House coronavirus task force coordinator, said the government was preparing for the "potential" of a new COVID-19 outbreak in the fall and winter. And Dr. Anthony Fauci, director of the National Institute of Allergy and Infectious Diseases, said, "We will have coronavirus in the fall." But, he added, the country would be "much better prepared" for any outbreaks.
Times staff writer Molly Hennessy-Fiske in Houston contributed to this report.
Sign up for Essential California for news, features and recommendations from the L.A. Times and beyond in your inbox six days a week.
You may occasionally receive promotional content from the Los Angeles Times.