Did all these events really happen in just 12 months? This timeline recounts the ordeal we've been through.
Countries across the globe were already feeling the effects of the novel coronavirus in the early months of 2020. The World Health Organization declared the outbreak a public health emergency Jan. 30. The first COVID-19 death in the United States was reported Feb. 29.
But March is when everything changed, with WHO announcing March 11 that the world was in the grips of a pandemic.
MARCH 2020
March 9: Italy places itself on a nationwide quarantine to slow the spread of coronavirus. The Dow Jones industrial average plunges more than 2,000 points.
March 11: The World Health Organization declares the coronavirus outbreak a pandemic. Gov. Gavin Newsom says that California has at least 157 confirmed cases and that thousands might have come into contact with the virus.
March 11: Actor Tom Hanks announces he and his wife, Rita Wilson, tested positive for the coronavirus in Australia. They will recover.
March 11: The NBA suspends its season indefinitely because of the pandemic.
March 12: Major League Baseball suspends spring training indefinitely because of COVID-19 concerns.
March 12: The NFL calls off annual offseason meetings; the NHL and Major League Soccer suspend their regular seasons.
March 12: The NCAA cancels its basketball championship tournaments.
March 13: The Los Angeles Unified School District announces that it will close all of its schools.
March 13: President Trump declares the coronavirus outbreak a national emergency.
March 14: Spain goes into a nationwide lockdown.
March 16: The Dow Jones industrial average falls by 2,997.10 points, the largest single-day point drop ever.
March 19: Newsom announces extraordinary measures directing all Californians to stay at home. Los Angeles city and county officials issue sweeping new rules to limit the virus' spread.
March 20: The worldwide coronavirus death toll passes 10,000.
March 24: The 2020 Summer Olympics in Tokyo are suspended until 2021.
March 24: President Trump tweets that the "cure" cannot be "worse than the problem itself" and calls for the country to reopen on Easter Sunday.
March 25: The number of Californians who have filed for unemployment during the pandemic passes 1 million.
March 25: The Senate and White House agree to a $2-trillion stimulus package to boost the economy, the largest stimulus in U.S. history.
March 26: British Prime Minister Boris Johnson tests positive.
March 26: Global cases top 500,000. The U.S. reports 82,000 infections — more than China or Italy — and passes 1,000 deaths.
March 26: The Labor Department reports that a record 3.28 million Americans filed for unemployment benefits in the previous week.
March 27: The House and Senate pass a coronavirus relief and stimulus bill that includes expanded unemployment benefits and cash payments to those eligible.
March 31: New York passes 75,000 cases. The U.S. has more than 163,000 reported cases, as the COVID-19 death toll reaches 3,000. Seventy percent of the U.S. population is under lockdown.
APRIL
April 2: The number of cases worldwide passes 1 million. More than 6.6 million workers have filed for unemployment in the United States.
April 3: The Centers for Disease Control and Prevention recommends that everyone consider wearing cloth or fabric masks in public.
April 4: Trump, touting hydroxychloroquine as a treatment for COVID-19, says, "What do you have to lose?"
April 6: Boris Johnson is hospitalized with COVID-19.
April 10: The United States becomes the first country to report 2,000 coronavirus deaths in a single day.
April 13: The Internal Revenue Service begins sending stimulus checks to Americans.
April 16: The Trump administration issues guidelines for a phased reopening of schools and businesses for parts of the U.S.
April 17: Texas becomes the first state to begin easing pandemic restrictions.
April 24: The U.S. death toll from COVID-19 surpasses 50,000.
April 27: U.S. cases surpass 1 million; worldwide cases top 3 million.
April 30: Armed protesters enter the state Capitol in Lansing, Mich., to demand an end to the pandemic restrictions.
MAY
May 1: The U.S. Food and Drug Administration authorizes emergency remdesivir use to treat the sickest COVID-19 patients.
May 8: U.S. unemployment reaches 14.7%, with more than 33 million jobless claims filed since mid-March.
May 15: The Trump administration announces Operation Warp Speed, a public-private partnership to speed up development of a COVID-19 vaccine.
May 15: Worldwide deaths top 300,000.
May 19: The U.S. passes 1.5 million confirmed cases and 90,000 deaths.
JUNE
June 5: The NBA votes to restart its season in a "bubble" setting in Orlando, Fla.
June 10: The number of confirmed cases in the U.S. exceeds 2 million.
June 22: MLB clubs vote to start the 2020 season after players reject the latest compensation offer.
June 25: After a downward trend of infections in early June, the U.S. reaches a daily high of 40,000 new cases.
JULY
July 1: Newsom orders tougher restrictions on indoor activities for most of California.
July 9: The Big Ten college football conference says it will play only conference games in the fall.
July 10: The Pac-12 football conference says it will play only conference games in the fall.
July 10: California officials announce that as many as 8,000 prisoners could be released ahead of schedule in an unprecedented attempt to stop the spread of the coronavirus inside state prisons.
July 14: The Trump administration orders hospitals to bypass the CDC and send all COVID-19 patient information to a central database in Washington.
July 20: The NFL drops all preseason games and reaches an agreement with the players union on a coronavirus testing regimen.
July 23: Major League Baseball's 60-game season begins.
July 27: A coronavirus outbreak among the Miami Marlins prompts the cancellation of several MLB games; subsequently several teams have games postponed as well.
July 30: The 2019-20 NBA season resumes in the "bubble" in Orlando, with the Lakers defeating the Clippers.
AUGUST
Aug. 3: As California grapples with a deluge of requests for unemployment benefits, some state workers processing claims say they are hampered by outdated technology, bureaucratic red tape and a shortage of trained, experienced staff.
Aug. 7-16: More than 400,000 people, most without masks and not following social distancing guidelines, participate in activities related to the Sturgis Motorcycle Rally in South Dakota.
Aug. 11: The Pac-12 and Big Ten conferences announce the cancellation of all fall sports. The Atlantic Coast and Southeastern conferences say they're still planning to play football; on Aug. 12, the Big 12 announces it will play.
SEPTEMBER
Sept. 16: The Big Ten conference reverses course and announces it will play a 2020 fall football season beginning Oct. 23-24.
Sept. 20: Coronavirus deaths in California top 15,000. The state has more than 785,000 confirmed cases, the most of any U.S. state.
Sept. 22: The death toll in the United States passes 200,000.
Sept. 24: The Pac-12 conference announces it will play a shortened football season starting Nov. 6.
Sept. 30: The NFL announces its first regular season game postponement resulting from the pandemic.
Sept. 30: The UCLA Anderson School of Management's quarterly forecast suggests California payrolls will drop 7.2% in 2020 to 16 million jobs, a loss of some 1.5 million since the pandemic hit.
OCTOBER
Oct.1: A White House coronavirus outbreak is announced; Trump and First Lady Melania Trump test positive.
Oct. 2: Trump is rushed to Walter Reed National Military Medical Center for COVID-19 treatment.
Oct. 5: Trump returns to the White House after three days at Walter Reed.
Oct. 16: U.S. cases top 8 million.
Oct. 30: A Stanford University study links more than 30,000 cases and 700 deaths to Trump's campaign rallies.
NOVEMBER
Nov. 4: The U.S. becomes the first country to exceed 100,000 daily new coronavirus cases.
Nov. 9: Housing and Urban Development Secretary Ben Carson tests positive.
Nov. 9: Pfizer says early data on its COVID-19 vaccine candidate suggest the shots may be 90% effective at preventing the disease.
Nov. 12: Infections in California surpass 1 million; health officials warn that dire action must be taken to stop the spread.
Nov. 13: Newsom says he should not have attended a Nov. 6 dinner with people from other households at the French Laundry restaurant in Yountville as coronavirus cases soar statewide.
Nov. 16: Moderna announces that its vaccine appears to be 94.5% effective, according to preliminary data.
The World Health Organization announced the coronavirus outbreak had become a pandemic on March 11, 2020. Since then, the virus has seemingly touched all aspects of life in Southern California and beyond. The Times looks back on a full year of life in a pandemic.
Nov. 18: Pfizer says new results show its vaccine is 95% effective.
Nov. 19: Newsom announces a mandatory overnight stay-at-home order that will be instituted throughout most of California to combat a surge in new cases.
Nov. 29: The Denver Broncos are forced to play a practice-squad receiver at quarterback after all four of the team's quarterbacks are disqualified due to virus testing and safety protocols.
Nov. 30: The pro bono law firm Public Counsel files a lawsuit against the state of California, saying it has failed during the pandemic to provide a free and equal education to all students, violating the state Constitution and discriminating against Black, Latino and low-income families.
DECEMBER
Dec. 4: Protests against COVID-19 safety rules continue, as some restaurateurs defy the mandate to close outdoor dining (or look for workarounds), and parents rally to keep playgrounds open.
Dec. 8: Britain becomes the first Western country to start inoculating its residents against COVID-19.
Dec. 11: The U.S. Food and Drug Administration authorizes emergency use of the COVID-19 vaccine developed by Pfizer Inc. and BioNTech.
Dec. 14: The first COVID-19 vaccinations start in the United States. The first doses are expected to go to front-line healthcare workers and residents of long-term care facilities, followed by other at-risk groups.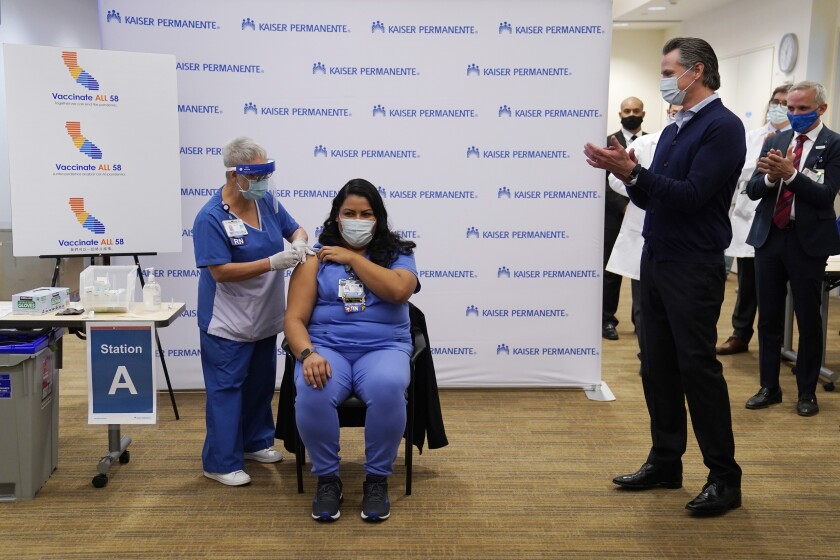 Dec. 17: The availability of intensive care unit beds throughout Southern California hits 0%.
Dec. 18: The FDA authorizes the emergency use of a vaccine developed by Moderna and the National Institutes of Health.
Dec. 20: More than 317,000 people in the U.S. have died of COVID-19; the international death toll is 1.69 million.
JANUARY 2021
Jan. 4: Only about 35% of the COVID-19 vaccine doses that have arrived in California have been administered so far, a rate Newsom acknowledges is "not good enough." He pledges new funding and efforts to ramp up the rollout.
Jan. 4: The situation in Los Angeles County hospitals is so critical that ambulance crews have been advised to cut back on their use of oxygen and to not bring to hospitals patients who have virtually no chance of survival.
Jan. 8: Stretched to the breaking point by a deluge of COVID-19 patients, Los Angeles County's four public hospitals prepare to take the extraordinary step of rationing care.
Jan. 10: Los Angeles city and county officials announce plans to turn a massive coronavirus testing site at Dodger Stadium into a vaccination center, hoping to vaccinate up to 12,000 people a day.
Jan. 13: Newson announces that people 65 and older are now eligible for vaccinations, but the sudden addition of roughly 6 million people to an already strained distribution network could still leave many waiting weeks for inoculations.
Jan. 14: President-elect Joe Biden proposes a $1.9-trillion plan to combat the nation's economic and public health emergencies.
Jan. 14: One in three Los Angeles County residents have been infected with the coronavirus since the beginning of the pandemic, according to new estimates, an astonishing sign of how rapidly the virus is spreading in the hard-hit region.
Jan. 14: The hoped-for rollout of the vaccine for Angelenos 65 years and older is met with chaos and confusion.
Jan. 17: As California cases approach 3 million, health officials say a new strain is popping up more frequently across the state.
Jan. 19: California passes 3 million confirmed cases.
Jan. 20: California's state epidemiologist says that vaccinating Californians 65 and over could take until June to complete.
Jan. 21: President Biden moves on his first full day in office to try to assert control over the nation's pandemic response, signing 10 executive orders, including directives to boost the production of vaccines, ensure they reach hard-hit communities and set up more locations where Americans can receive shots. He calls the effort "one of the greatest operational challenges our nation has ever undertaken."
Jan. 21: As California increases vaccinations, supply issues are becoming a critical problem, and some counties say they are rapidly running out.
Jan. 25: California officials lift regional coronavirus stay-at-home orders across the state, a change that could allow restaurants and businesses in many counties to reopen outdoor dining and other services.
Jan. 28: Californians facing financial hardship because of the pandemic will be protected from eviction through June as long as they pay part of their rent under an emergency bill approved by the Legislature, just three days before an existing moratorium was set to expire.
Jan. 29: Los Angeles County officially lifts its ban on outdoor dining, removing the proverbial padlock from restaurant patios following a lengthy public health closure.
Jan. 29: The COVID-19 death toll among Latinos in Los Angeles County reaches frightening levels that the county's top health officials have called "frankly horrifying," prompting new calls for the government to do more to help essential workers and people living in dense, overcrowded conditions.
Jan. 30: Dodger Stadium's mass COVID-19 vaccination site is temporarily shut down when about 50 protesters gathered at the entrance, frustrating hundreds of motorists who had been waiting in line for hours.
FEBRUARY 2021
Feb. 2: Los Angeles becomes the largest city in the nation to back a proposal requiring grocery stores to temporarily pay workers an extra $5 an hour. Backers of "hero pay" say grocery workers have put their health at risk to serve customers as COVID-19 has spread.
Feb. 2: Newsom's job approval rating among California voters plummets, driven largely by dissatisfaction over the state's response to the pandemic and adding fuel to a Republican-led recall campaign, according to a new poll.
Feb. 4: The numbers of new infections and hospitalizations are nosediving in Los Angeles County, welcome news following a catastrophic winter wave. But L.A.'s death toll is now above 17,300.
Feb. 8: Black, Latino and Native American seniors in Los Angeles County are receiving COVID-19 vaccinations at a lower rate than white, Asian American and Pacific Islander seniors, according to new data. The findings raise new concerns about inequity in the vaccine rollout for those 65 and older.
Feb. 11: Los Angeles vaccination sites that were slated to close Feb. 12 due to supply shortages run out of doses sooner than expected and turn people away.
Feb. 12: California officials announce that people ages 16 to 64 who are disabled or at high risk for morbidity and mortality from COVID-19 will be eligible for vaccination beginning in March.
Feb. 15: Los Angeles County elementary school campuses are cleared to fully reopen for the first time in nearly a year because of dropping coronavirus rates. The milestone will not result in an immediate reopening of campuses in the Los Angeles Unified School District.
Feb. 16: Two more COVID-19 vaccination super-sites are opening in California, further expanding the state's capacity to dole out doses even as supplies remain frustratingly limited.
Feb. 17: Coronavirus infections have plummeted to pre-Thanksgiving levels in California, bringing renewed optimism that a wider reopening of the still-shackled economy may be around the corner.
Feb. 17: Newsom and legislative leaders announce that they have agreed to provide low-income Californians a $600 state stimulus payment, part of a $9.6-billion economic recovery package that also includes $2.1 billion in grants for small businesses.
Feb. 19: Newsom announces that state officials will set aside 10% of California's weekly allotment of COVID-19 vaccine doses for educators starting in March in an effort to speed up school reopenings.
Feb. 21: Newsom acknowledges that state and local health officials have stumbled in distributing the COVID-19 vaccine equitably among Latino and Black communities in California.
Feb. 22: U.S. deaths top 500,000. The number is greater than the combined U.S. battlefield deaths in both world wars and Vietnam.
Feb. 23: Los Angeles County surpasses 20,000 deaths even as daily case counts are tumbling.
Feb. 24: Los Angeles becomes the latest municipality to support so-called hero pay for grocery store workers. The City Council votes 14 to 1 to require larger grocery stores and drugstores to boost the pay of their workers by $5 an hour for the next 120 days.
Feb. 24: Even as the state continues to see big declines in COVID-19 after a holiday surge, new research strongly suggests that the coronavirus strain now dominant in California not only spreads more readily than its predecessors but also has the ability to evade antibodies generated by COVID-19 vaccines or prior infection. It's also associated with more severe illness and death.
Feb. 25: California officials offer details on the new vaccination effort for K-12 employees, with the priority being teachers and employees already working on-site at schools and those who serve students in disadvantaged communities.
Feb. 28: Nearly 4 million doses of the newest COVID-19 vaccine are scheduled to be shipped and will be delivered to states starting March 2. White House COVID-19 coordinator Jeff Zients announces that the entire stockpile of the newly approved single-dose Johnson & Johnson vaccine will go out immediately.
MARCH 2021
March 1: WHO officials in Geneva say it was "unrealistic" to think the pandemic would be over by the end of 2021, even though vaccines could reduce hospitalizations and deaths.
March 2: Biden says the United States will have enough doses by the end of May to inoculate every American adult two months earlier than previously expected.
March 2: Texas announces it will lift its mask rule and loosen other COVID-19 restrictions, despite pleas from health officials to keep such safeguards in place. Biden calls such moves by Texas and other states "Neanderthal thinking."
March 5: California announces guidelines to allow theme parks and sports stadiums to reopen with limits as soon as April.
March 7: The Senate passes a $1.9-trillion COVID-19 relief package. The sweeping bill, which includes financial assistance for individuals and businesses, heads to the House, which had approved a similar bill Feb. 27. The House is expected to approve the revised legislation in days and send it to Biden for his signature.
March 8: The Los Angeles Unified School District says it is aiming to reopen middle and high schools in late April.
March 8: CDC officials say Americans can visit with others in small indoor gatherings, without masks or social distancing, once they've been fully vaccinated.
March 11: On the anniversary of the World Health Organization declaring a COVID-19 pandemic, President Biden signs the sweeping $1.9-trillion coronavirus relief package into law. Biden later addresses the nation from the White House, honoring the 527,726 who've died of the disease, while projecting a tone of optimism in the fight against the virus.
Sources: Associated Press, Los Angeles Times, the Oregonian, San Diego Union-Tribune, U.S. News & World Report, American Journal of Managed Care, NBC Los Angeles, KPBS, Cal Fire, National Interagency Fire Center
---