Gun used in Colorado shootings was bought 6 days earlier, officials say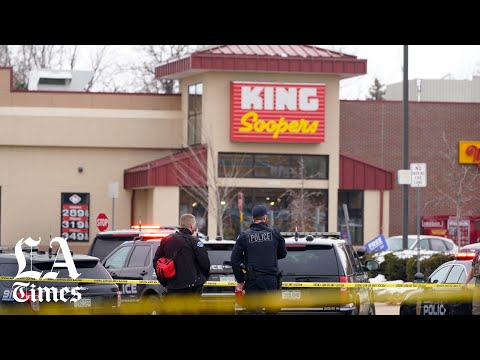 A suspect was in custody in the fatal shooting of 10 people, including a police officer, at a Boulder, Colo., grocery store.
BOULDER, Colo. —
Police on Tuesday identified a 21-year-old man as the suspect who opened fire inside a crowded Colorado supermarket, and court documents showed that he purchased an assault rifle less than a week before the attack that killed 10 people, including a police officer.
Supermarket employees told investigators that Ahmad Al Aliwi Alissa shot an elderly man multiple times Monday outside the Boulder grocery store before going inside, according to the documents. Another person was found shot in a vehicle next to a car registered to the suspect's brother.
Authorities said Alissa was from the Denver suburb of Arvada and that he engaged in a shootout with police inside the store. Alissa was booked into the county jail Tuesday on murder charges after being treated at a hospital. He was due to make a first court appearance Thursday.
Investigators have not established a motive but believe he was the only shooter, Boulder County Dist. Atty. Michael Dougherty said.
A shooting at a Colorado supermarket Monday killed 10 people, including a police officer, and a suspect was in custody, authorities said.
The suspect bought the assault weapon just six days before the shooting, on March 16, according to the arrest affidavit released Tuesday. It was not immediately known where the gun was bought.
The shooting came 10 days after a judge blocked a ban on assault rifles passed by the city of Boulder in 2018. That ordinance and another banning large-capacity magazines came after the 2018 mass shooting at Marjory Stoneman Douglas High School in Parkland, Fla., that left 17 people dead.
A law enforcement official briefed on the shooting said the suspect's family told investigators they believed Alissa was suffering from some type of mental illness, including delusions. Relatives described times when Alissa told them people were following or chasing him, which they said may have contributed to the violence, the official said. The official was not authorized to speak publicly and spoke to the Associated Press on condition of anonymity.
Multiple 911 calls paint a picture of a chaotic, terrifying scene, according to the affidavit.
One caller said the suspect opened fire out the window of his vehicle. Others called to say they were hiding inside the store as the gunman fired on customers. Witnesses described the shooter as having a black AR-15-style gun and wearing blue jeans and maybe body armor.
By the time he was in custody, Alissa had been struck by a bullet that passed through his leg, the affidavit said. He had removed most of his clothing and was dressed only in shorts. Inside the store, he had left the gun, a tactical vest, a semiautomatic handgun and his bloodied clothing, the affidavit said.
After the shooting, detectives went to Alissa's home and found his sister-in-law, who told them that he had been playing around with a weapon she thought looked like a "machine gun" about two days earlier, the document said.
A tapestry and a pillow blocked a narrow window next to the front door at the Arvada home believed to be owned by the suspect's father. No one answered the door after several knocks, but young children occasionally pulled the pillow aside and peered out of the window. The two-story home with a three-car garage sits in a relatively new middle- and upper-class neighborhood.
When he was a high school senior in 2018, Alissa was found guilty of assaulting a fellow student in class after knocking him to the floor, then climbing on top of him and punching him in the head several times, according to a police affidavit.
Alissa "got up in classroom, walked over to the victim & 'cold cocked' him in the head," the affidavit read. Alissa complained that the student had made fun of him and called him "racial names" weeks earlier, according to the affidavit. He was sentenced to probation and community service.
One of his former wrestling teammates, Angel Hernandez, said Alissa got enraged after losing a match in practice once, letting out a stream of invectives and yelling he would kill everyone. Hernandez said the coach kicked Alissa off the team for the outburst.
"He was one of those guys with a short fuse," Hernandez said. "Once he gets mad, it's like something takes over and it's not him. There is no stopping him at that point."
Hernandez said Alissa would also act strangely sometimes, turning around suddenly or glancing over his shoulder. "He would say, 'Did you see that? Did you see that?'" Hernandez recalled. "We wouldn't see anything. We always thought he was messing with us."
Arvada police Detective David Snelling said officers investigated but dropped a separate criminal mischief complaint involving the suspect in 2018 and cited him for speeding in February.
Monday's attack was the seventh mass killing this year in the U.S., following the March 16 shooting that left eight people dead at three Atlanta-area massage businesses, according to a database compiled by the AP, USA Today and Northeastern University.
"This is a tragedy and a nightmare for Boulder County," Dougherty said Monday shortly after the attack. "These were people going about their day, doing their shopping. I promise the victims and the people of the state of Colorado that we will secure justice."
It follows a lull in mass killings during the pandemic in 2020, which had the fewest such attacks in more than a decade, according to the database, which defines mass killings as those that leave four or more dead, not including the shooter.
Boulder Police Chief Maris Herold identified the slain officer as Eric Talley, 51, who had been with the Boulder Police Department since 2010. Talley went to the store after receiving a call about shots fired and a person carrying a rifle, she said.
"He was by all accounts one of the outstanding officers of the Boulder Police Department, and his life was cut too short," Dougherty said.
The other dead ranged in age from 20 to 65. They were identified as Denny Stong, 20; Neven Stanisic, 23; Rikki Olds, 25; Tralona Bartkowiak, 49; Suzanne Fountain, 59; Teri Leiker, 51; Kevin Mahoney, 61; Lynn Murray, 62; and Jodi Waters, 65.
Matthew Kirsch, the acting U.S. attorney for Colorado, pledged that "the full weight of federal law enforcement" will support the investigation. He said investigators from the Bureau of Alcohol, Tobacco, Firearms and Explosives were at the crime scene, along with FBI agents.
Officers had escorted a shirtless man with blood running down his leg out of the store in handcuffs, but authorities would not say if he was the suspect. They did say the suspect was receiving medical care and was the only person injured who did not die.
Officials have not said whether the suspect is the person who was taken from the shooting scene to Foothills Hospital in Boulder. The hospital will not release information on the patient, said Rich Sheehan, spokesman for Boulder Community Health, which operates the hospital.
Dean Schiller told the AP that he had just left the supermarket when he heard gunshots and saw three people lying face down, two in the parking lot and one near the doorway. He said he "couldn't tell if they were breathing."
Video posted on YouTube showed one person on the floor inside the store and two more outside on the ground. What sound like two gunshots are heard at the beginning of the video.
Law enforcement vehicles and officers, including SWAT teams, amassed outside the store, and at least three helicopters were on the roof. Some windows at the front of the store were broken.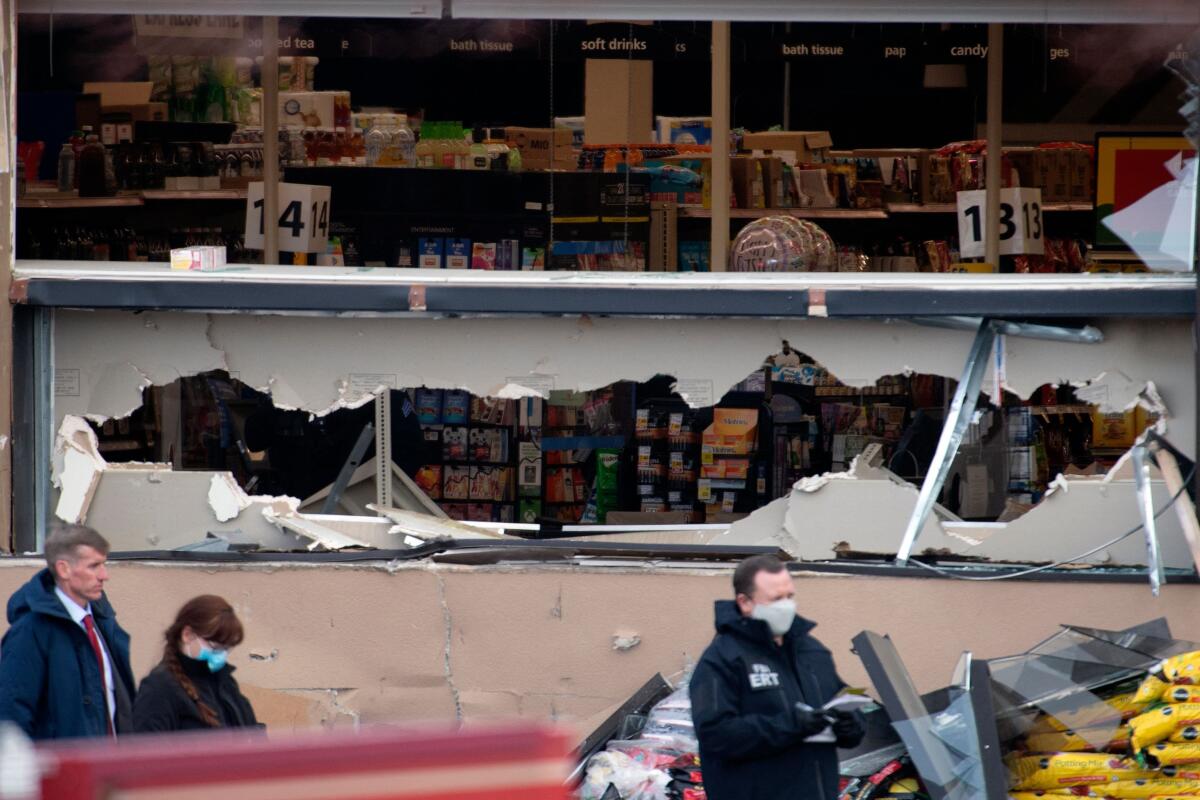 At one point, authorities said over a loudspeaker that the building was surrounded and "you need to surrender."
Sarah Moonshadow told the Denver Post that two shots rang out just after she and her son, Nicolas Edwards, finished buying strawberries. She said she told her son to get down, and then "we just ran."
Once they got outside, she said, they saw a body in the parking lot. Edwards said police were speeding into the lot and pulled up next to the body.
"I knew we couldn't do anything for the guy," he said. "We had to go."
Biden has been asked to appoint a gun violence policy director to centralize federal research and responses to our national gun violence crisis. Of course he should.
James Bentz told the Post that he was in the meat section when he heard what he thought was a misfire, then a series of pops.
"I was then at the front of a stampede," he said.
Bentz said he jumped off a loading dock at the back of the store to escape, and younger people were helping older people off of it.
Colorado Gov. Jared Polis tweeted a statement that his "heart is breaking as we watch this unspeakable event unfold in our Boulder community."
Boulder police had told people to shelter in place amid a report of an "armed, dangerous individual" about three miles away from the grocery store but said at the news conference later that it wasn't related to the shooting.
White House Press Secretary Jen Psaki tweeted that President Biden had been briefed on the shooting.
In a statement, the King Soopers chain offered "thoughts, prayers and support to our associates, customers and the first responders who so bravely responded to this tragic situation. We will continue to cooperate with local law enforcement and our store will remain closed during the police investigation."
Kevin Daly, owner of Under the Sun Eatery and Pizzeria, about a block from the supermarket, said he was in his restaurant when he saw police cars arriving and shoppers running from the grocery store. He said he took in several people to keep them warm, and others boarded a bus provided by Boulder police and were taken from the scene.
Sign up for Essential California for the L.A. Times biggest news, features and recommendations in your inbox six days a week.
You may occasionally receive promotional content from the Los Angeles Times.