CDC endorses school COVID-19 'test to stay' policy that avoids student quarantines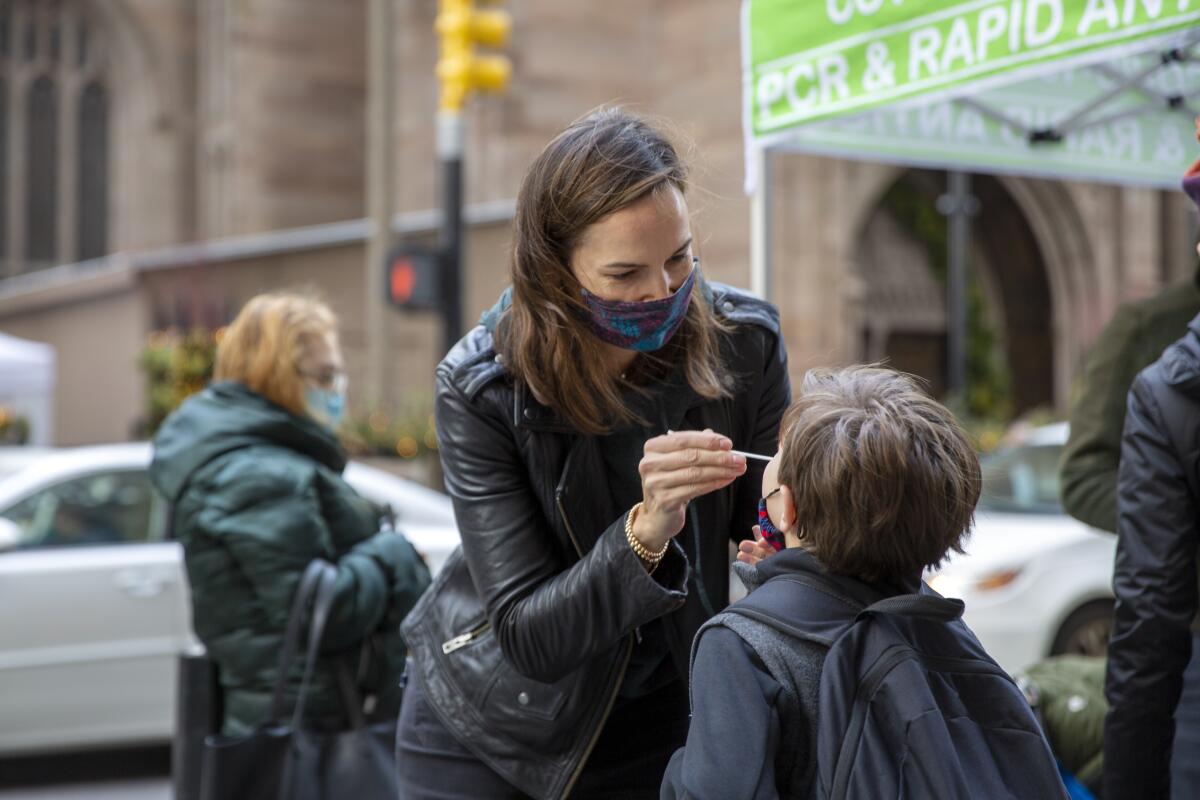 Students exposed to the coronavirus will be able to remain in class and avoid the disruption of going home to quarantine if they are tested for the virus with negative results and remain free of COVID-19 symptoms under new federal "test to stay" guidelines released Friday.
The Centers for Disease Control and Prevention has firmly embraced the test-to-stay approach, already used in many school districts, based on research that included findings from the Chicago and Los Angeles areas.
In Los Angeles Unified alone, more than 2,000 students will enter quarantine in a typical week as a result of being a close contact of someone who tested positive for a coronavirus infection. Last week, the numbers surged past 4,000 in the nation's second-largest school system. Some families have gone through the ordeal multiple times. A quarantine can last for up to 10 days.
"Test-to-stay is an encouraging public health practice to help keep our children in school," CDC Director Dr. Rochelle Walensky said Friday.
Many California school districts were headed toward or had already adopted the policy. About a dozen of the largest 100 school districts in the country have implemented test-to-stay, according to the Seattle-based Center on Reinventing Public Education, a research organization that is tracking school district responses to COVID-19. That number is higher than in early October, when eight of the districts were using it.
Los Angeles Board of Education President Kelly Gonez said the CDC guidelines are firmly in sync with the district's intended approach for the coming semester.
"These measures will keep more students learning in school so they don't miss critical instruction time," Gonez said.
Pfizer is testing an extra dose of its COVID-19 vaccine for babies and preschoolers after preliminary research hinted the usual two doses wouldn't be enough.
The approach also received an endorsement from U.S. Education Secretary Miguel Cardona.
"It's encouraging that test-to-stay strategies are proving effective both in limiting transmission of the virus and in ensuring that students can remain learning in school, so that entire classrooms or schools do not have to shut down when a case of COVID-19 is discovered in the school community," Cardona said.
CDC's official guidance had previously recommended that when someone in a school tests positive for a coronavirus infection, those who were deemed to be in close contact should stay out of school, in home quarantine, for 10 days.
With the announcement Friday, the CDC is saying that test-to-stay and quarantining are both viable options. Test-to-stay can involve significant costs for a school or school system because it means a regular testing and monitoring program would have to be in place.
Federal grant dollars could help offset the costs, said Debra Duardo, superintendent of the county Office of Education.
Several states have funded test-to-stay to prevent students from spending long stretches away from campus.
Conditions could lead to 'a perfect storm for overwhelming our hospital system that is already strained,' a health official says.
Previously, the CDC said there was promise in the approach, as long as other measures such as masking for both teachers and students were followed. The agency continues to endorse a multilayered safety approach. It has been working with some school districts to evaluate test-to-stay, and released results from two studies.
One was in suburban Lake County in Illinois, just north of Chicago, which adopted a program in August. Close contacts were allowed to stay in school, provided both the infected person and a close contact were masked when an exposure might have happened, the close contact had no symptoms, and the close contact was tested one, three, five and seven days after exposure.
Infections developed in 16 of the more than 1,000 close contacts who were tracked, a transmission rate of about 1.5%. Health officials deemed the strategy successful.
Similar results were reported in a study that looked at what happened this fall in schools across Los Angeles County, data that took in 78 school systems, including L.A. Unified, which has about a third of the county's students. The study period was Sept. 20 through Oct. 31. About half the school districts adopted test-to-stay. L.A. Unified was not among them.
In L.A. County, researchers counted 7,511 student close contacts in schools that tried test-to-stay, with outcomes no worse than schools with stricter quarantines. Schools without test-to-stay probably lost at least 92,455 in-person instructional days, researchers concluded.
L.A.-area students who fell under test-to-stay protocols had restrictions, however. They had to wear masks indoors, outdoors and on school buses, receive testing twice weekly and agree to quarantine at home when not at school. Close contacts could not participate in extracurricular activities or before- or after-school care during the modified quarantine. Any students who developed COVID-19 symptoms or tested positive for the virus would have to isolate at home — just as before.
"The test-to-stay strategy in L.A. County public schools did not result in increased transmission during a time of substantial transmission when Delta was the predominant strain and greatly saved in-person school days," the county health department said in response to questions from The Times.
The department emphasized that the study was conducted "prior to Omicron transmission and may not reflect current transmission patterns in L.A. County. Schools should take Omicron into consideration when deciding to modify quarantine for exposed students."
Any L.A. County school district had the option of choosing test-to-stay since Sept. 20, county officials said, even though most schools did not. State guidelines also endorse test-to-stay, which is referred to as a modified quarantine.
L.A. Unified will continue its current protocols through January, said Anthony Aguilar, the district's chief of special education, equity and access. This means that all district staff and in-person students will test every week. Exposed vaccinated students do not need to quarantine unless they have symptoms of illness. Exposed unvaccinated students will have to quarantine no matter what.
Starting in February, the district anticipates adopting the county's version of test-to-stay for students of all ages, whether vaccinated or not.
School quarantine rules have changed throughout the pandemic as politics and scientific understanding have evolved.
L.A. Unified has typically adopted a more cautious approach to safety measures, including delaying the reopening of campuses until all employees had the opportunity to be fully vaccinated. The district also instituted mandatory weekly testing for all on campus — whether vaccinated or not. And officials adopted vaccination mandates for all employees and for students 12 and older.
The employee mandate has been generally enforced — with potential exemptions for medical reasons or sincerely held religious belief. The Board of Education this week delayed the student deadline for students 12 and older until next fall.
Similarly, the district adopted strict policies on school quarantines — which have been especially widespread in L.A. Unified because the school system's testing program could detect infections even when individuals had no symptoms of illness.
"At every step, L.A. Unified has reviewed and reassessed its practices to ensure the continued safety of our families and staff while minimizing disruptions to learning wherever possible," Gonez said.
A close contact is anyone who was within 6 feet of an infected person for a total of 15 minutes or more over a 24-hour period, according to the CDC. An infected person can spread a coronavirus infection starting from two days before symptoms appear. Some people never develop symptoms, but they are contagious up to two days before they would test positive.
Under the new CDC guidelines, those who test positive still must enter isolation. For most children and adults isolation and other precautions can be discontinued 10 days after the onset of symptoms and after an individual has no fever for at least 24 hours and other symptoms have improved.
The CDC's position could ease the concerns of some parents, school employees and labor groups.
American Federation of Teachers President Randi Weingarten called test-to-say "promising," while also urging that sweeping safety measures needed to continue.
"Our No. 1 priority remains keeping school buildings open safely for in-person learning," Weingarten said in a statement. "Thankfully, we know — and can access — much more information and take many more precautions to make that happen."
"Now, particularly in light of the Omicron threat, we must redouble our efforts to share that knowledge, and put it into practice: most importantly utilizing vaccines and boosters, and recommitting to the mitigation strategies that work, especially testing, ventilation and indoor masking," she said.
Sign up for Essential California for news, features and recommendations from the L.A. Times and beyond in your inbox six days a week.
You may occasionally receive promotional content from the Los Angeles Times.