Southwest wildfires force evacuations and tighten resources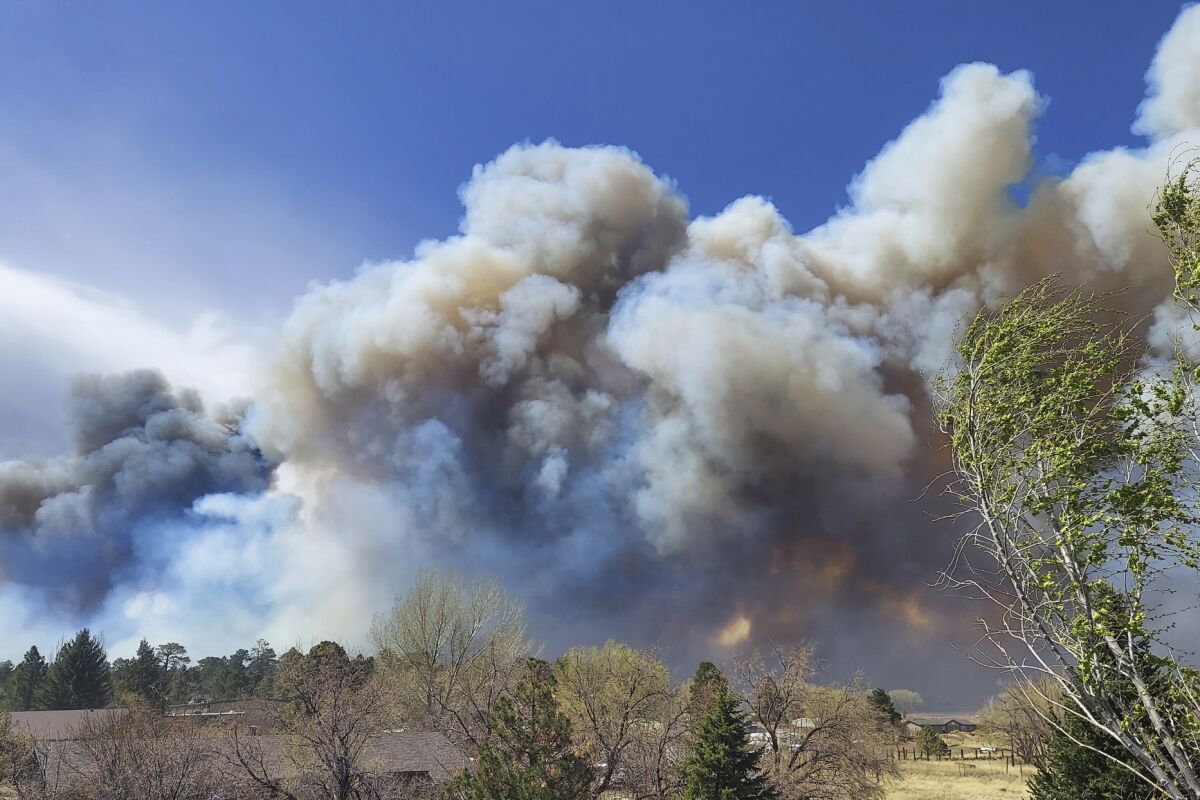 FLAGSTAFF, Ariz. —
An Arizona wildfire more than tripled in size as relentless winds pushed the flames through neighborhoods on the outskirts of a college and tourist town, keeping hundreds of residents away from their homes and destroying more than two dozen structures.
The blaze continued its run Wednesday through dry grass and scattered Ponderosa pines around homes, and into volcanic cinder fields, where roots underground can combust and send small rocks flying into the air, fire officials said. Persistent spring winds and 50-mph gusts hindered firefighters.
"This is a heads-up for everywhere else in the state," said fire information officer Dick Fleishman. "If you have dry grass up next to your house, it's time to get that cleaned up."
Fire managers are contending with tight resources as wildfires burn around the Southwest. The U.S. has 16 top-level national fire management teams, and four of those are dedicated to blazes in Arizona and New Mexico — something Fleishman said is rare this early in the wildfire season.
Hundreds of people have been evacuated because of the wildfires north of Flagstaff and south of Prescott in Arizona.
In New Mexico, the Mora County Sheriff's Office issued mandatory evacuations for more residents as winds fueled a blaze that has burned more than 14 square miles since Sunday. Meanwhile, another fire was sparked Wednesday afternoon in a wooded area along the Rio Grande south of Albuquerque.
Red flag warnings were in place across New Mexico on Wednesday and through the rest of the week, and in portions of northern Arizona for Thursday. Winds were expected to strengthen Thursday and Friday, said Mark Stubblefield of the National Weather Service.
In Colorado, new wildfires prompted evacuations in Monte Vista, a city of about 4,150 people in the southern part of the state, as well as near Longmont, north of Denver. Monte Vista Police Chief George Dingfelder confirmed structures had been lost, but said investigators had "no idea" how many. There had been no reports of injuries or people missing.
The Monte Vista fire's progress was stopped and crews were putting out hot spots Wednesday. Earlier, flames and billowing smoke could be seen on a street surrounded by buildings as fire crews responded, according to video from a reporter for the Alamosa Citizen.
PG&E Corp. has reached a deal with prosecutors over starting two major California wildfires and will avoid criminal prosecution.
The number of acres burned in the U.S. so far this year is about 30% above the 10-year average — a figure that has gone up from 20% earlier this month as the fire danger shifted from the Southern U.S. to the Southwest, where above-average temperatures and below-average precipitation have combined with spring winds to elevate the chances of more catastrophic fires.
On the outskirts of Flagstaff, where tourists and locals revel in hiking and horseback riding trails, camping spots, and the vast expanse of cinder fields for off-road vehicle use, flames soared as high as 100 feet. Popular national monuments including Sunset Crater Volcano and Wupatki were closed due to the wildfire.
"It's just a unique community and we're fortunate to live here," said Jon Stoner, who evacuated his home Tuesday. "We feel very lucky with the views we have and the surrounding forest."
Some residents' homes were burned to the ground, though Coconino County hasn't said exactly how many. As of Tuesday evening, 766 homes and 1,000 animals had reportedly been evacuated, and about 250 structures remained threatened.
New study says climate change is essentially two-thirds to 88% responsible for the conditions driving wildfire woes in the western United States.
Record heat. Raging fires. What are the solutions?
Get Boiling Point, our newsletter about climate change, the environment and building a more sustainable California.
You may occasionally receive promotional content from the Los Angeles Times.
Associated Press writer Paul Davenport in Phoenix and Susan Montoya Bryan in Albuquerque contributed to this report.
Must-read stories from the L.A. Times
Get the day's top news with our Today's Headlines newsletter, sent every weekday morning.
You may occasionally receive promotional content from the Los Angeles Times.