McCarthy gives Tucker Carlson access to thousands of hours of Jan. 6 surveillance footage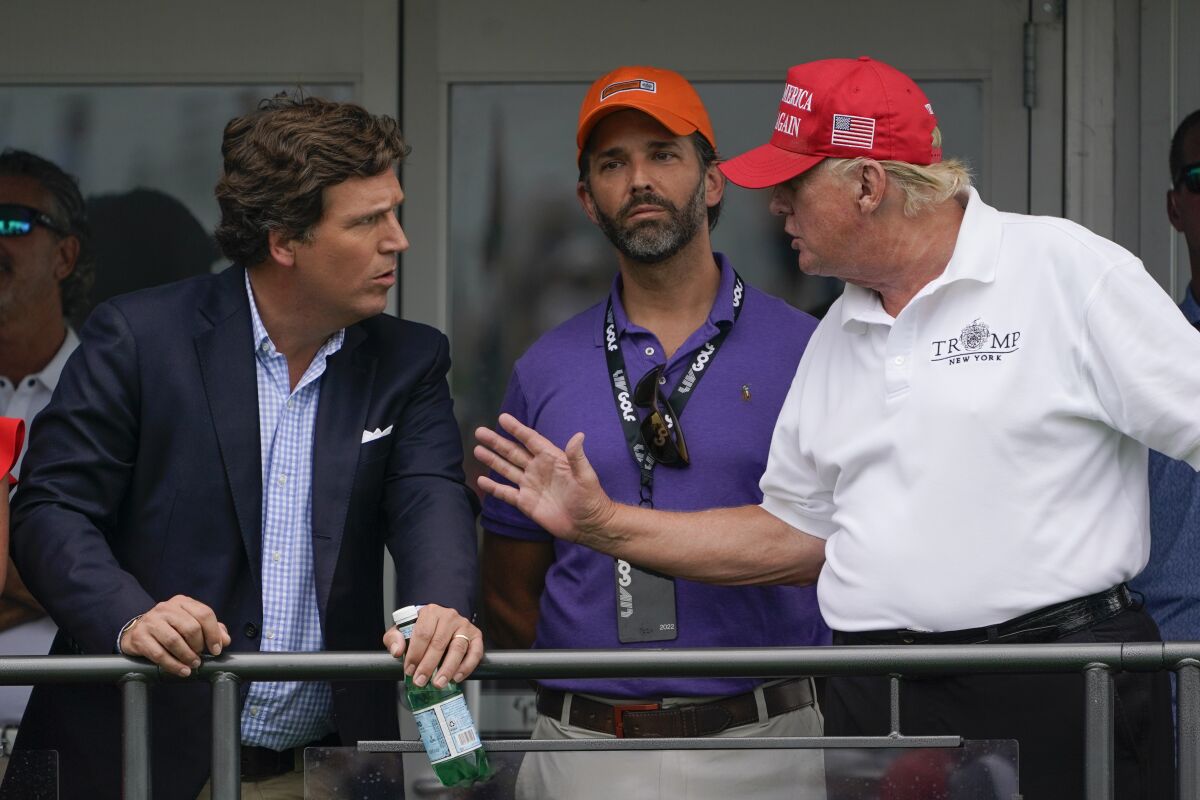 WASHINGTON —
Thousands of hours of surveillance footage from the Jan. 6 attack on the U.S. Capitol are being made available to Fox News host Tucker Carlson, a stunning level of access granted by House Speaker Kevin McCarthy that Democrats swiftly condemned as a "grave" breach of security with potentially far-reaching consequences.
The hard-right political commentator said his team was spending the week at the Capitol poring through the video and preparing to reveal their findings to his viewers. But granting exclusive access to sensitive Jan. 6 security footage to such a deeply partisan figure is a highly unusual move, seen by some critics as essentially outsourcing House oversight to a TV personality who has promoted conspiracy theories about the attack.
"It's a shocking development that brings in ... political concerns but, even more importantly, security concerns," said Rep. Daniel Goldman (D-N.Y.), who was a chief counsel in former President Trump's first impeachment trial.
Critics warn that Capitol security could be endangered if Carlson airs security footage that details how the rioters accessed the building and the routes lawmakers used to flee to safety. And a sharply partisan retelling of the Capitol attack could accelerate a dangerous rewriting of the history of what happened Jan. 6, 2021, when Trump encouraged a mob of supporters to head to the Capitol to overturn President Biden's election.
"It is not lost on anyone that the one person that the speaker decides to give hours and hours of sensitive secret surveillance footage is the person who peddled a bogus documentary trying to debunk responsibility for the Jan. 6 riot from Donald Trump onto others," Goldman said.
"Kevin McCarthy has turned over the security of the Capitol to Tucker Carlson, and that's a scary thought," he added.
To millions of viewers, Fox News hosts gave allies of ex-President Trump a platform for false claims he lost the 2020 election because of voter fraud.
McCarthy's office declined to confirm the arrangement, first reported by Axios, despite repeated requests to the Bakersfield Republican for comment.
Gripping images and videos of the Capitol attack by Trump supporters have been widely circulated by documentarians, news organizations and the rioters themselves. But officials have held back much of the surveillance video from hundreds of security cameras stationed in and around the Capitol that offer a detailed view of the grisly scene and the brutal beatings of police as they tried to stop the rioters.
The House committee investigating the Jan. 6 attack went through a painstaking process, working closely with the U.S. Capitol Police to review and ultimately release approved segments of the surveillance footage as part of its public hearings last year.
The chief of the U.S. Capitol Police, Tom Manger, issued a terse statement when asked about the new release of footage: "When Congressional Leadership or Congressional Oversight Committees ask for things like this, we must give it to them."
Dominion Voting Systems has evidence that network personalities knew the Trump team's claims were false. That puts them outside press freedom protections.
Democrats in the House were to convene Wednesday for a private caucus call to hear from Rep. Bennie Thompson (D-Miss.), who served as the chairman of the Jan. 6 committee, and others.
House Democratic leader Hakeem Jeffries called McCarthy's move an "egregious security breach" that threatens the safety of those who work at the Capitol.
"Unfortunately, the apparent disclosure of sensitive video material is yet another example of the grave threat to the security of the American people represented by the extreme MAGA Republican majority," Jeffries (D-N.Y.) said in a letter to House colleagues.
Rep. Zoe Lofgren (D-San Jose), former chairwoman of the House Administration Committee and a member of the panel that investigated the Jan. 6 attack, said: "It's really a road map to people who might want to attack the Capitol again. It would be of huge assistance to them."
Carlson, who previously produced a documentary that suggested the federal government used the Capitol attack by Trump's supporters as a pretext for persecuting conservatives, confirmed that his team was reviewing the footage for a possible airing.
Evidence the Jan. 6 committee doesn't release by the end of the year could be boxed away for decades or lost forever.
"We believe we have secured the right to see whatever we want to see," Carlson, who is his network's most-watched prime-time host, said on his show Monday night.
It's not clear what protocols Carlson and his team are using to view the material, but he said that their "access is unfettered."
The House committee investigating Jan. 6 underwent an often intense process to review the tens of thousands of hours of footage as it documented its findings.
Over its nearly two-year probe, the bipartisan panel, which was disbanded once Republicans took control of the House, created a secure room in their Capitol Hill
offices for staff to comb through the more than 14,000 hours of footage. The process took months, according to a person familiar with the investigation, who requested anonymity to discuss the private procedures.
The report by the House select committee probing the Jan. 6, 2021, attack on the Capitol provides a road map for potential criminal charges against Trump.
Any clip of footage the committee wanted to use in its public hearings or for its final report had to be approved by Capitol Police to avoid security breaches, the person said. If police had an objection, the panel would engage in negotiations to redact any content that could potentially endanger the force or the mechanisms they use to protect lawmakers and the Capitol.
"Throughout our entire review on the committee, we worked with U.S. Capitol Police ... to get the footage and review it through secure channels, and then we also worked with them again before we released anything," said Marcus Childress, who was the panel's investigative counsel and now is in private practice. "The purpose of that was to make sure that we weren't releasing any sensitive surveillance footage."
Anxiety over security is running high, with Capitol Police reporting an uptickin threats to lawmakers' safety over the last several years. The number of possible threats against members of Congress rose from about 4,000 in 2017 to more than 9,600 in 2021 before declining last year to 7,501.
Key Republicans welcomed McCarthy's decision as part of his commitment to create what they call a more transparent House and engage in oversight, as the GOP launches a far-reaching series of investigations touching many aspects of government and politics.
Get breaking news, investigations, analysis and more signature journalism from the Los Angeles Times in your inbox.
You may occasionally receive promotional content from the Los Angeles Times.
"I support Speaker McCarthy's decision," said Rep. Bryan Steil (R-Wis.), chairman of the House Administration Committee.
Figures on the far right cheered the move.
"For all of you that doubted we would release the tapes. Here you go!" tweeted Rep. Marjorie Taylor Greene (R-Ga.), an outspoken right-flank member who has become close to McCarthy.
Former Rep. Rodney Davis (R-Ill.) said that since former House Speaker Nancy Pelosi's daughter Alexandra Pelosi, a documentary filmmaker, was able to film that day and release her footage, McCarthy should be able to grant Carlson access.
But others said the two situations are not comparable — countless hours of footage have been released from many sources that captured what happened that deadly day. A mob of Trump supporters battled Capitol Police, in often violent scenes, and broke into the building. Five people died in the riot and its aftermath.
The long-anticipated 845-page, eight-chapter report from the House select committee investigating the Jan. 6, 2021, insurrection provides a road map for potential criminal charges against Trump and others.
"I think we should remember that the Jan. 6 attack happened in broad daylight," said Sandeep Prasanna, a former investigative counsel on the Jan. 6 committee now in private practice.
"My concern is that I don't see how releasing thousands of hours of footage to one handpicked controversial media figure could ever produce the same factual and careful analysis that the committee produced over that year and a half," he said.

Life is stressful. Our weekly mental wellness newsletter can help.
You may occasionally receive promotional content from the Los Angeles Times.