People cheered the release of Nigeria's 'Chibok girls' — but thousands of others were kidnapped, raped and forgotten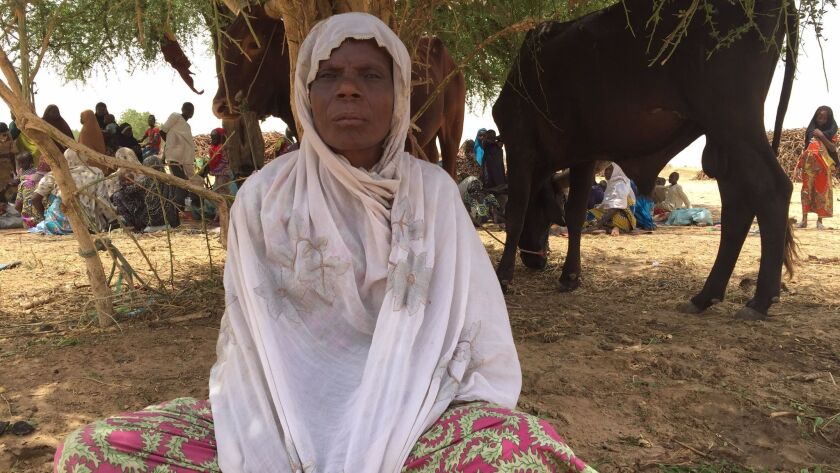 Reporting from JAKANA, Nigeria —
In early 2014, Yakinge Kolomi faced a nightmarish dilemma.
Boko Haram extremists had recently rampaged through areas close to her village in northeastern Nigeria, massacring men who refused to join them and abducting young women — then forcing them into marriage. Kolomi knew that her 12-year-old daughter, Hafsa, would make an easy target.
She listened to friends who urged her to find Hafsa a husband who could potentially protect her and weighed their advice against her desire to save her daughter's childhood and keep her in school. After much deliberation, she reluctantly married her off to a middle-age neighbor in hopes it would save the girl's life.
Weeks later, Boko Haram attacked their village. The Islamist militant group killed Kolomi's husband, burned down nearby homes and kidnapped groups of children in the chaos. Despite her mother's wish to keep her safe, Hafsa was among the many who disappeared — as did her husband, who was never heard from again.
"The military said that Boko Haram took many children, but they don't know where they are," Kolomi said in an informal settlement for displaced people in the Nigerian town of Jakana. "They say some died, but I don't think my daughter did. I think she's alive."
In early May, the world joined Nigeria in celebrating the release of 82 girls Boko Haram kidnapped from their boarding school in the northern town of Chibok in 2014. The "Chibok girls," as they came to be known, were a group of 276 students whose plight captured international attention. They were memorialized in the viral "Bring Back Our Girls" campaign and earned attention from celebrities including then-First Lady Michelle Obama.
Since the government began negotiating with Boko Haram, 103 of them have been released — 21 in October, and the others last month. More than 100 remain in captivity, and some are believed to have died.
But the Chibok girls are only a tiny fraction of the thousands of people — including girls like Hafsa as well as boys — who have been kidnapped by Boko Haram, which is intent on ruling northern Nigeria as a caliphate under an extreme interpretation of sharia, or Islamic law.
Like the Chibok girls, these other children have suffered at the hands of the violent militants. Unlike with the Chibok girls, hardly anyone seems to care. And for the families of missing children, the wounds of their disappearances only deepen with time.
Hafsa's mother and six siblings are still without news of the girl, who was kidnapped around the time the militants raided the Chibok boarding school dormitory. They do not even have photos to share with anyone who might be aware of her fate.
"People are narrowing it down and saying that the problem is getting better and the Chibok girls are being recovered, so everything will be OK," said Isa Sanusi, media manager for Amnesty International in Nigeria. "Nothing is OK. So many other girls were abducted, but no one is even talking about them."
Even those who manage to escape the extremists are often unable to reintegrate back into the society from which they were taken. Many in northern Nigeria, scarred from the violence of recent years, fear the extremists radicalized the former Boko Haram captives, and see them more as willful collaborators than as victims of war crimes.
No women were happy to stay there. If you sat down and started chatting with each other, everyone would be saying 'I want to go back home.'
Amina, a former Boko Haram captive
Men and boys freed from captivity are regularly accused of joining the group willingly and are then held in prison-like conditions. And a wave of female teenage suicide bombers has prompted authorities to treat many young women — the same age as the Chibok girls — as dangerous suspects, not victims in need of psychosocial support. Even the girls' families and neighbors are often wary of their returns.
Amina is a case in point.
Amina's last name is being withheld because of her age and the nature of the crimes against her. She was 13 in 2013, when her mother took her out of school to marry an older man named Ali. A clothes vendor, Ali spent time with Boko Haram sympathizers in their hometown of Damaturu.
Fearing the government would soon raid the village and label him a militant, he moved hours away with Amina and his 10-year-old sister to try to start over. But his old friends tracked him down and killed him as punishment for leaving, then abducted Amina and her young sister-in-law. For four months, they held the two girls inside a small house, allowing them to leave only to attend Islamic school or use the bathroom with male supervision.
When the militants guarding the house married Amina off, she spent three weeks avoiding having sex with her new husband. He reported her to the other militants, who then punished her with a public beating in front of every woman in their captivity. She said her beating was used as a warning of what would happen to anyone else who tried to resist.
"They beat the hell out of me," she said in a conversation at a UNICEF-supported transit center in Maiduguri.
No one doubts the ruthlessness of Boko Haram. The group has killed more than 20,000 people in northern Nigeria since 2009, and displaced an additional 2 million across the region. At one point, Boko Haram controlled an area the size of Belgium, but an intensified military campaign under President Muhammadu Buhari, who promised in his 2015 election campaign to put an end to the insurgency and secure the release of the missing Chibok girls, has returned much of the northeast to relative government control. Human rights organizations have also accused the military of carrying out abuses against the civilians they are supposed to protect.
Still, conditions remain dire. Humanitarians are now warning that much of the affected area is on the brink of famine, with close to 5 million in urgent need of food.
Amina recovered and soon became pregnant, and delivered a baby in the forest without any medical support. Her husband then married another girl — a 12-year-old who had already married two other fighters before him. Amina said it was common for militants to remarry young girls whose husbands died in battle or moved to new locations. Her 10-year-old sister-in-law was soon married off as well.
When Amina realized she was pregnant again, she and a young friend married to another fighter began to discuss the possibility of escape. "No women were happy to stay there," she said. "If you sat down and started chatting with each other, everyone would be saying 'I want to go back home.'"
What they didn't realize was that home wouldn't necessarily want them back.
When the Chibok girls (by then, young women in many cases) were released, Buhari personally welcomed them back and promised them that the federal government would work to help "all other Nigerians who have been abducted safely regain their freedom." For the most part, that hasn't happened.
Amina's first son got sick around the same time she delivered her newborn. With her husband away fighting, she buried her 1-year-old in the forest, waited to heal from her second delivery, and then fled with her friend — the two of them carrying their babies on their backs.
"I always intended to run. When the baby died it was almost a relief," she recalled. "We decided that we couldn't stay. We didn't care whether we got caught or were killed. We were not afraid of anything."
After three days on foot, they reached the first government-controlled village. Soldiers, suspecting they were suicide bombers, made them stand back and present their babies from afar to prove they weren't bombs. Then they held them in a transfer center for three days and dropped them off at a camp for the displaced in the regional capital, Maiduguri.
When Amina finally reconnected with her family members, they said they couldn't wait to see her. But when she returned home, everyone kept their distance, and her stepfather, a police officer, moved out over fears she would kill him on behalf of Boko Haram. After a few months of trying to reintegrate at home, she gave up and moved back to the camp to stay with an acquaintance.
For Amina, it's hard to imagine what will come next. At 17, she has already been forced into marriage twice, given birth to two sons, buried one, and faced rejection by the family she dreamed of reuniting with while she was held captive.
"I don't want to stay in the camp, but I have no choice," she said. "But any troubles I might go through now are not equivalent to what I already went through with Boko Haram."
ALSO
Fela Kuti built his music around a distrust of Nigeria's elites. Now they're the audience for the musical about his life
The day road rage led to a treason charge in Zambia, as democracy falters in Africa
South Africa's president has survived a rape trial, corruption charges and many bids to oust him
Special correspondent O'Grady, also reported from Maiduguri. Reporting for this article was supported by the International Reporting Project.
ALSO
U.S. warplane shoots down Syrian jet near Raqqah
Macron wins a majority in France's Parliament, but not quite the predicted landslide
Why one shopkeeper returned to his war-ravaged Syrian hometown: 'I believe in Palmyra'
---
The stories shaping California
Get up to speed with our Essential California newsletter, sent six days a week.
You may occasionally receive promotional content from the Los Angeles Times.