In South Korea, a former golf course is now an unlikely bulwark against North Korean attack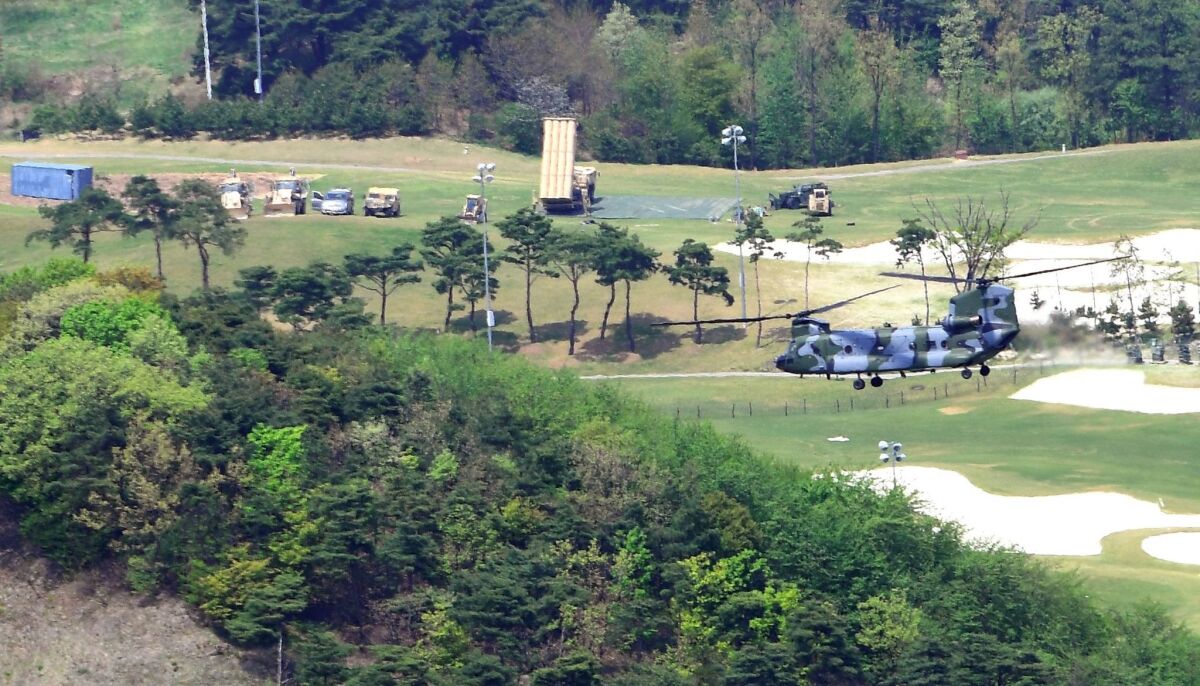 Reporting from Seoul —
American security officials have long been flummoxed over how to deal with an increasingly provocative North Korea, an isolated nation determined to perfect its illicit nuclear weapons and missile programs over international objections.
One piece of that puzzle perhaps fell into place this week with the announcement that a long-sought missile defense system designed to protect South Korea had been deployed, albeit in a limited capacity, by American forces.
That system, known as THAAD (Terminal High Altitude Area Defense), in theory could soon help to kill inbound warheads from short- and medium-range missiles fired at South Korea by the North.
Yet it remains controversial.
Protests by peace activists, nearby residents and others have swelled in recent days. China — a key counterpart in any effort to curb North Korea's programs — sees the system as a threat and continues to threaten retaliation. And the leading candidate in next week's South Korean presidential election said Wednesday that work on the system should wait until the nation picks a new leader.
"It would be better for both the Korean government and the United States if the completion of THAAD deployment could be discussed and determined by the next government in Korea," said Lee Ji-soo, a spokesman for the candidate, Moon Jae-in.
The swirl of questions about THAAD comes as American military officials confirmed on Tuesday that the system was operational, in a limited capacity, and several days after President Trump caused a furor here by suggesting South Korea should pay for it.
Located on a former golf course in Seongju, a rural area 130 miles southeast of Seoul, the installation came faster than originally expected — and at a time of political tumult in which a caretaker president is in charge after an unrelated scandal.
Regardless of the the timing, questions also persist about how effective the system might be under an actual launch by the North — and whether its limited protection is worth the headache.
The system is designed to neutralize potentially deadly warheads by colliding with them as they descend. But it has only been tested, not used to combat enemy missiles.
It also has a limited intercept range, according to estimates by security experts, and therefore probably would not help defend Seoul from the North's missiles, at least not from its location in Seongju.
China holds a clear and firm position on the issue of THAAD. We are against the deployment.
— Geng Shuang, a spokesman for the Chinese foreign ministry
Even if it did protect Seoul from missile strikes, the capital, which has a metro area with more than 20 million residents, is close enough to North Korea to remain under threat from more conventional weapons, such as artillery.
"It really is a political deployment," said David Wright, a weapons researcher who co-directs the Global Security Program at the Union of Concerned Scientists. "It's partly because missile defense sounds very good to politicians who want to do something."
Moon, who leads the polls in the Tuesday election, continues to express skepticism about the timing of the installation, pushed by ousted President Park Geun-hye. But he could well support it. Many of his political opponents — and the Trump administration — are already pushing for the deployment.
The supporters say it would provide an additional, if imperfect, layer of protection to a country under existential threat from the North Korean nuclear ambitions.
"It's not about how good the system is," said James Kim, a research fellow at the Asan Institute for Policy Studies in Seoul. "It's about whether it gives you something extra."
Still, Kim asked, "How would the THAAD perform in a real battle situation? That's less clear."
If THAAD faces some internal questions, it has caused serious trouble for relations with China, one of South Korea's most important export customers and a crucial regional counterpart in dealing with North Korea.
The Chinese have, from the start, raised concerns about the system and were frustrated when Park, removed from office this spring in a corruption scandal, announced last summer that the government would pursue its installation.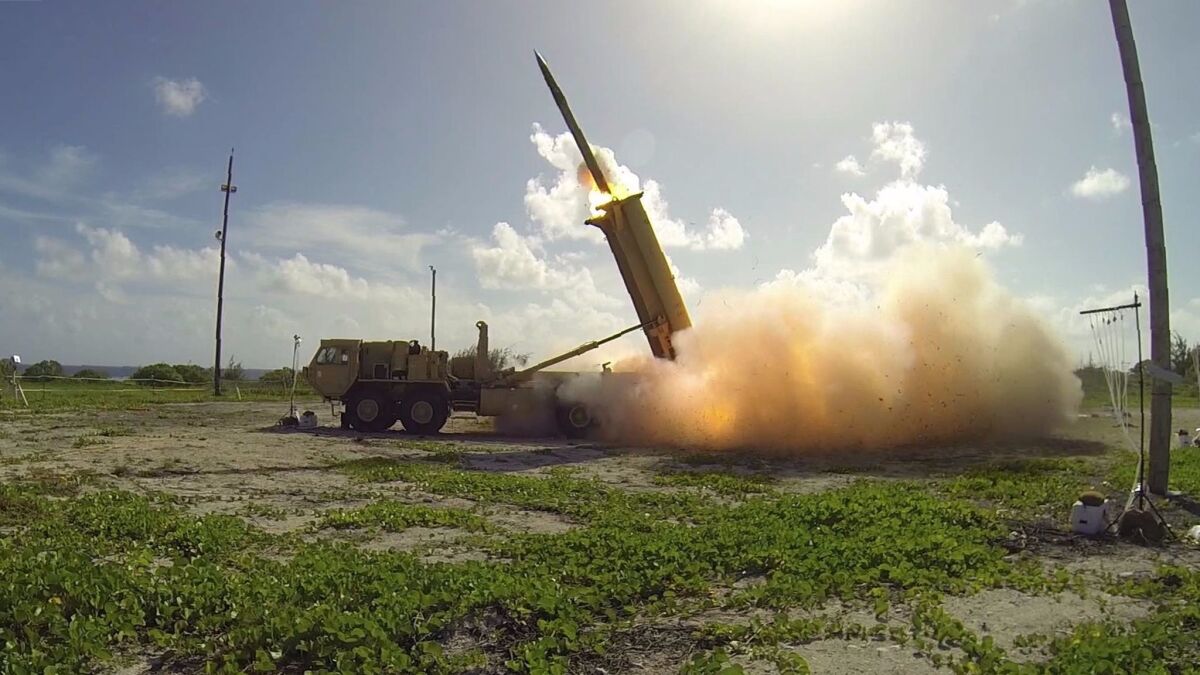 China seems concerned over whether the system would be able to detect more quickly one of its own prospective missile launches, security analysts such as Wright say. They also might worry about the United States creating a global defense network that could limit their capabilities to strike with missiles, however unlikely that might seem today.
"It creates uncertainty about future capabilities and where this is headed," Wright said. "Countries like China are concerned about the future."
The concerns have been clearly expressed.
Geng Shuang, a spokesman for the Chinese foreign ministry, this week called for a quick halt to the installation. He said the country would take "necessary measures" to defend its interests, though the details weren't outlined.
"China holds a clear and firm position on the issue of THAAD. We are against the deployment," he said. "We will also firmly take necessary measures to defend our own interests."
Some of those measures are already being felt.
Chinese officials have banned the import of South Korean entertainment programming such as movies, music and television shows. They've also restricted some of their residents from touring South Korea.
Both measures, largely symbolic given the volume of trade between the two countries, have caused anxiety in South Korea, in part because tourism and the export of its entertainment are sources of national pride and drivers of economic development.
China's economic retaliation over THAAD could cost South Korea — Asia's fourth-largest economy — as much as $7.5 billion in 2017, according to a new analysis by the Hyundai Research Institute.
That figure, if ultimately accurate, would be less than 1% of South Korea's gross domestic product. But it would be a significant contraction for a country that seeks economic growth above most other national goals.
In addition to raising the ire of Chinese officials, it has also sparked domestic anger — for a variety of reasons.
Peace protesters have staged periodic, though relatively small, demonstrations near the defense ministry in central Seoul. The system has also sparked new local protests, with some residents in the rural area surrounding the deployment fearing the system's high-powered radar might pose health risks. Others worried the system itself could make their region a target.
There were also protests here last week after Trump suggested South Korea should pay as much as $1 billion for the system. It was the latest slight from the new administration toward one of its strongest allies in Asia — and one Trump's national security team quickly clarified.
The White House national security advisor, H.R. McMaster, has since said that the United States — which has a cost-sharing agreement with South Korea — would, in fact, pay for the system.
Under the agreement, which is renewed periodically, South Korea is required to help pay for the cost of the American military presence here, Moon Sang-gyun, a spokesman for the Ministry of Defense, told reporters this week.
But, he said, "weapons acquisition" is not part of that defensive cost-sharing deal. According to the defense ministry, South Korea pays about half the $800 million is costs to maintain the American military on the peninsula. About 28,000 troops are stationed here, many of them in and around Seoul.
"One specific weapons system cannot play an outsized role in determining defense cost-sharing contributions. There are a lot of other variables to account for — and it's too early to speculate on what the U.S. has in mind," he added.
ALSO
North Korea is building mysterious artificial islands that would be perfect for missile launches
We went to North Korea. You asked hundreds of questions. Here's what we found
South Korea's upcoming presidential election could reshape its relations with North Korea — and the U.S.
Stiles is a special correspondent.
Must-read stories from the L.A. Times
Get the day's top news with our Today's Headlines newsletter, sent every weekday morning.
You may occasionally receive promotional content from the Los Angeles Times.