Former Maldives president returns from exile to large crowds as democratic hopes rise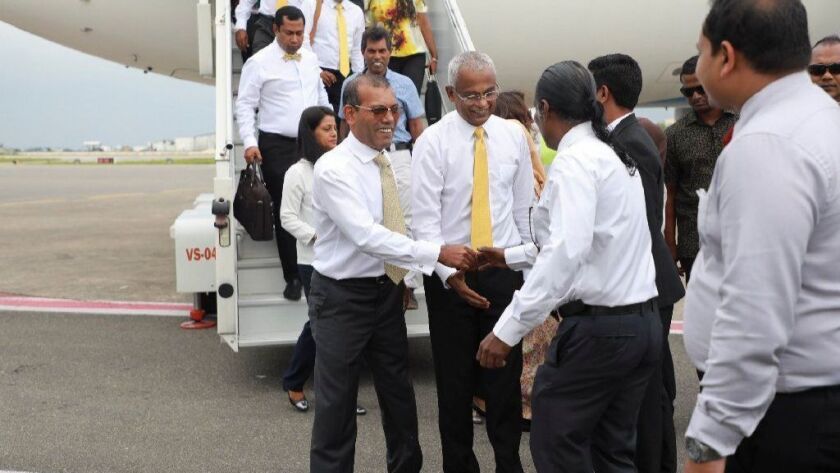 Reporting from Colombo, Sri Lanka —
For two and a half years, former President Mohamed Nasheed watched from exile as his political allies and democratic activists were jailed and targeted by an increasingly authoritarian government on his island nation, the Maldives.
Nasheed returned to the Indian Ocean archipelago Thursday to a joyous welcome as yellow-clad party activists and flag-waving supporters poured into confetti-strewn streets in the cramped capital of Male.
The homecoming of the islands' first democratically elected president was the clearest sign of the political transition taking shape in the Maldives, where incumbent President Abdulla Yameen has pledged to step aside after losing reelection to a member of Nasheed's Maldivian Democratic Party.
"I'm extremely grateful to the people of the Maldives for having lived with hope," Nasheed said Thursday before arriving in Male from Colombo, Sri Lanka. "They always believed that things would change."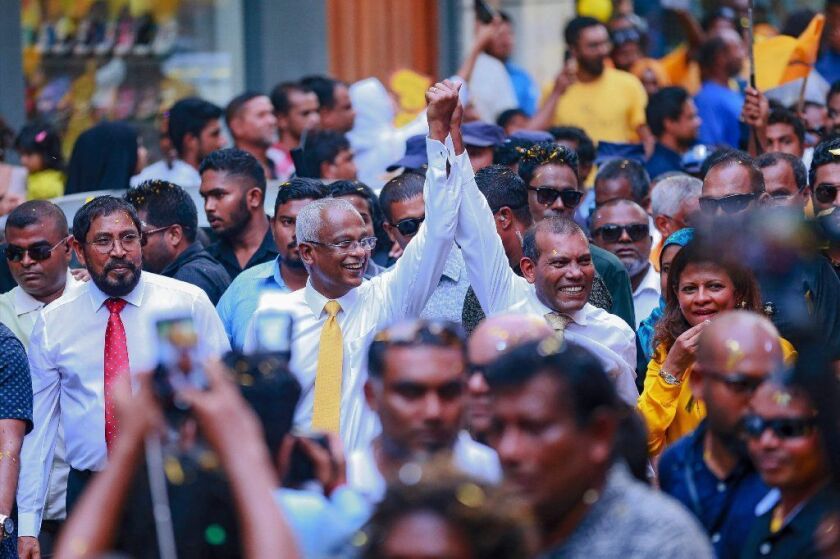 The Maldives — a string of coral islands better known for luxury beach resorts — has emerged as a possible bright spot for democracy in South Asia, which has seen an election in Pakistan marred by military interference, a bloody pre-poll crackdown in Bangladesh and now a messy crisis in Sri Lanka, where a dictatorial former president has returned to power in what critics call a constitutional coup.
Nasheed, 51, has lived in exile since early 2016, when he was granted asylum in Britain. He had just begun serving a 13-year prison sentence for a terrorism conviction that United Nations and human rights groups said was marked by a lack of due process.
Nasheed's allies said the case was orchestrated by his rival Yameen. During five turbulent years in power, Yameen manipulated the judiciary, muzzled the press and jailed or exiled all of his major opponents.
He also allegedly profited from a scheme to lease dozens of islands to tourism developers at reduced cost, robbing the country of tens of millions of dollars in revenue.
While in exile, Nasheed divided his time between Britain and Sri Lanka while continuing to lead his party. He had hoped to run in the election, but after he was disqualified due to the conviction, he threw his support behind Ibrahim Mohamed Solih, a consensus opposition candidate.
Read more: The Times profiled Nasheed during his exile in Sri Lanka »
The low-key Solih, a veteran opposition lawmaker, flew to Sri Lanka to meet Nasheed a day earlier so that the pair could arrive in Male together. They walked to a rally on the capital's seafront clasping hands in a show of unity.
"He is the main person that represents freedom to the people of the Maldives," the president-elect said. "They are waiting for his arrival."
Solih captured 58% of the vote in a stunning victory in the Sept. 23 election. Just as surprisingly, Yameen agreed to step aside without much of a fight.
Days later, Nasheed announced his intent to return to the Maldives "come what may."
He faced the prospect of arrest upon his arrival until this week, when the country's highest court suspended the warrant until his appeal could be heard.
That made his homecoming a happy one. Joining him on the flight from Colombo were his wife, Laila Ali, and some two dozen friends, family members and party activists, many of whom had lived in self-exile and were returning to the Maldives after years.
Among them was Ahmed Abbas, a political cartoonist who was briefly banned from traveling by the Yameen government, then fled to Sri Lanka around the same time as Nasheed.
"I saw this as the chance to go home," Abbas said. "We are happy. But we can't be 100% relaxed until this current government is out of power."
A former journalist who gained international attention as an advocate for climate justice a decade ago, Nasheed is regarded by supporters as the Maldives' father of democratic reforms.
He led the fight against the 30-year dictatorship of Maumoon Abdul Gayoom and founded the Maldivian Democratic Party during a previous stint in exile, which ended in 2005. He was jailed more than a dozen times before winning the Maldives' first multiparty elections in 2008.
It is not clear what role he will play in Solih's administration, but Nasheed said he would work to ensure that Solih's broad coalition — including secular and Islamist parties — holds together.
"I see my function as making sure that President Solih's government remains stable," Nasheed said.
Among Solih's challenges will be managing the Maldives' tourism-dependent economy, which has racked up large debt to China from massive infrastructure projects championed by Yameen. Nasheed says the Chinese contracts carry onerous repayment terms that in a couple of years will exceed the entire budget of the country, home to fewer than half a million people.
Several political prisoners and opponents have been freed or returned from exile in the weeks since the election. Nasheed's arrival followed the return last month of Qasim Ibrahim, a tourism magnate who spent several months in Germany after being convicted of plotting to overthrow Yameen's government.
Shashank Bengali is South Asia correspondent for The Times. Follow him on Twitter at @SBengali
---
UPDATES:
11:35 a.m.: This article was updated with additional background.
This article was originally published at 6:10 a.m.
---
Must-read stories from the L.A. Times
Get the day's top news with our Today's Headlines newsletter, sent every weekday morning.
You may occasionally receive promotional content from the Los Angeles Times.