Egypt plunged into state of emergency as Palm Sunday church bombings kill at least 44
Reporting from Tanta, Egypt —
Islamic State claimed responsibility for suicide bombings that hit Egyptian Coptic Christian churches in two cities Sunday, killing at least 44 people and wounding more than 100.
In response, Egyptian President Abdel Fattah Sisi declared a three-month state of emergency in the country, which has already seen a major clampdown on dissent and political expression.
The claim of responsibility was published by Islamic State's Amaq news agency after the attacks, which targeted large crowds gathered to celebrate Palm Sunday.
The twin bombings, the latest in a string of attacks against Christians in Egypt, came less than a week after Sisi and President Trump met at the White House and pledged to work together to fight radical groups such as Islamic State.
Three days after that, Trump stepped more directly into the maelstrom of Middle Eastern geopolitics by hitting Syria with a U.S. airstrike in punishment for its use of chemical weapons. But the latest horror in Egypt, the largest recipient of U.S. aid in the Arab world, offers a reminder of how deeply entrenched the region's problems are, and how even an autocratic U.S. ally like Sisi is unable to keep a lid on Islamist extremism.
The first of the two bombings occurred about 9:30 a.m. at St. George's Church in the Nile Delta town of Tanta, killing 27 people and wounding 78, according to Sharif Wadih, an aide to the country's health minister.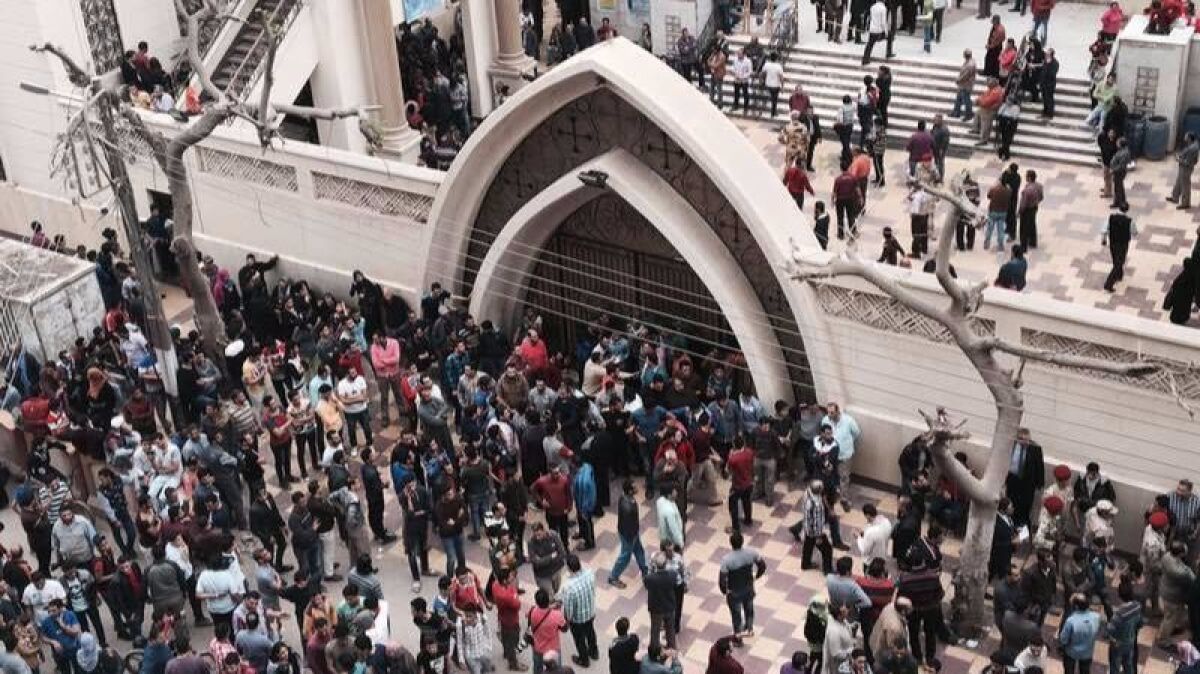 "I was inside the church at that time and suddenly, the church was bombed," said Makaram Kamal Rateb, 58, tearing up as he described the attack in Tanta, about 50 miles north of Cairo. "There were bodies and blood everywhere."
Rateb, who worships at the church, said there was no security to protect churchgoers from the attacker, who died in the bombing.
Among the wounded was a 7-month-old who suffered severe burns, authorities said.
The second explosion occurred Sunday afternoon at St. Mark's Cathedral in the coastal city of Alexandria, where the patriarch of the Egyptian Coptic Church, Pope Tawadros II, had earlier celebrated Palm Sunday. It killed 17 people and wounded at least 48 others, according to Wadih.
Tawadros was in the Alexandria church at the time of the bombing but was not injured, the Interior Ministry said.
The ministry said the blast was caused by a suicide bomber who tried to storm the entrance before being stopped by police. It said three police were among those killed.
Egyptian security officials said they found and defused explosive devices at several other locations Sunday, including at a prominent Sufi Muslim shrine in Tanta and at the College Saint Marc, an all-boys school in downtown Alexandria.
Christians make up about 10% of Egypt's population of 85 million, and they are especially visible during Palm Sunday, one week before Easter, when they tote palms in the streets. They have repeatedly been targeted by Islamist extremists in recent years: Last week, local media reported another bomb was found at St. George's Church and defused.
The Coptic Church is the dominant Christian denomination in Egypt, where it is said to have been established in the 1st century by the Apostle Mark.
The bombings occurred weeks before a scheduled visit to Egypt by Pope Francis, raising questions about security for that trip.
Police were stationed at St. George's Church after the attack, emptying the building and clearing the scene to investigate as mourners stood outside clutching flowers and growing increasingly upset about what they viewed as lax security that allowed the attacks.
On Sunday night, the bodies of some of the dead were carried through the church in simple wooden coffins as hundreds clapped, sang and cheered them as heroes.
Sisi released a statement calling for the convening of the National Defense Council and condemning the attacks as "treacherous terrorism."
He offered condolences to victims' families, and promised to investigate and bring those responsible to justice. He ordered immediate deployment of troops to assist police in protecting vital facilities across the country, according to a statement released by his spokesman.
Such terrorism, Sisi said, "will never affect the determination of Egyptians and their true willpower to oppose the forces of evil. Rather, it will increase their determination to move past obstacles and achieve security."
Trump responded to the attacks on Twitter, writing: "So sad to hear of the terrorist attack in Egypt. U.S. strongly condemns. I have great confidence that President Al Sisi will handle the situation properly."
In the wake of the attacks, the Tanta area security chief Hossam Din Khalifa was relieved of duty, according to state-owned Al Ahram news.
Witnesses posted photographs online showing victims being loaded into ambulances, civilians evacuating the wounded near stone pillars spattered with blood and bodies scattered among the pews. A nun stood beside police tape strung across blood-soaked pews, holding her face in her hands.
During his Palm Sunday address in St. Peter's Square, Pope Francis expressed his "deep condolences" to Tawadros II, whom he called "my brother," and to the Coptic Church and "all of the dear Egyptian nation." Francis said he was praying for the dead and injured.
The Roman Catholic pontiff, whose authority does not extend to the Coptic Church, asked that God "convert the hearts of those who spread terror, violence and death, and also the hearts of those who make, and traffic in, weapons."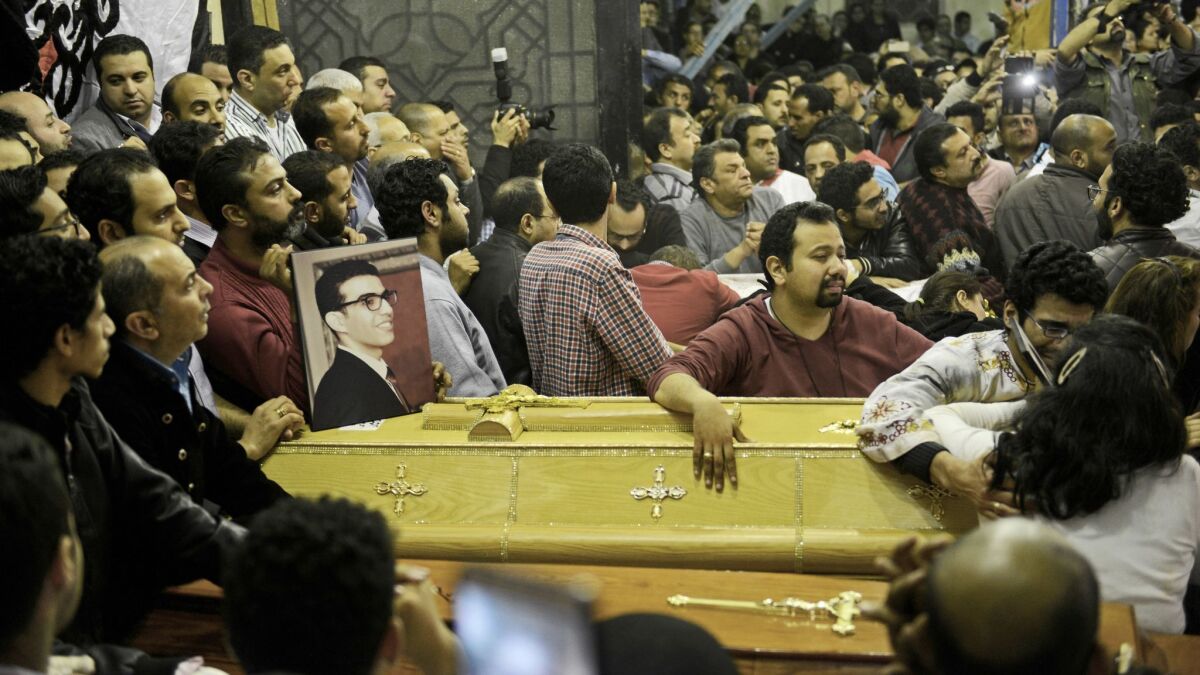 The pope has called for an end to what he terms a "genocide" against Christians in the Middle East, but has also said it's wrong to equate Islam with violence. He was invited to come to Egypt later this month by Sisi to help mend ties with Muslims.
Grand Sheik Ahmed Tayeb, head of Egypt's Al Azhar University, the leading center of learning in Sunni Islam, condemned the attack in Tanta, calling it a "despicable terrorist bombing that targeted the lives of innocents." Al Azhar has plans to host the pope during his visit.
Egypt has struggled to combat militancy since the military overthrow of an elected Islamist president in 2013.
An Islamic State affiliate based in the Sinai Peninsula claimed a suicide bombing at a chapel next to St. Mark's Coptic Cathedral in Cairo in December that killed 29 people and wounded 47, and vowed more attacks on Christians.
In February, a series of killings on the northern Sinai Peninsula caused hundreds of Christians to flee as militants threatened further attacks. While the Egyptian military has also been attacked in the area as it fights Islamic State, some human rights activists complained Sisi had failed to protect the religious minority.
"Christian Egyptians are being targeted by radical groups in Egypt, like all Egyptians opposed to ISIS and the like — but Christians are targeted twice. As Egyptians, but also as Christians," said H.A. Hellyer, senior nonresident fellow at the Atlantic Council and the Royal United Services Institute in London, referring to Islamic State by its acronym.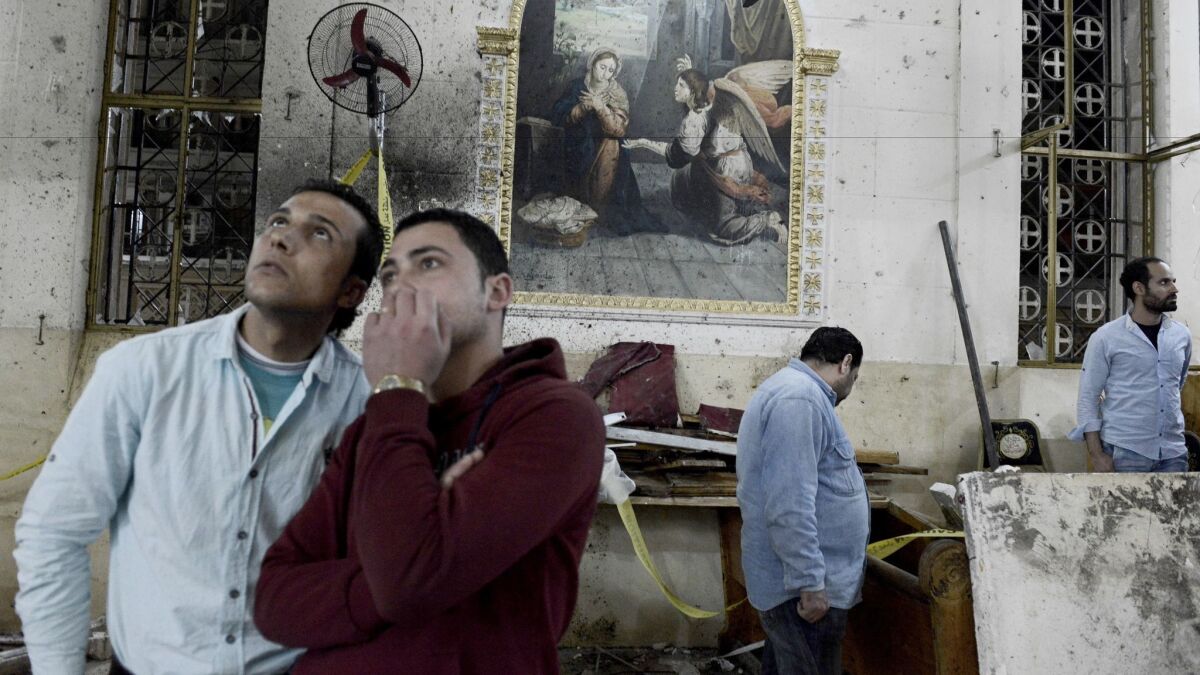 Hellyer said the attacks will probably be a topic of discussion during the pope's visit.
"He may bring up the issue of sectarianism in Egypt, which Cairo will respond is already being targeted," Hellyer said.
Sisi has tried to reach out to Coptic Christians, who have supported him in the past, attending services at St. Mark's after the bombing there and promising to step up security in Cairo.
But some Copts said Sunday that the government's efforts were not enough.
"The police didn't care about protecting the churches in Egypt," said Hani Ezzat, 42, who manages a government gas company and had a relative wounded in Tanta. "This is a very important day for Christians and Copts in Egypt. Thousands of Christians go to church to celebrate Palm Sunday. The police know that, and they didn't take any measures to protect them. ISIS knows that, so they're bombing more than one church."
Others said they didn't blame police and that the attack was an affront to all Egyptians.
George Mansour said the attack in Tanta claimed the life of his cousin, Raouf Mansour, 55, who sold books in front of the church and served as a deacon.
But Mansour, 35, said he still felt safe.
"The people who bomb the churches like the cathedral last December and now, they want to destroy the whole country: Muslim, Christians, the economy" and not just Coptic Christians, he said.
He said he was hopeful that police would step up protections for all Egyptians.
"I am not afraid. Egypt's enemies won't destroy the country," Mansour said as he stood outside the hospital Sunday as ambulances arrived and paramedics emerged bearing more victims on stretchers.
Nassar reported from Tanta, Egypt; Medhat from Cairo; and Hennessy-Fiske reported from Irbil, Iraq. The Associated Press contributed to this report.
molly.hennessy-fiske@latimes.com
ALSO
China's President Xi Jinping makes surprise stop in Alaska
In Venezuela power play, another opposition leader is sidelined by dubious accusations
Truck attack angers Swedes, raises questions about policies
---
UPDATES:
4:30 p.m.: Updates with more bombs found, defused.
2:40 p.m.: This story has been updated with bodies of victims being returned for procession at church.
12:45 p.m.: This article has been updated with Sisi declaring state of emergency.
12:30 p.m.: Updates with new toll for dead and injured, Sisi ordering troops to protect vital facilities, background.
9:20 a.m.: This article was updated throughout with staff reporting and new details.
6:15 a.m.: This article was updated with the Islamic State's claim of the attack.
5:30 a.m.: This article was updated with new death and injury tolls, as well as statements from Pope Francis and Grand Sheikh Ahmed el-Tayeb.
3:35 a.m.: This article was updated with a tweeted statement from Egypt's Minister of Foreign Affairs Ahmed Abu Zeid.
2:50 a.m.: This article was updated throughout with staff reporting.
This article was originally published at 2:15 a.m.
---
Must-read stories from the L.A. Times
Get the day's top news with our Today's Headlines newsletter, sent every weekday morning.
You may occasionally receive promotional content from the Los Angeles Times.