Joaquin 'El Chapo' Guzman was convicted of 10 counts. Here's how they break down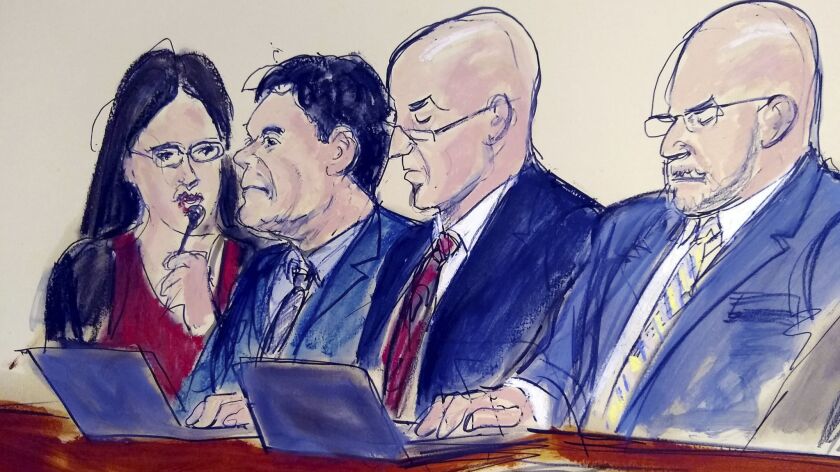 From the moment Mexican drug kingpin Joaquin "El Chapo" Guzman was extradited to Brooklyn, N.Y., more than two years ago, his conviction seemed all but assured. But Tuesday's long-awaited verdict belies the complexity of the 10-count indictment he fought.
For jurors, it was less a binary of guilt or innocence than a mind-bending, multipart SAT logic problem.
"This conviction we expect will bring a sentence of life without the possibility of parole," U.S. Atty. Richard Donoghue told reporters outside the Brooklyn courthouse Tuesday afternoon, just minutes after the verdict was handed down. "It is a sentence from which there is no escape and no return."
That Guzman would spend the rest of his life in prison was never really in doubt. But how he would get there — whether in a down-the-line conviction or a split "mercy" verdict — was the subject of fevered speculation, which only grew hotter as deliberations stretched into their second week.
An acquittal on any one of the 10 charges would have been a stunning blow to the Justice Department, which spent untold millions to extradite the kingpin and bring his case to trial, plying 14 of his fellow narcos with sentence reductions and special visas in order to secure a guilty verdict. In an era of overdose epidemics and generational weariness of the war on drugs, their down-the-line conviction sent a strong message.
"There are those who say that the war on drugs is not worth fighting," Donoghue said. "Those people are wrong."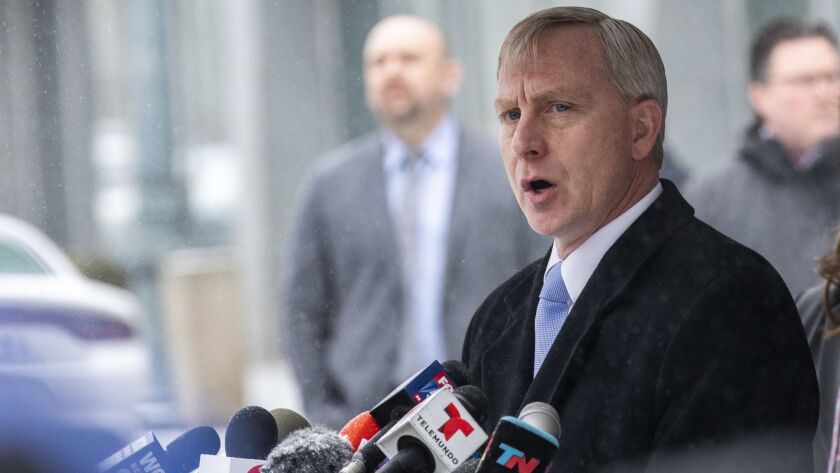 Here are the charges for which Guzman was convicted:
Count One: Engaging in a Continuing Criminal Enterprise
CCE, as it was often shorthanded in court, is a popular charge in federal drug cases, in part because of its unforgiving mandatory minimum sentences, which generally range from 20 to 30 years. For a narco of Guzman's standing, though, the mandatory minimum sentence is life.
But the top charge was also the most complex, comprising 27 separate violations with half a dozen additional subparts. In order to find Guzman guilty, jurors had to agree not only that he conspired to traffic drugs into the United States, but also which drugs, in what years, and with whom. Violation 27, conspiracy to commit murder, was further dependent on a guilty finding in three subsequent conspiracy counts, themselves more subtle variations on a theme.
At one point, jurors asked whether a death ordered over a personal slight would be considered conspiracy murder. It would not, Judge Brian Cogan clarified.
Count Two: International Cocaine, Heroin, Methamphetamine and Marijuana Manufacture and Distribution Conspiracy
Unlike the top charge, for which jurors were asked to itemize drug convictions in the hundreds of tons, the international manufacture and distribution conspiracy charge required almost comically small quantities to prove: 5 kilograms of cocaine; a single kilo of heroin; 500 grams of methamphetamine; and 1,000 kilos of marijuana. (A kilogram is 2.2 pounds.)
'El Chapo' trial: When is a cartel killing not a drug crime, and other questions from jurors »
Together, they were less a hurdle than a tripwire for the government, given the hundreds of tons of each substance that his associates told the jury they had trafficked for him in his decades as a drug boss. Those transactions were meticulously recorded, in Excel spreadsheets and intercepted phone calls, interdicted shipments and internecine debt feuds.
But here, too, the prosecution took no quarter, treating jurors to a YouTube-worthy unboxing of more than 10 kilos of uncut cocaine, whole handcarts of evidence bags filled with what looked like OxiClean laundry powder.
Counts Three Through Eight: Assorted Conspiracy Charges
These were essentially identical, with standalone conspiracy charges for importation, distribution and international distribution of cocaine, each of which carries its own stiff mandatory minimum sentence.
Count Nine: Use of a Firearm
This demanded a bit more proof. In order to convict, jurors had to agree that Guzman both brandished and discharged at least one of his many colorful weapons, including his infamous diamond-monogrammed, .38 Super; his gold-plated AK-47; and the shoulder-mounted rocket-propelled grenade paraded before jurors on a sleepy afternoon just before Christmas. They also had to agree that one or more of the firearms used was a machine gun.
They did.
Count 10: Conspiracy to Launder Narcotics Proceeds
Compared with the preceding nine offenses, this would seem rather dull. But Guzman's conviction paves the way for a sweeping forfeiture judgement, up to double the amount he is accused of having laundered in the course of his career. Whether any of the kingpin's assets will ever be recovered remains an open question. But the last verdict ensures that his case is still far from over.
Sharp is a special correspondent.
---
Must-read stories from the L.A. Times
Get the day's top news with our Today's Headlines newsletter, sent every weekday morning.
You may occasionally receive promotional content from the Los Angeles Times.