Normandy church attacker twice attempted to travel to Syria to fight for Islamic State
French police stand in the street during a search in the Normandy village of Saint-Etienne du Rouvray after a priest was killed in the latest of a string of attacks against Western targets claimed by or attributed to Islamic State.
(Charly Triballeau / AFP/Getty Images)
French soldiers stand guard near the scene of an attack in northern France. Two attackers invaded a church Tuesday during morning Mass in the suburb of Rouen, killing an 84-year-old priest by slitting his throat.
(Francois Mori / Associated Press)
French President Francois Hollande, center, flanked by Saint-Etienne-du-Rouvray Mayor Hubert Wulfranc, left, and French Interior Minister Bernard Cazeneuve, leaves the town's city hall.
(Charly Triballeau / AFP/Getty Images)
The church in which a priest was killed in an attack in Saint Etienne du Rouvray, in Normandy.
(Francois Mori / Associated Press)
French President Francois Hollande, left, arrives in Saint-Etienne-du-Rouvray after an attack in which authorities said the assailants briefly held a small group of worshippers hostage.
(Boris Maslard / AFP/Getty Images)
French police officers and firefighters arrive at the scene of a hostage-taking at a church in northern France in which an elderly priest was killed.
(Charly Triballeau / AFP/Getty Images)
A French soldier prevents the access to the scene of an attack in Saint-Etienne-du-Rouvray, in Normandy, France.
(Francois Mori / Associated Press)
French police officers stand guard in front of Saint-Etienne-du-Rouvray's city hall.
(Francois Mori / Associated Press)
Police walk near a house being searched in the Normandy village of Saint-Etienne du Rouvray after a priest was killed in a knife attack claimed by Islamic State.
(Matthieu Alexandre / AFP/Getty Images)
Reporting from Paris —
On a somnolent midsummer weekday, only a devout few had gathered for midmorning Mass at St. Etienne church in a quiet suburb of Rouen, a medieval French city best known for inspiring dreamlike Monet paintings. For the two men who arrived with knives just before 10 a.m., those few worshipers were audience enough.
As the two parishioners and three nuns in attendance looked on in horror, the pair delivered an Arabic-language statement — which they videotaped — and then set upon the octogenarian priest who was presiding and slit his throat, according to officials and witnesses.
"It was a horror," one of the nuns, Sister Danielle, told French television.
"Everyone was shouting, 'Stop!' " she said in an interview with BFM-TV. "We cried 'Stop, stop, you don't know what you're doing!' But they forced him to his knees."
Amid the attack, Sister Danielle managed to slip away and raise the alarm, and a special contingent of a heavily armed anti-terrorist rapid-reaction force was on the scene within moments.
The team attempted to negotiate with the hostage takers through a sacristy window and had considered storming the building, but the two men used three hostages as human shields, French public prosecutor Francois Molins said Tuesday. When the two attackers stepped outside of the church, police shot them dead. One of them was found to have a false suicide belt covered in aluminum and three knives. The other had a backpack made to look as if it contained a bomb and a timer.
An officer recognized one of them, who was identified by French authorities as a young local named Adel Kermiche, 19, who twice had attempted to travel to Syria and join Islamic State but was returned to France and arrested. Fitted with an electronic bracelet and required to check in daily with police, he was allowed to leave his parents' house for several hours a day and move about close to his home, which was near the church.
As authorities searched for possible accomplices, they reported one arrest.
Islamic State claimed responsibility for the grisly slaying of the beloved Roman Catholic priest, raising urgent new questions about the performance of the French security apparatus, especially while the country was in a state of high alert after recent attacks.
The episode also added fuel to an already incendiary debate about Europe's ability to assimilate immigrants from war-torn countries, and the seeming inability of European governments to stave off attacks inspired by jihadist ideology, regardless of whether they were organized by any particular group.
Islamic State described the attack as a rebuke to "crusader" nations — its code for members of the U.S.-led coalition carrying out airstrikes against the militant group. France is among them.
At a time when terrorist attacks across Europe have unfolded seemingly with almost numbing repetitiveness, this one, though small in scale, was particularly shocking.
For France, still reeling from the deaths of 84 people in a truck rampage in Nice on its most cherished national holiday, the slaying of 85-year-old Father Jacques Hamel — a native of Normandy, born a few miles from the handsome 16th century church where he died — brought a nationwide wave of revulsion and anger. One of the two parishioners, also slashed, was hospitalized in serious condition, officials said.
Even before Islamic State claimed responsibility, President Francois Hollande cast blame on the Sunni Muslim extremist group.
Hollande quickly traveled to the scene of Tuesday's assault, the suburban town of St.-Etienne-du-Rouvray on the outskirts of Rouen, about 70 miles northwest of Paris. He has come under heavy public criticism over perceived security lapses in connection with the July 14 truck attack in the French Riviera city of Nice.
"We are facing a group … that has declared war against us," the French president told reporters, referring to Islamic State by its Arabic-language acronym, Daesh, which the group considers derogatory.
"It was not Catholics who were targeted," Hollande said. "It was all the people of France."
France is predominantly Roman Catholic, and the church remains a revered institution, even though many French Catholics adhere only nominally to its tenets.
The attack brought swift and heartfelt expressions of solidarity from interfaith groups and from Jewish and Muslim leaders.
"I cry out to God," the archbishop of Rouen, Dominique Lebrun, said in a statement, calling on people of all faiths to "unite in this cry." The town's mayor, Hubert Wulfranc, wept as he spoke with journalists.
"France is grieving," he said.
The claim of responsibility was issued via the Islamic State-linked Amaq News Agency — which, in keeping with usual practice, quoted a "security source" in the group as saying the perpetrators of the church attack were its "soldiers."
But it was not known whether Islamic State had any specific knowledge of the attackers' plans, or — as in many other assaults — simply seized on the opportunity to claim another atrocity.
Parishioners described Hamel as a kindly, unassuming figure who had spent decades ministering to parishioners in Normandy. An auxiliary priest who had retired a decade ago, he sometimes filled in for the regular parish priest in celebrating Mass, as he was doing Tuesday morning.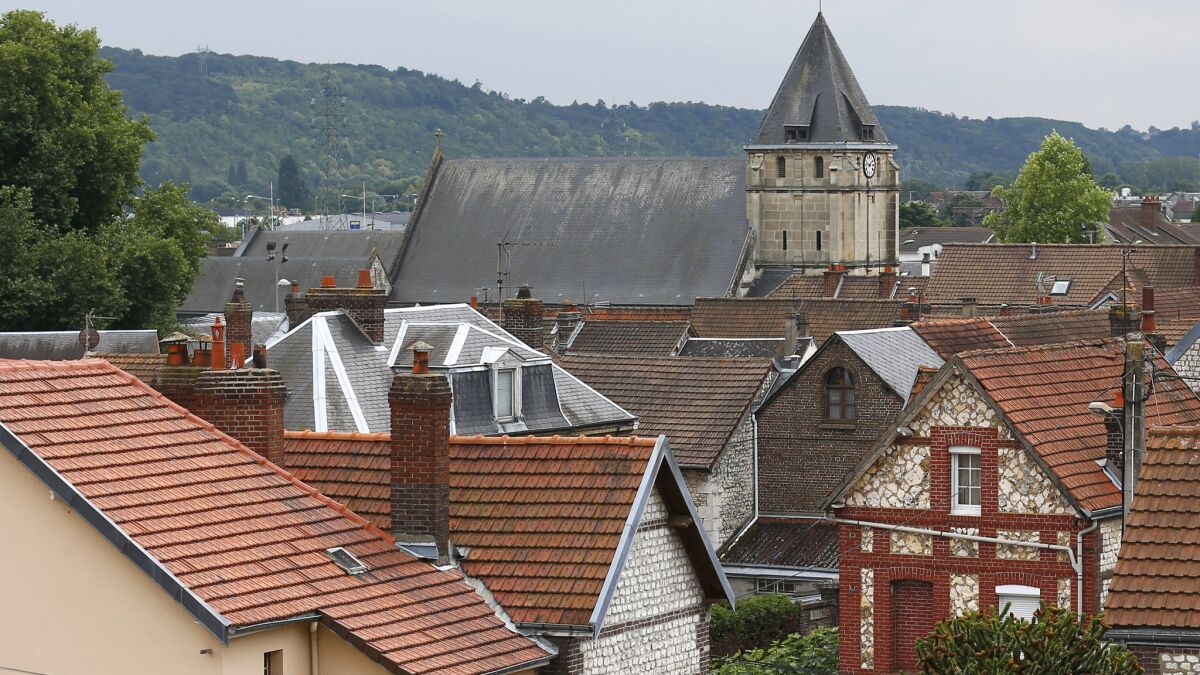 Denunciations of the attack poured in. The Vatican condemned the "barbaric killing." Mourners gathered Tuesday evening at the main cathedral in Rouen, and a memorial service was to be held Wednesday at Notre Dame in Paris.
The assault came as the country was still absorbing the sobering repercussions of the Bastille Day strike in the southern city of Nice, in which a Tunisian-born deliveryman barreled along a seaside promenade, mowing down spectators who had just watched a fireworks display. Hollande and his senior ministers have been pilloried by critics who said the event was too lightly guarded.
Islamic State also claimed responsibility for the Nice attack, and authorities described the attacker as having been recently radicalized. Family members in Tunisia said he had a long history of violence and mental instability.
Neighboring Germany, too, has suffered a recent wave of violence. On July 18, a knife- and ax-wielding Afghan teen injured five people before being killed by police.
Four days later, the country's third-largest city, Munich, was locked down for hours after an Iranian-German teenager gunned down nine people before killing himself; though investigators found no link to terrorism in that attack, it shook a nation that does not often experience mass shootings. Over the weekend, a Syrian refugee killed a woman with a machete — an incident of violence also not linked to terrorism. The same day, another Syrian man blew himself up outside an open-air music event, injuring several patrons; Islamic State claimed responsibility for that attack.
Few in Hamel's grieving parish had believed such violence would touch them, or a caring minister many had known all their lives.
"Jacques was an extraordinary priest," Sister Danielle said. "He was a great man, was Father Jacques."
Special correspondent Willsher reported from Paris and Times staff writer King from Washington. Special correspondent Nabih Bulos in Amman, Jordan, contributed to this report.
ALSO
At least 19 killed, 20 injured in knife attack near Tokyo
Why teachers have been occupying one of Mexico's most alluring public spaces since May
Tiger mauls grandmother to death at Beijing safari park
---
UPDATES:
2:01 p.m.: This article was updated with new details about the attack.
12:45 p.m.: This article was updated with additional details throughout.
10:30 a.m.: This article was updated with additional details about the attack.
8:10 a.m.: This article was updated with additional details and comments on the attack.
5:55 a.m.: This article was updated throughout with staff material.
5:35 a.m.: This article was updated with Islamic State's claim of the attack.
3:49 a.m.: This article was updated with additional information throughout.
2:54 a.m.: This article was updated with new details.
2:30 a.m.: This article was updated with two fatalities.
This article was originally published at 2:15 a.m.
Must-read stories from the L.A. Times
Get the day's top news with our Today's Headlines newsletter, sent every weekday morning.
You may occasionally receive promotional content from the Los Angeles Times.