Ukraine's comedian-turned-president dissolves parliament during inaugural speech
Reporting from Moscow —
Volodymyr Zelensky, a Ukrainian comedian who played an unlikely president in a hit television series, was sworn in as the country's real president on Monday and then promptly dissolved parliament.
After a formal swearing-in ceremony held in the Rada, the Ukrainian parliament, Zelensky dismissed the governing body, a strategic move that enables a snap election.
Polling was originally scheduled for late October, but the new president's team hopes the election will win his party seats in the parliament early in his term. His party is called Servant of the People, the name of the TV show he starred in. No date has been set for the snap election.
Zelensky, 41, won the presidency in April with 73% of the vote. His campaign pledged to clean up corruption in a country where oligarchs have been entrenched in politics for more than two decades since Ukraine declared its independence from the former Soviet Union.
The comedian beat out incumbent President Petro Poroshenko, a chocolate tycoon who came into power in 2014 following a mass protest movement that forced out a Russia-friendly government.
Zelensky is Ukraine's sixth president since independence. This is the second democratic transition of power since Russia's annexation of Crimea in 2014 and the start of a war in the country's eastern flank, where Moscow-backed rebel fighters continue to battle Ukrainian forces. The five-year conflict has cost the country at least 13,000 lives and displaced as many as 2 million people.
In his inaugural speech, Zelensky said ending the conflict would be his top priority.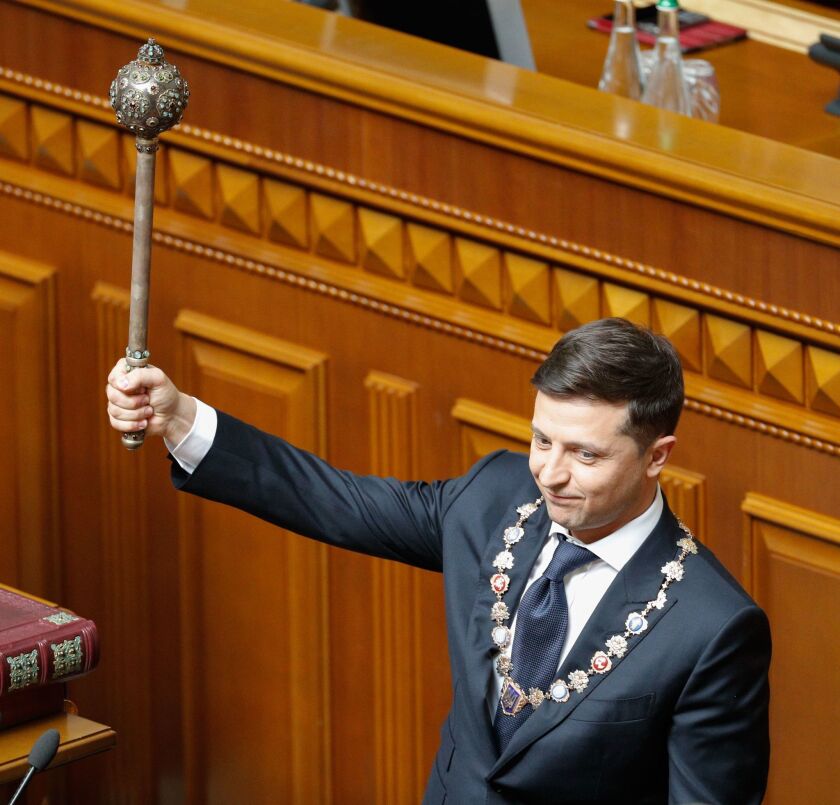 "We didn't start this war, but we are going to end it," he said to rounds of applause.
Russian President Vladimir Putin said Monday that he will not congratulate Zelensky on his inauguration but would instead wait for the first signs of normalizing relations between the once close post-Soviet nations. Russia denies it has sent troops in support of the separatist rebels in eastern Ukraine; it calls the conflict a civil war.
Last month, Putin stoked the flames of the conflict by granting quicker Russian citizenship to Ukrainians living in the rebel-held areas. Many saw this as a direct challenge to Zelensky.
The big loser in Ukraine's presidential election? Vladimir Putin »
In addition to the war in the east, Zelensky faces the challenge of living up to his promise to fight the country's endemic corruption and keep the nation of 46 million on a Western-leaning track.
Zelensky is a political outsider, and his comedy troupe, Kvartal 95, frequently used its traveling road show to poke fun at Ukraine's politicians and systemic corruption. His supporters have said that because Zelensky is outside the corrupt political system, he will not be beholden to it in office.
In his speech, Zelensky also asked that parliament — before snap elections — dismiss the country's head of security services, the defense minister and the prosecutor general — all associated with the Poroshenko administration but approved by parliament. He set a deadline of two months for the dismissals.
The Ukrainian presidential campaign this year was unique in that it was the first time in decades that voters were not choosing between a candidate promoting pro-Western ideas and a candidate pushing for closer ties to Moscow.
But this month, Zelensky faced criticism from an unlikely source: President Trump's personal lawyer, Rudolph W. Giuliani.
The United States has been a strong backer of Ukraine's post-Soviet transition, spending billions of dollars to support democratic reforms and initiatives since 1991.
Washington does not recognize Russia's annexation of Crimea. Trump has said his administration has been tough on Russia, but he has also repeatedly said he wants relations to improve and has been deferential toward Putin.
Trump called Zelensky to congratulate him on his election victory. But Giuliani threw a potential wrench into the relationship when he urged the Ukrainian government to investigate business connections in Ukraine involving the son of former Vice President Joe Biden, who is campaigning for the Democratic presidential nomination.
Democrats in the U.S. said Giuliani's remarks were an attempt to create a scandal to politically benefit Trump before the 2020 election. Giuliani canceled a planned trip to Ukraine, saying the new president was "surrounded by" Trump's enemies.
Zelensky's team so far has steered away from commenting on Giuliani's remarks. Still, Kiev's relationship with Washington is important, and Giuliani's comments have some worried as Zelensky takes office.
"It is determining how President Trump is thinking about the new head of an allied country at a critical moment in its democratic transition," said Nina Jankowicz, a Global Fellow at the Wilson Center, a think tank in Washington.
Twitter: @sabraayres
Ayres is a special correspondent.
---
Must-read stories from the L.A. Times
Get all the day's most vital news with our Today's Headlines newsletter, sent every weekday morning.
You may occasionally receive promotional content from the Los Angeles Times.