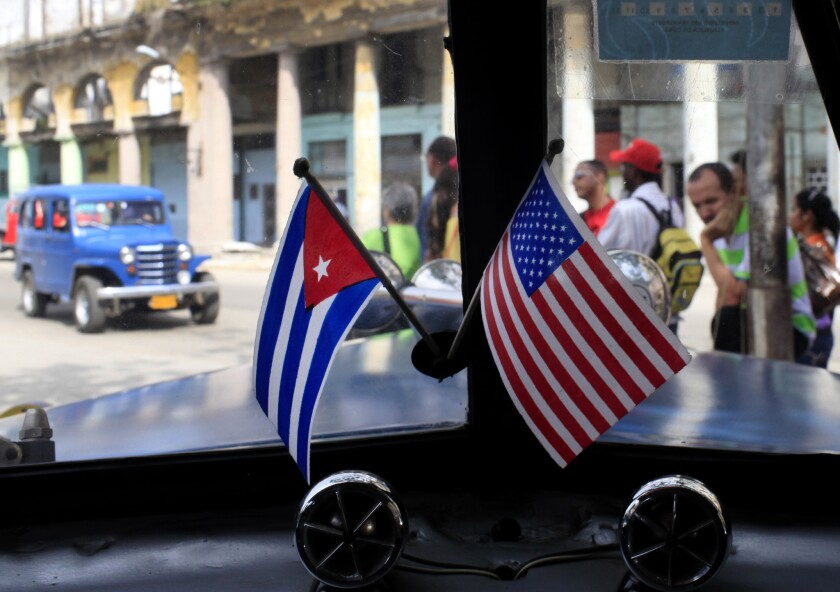 Reporting from Washington —
The Obama administration moved aggressively Thursday to secure its historic opening to Cuba, issuing new rules that will make it far easier for Americans to visit the island nation and do business there after more than 50 years of enforced isolation.
The package of new Treasury and Commerce Department regulations, which takes effect Friday, also relaxes decades-old U.S. restrictions on trade and remittances, including the use of U.S. credit and debit cards in Cuba.
Some of the rules appear to significantly broaden the changes that President Obama promised last month when he announced plans to normalize relations with Havana and to restore diplomatic ties broken soon after the Cuban revolution of 1959.
The most consequential reform probably lies in the regulations' relaxed interpretation of who will be able to travel to Cuba, and what they can do there.
Although the U.S. law still bars normal tourism to Cuba, the new rules will allow ordinary Americans for the first time to visit under 12 broad categories without any advance U.S. government approval — a change likely to open the floodgates for tourists to book their own direct flights to Havana, experts said.
U.S. visitors can state that their goal is educational, for example, and board a flight if they sign a document indicating that they intend to talk to Cubans and learn about life on the communist-run island 90 miles off Florida.
This is "arguably the change with the most meaningful near-term impact," said the National Foreign Trade Council, a business advocacy group that has long pushed for a U.S. opening to the island.
The change would "redefine travel to Cuba," said Carl Meacham, a Latin America specialist at the nonpartisan Center for Strategic and International Studies in Washington. "This is big."
Under the new rules, which are technically regulatory amendments to existing sanctions, Americans will no longer need to use the private firms that organize approved travel through chartered flights. But they'll have few options in the short term.
The U.S. government doesn't yet have a civil aviation agreement with Cuba that would permit regular commercial, non-charter flights. Obama administration officials and analysts say they expect that as the next step.
A senior administration official, who briefed reporters on condition of anonymity, said that U.S. travelers to Cuba eventually may be able to buy an air ticket online.
American Airlines, which has flown chartered flights to Havana for 15 years, had no immediate plans to change its schedule, according to a spokesman.
"We are reviewing the changes to the Cuba travel policy," said spokesman Casey Norton.
The rules will allow Americans for the first time to use U.S. credit and debit cards in Cuba once banks and other financial institutions set up correspondent accounts to process the transactions. American visitors now must carry wads of cash to buy Cuban currency to pay for hotels, cars and other expenses.
U.S. companies will be allowed to export cellphones, televisions, computers, recording devices, software and other technical equipment to Cuba for the first time. The rules will make it easier for telecommunications providers and financial institutions to do business in Cuba, which has limited infrastructure.
Americans will be allowed to remit up to $8,000 a year to people in Cuba, up from $2,000 currently. Visitors will be permitted to bring home $400 in souvenirs, including up to $100 worth of cigars and alcohol.
Other important changes will give American banks and businesses an opening to finance small business and agriculture in Cuba, and provide new training for them. U.S. insurance companies will be allowed to provide coverage for health, life and travel insurance policies.
The new rules "immediately enable the American people to provide more resources to empower the Cuban population to become less dependent upon the state-driven economy," White House spokesman Josh Earnest told reporters.
"These changes will have a direct impact in further engaging and empowering the Cuban people, promoting positive change for Cuba's citizens," Treasury Secretary Jacob J. Lew, whose department oversees sanctions policy, said in a statement.
The U.S. embargo first imposed during the Eisenhower administration remains in place and carries restrictions on travel, business and trade that are beyond the reach of Obama's actions. Only Congress can end the embargo, a step considered unlikely any time soon.
Obama announced on Dec. 17 that he would ease the embargo as much as he could and begin restoring relations. The surprise deal followed 18 months of secret talks with Havana that culminated in the exchange of imprisoned spies, and the release of Alan Gross, a U.S. government contractor who had been imprisoned in Cuba for five years.
Thursday's announcement fills in the details of that deal, and it came three days after U.S. officials confirmed the release of 53 political prisoners that Cuba had promised to free under the agreement.
Under existing rules, Americans who want to legally visit Cuba need to obtain in advance a special U.S. permit justifying the travel under one of 12 designated categories, and hundreds of thousands of Cuban Americans visit their families each year. Thousands of other Americans evade the rules by flying to Havana via Mexico, Canada or other countries.
The approved categories include family visits, education, research, journalism, religious or professional activities, sports, cultural and humanitarian activities, government business, and "support for the Cuban people."
Some experts warn that the warming of relations could still be derailed or even ended by a Cuban crackdown on political dissidents, or some other unforeseen conflict between the governments.
The new rules brought swift condemnation from U.S. critics of normalization. They contend that the new rules will send Havana a surge of hard currency that will help prop up the teetering Cuban government without helping its citizens.
Sen. Marco Rubio (R-Fla.), a GOP presidential aspirant, denounced what he called a "windfall for the Castro regime that will be used to fund its repression against Cubans, as well as its activities against U.S. national interests in Latin America and beyond."
Cuban officials will host a series of high-level meetings with U.S. officials, starting next week with a visit by Assistant Secretary of State Roberta Jacobson, to reach agreement on how the changes will be implemented. Jacobson also will discuss the reopening of embassies.
Commerce Secretary Penny Pritzker and Secretary of State John F. Kerry are expected to visit this year.
Southern California travel agents say they have not seen an uptick in interest to travel to Cuba, perhaps because tourists are not sure what legal restrictions remain.
"I'm sure there is interest out there," said Diane Embree, a travel consultant with Michael's Travel Center in Westlake Village. "People may be taking a wait-and-see approach. They want to know if the infrastructure is ready for an influx of tourists."
Jay Johnson, owner of Coastline Travel Advisors in Garden Grove, said his company has been arranging trips to Cuba through approved tour organizers for about 16 months, but has yet to see a surge of new applications.
"There is definite interest but people may just be waiting for more details," he said.
Richter reported from Washington and Martin from Los Angeles. Times staff writer Michael A. Memoli in Washington contributed to this report.
Twitter: @richtpau
---