Vietnamese American leaders demand an apology for Sen. Janet Nguyen's removal from the state Senate floor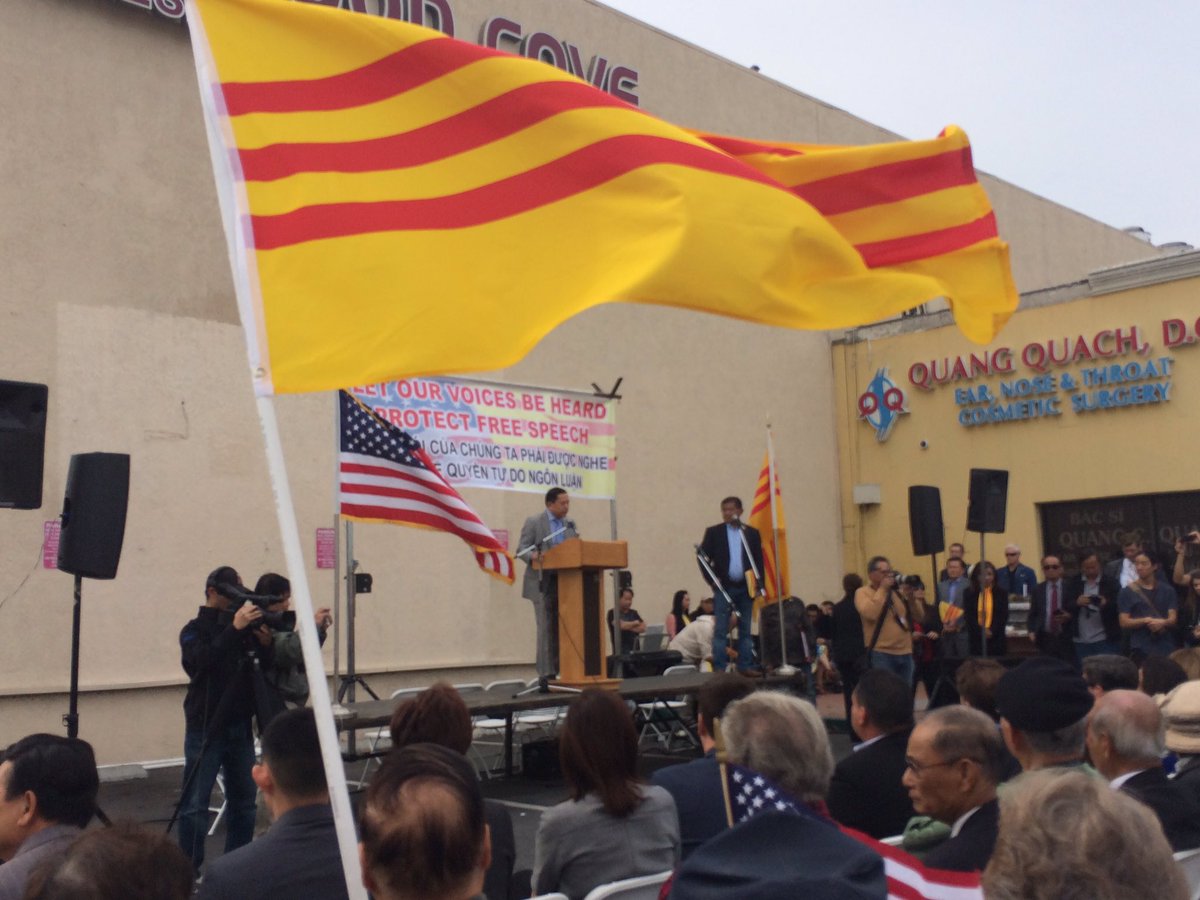 More than 100 Vietnamese American community members gathered in Orange County on Saturday, rallying around state Sen. Janet Nguyen (R-Garden Grove), who was removed from the Senate floor Feb. 23 after attempting to speak out against the late Sen. Tom Hayden, an anti-Vietnam War activist.
They demanded Senate Democrats apologize to the community and to Nguyen for the incident, which will be investigated by a three-person panel designated by Senate President Pro Tem Kevin de Léon last week.
"The Senate majority silenced [Nguyen] ... because they did not want to hear what she had to say," said Garden Grove City Councilman Phat Bui. "This is a wake-up call for all Vietnamese Americans. Our voices are not yet heard by the Senate majority. Our rights are not yet respected."
In Orange County, home to the largest Vietnamese American population in the country, the episode has been cast as a direct insult to the memory of the Vietnamese who fled war and a communist regime.
At the rally and concert, which featured a rendition of Lee Greenwood's "God Bless the USA" and Vietnamese songs about the homeland, Vietnamese American leaders and Republican officials took turns criticizing Democrats for suppressing Nguyen's freedom of speech.
Dr. Huu Dinh Vo, president of the Federation of Vietnamese American Communities of the USA, compared Nguyen's attempt to speak out to Rosa Parks' Montgomery bus protest.
"Instead of a woman sitting down," he told an audience gathered in the parking lot of a Lee's Sandwiches shop, "we had a woman standing up to speak."
Earlier in the week, Vo, Bui and dozens of Vietnamese American leaders signed a letter to Sens. Ricardo Lara (D-Bell Gardens) and De Léon (D-Los Angeles), demanding that the state Senate discipline those involved and calling the incident "barbaric" and an "uncivilized act to a woman."
Republicans across the state have rushed to Nguyen's defense , skewering Democrats for what they say was the heavy-handed silencing of an opposing viewpoint.
At the rally, U.S. Rep. Ed Royce (R-Fullerton) likened Nguyen's removal to "tactics being used by the left to stifle speech they disagree with." State Sen. Pat Bates (R-Laguna Niguel) called the claim that Nguyen was removed because she had violated Senate rules "fake news."
"We're on the edge of living in a one-party state, ladies and gentlemen, and in a one-party state, the truth vanishes," Orange County GOP Chairman Fred Whitaker said.
Nguyen, who received a hero's welcome Saturday, spoke last, calling her removal a "dark chapter" in the Senate's history.
"But let us not be defined by that incident," she told the crowd, calling it a "historic day" that united the Vietnamese community.
Nguyen said in an interview with The Times that while De Léon had issued a statement taking responsibility for the incident, he had not apologized to her or the Vietnamese community. She joined state Senate Republican Leader Jean Fuller (R-Bakersfield) in demanding that the Senate's investigation into the matter be open to the public and include testimony under oath.
Latest updates
Copyright © 2017, Los Angeles Times