Welcome to We Can Teach You That, a new virtual event series where Times staffers and other experts teach online courses.
These practical skills classes, featuring Times writers, editors, photographers, designers and other experts, help readers explore new subjects and longtime interests from the comfort of home.
Aug. 26: What to know about applying to college this year
Education reporter Teresa Watanabe leads this timely webinar for students and parents navigating the college landscape amid the COVID crisis recovery.
The speakers: Watanabe will be joined by Gary Clark, UCLA's director of undergraduate admission, and April Grommo, assistant vice chancellor for enrollment management services at the California State University Office of the Chancellor.
The class: Watanabe, Clark and Grommo will share tips and advice on how to get ready for the college admissions season.
The discussion will include updates on applying to California universities and colleges, key planning dates for the 2021-2022 school year and what's changed as campuses in California and nationwide reopen this fall. Participants are invited to share questions during the event.
Watanabe writes about higher education for The Times. She has been a staff writer since 1989 and also has covered immigration, ethnic communities, religion, and Pacific Rim business, and served as Tokyo correspondent and bureau chief.
Watch: The live event has ended, but you can watch the webinar here.
Previously
Aug. 10: How to Build a Career in Hollywood
Join Times reporters Anousha Sakoui and Wendy Lee and their guests on Aug 10 for this session about how to find work in Hollywood.
Careers in the entertainment industry can be mysterious, even for those working in the business. The Times has published an ongoing series exploring how to find work as a producer, writer, editor and other key roles.
The class: Sakoui and Lee will host a webinar discussing the series, their work covering the business of Hollywood, hot jobs in the industry and how aspiring candidates can get a foot in the door in the post-Covid era. Sakoui and Lee will be joined by Bree Frank, vice president of physical production for unscripted TV at Hello Sunshine, the media company founded by Reese Witherspoon, and Phillip Sun, president and co-founder of the representation firm M88.
The speakers: Frank, the founder of Hue You Know, is an industry executive with more than 20 years of production experience and focuses on building pathways for people of color in media.
Sun launched M88 in 2020 with the goal of supporting and amplifying the next generation of diverse artists and cultural leaders.
Sakoui is an entertainment industry writer for the Times, covering Hollywood and labor issues in media. She joined the newspaper's Company Town team in 2019 from Bloomberg News and has been based in Los Angeles since 2014. Previously she was in London and wrote for the Financial Times as well as Dow Jones Newswires and the Wall St Journal.
Lee covers the business of podcasting, streaming services like Netflix, talent agencies and digital media. She previously covered technology at the San Francisco Chronicle, and was a business reporter for KPCC, the Minneapolis Star Tribune and the Tennessean in Nashville.
Local Matters: How to survive the Big One
As a resident of earthquake country, do you know what to do when the Big One hits? If you're like many Angelenos and Southern Californians, your answer might be no. But your answer can become yes with a little research and preparation. And that's important to being ready for a big quake and resilient in its aftermath.
On June 24 seismologist Lucy Jones joined journalists from the Los Angeles Times and KPCC/LAist for a lively conversation about how to survive a major California quake.
Watch the virtual discussion with Jones, Times earthquake reporter Rong-Gong Lin II, KPCC science reporter Jacob Margolis, Times columnist Patt Morrison and KPCC host Austin Cross. They spoke during "Local Matters: How to Survive the Big One," a free community forum hosted by The Times and KPCC/LAist.
For more on how to prepare for an earthquake, go to latimes.com/unshaken.
How to Cook for the Week
Join cooking columnist Ben Mims on May 12 at 6 p.m. for this class on how to shop and cook for your family for an entire week without breaking the bank.
Mims is the author of three cookbooks and has worked as a food editor and recipe developer for more than a decade; he joined the Times food team in 2019 and also has written for Lucky Peach, Food & Wine, Saveur and Buzzfeed/Tasty.
Mims recently began a new Times series called "Week of Meals," which features five easy-to-prepare weeknight dinners from one shopping trip and which come together in less than an hour. He'll discuss his approach to cooking for the week and create a simple recipe during the class. He'll also answer questions from readers.
Sign up on Eventbrite.
How to binge watch like an expert
Grab your favorite beverage, settle into the couch and join the L.A. Times TV team on March 16 for a discussion of how to binge watch like a pro. One year into the pandemic, TV isn't just the center of our living rooms – it's the center of our cultural lives and brimming with unprecedented entertainment choices. Times TV editor Matt Brennan, critics Lorraine Ali and Robert Lloyd, and reporters Tracy Brown and Greg Braxton will share the shows they can't stop watching – the stories that enchant, intrigue and comfort. For aspiring writers, the TV team also will talk about how they do their jobs.   
When: Starts at 6 p.m. Pacific on March 16.
Signup: Sign up advance on Eventbrite to participate in this free webinar.
Capturing this moment in photos
Francine Orr's photography has captured the story of Los Angeles in this moment with compassion, beauty and a keen eye for humanity under duress, from the streets to the E.R.
The class: On Feb. 23, Orr shared her photos from the past year and discussed how she approaches her work in challenging, often dangerous situations. "Mostly what I do is listen to people," she says. Orr also discussed ways to tell your own stories of the pandemic through photography and answered questions from class participants. Watch here.
The instructor: Since 2000, Francine Orr has been a staff photographer at the Los Angeles Times and previously worked at the Kansas City Star. She also served as a Peace Corps volunteer in Yap, Federated States of Micronesia. As a photographer, Orr has focused on public health and poverty issues in Africa, India and the United States. In Los Angeles, she has concentrated on the growing homeless crisis since 2005.
Orr received the 2020 Meyer "Mike" Berger award for in-depth, human interest reporting from Columbia Journalism School. She also received the Casey Medal for Meritorious Journalism and her work has been honored by the Center for Public Integrity, Investigative Reporters and Editors, and the National Press Photographers Assn., among others.
How to write and sell your mystery novel
The class: On Jan. 27, Southern California novelist Joe Ide, author of the popular I.Q. detective series, will show you how to write a mystery novel. He'll discuss storytelling (the ingredients that make one story compelling and another fall flat); how to create dynamic characters and sharp dialogue; and how to build action scenes. The class will delve into the logistics of getting published, including the mystery book market and the money (advances, royalties, movie and TV options). Ide also will answer questions during the webinar.
The instructor: Ide grew up in South Central Los Angeles and his favorite books were Conan Doyle's Sherlock Holmes stories. He went on to earn a graduate degree and had several careers -- including Hollywood screenwriter -- before writing his debut novel "IQ." His fifth novel in the series, "Smoke," will be published in February. Snoop Dogg has signed on to executive produce a TV series based on "IQ."
Info: Sign up at Eventbrite.
More classes
This fall the Times offered two free We Can Teach You That sessions to help readers handle day-to-day technology and wellness issues during the COVID-19 pandemic.
Part 2: How to navigate health care and vital services
The class: On Dec. 1 consumer columnist David Lazarus offered timely information and insights for navigating health care and vital services during the COVID-19 crisis. He also answered general questions from readers.
The instructor: Lazarus is an award-winning business columnist. He also appears daily on KTLA-TV Channel 5 and is a part-time radio host. His work appears in newspapers across the country and has resulted in a variety of laws protecting consumers.
This session is available online: Watch on Facebook, YouTube or Twitter.
Part 1: How to connect with family and friends
The class: On Nov. 17 editor Jessica Roy shared some of the easiest ways to connect online during the holiday season. This session will be helpful to a wide range of readers, whether you're a caregiver or senior in need of new tools to reach distant relatives or someone stuck at home and looking for new ways to keep in touch.
The instructor: Roy is an editor on the Times' new utility journalism team, which helps readers live better lives by solving problems, answering questions and helping with decision making.
This free course is available online: Watch on YouTube.
How to to travel safely (if you must)
The class: Times travel writer Christopher Reynolds explained how to travel safely in the COVID era, especially flying. He shared ideas on how to reduce risk, suggest day trips and discussed some ups and downs from his own travels in California and Nevada since March. The class covered the latest regulations and advice from experts, including local and state officials who are still urging that we avoid nonessential travel. Reynolds also will gave an update on ever-evolving restrictions on U.S. and international trips.
The instructor: Born and raised in California, Reynolds has written about travel, the outdoors, arts and culture for the Los Angeles Times since 1990, traveling by planes, trains, cars, buses, big ships, little boats and one reluctant camel. Since 2015, he has kayaked in Canada; surfed in San Diego; snorkeled in American Samoa; floated in Xochimilco; climbed the hills of Dingle; swallowed twitching seafood in Seoul; and found his family in the ledger book at Ellis Island.
This class is now available for free viewing: Watch now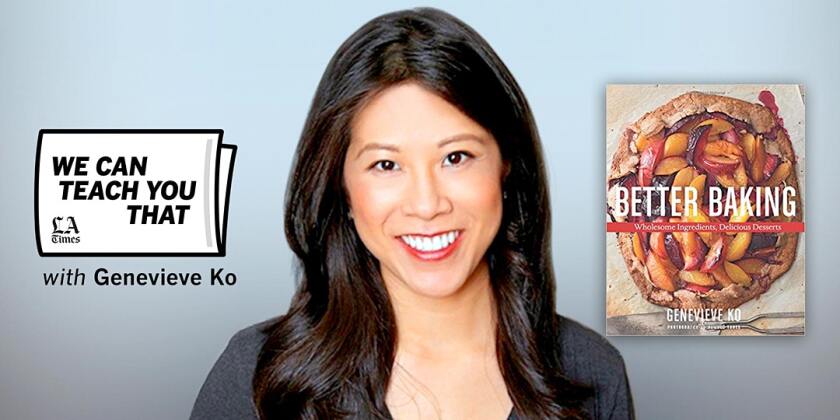 How to make a family cookbook
The class: In September, Times cooking editor Genevieve Ko taught a class on how to make a family cookbook. Ko explains how to create recipes; shares tips and tricks for photographing food; and walks readers through the steps to compile favorite dishes and stories into a personal cookbook.
The instructor: Ko is the author of "Better Baking" and has collaborated on more than a dozen cookbooks with notable chefs. She graduated from Yale University and has been a food writer, editor and recipe developer for national food media outlets, including NYT Cooking. She was born and raised in Monterey Park on dim sum, onigiri and chimichangas.
Update: This class is available for free viewing: Watch now.
For more information about the "We Can Teach You That" series, contact bookclub@latimes.com.

---