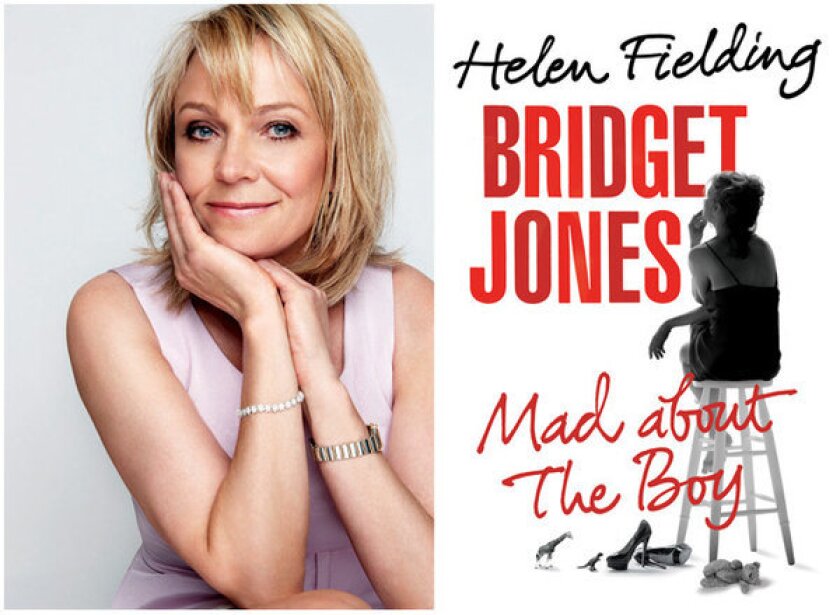 Three years before "Sex and the City" staked its claim to the smart-sassy-single stereotype, Helen Fielding created Bridget Jones, a vessel for educated, urban thirtysomethings' secret fears about cellulite and dying alone and the probable correlation between the two.
Nearly 20 years later, in Fielding's latest, "Bridget Jones: Mad About the Boy," a 50-year-old Bridget is looking for love again. She is not, however, divorced and combing Match.com — the default scenario for single women of a certain age — but is a widowed mother of two who flirts with men 20 years her junior on Twitter.
We learn that, as all hapless rom-com heroines eventually do, Bridget Jones found true love. She married the man of her dreams and had two children (a boy and a girl, naturally). Though we don't have the journal excerpts to prove it — for all we know, Bridget doesn't even bother to keep a diary when she's in a relationship — Fielding implies that our formerly high-strung diarist became serene and satisfied once she joined the ranks of the "smug marrieds."
Books: Sign up for our email newsletter
Rather than allowing Bridget to age as an independent, unmarried woman or sticking her in a rocky marriage that ends in divorce, Fielding gives her character everything she's always wanted and then kills off her husband, Mark Darcy, romantic hero of the first two books.
Then, Fielding brings Bridget's insecurities out of retirement like a baby-boomer classic rock band touring on the strength of its ancient hits. After all, "single" is Bridget's defining characteristic. Who is Bridget Jones if she's not fretting about a meaningless interaction with a man?
Widowhood, Bridget's friend tells her, is "better than being divorced. It's so romantic and original." Which is sort of the problem. The appeal of Bridget Jones was always a glaze of irrational neurosis on top of what was a pretty great life. Consider the facts: She had a string of coveted creative-class jobs (publishing assistant, television host), a tight-knit group of friends (career women, snarky gays) and sexy suitors (played by Hugh Grant and Colin Firth in the movie adaptations) who, despite her neurotic bumbling, fought for her affections.
This is what made the character daring and relatable. She had many of the trappings of the life she wanted yet was under tremendous social pressure to feel that, without a devoted husband, it didn't mean much — a dissonance that made her, understandably, a little nutty. Fielding's tone was light enough that even when Bridget was romantically devastated, it never really seemed tragic.
Looking back, it's easier to see Bridget Jones and her late-'90s fictional sisters such as Ally McBeal as prescient iterations of an archetype that dominates modern-day style sections and lady blogs: the woman who feels she could have it all if only she could get it together. Unlike the '80s superwoman who projected an air of invincibility, women of the Bridget Jones generation — and the next few to follow — tempered their ambition and intelligence with the occasional pratfall. They were empowered but highly aware that admitting as much could prove off-putting to men. And so they obsessed over the cosmetic details.
Bridget's inability to stop counting calories and compulsively checking her phone messages was used as supporting evidence in late-'90s trend stories declaring that young women — particularly single women — were self-absorbed whiners. In 1998, Ginia Bellafante wrote a Time magazine cover story that cited Bridget and Ally as markers of the decline of feminism, deriding the characters as "little more than composites of frivolous neuroses."
Perhaps these critiques are what prompted Fielding to give Bridget true tragedy. But when Fielding attempts gut-wrenching descriptions of Bridget's grief, the tonal shift is just too far from the goofy diarist we remember.
Raising two young children alone? Coping with the sudden loss of a life partner? These are real problems. Yet in Bridget's diary, they're given equal billing with concerns about her weight and how many minutes she should wait to text that guy back. It's awkward. The introduction of genuine life sorrow doesn't just mar the lightness of the original (which was one of the first books to be dubbed "chick lit") and its sequel (which featured as much screwball comedy as it did romance), but it also makes it harder for many women to relate — widowhood being far less common among 50-year-olds than divorce.
The everywoman problems Bridget had as a thirtysomething single — Is it ridiculous for me to wear thigh-high boots? Will I die alone? — translate pretty seamlessly to middle-age singlehood. When she's hitting the club for the first time in a decade or undergoing a regrettable Botox treatment, it's the same old Bridget. Apparently finding true love (and losing it through no fault of her own) has done nothing for her self-esteem.
This time around, though, instead of dialing 1471 to see who's called while she was in the shower, she's refreshing her Twitter at-replies. This is perhaps the most delightful thing about checking in with Bridget in 2013. Though when we met her she was very much analog, Bridget Jones was a character made for the Internet, from her confessional tone to her casual creation of memes. Once she gets over her initial fear of social media, she becomes obsessed with Twitter, a space where emotional meltdowns are de rigueur and a carefully constructed tweet about cellulite and dying alone can gain you dozens of followers.
Despite her squishy midsection — er, blinding grief — Bridget Jones is once again pursued by a bevy of strong-jawed, beefy-armed men who woo her with witty texts and tweets. She's spared most of the indignities of dating in the Digital Age. Every single one of her suitors is kindly paternal toward her two young children. Not one man lies to her.
"We women are only vulnerable because we are a pioneer generation daring to refuse to compromise in love and relying on our own economic power," Bridget's friend Sharon said in the original novel, predicting that in 20 years time men wouldn't dare to jerk women around "because we will just laugh in their faces."
In "Mad About the Boy," this vision has largely come to pass.
Friedman is a columnist for New York magazine. She lives in Los Angeles.
---
Bridget Jones
Mad About the Boy
Helen Fielding
Alfred A. Knopf: 400 pp., $26.95
---
---