Jane Goodall responds to being quoted in Ivanka Trump's book 'Women Who Work'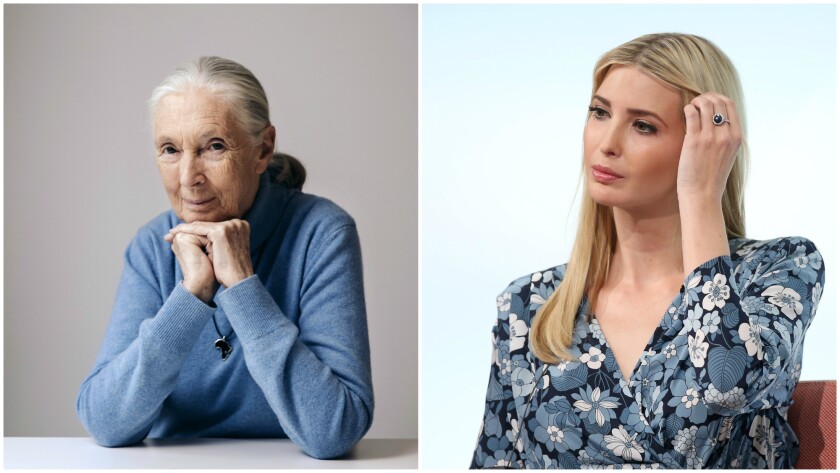 Jane Goodall, the anthropologist and chimpanzee expert known for her advocacy of conservation and animal welfare, responded to being quoted in Ivanka Trump's new book, the Washington Post reports.
Trump included a quote from Goodall in her recently released "Women Who Work: Rewriting the Rules for Success." It reads, "What you do makes a difference, and you have to decide what kind of difference you want to make."
"I understand that Ms. Trump has used one of my quotes in her forthcoming book," Goodall told the Post. "I was not aware of this, and have not spoken with her, but I sincerely hope she will take the full import of my words to heart."
Goodall said that environmental legislation has been "jeopardized" by the Trump administration.
"I hope that Ms. Trump will stand with us to value and cherish our natural world and protect this planet for future generations," she added.
Goodall had previously made an unflattering comparison between President Trump and a chimpanzee.
"In many ways the performances of Donald Trump remind me of male chimpanzees and their dominance rituals," she told the Atlantic last October. "In order to impress rivals, males seeking to rise in the dominance hierarchy perform spectacular displays: stamping, slapping the ground, dragging branches, throwing rocks. The more vigorous and imaginative the display, the faster the individual is likely to rise in the hierarchy, and the longer he is likely to maintain that position."
This isn't the first time someone quoted in Trump's book has responded to being included. On Tuesday, Reshma Saujani, founder of the nonprofit Girls Who Code, tweeted at Trump after she learned there was a passage about her in the book.
The tweet read ".@ivankatrump don't use my story in #WomenWhoWork unless you are going to stop being #complicit #askivanka."
In a statement to CNN, representatives for Trump responded, "Ivanka has always believed that no one person or party has a monopoly on good ideas. When she was writing this book, she included quotes from many different thought leaders who've inspired Ivanka and helped inform her viewpoints over the years."
New Age author Deepak Chopra was also quoted in Trump's book, and his response was a bit more measured.
"Ivanka means well," he told CNN. "She is in a tough position and it is obvious she knows what's right and what's not. Perhaps she will speak up to her father soon."
Trump also raised eyebrows by including a quote from Nobel Prize-winning author Toni Morrison's slavery-themed novel "Beloved":
"Freeing yourself was one thing; claiming ownership of that freed self was another."
Critic Annalisa Quinn, reviewing the book for NPR, notes that the "spectacularly misapplied" quotation precedes a chapter that includes the passage "Are you a slave to your time or the master of it? Despite your best intentions, it's easy to be reactive and get caught up in returning calls, attending meetings, answering e-mails..."
Trump's book has received mostly negative reviews from critics, but it hasn't stopped readers from snapping up copies. As of Thursday morning, the book was 35th in all books on Amazon.
---
Get the latest news, events and more from the Los Angeles Times Book Club, and help us get L.A. reading and talking.
You may occasionally receive promotional content from the Los Angeles Times.