Festival of Books: Whose life is it anyway? How biographers capture artists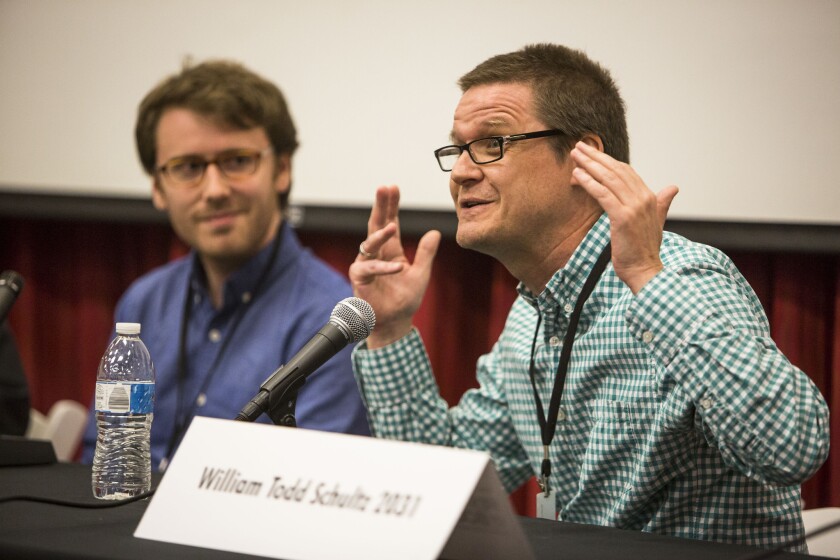 "Biography is hard work," William Todd Schultz announced to the audience gathered to hear him and two other authors speak on "The Artist as Influencer" in the spacious auditorium of USC's Andrus Gerontology Center on Sunday morning.
"Torment Saint: The Life of Elliott Smith" is Schultz's third biography, following books on Diane Arbus and Truman Capote. Though Smith has a considerable cult following as a singer-songwriter, Schultz had never even heard of him until five years ago, when he happened to overhear his daughter playing his song "Waltz #2" and he was struck by its "ineffable perfection."
Schultz's day job as a professor of psychology at Pacific University near Portland, Ore., helped him when it came to Smith's experience with depression and psychiatric drugs. But he said he tried to write this book about Smith, who took his own life in 2003, "like I had no idea how it ended," giving as much weight to Smith's years of happiness as to his tragic final days in Los Angeles.
A different kind of California story is told by Ben Tarnoff's "The Bohemians: Mark Twain and the San Francisco Writers Who Reinvented American Literature." Tarnoff grew up in San Francisco and had "a vague sense that Mark Twain spent time there," but knew little about the city's literary scene in the 1860s, which also included writers such as Bret Harte, Charles Warren Stoddard, and Ina Coolbrith. For Tarnoff, the story of the San Francisco Bohemians was a "vehicle to write about the history of the West."
FULL COVERAGE: Festival of Books
Unlike Schultz and Tarnoff, the subject of Beverly Walker's "Anatomy of an Actor: Jack Nicholson" (one in a series of 10 monographs published by Phaidon and the venerable film magazine Cahiers du Cinèma) was still very much alive. What's more, Walker even knew Nicholson personally, having worked with him on the film "Prizzi's Honor" and interviewed him at length in 1985.
Nicholson refused to cooperate with Walker on the new book, which she said she found disappointing. But Schultz rejected "the naive idea that you can't capture someone without talking to them," adding that recent research by cognitive scientists has shown that "people aren't very good at understanding themselves."
"That may be doubly true of artists," the panel's moderator, Scott Timberg, suggested, to general agreement. "Artists are often not very good at talking about their own art," Tarnoff said, noting that all three of the subjects -- even Twain, who he referred to as "America's first standup comedian" -- had "performing personas" that they were trying to put across to the public.
For Tarnoff, some of the most interesting material came from Twain's drunken tirades to Stoddard during a lecture tour in the early 1870s, in which he revealed a melancholy, depressive side not otherwise evident in his early writing.
INTERACTIVE GAME: How to be a writer
The importance of place was another recurring theme: Twain was as shaped by the literary community of San Francisco in the 1860s as Smith was by the Portland indie-rock scene of the early 1990s. In both cases, they found receptive audiences for their work as well as what Tarnoff called "the subtler forms of solidarity that take place within creative communities."
In Nicholson's case, his environment offered productive resistance rather than support. He came to Hollywood in the 1950s, when Tab Hunter was the prototype for a successful male actor. He had to break in by writing his own screenplays, including "Flight to Fury," the 1964 Monte Hellman thriller Walker considers one of Nicholson's best early films. "Some of his early performances are terrible, but you can see him building, and determining what his persona should be," she said. "He created himself."
---
Get the latest news, events and more from the Los Angeles Times Book Club, and help us get L.A. reading and talking.
You may occasionally receive promotional content from the Los Angeles Times.