Mixed feelings on Harper Lee's 'Go Set a Watchman'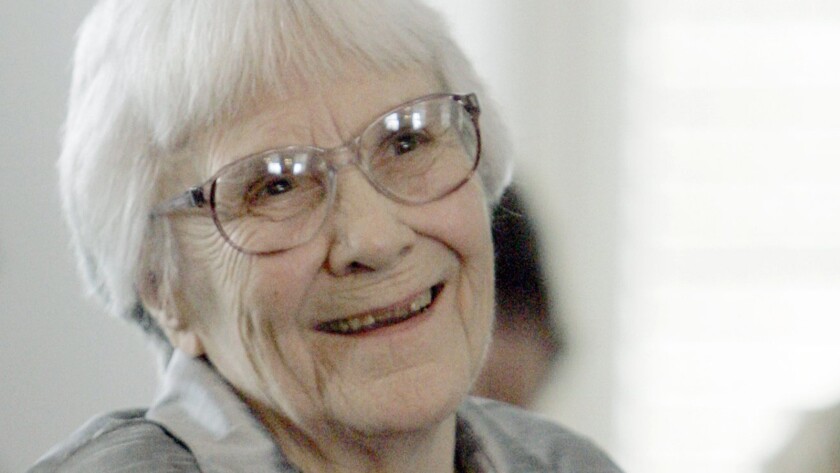 Los Angeles Times Book Critic
I first encountered Harper Lee's "To Kill a Mockingbird" in ninth grade. Like so many others, I was struck not just by the book's vivid narrative of racial justice, but also by its nuance: the inner life of its narrator and its deft portrayal of small-town eccentricities, which its author would come to embody herself, to some extent.
After completing the novel — an international bestseller, it won the 1961 Pulitzer Prize for fiction — Lee helped her childhood friend Truman Capote (model for the character of Dill) research his 1966 nonfiction book "In Cold Blood." Then she pretty much retreated from literary life.
This, as much as the power of her novel, has fueled an ongoing hunger, a fascination with both the author and her reticence.
In that regard, Lee is not unlike another reclusive author, J.D. Salinger, who never published again after his last novella, "Hapworth 16, 1924," appeared in the New Yorker in 1965.
It's hard, then, to know what to make of the news that Lee will publish a second novel in July. The new book, "Go Set a Watchman," is said to have been completed in the mid-1950s and features the character of Scout, who narrates Lee's landmark 1960 novel, "To Kill a Mockingbird," as an adult who has returned to her hometown of Maycomb, Ala., to visit her father, Atticus.
For this reason, "Go Set a Watchman" is being billed as a sequel of sorts to "To Kill a Mockingbird," although it was written first. "My editor, who was taken by the flashbacks to Scout's childhood, persuaded me to write a novel … from the point of view of the young Scout," Lee explained in a statement issued Tuesday by her publisher, Harper. "… I was a first-time writer, so I did as I was told."
"To Kill a Mockingbird," of course, became a classic of 20th century American literature, widely read and widely influential, a staple of high school reading lists.
For me, the announcement of "Go Set a Watchman" brings to mind a number of other lost (or found) books, including David Foster Wallace's "The Pale King," which came out in 2011 and was a finalist for the Pulitzer Prize. Left unfinished at the time of his 2008 suicide, "The Pale King" is novel-as-reclamation project, a pastiche of scenes brought into coherent shape by the author's longtime editor, Michael Pietsch. I also think of John Kennedy Toole's "The Neon Bible," published in 1989, nine years after the Pulitzer Prize-winning "A Confederacy of Dunces." Like "Go Set a Watchman," it is an early work, written when its author was just 16.
Then there's Ralph Ellison's posthumous novel, "Juneteenth," on which he worked for more than 40 years after the publication of "Invisible Man" in 1952. Like Lee, Ellison was long regarded as a single-novel author, unable to step out from under the shadow of his iconic debut. But this comparison, too, is not fully accurate, for "Juneteenth" was only published in abbreviated form in 1999, five years after the author's death at 80; 11 years later, an expanded version of this unfinished epic was released under the title "The Days Before the Shooting."
Ellison's lost novel remains most compelling, perhaps, for its sense of possibility, what it suggests about the book it might have become.
A big part of the fascination with "Go Set a Watchman" is not just a chance to hear from beloved characters like Scout and Atticus again — it has to do with what it might tell us about "To Kill A Mockingbird," how one novel grew out of the other, the process by which the classic work was made. That's compelling, certainly, although I'm not sure it is enough of an impetus to read the upcoming novel on its terms.
At the same time, this is not about a novel on its terms, but more an expression of what the culture wants or will bear. We are interested in "Go Set a Watchman" because of "To Kill a Mockingbird"; what was deemed not ready for publication 60 years ago is now anticipated because of who and what it represents.
This seems particularly apropos in terms of Lee, whose first novel is considered something of a national treasure, as close as a book comes to being sacrosanct. What does it do for her reputation as a writer if, as is likely the case, "Go Set a Watchman" turns out to be a lesser work?
This is a novel, after all, that was rejected and then ignored for 60 years. How then do we assess it, judge it, read it, both as an aesthetic experience and in terms of Lee's career?
I'd be lying if I said I weren't curious, but I'd also be lying if I didn't admit that I met the news of its publication with a little bit of regret.
Why? Let's just say that the release of any author's early work is, at best, a mixed blessing — even in the best of circumstances. It can be revealing, yes, but it is also almost always reductive: a reflection of our desire to get closer more than any organic intention to listen or to tell.
---
Get the latest news, events and more from the Los Angeles Times Book Club, and help us get L.A. reading and talking.
You may occasionally receive promotional content from the Los Angeles Times.