Hillary Clinton's new book, 'What Happened,' will address the 2016 election
Hillary Clinton's next book, titled "What Happened," will focus on the former secretary of State's loss to Donald Trump in November, and will be a "cautionary tale" about Russia's alleged role in interfering in the election, the Associated Press reports.
Clinton's publisher, Simon & Schuster now has a Web page for the memoir, which will be published Sept. 12.
"For the first time, Hillary Rodham Clinton reveals what she was thinking and feeling during one of the most controversial and unpredictable presidential elections in history," Simon & Schuster writes. "Now free from the constraints of running, Hillary takes you inside the intense personal experience of becoming the first woman nominated for president by a major party in an election marked by rage, sexism, exhilarating highs and infuriating lows, stranger-than-fiction twists, Russian interference, and an opponent who broke all the rules."
Trump won 30 states to Clinton's 20 (plus Washington, D.C.), and took the electoral college 306 to 232. Nationwide, Clinton won the popular vote by 2.8 million votes.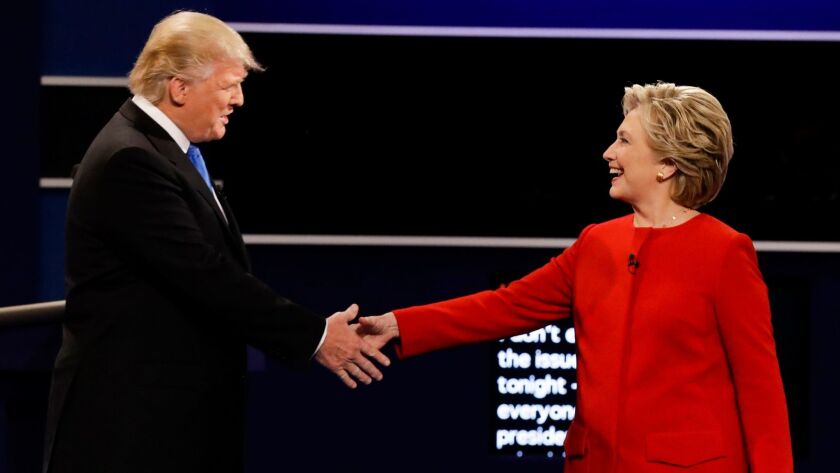 In a short excerpt from the book's introduction, Clinton promised that she would be candid.
"In the past, for reasons I try to explain, I've often felt I had to be careful in public, like I was up on a wire without a net," she writes. "Now I'm letting my guard down."
"What Happened" is one of two new books by Clinton announced by Simon & Schuster earlier this year. Previously, the book had been described by the publisher as an essay collection that would center on Clinton's favorite inspirational quotes.
The publisher's new description of "What Happened" makes clear that it will be a memoir, however, and that it will focus heavily on the possible role of Russia in swaying the election's outcome.
"In these pages, she describes what it was like to run against Donald Trump, the mistakes she made, how she has coped with a shocking and devastating loss, and how she found the strength to pick herself back up afterward," the description reads in part. "She lays out how the 2016 election was marked by an unprecedented assault on our democracy by a foreign adversary. By analyzing the evidence and connecting the dots, Hillary shows just how dangerous the forces are that shaped the outcome, and why Americans need to understand them to protect our values and our democracy in the future."
"What Happened" will be Clinton's sixth book. Her previous books include the bestselling "It Takes a Village," "Dear Socks, Dear Buddy," "An Invitation to the White House," "Living History" and "Hard Choices."
A children's picture book version of "It Takes a Village," illustrated by Marla Frazee, is set to be released by Simon & Schuster on Sept.12, the same day "What Happened" will hit bookstore shelves.
ALSO
Seattle Seahawks star Michael Bennett is writing a book: 'How to Make White People Uncomfortable'
'Morning Joe' co-host and Donald Trump target Mika Brzezinski signs three-book deal
Sherman Alexie on his new memoir, his mother and Donald Trump
---
Get the latest news, events and more from the Los Angeles Times Book Club, and help us get L.A. reading and talking.
You may occasionally receive promotional content from the Los Angeles Times.