Festival of Books: Jesus, L. Ron Hubbard and shopping for religions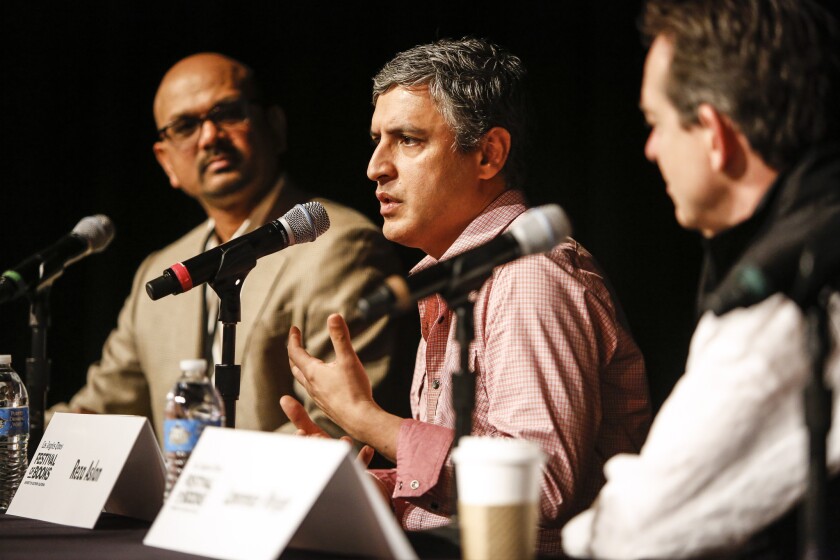 What do Jesus and Church of Scientology founder L. Ron Hubbard have in common? According to authors Reza Aslan and Lawrence Wright, there are indeed commonalities.
Fans and avid readers flocked to the Los Angeles Times Festival of Books on Saturday to hear Aslan and Wright speak during an hourlong panel moderated by Times Editor-in-Chief Davan Maharaj.
"You will leave enlightened, I hope," Maharaj said when introducing the panel.
Aslan, author of "Zealot: The Life and Times of Jesus of Nazareth," and Wright, author of "Going Clear: Scientology, Hollywood & the Prison of Belief," delved deeper into parallels between the two religious figures featured in their books.
Both Wright and Aslan noted Jesus and Hubbard are of two different eras and therefore the context varies.
FULL COVERAGE: Festival of Books
"Jesus was taking the religious, political, economic social ideas that existed…and reforming them into something that was both very familiar and also new," Aslan said.
The same could be said about Hubbard.
"He … reformulated [ideas] and presented them as something new and different," Aslan said. "That's really what prophets do, regardless of what religion they are."
People are also drawn to these figures and religion for similar reasons. "People shop for religions," Wright said. "Especially in America where you can believe anything you want…or create your own religion."
A number of factors draw people into these religious groups, including community, structure, playfulness and even competition, Wright said.
INTERACTIVE GAME: How to be a writer
"Another interesting parallel between these two characters is they both have their own establishments they are fighting against," Aslan said, which helped drive their beliefs.
When Maharaj asked the authors to share their personal connections to their books, Aslan said it was interesting to write about Jesus "both as a devout worshiper and as a researcher."
"I've had a long and complicated relationship with Jesus," Aslan said. "For me, treating Jesus like a man makes him more extraordinary – it makes me want to know him more, makes me want to follow him more than if he were God."
"I was religious when I was a young man too," Wright added. "I think that it made me more open to hearing religious stories…there's a squeamishness about writing about what people believe."
As storytellers, Aslan and Wright agreed it's important to have readers be able to relate.
"People are much more engaged in a text when they can feel as though they are being part of a larger story," Aslan said.
Lawrence said he looks for a "donkey" to tell the story.
"A donkey is a very useful beast of burden," Wright said. "He can carry a lot of information on his back and can take the reader into a world that may be very exotic."
---
Get the latest news, events and more from the Los Angeles Times Book Club, and help us get L.A. reading and talking.
You may occasionally receive promotional content from the Los Angeles Times.