With 'Callas in Concert,' an opera diva makes a holographic encore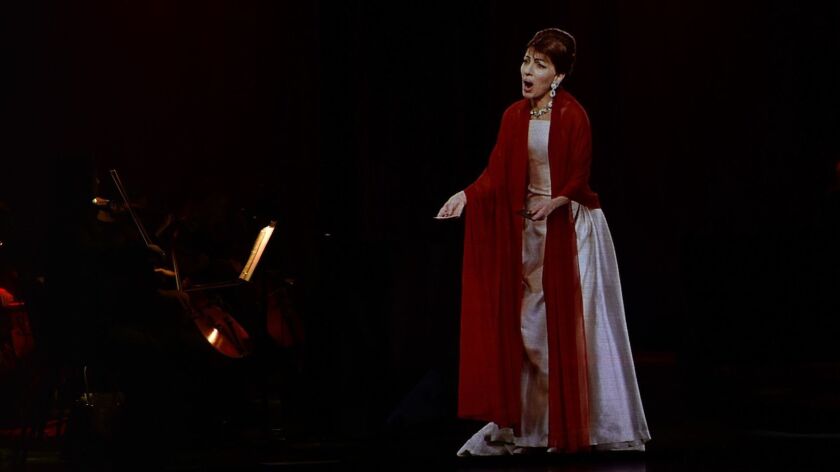 In the 21st-century, living and breathing are not prerequisites for a successful performing career.
Tupac Shakur was one of the first artists to break into the biz of post-mortem performance. Resurrected through technological wizardry, the deceased rapper appeared in hologram form alongside Snoop Dog and Dr. Dre at Coachella in 2012.
Two years later, it was Michael Jackson's turn to perform a ghostly moonwalk at the 2014 Billboard Music Awards. Last year, a holographic Roy Orbison launched an international tour. He'll be joined by Buddy Holly, also in holographic form, for the European leg of that tour this fall.
Now, on April 13 at USC's Bovard Auditorium, Los Angeles opera fans can watch as one of that art form's greatest stars is conjured from beyond the grave.
Presented by L.A. Opera in association with the Los Angeles Times Festival of Books, "Callas in Concert" is a 105 minute long show featuring a holographic Maria Callas in recital backed by a full, live orchestra.
L.A. Times Festival of Books is back! Check out the Maria Callas hologram and the rest of the lineup for our massive literary event launching April 13 and 14 at the USC campus. »
L.A. Opera's president and chief executive, Christopher Koelsch, saw the first performance of "Callas in Concert" at UC Davis in September. He says that what stood out to him that evening, as the holographic Callas performed beloved arias by Puccini and Bellini, was the audience's reaction to the spectral diva.
"After a few numbers, the technology started to disappear for [the audience] and they were acting as if this mirage was Callas herself," he says. "I would say within 10 to 15 minutes people, were reacting to her performance in the same way that they would react to a vocal recital at [the Dorothy Chandler Pavilion]. That was the part that was quite astonishing to me."
Like the evening-length Orbison hologram show that appeared at L.A.'s Wiltern Theatre in October, "Callas in Concert" is produced by Base Hologram, a Base Entertainment company.
Base Chairman and Chief Executive Brian Becker says it took nine months to a year for the company to develop the Callas show.
"Keep in mind that we are creating and presenting a full, original show," he says. "It's a theatrical experience, and it has to be authentic so that it really represents what she was like when she walked on to a stage, how she performed, her interactions with the orchestra and audience. You can't get that just from old footage."
For help developing the evening-length performance, Becker and his team hired Stephen Wadsworth, director of the opera studies program at Juilliard and head of dramatic studies in the Metropolitan Opera's Lindemann Young Artist Development Program. Wadsworth had experience bringing Callas to life onstage: He directed Tyne Daly as a late-career Callas in Terrence McNally's "Master Class" on Broadway.
Wadsworth worked with another actor to bring Callas to the stage as a hologram.
Across 12 weeks of rehearsals, Wadsworth coached the actor to mimic Callas' signature dramatic performance style, copying the way the soprano moved about the stage in floor-length gowns and curtsied to adoring crowds. The actor's performance was recorded, and then a variety of CGI and other cinematic techniques were used to flesh out the full holographic image of Callas, which was synced with isolated vocals from master recordings.
Callas' voice is, for so many, a gold standard. When audiences at the Dorothy Chandler Pavilion watch a contemporary diva perform, many of them are likely comparing her voice to a beloved Callas recording.
Captured on those recordings is a remarkably beautiful voice, yes, but also an iconic, palpable passion. Descriptions of Callas' live performances often focus on her incomparable charisma and dramatic instincts, and that is what Base hopes to bring to modern audiences with this show.
Perhaps more than Shakur or Orbison, Callas would be comfortable with holographic resurrection. After all, she spent her life regularly dying tragically on the opera stage, only to reappear in couture a few hours later at a glamorous party. Now, as a hologram, she is back for yet another encore.
::
L.A. Opera and Base Hologram's "Callas in Concert" at the L.A. Times Festival of Books: The ticketed hologram performance from soprano Maria Callas, with music performed live by the L.A. Opera Orchestra, will take place at 7 p.m. April 13 at Bovard Auditorium on the USC campus.
---
Get the latest news, events and more from the Los Angeles Times Book Club, and help us get L.A. reading and talking.
You may occasionally receive promotional content from the Los Angeles Times.