Poet Yesika Salgado blew up on Instagram. Now her books are breaking literary boundaries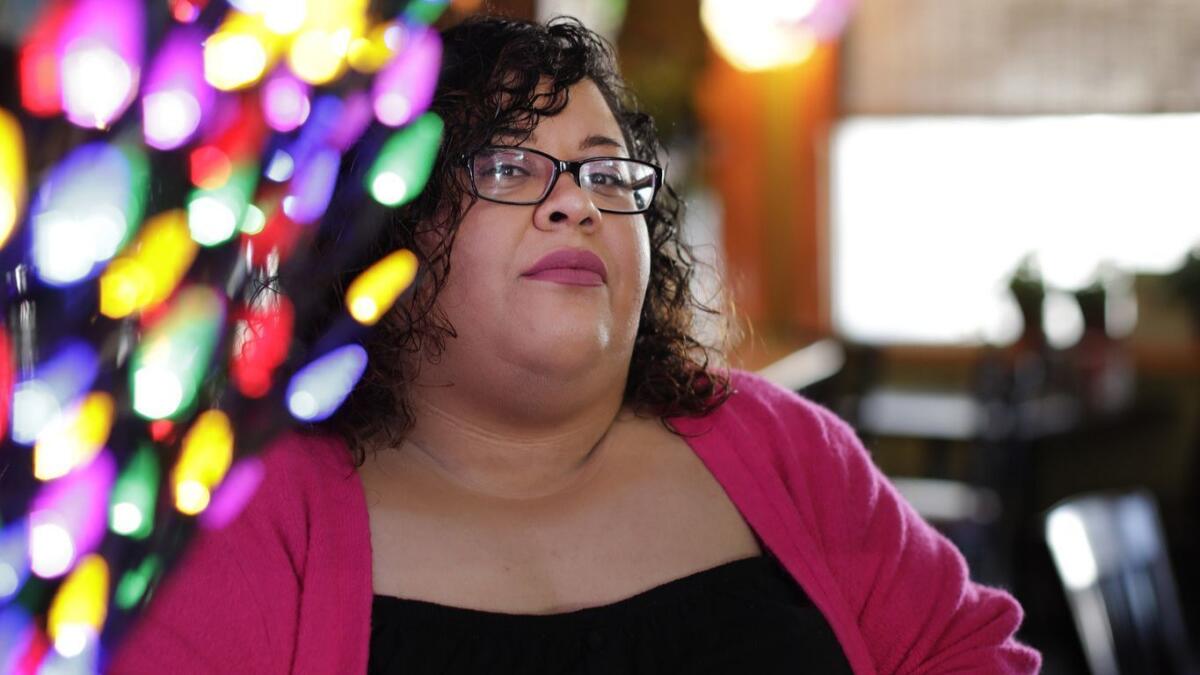 Yesika Salgado sits at her usual table at Silver Lake's Cafe Tropical, accompanied by carrot-orange juice and a slice of guava cheese pastry. Arguably, it's the best seat in the Cuban coffeehouse and bakery — back to the wall with a congested Sunset Boulevard to her left, easy access to the counter to her right and a full view of the two entrances and the customers. It's prime seating for those who like to make offices out of coffeehouses. It's also where the poet takes most interviews from journalists.
Salgado's books appear in local and commercial bookstores, but one of her big breaks came from an unconventional place: Instagram.
Just a few years ago, the thought of a poet blowing up on the social platform seemed impossible. Traditionally, emerging literary voices in poetry have been shaped by universities and established in poetry journals. Yet Salgado is part of a new generation of artists established on the stage — through the spoken word and slam traditions — and magnified on the internet.
L.A. Times Festival of Books is back! Check out Yesika Salgado's panel and the rest of the lineup for our literary event launching April 13 and 14 at the USC campus. »
"I want my work to be in unconventional places. You write in poetry journals to get fellowships and grants, not for an audience," says Salgado. "My readers don't read journals — they are homegirls that normally wouldn't be interested in poetry or they've always read poetry and find me."
Her Instagram audience of more than 62,000 followers (as of now) is about 90% women and 10% men, according to her Instagram analytics. Her poetry struck a chord with millennial Latinas she describes as "the hoops, lipstick kind of girl" who are usually in college and looking for someone who reminds them of their "homegirls and tías." Her following call themselves the "mango mafia," a reference to mango tree imagery in her first book representing love and her parents' home country of El Salvador.
The 34-year-old stayed true to her voice, and it has paid off.
"Corazón," her 2017 book debut, ranked as the No. 3 bestseller on Amazon's Hispanic American subcategory. It's a love story, initially written about a specific relationship, but one that she considers universal.
Salgado finished a short tour in late 2018 of her second book, "Tesoro." In the poems, she revisits family stories that vilified women, questioning why they weren't forgiven like the men. In turn, she also documents the legacies of the women in her family.
This year she has time to look for inspiration. She hopes digesting any form of storytelling will prevent her voice from becoming stale when it is time to create "Hermosa," the last of her book trilogy, set to be published in September.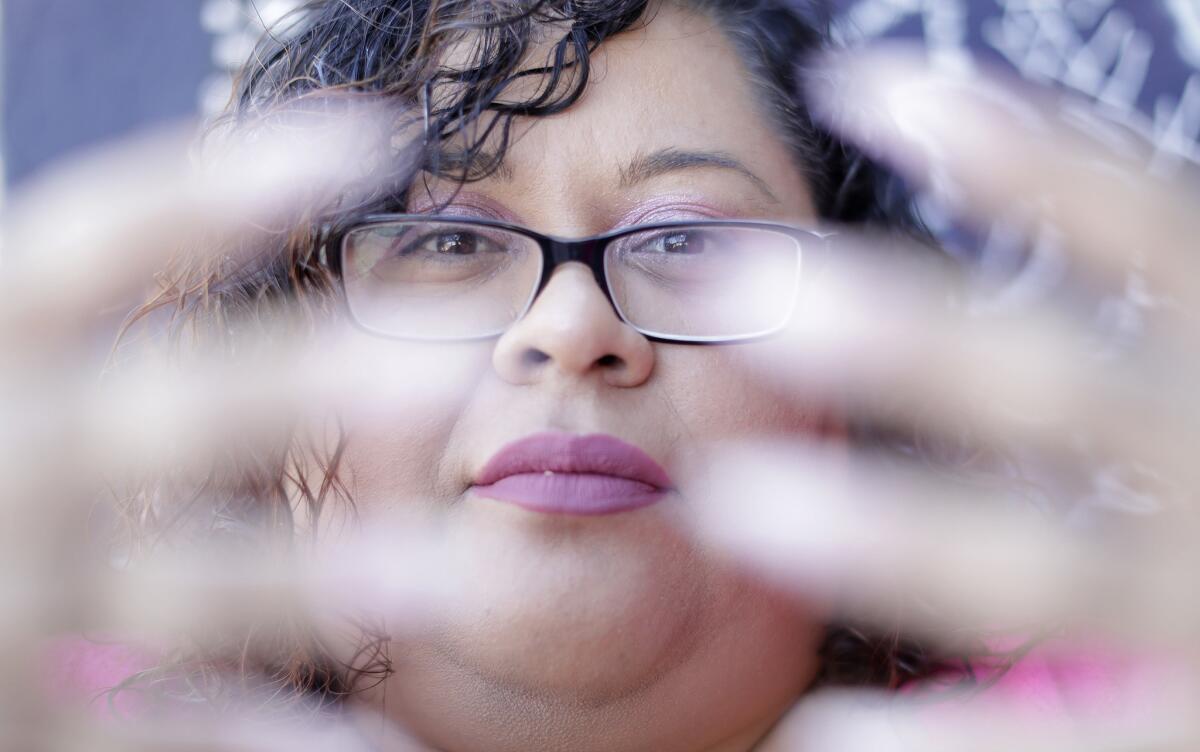 Cafe Tropical is the place where she put together "Corazón" while her friends sat with her — working on their own projects — and where she sat alone and cried as she struggled to shape "Tesoro."
Like many longtime Silver Lake spots, Cafe Tropical is in the cross-hairs of gentrification.
A changing Los Angeles is fresh in her mind. The poems in the second chapter of "Tesoro" are about how the L.A. she knew as a girl shaped her identity. The illustrated lemon tree on the cover is a reference to the tree in the front yard of her Silver Lake home.
She also gives a poetic map of the area, circa '80s through '90s, marked with memories of a pharmacist who sold over-the-counter medicine after closing hours if you knocked on the backdoor (now a barbershop), a corner liquor store owner who gave her store credit to buy bus passes while she waited for a bimonthly check (now a liquor-only store) and the houses of watchful neighbors who kept her parents up to date on her whereabouts or walked her late father home on his drunk nights.
Although Cafe Tropical opened in the '70s and is connected to the making of her books, it wasn't part of her adolescence.
"I used to associate certain places to whiteness and didn't feel comfortable being in them. I grew up not coming here, even though it's POC [people of color] owned, it always felt very white to me," she says.
The ability and inability of learning to exist in places where Salgado felt uncomfortable — significantly the stage and her own body — have shaped her career.
At 18, she dropped out of John Marshall High School. Although she was a voracious reader at a young age who was often commissioned by other students to write their essays — and love letters to boys — her absences were high and credits low.
"They weren't teaching me what I wanted to know. It wasn't for me," says Salgado. "I know that I was never meant to be anything else other than a writer. As much as I'm brown, curly-haired and fat. It's just a fact."
She took an array of day jobs in parking garages, a Papyrus stationery store, door-to-door Cutco knives, Sav-On, Subway and a CVS pharmacy. All while she kept writing every day in one form or another, using the Google Doc app on her phone during long bus commutes to the Westside, break rooms and restroom stalls of her eight-hour workdays.
My readers don't read journals — they are homegirls that normally wouldn't be interested in poetry.
— Yesika Salgado
Salgado first shared poetry with an audience in 2005 through the website hiphoppoetry.com and contributed for three years.
"She definitely became one of the more known people on the website. Her writing was similar to what it is today — outspoken with an edge, but you still see vulnerability," says Erik Maldonado, poet and founder of the website.
It was also the heyday of AOL and MSN chatrooms. Salgado's go-to guilty pleasure and escape from reality was catfishing (creating false online identities). It started with calling party hotlines and moved on to the Live Chat app on her Android phone with the screen name Eva Luna, a reference to an Isabel Allende character skilled in storytelling.
For Salgado it made sense to continue catfishing when she stumbled onto hiphoppoetry.com. On the forum, she pretended to have college degrees, kids and ovarian cancer. She used photos of a high school friend and the username Yesika Starr, which deliberately remains her social media handle.
Maldonado found her real Myspace page in 2007. Instead of being outed, she created a post titled, "Yesika Starr Has Fake Pictures." It received 9,605 views and 277 replies, which were a mix of empathy and disappointment but mostly angry comments. "I deserved the dragging I got," says Salgado.
Soon after, a forum user found a post she plagiarized from Guatemalan singer Ricardo Arjona's pop hit "El Problema," translating the lyrics from Spanish to English. She was banned.
Maldonado encouraged her to go to Da Poetry Lounge (DPL), a large poetry venue with a weekly open mic on Fairfax Avenue. She showed up at the lounge as herself, began performing spoken word in 2008 and joined her first DPL slam team in 2014.
"You could see in her body language there was a sense of unworthiness in her space. This was a sort of unworthiness that read as an apology in her poetry — even in poems about being fierce," says Javon Johnson, poet and one of Salgado's DPL slam team coaches.
Around the same time period, she started therapy and addressed self-esteem issues, as she explains in a TED Talk. She refers to the subsequent years as her blooming period where her personal life and writing took off. Her appearance changed to her signature look today: curly dark brown hair worn down, square black-framed glasses, hoops, a bold lipstick and stiletto acrylic nails. She performed on Tuesday nights every week for years and took notes of her mentors' criticisms.
Although she would eventually be a National Poetry Slam finalist twice, 2015 was a turning point. Salgado didn't make a slam team that year and needed to figure out her next step. A friend invited her to perform at La Concha, a community space ran by the Ovarian Psycos Bicycle Brigade in Boyle Heights.
"There was a moment when the audience recognized me. It was almost like a 'we've been waiting for you' moment," Salgado says.
The audience of about 40 knew her from a YouTube video performance of the poem "Brown Girl." She was invited to perform at a series of local events. It led her to create the Latina feminist poetry collective Chingona Fire with poet Angela Aguirre. They held open mics giving preference to women of color.
She quit her job at CVS in 2016 to be a full-time artist, after selling more than 2,000 copies of her poetry zine "Woes" and being offered college venue gigs. The timing was unfortunate since schools were out of session. By the next year, she was broke and wrote another zine, "Sentimental Boss Bitch," selling about 500 copies online.
Daniel Lisi, co-founder of independent publishing house Not a Cult, also ordered her zines and watched her perform, eventually offering her a book deal. With the success of "Corazón" and "Tesoro," she continues to perform in venues (mostly colleges) throughout the country, taking poetry commissions like a 2017 Planned Parenthood campaign and writing a monthly column for Remezcla. Although she is well known in some local communities, she says, "to have success in your work doesn't mean that the entire world opens up to you. I'm not Rihanna. I can't go to a restaurant and walk out with a wine glass."
Salgado thinks of herself as outside of the literary world, particularly when she receives backhanded compliments using the term "Instapoet" in contempt.
While Salgado admits there might be a day when she contributes to poetry journals, she also says, "I take pride in saying that I created something where institutions have to come to me. I don't get you, you have to get me. I want to continue building a career like that. And it's happening so far."
Before leaving Cafe Tropical, she jokes with the weekend worker, "I'm here so much, I should start paying rent." Salgado walks home in the night passing jacaranda trees lining the block. The trees are indigenous to tropical and subtropical regions of Latin America. Because they would thrive in the Southern California climate and landscape, the purple transplants were grown from San Diego to Los Angeles all the way up to Santa Barbara to beautify cities.
It's early spring. The jacarandas are barren, but a branch blooms on the illustrated cover of "Hermosa."
Yesika Salgado at the Los Angeles Times Festival of Books: Salgado will appear at 10:30 a.m. April 14 on the panel "Cultural Preservation Through Writing."
Sign up for our Book Club newsletter
Get the latest news, events and more from the Los Angeles Times Book Club, and help us get L.A. reading and talking.
You may occasionally receive promotional content from the Los Angeles Times.