Amazon to open brick-and-mortar bookstore in Oregon just 10 miles from indie giant Powell's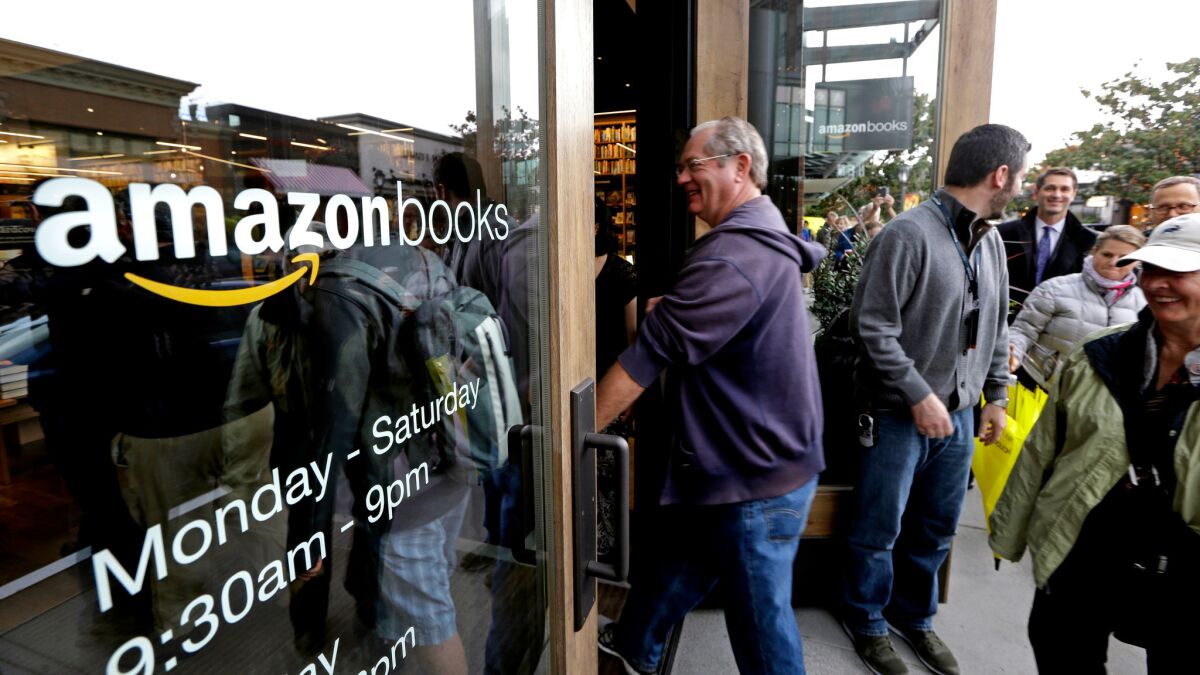 Amazon will open its third brick-and-mortar bookstore in the Portland, Ore., metropolitan area. It's probably just a coincidence that Portland is home to legendary independent retailer Powell's Books.
The Oregonian reports that Amazon Books will be located in the tony Washington Square shopping mall in Tigard, Ore., between a Bath & Body Works and a Michael Kors store. The mall is about 10 miles from the Powell's flagship store in downtown Portland. Amazon Books is scheduled to open this fall.
Independent bookstores, like Powell's, have historically had a frosty relationship with Amazon. Many observers have said the business has led to the demise of smaller book retailers across America.
Powell's, which bills its flagship location as "the largest used and new bookstore in the world," has made Portland its home since the 1970s. Miriam Sontz, its current CEO, reacted coolly to the news that Amazon would be expanding to the greater Portland area.
"When asked why he robbed banks, Willy Sutton reportedly replied 'because that's where the money is,'" Sontz told USA Today. "I am certain that Amazon has the data to show that opening a store in the Portland area will be financially beneficial to the company."
Amazon opened its first physical bookstore last year in Seattle, the home of its corporate headquarters. The store is about a mile from indie retailer Third Place Books.
In March, the company announced its second brick-and-mortar store would open this summer in San Diego. That announcement was consistent with reports — which Amazon denied — that the online retailer was planning to open hundreds of physical locations in the coming years.
If Amazon's first store is any indication, the locations in San Diego and Tigard won't look much like regular bookstores. The Seattle store features fewer books than most retailers, with all the books' covers facing out. There are no prices listed on the books; shoppers have to use a scanner or a smartphone app to find out how much each item costs.
The Seattle store also sells electronics, such as Amazon's Kindle e-reader, Fire TV and earbuds.
Reaction to the store on Yelp reveals mixed, but mostly positive, feelings from customers. One shopper gave the store five out of five stars, writing, "This is heaven…. when I got to the counter, my one book was only $7 despite the much greater price on the back of the book. Gotta love Amazon!"
Another customer gave the store two stars, and had sharp words for Amazon: "This place, like the Hemingway short story, is a well-lit place, and, also like the Hemingway story, is really all about death. Amazon has nearly killed used bookstores, and now it is on its way to killing new bookstores, too."
It remains to be seen how successful Amazon Books will be in greater Portland, a metropolitan area known for its love of reading and indie retailers, particularly the huge Powell's store downtown.
The competition between the two retailers might never have happened, though, if it weren't for a decision made by Powell's owner Michael Powell 20 years ago.
In 1996, Amazon CEO Jeff Bezos tried to convince Powell's to be Amazon's sole supplier of used books. Powell declined the offer. "I don't regret the decision," Powell told Willamette Week. "Amazon has proved to be a big and sometimes rather ruthless company. I'm sure at some point they would have decided they wanted a bigger field to plow than what we could provide them, and we'd wake up to discover we were no longer the sole provider."
MORE:
Amazon opens a brick and mortar bookstore in Seattle
Is Amazon really going to open hundreds of brick and mortar bookstores?
Amazon to open another physical bookstore – this one's in San Diego
---
Get the latest news, events and more from the Los Angeles Times Book Club, and help us get L.A. reading and talking.
You may occasionally receive promotional content from the Los Angeles Times.