Books: Walter Mosley, Thomas McGuane and more book news
Books Editor
Hello! This week in books, things are a bit quiet, and in print, we gave a page to our colleagues in film for our Academy Awards coverage. I'm Carolyn Kellogg, books editor, and this week's newsletter will be a quick one.
THE BIG REVIEW
Walter Mosley is widely known for his Easy Rawlins series, with noirs such as "Devil in a Blue Dress" set in south L.A. in the 1940s. But his repertoire is much wider, as he shows in his latest mystery, "Down the River Unto the Sea." Set in contemporary New York and following a disgraced former cop turned private investigator, it's a compulsively readable tale that deals with racism, false imprisonment and the temptations of corruption, writes Steph Cha in our review.
THE OTHER BIG REVIEW
Last year at the L.A. Times Book Prizes, we awarded Thomas McGuane the Kirsch Award for Lifetime Achievement, but it hasn't stopped him from writing. His new book, "Cloudbursts," is a mammoth collection of short stories, nearly 600 pages in all, that stretches from the beginning of his career in the 1960s to eight new stories. It is a "wonderful, essential new collection," writes reviewer Gabe Habash: "These 45 career-spanning stories contain more artistry, humor, eyebrow-raising plot turns and surprising diction than seems possible in one book." Read all about it.
BESTSELLERS
For the first time in seven weeks, the nonfiction list is not topped by Michael Wolff's "Fire and Fury: Inside the Trump White House." Apparently book buyers are a bit tired of politics and everything else serious: Our new No. 1 L.A. Times bestseller in nonfiction is Mark Manson's wry self-help guide, "The Subtle Art of Not Giving a F*ck."
And a longtime favorite of Southland readers — for 23 weeks now — is Celeste Ng's "Little Fires Everywhere," a riveting novel of two families whose lives intertwine in an affluent Cleveland suburb. The book returns to the top spot on our fiction list this week, making it our No. 1 fiction bestseller again.
See all the books on our bestseller lists here.
MORE IN BOOKS
Michelle Obama's memoir, titled "Becoming," will be published Nov. 13.
"Transparent" creator Jill Soloway will launch a publishing imprint with Amazon.
We've recently looked at a couple of books published 50 years ago; this week, on the anniversary of East L.A. school walkout, The Times takes a deep dive into the news of 1968. It was a very tough year.
Novelist Jennifer Egan ("A Visit from the Goon Squad," "Manhattan Beach") was named president of PEN America, which has now completed its unification with west coast PEN to make one big national nonprofit fighting for writers' rights.
According to Twitter, Susan Orlean has turned in a draft of her latest book (about the L.A. public library!) and critic Michelle Dean has gotten two very cute kittens.
And Harper Lee's will is finally public, thanks to the New York Times. But the will, signed eight days before Lee died in 2016, doesn't answer many questions about the author of "To Kill a Mockingbird."
Thanks for reading!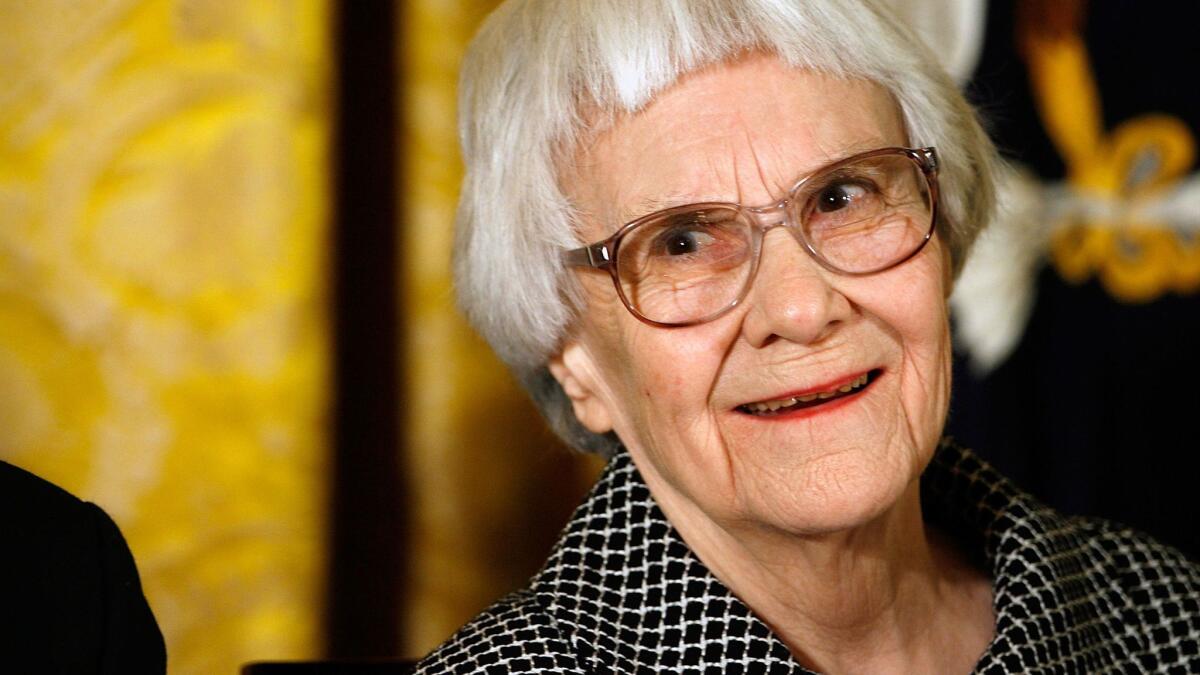 Sign up for our Book Club newsletter
Get the latest news, events and more from the Los Angeles Times Book Club, and help us get L.A. reading and talking.
You may occasionally receive promotional content from the Los Angeles Times.