It's over. The beach day is done. The fireworks have (mostly) ceased their racket and the backyard BBQ has been reduced to a fridge full of leftovers. The Fourth of July came and went, which is great news for bibliophiles looking for things to do because this week L.A. has an explosion of fantastic events. Each of these literary happenings comes with a twist, some musical, some magical and all great fun for adventurous readers.
Here are the best of the best:
Book lovers! Sign up for the new L.A. Times Book Club for upcoming author events »
Flowing into five years as a free, mobile lending library
The Feminist Library on Wheels (FLOW) turns 5 on Saturday, and the free, roving lending library will post-up at the Armory Center for the Arts for a family-friendly celebration. Founded by Jenn Witte and Dawn Finley, FLOW allows members to check out as many books as they like for as long as they like — the ideal library scenario! — and current cardholders range in age from 8 to 101. "FLOW is a way of redefining what it means to be a card-carrying feminist," Finley told Amina Khan. "It doesn't tell you what feminism is — it gives you a tool to figure that out for yourself." Sample vegan treats from local restaurants Kitchen Mouse, Botanica and Delicias Bakery; attend zine and book-making workshops; compose blackout poetry; and ham it up in a photo booth. Readings from L.A.-based writers Myriam Gurba, Kate Durbin, Lisa Locascio and Rocío Carlos begin hourly at 1 p.m.
Noon Saturday, July 6, at Armory Center for the Arts, 145 N. Raymond Ave., Pasadena. Free.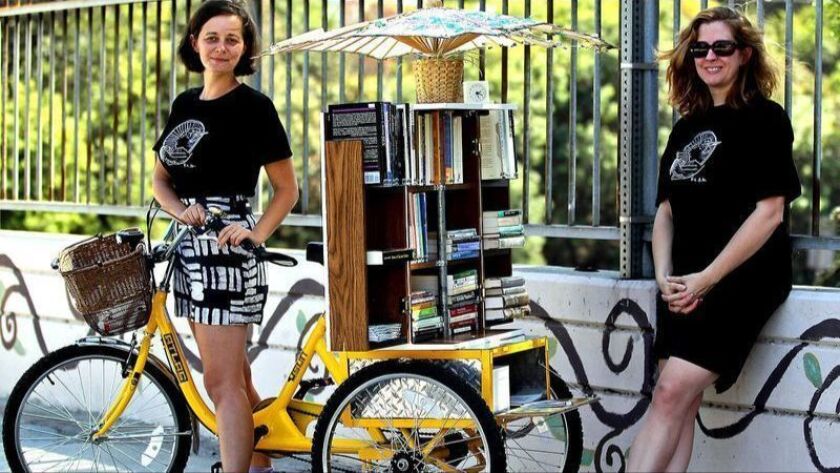 Another kind of flow at Wu Tang Verses
Part tribute night, part free-verse workshop, Wu Tang Verses is a group writing experience and dance party inspired by the music of the Wu Tang Clan. Hosted by Air 11 Gallery and Writ Large Press, DJs Dez Hope and Peter Woods supply the jams while attendees supply the poetry. Writ Large and/or its accomplices in indie literature, the Entropy web magazine, will publish standout work. Free writing begins at 7 p.m.; dancing commences at 9 p.m. (Please take note of this welcome writing-to-dancing ratio. It is Saturday night, after all.) Pads and pens will be available on site, but bring the ruckus.
7 p.m. Saturday, July 6, at Stokelys Cafe and Social House, 3506 W. Pico Blvd., Los Angeles. Free.
Magician and memoirist Rob Zabrecky offers "Strange Cures" at Stories
Before Rob Zabrecky became the most compelling, hilarious and genuinely entertaining magician in Los Angeles, he was the frontman of beloved alt-rock band Possum Dixon. His memoir, "Strange Cures," revisits those earlier days, touring with the Violent Femmes and Dead Milkmen in the 1990s, and the days that came afterward, when Zabrecky got sober and reinvented himself as the darkly humorous mentalist we know today. "'Strange Cures' is a punk poem to a forgotten Los Angeles," writes The Times' Jessica Gelt. "And like all good poems, its heart is full of tragic beauty." At Stories Books and Cafe, Zabrecky will discuss and read from the book as well as give a live performance, like a one-night-only literary alternative to the Magic Castle, but free.
7:30 p.m. Monday, July 8, at Stories Books and Cafe, 1716 Sunset Blvd., Los Angeles. Free.
Finding peace at the Philosophical Research Society
Poet Mandy Kahn launches a series of bimonthly events titled I Like Peace on Wednesday at the Philosophical Research Society, where she is this year's artist-in-residence. The series invites artists of all disciplines to share work and address "how they build peacefulness into their lives." Kahn, who was included in last year's "The Best American Poetry Anthology," will debut several of her signature immersive poems. Her frequent collaborator, the musician Jodie Landau, will conduct original works as well as pieces by Bjork and Reggie Watts, performed by vibraphone, harp and choir. In total, the event will feature 20 actors, singers and musicians, and will make use of the venue's stunning library and grounds. Kahn and Landau's 2018 "A Symphony Both Spoken and Sung" was one of the year's most unusual, inspired and transcendent literary outings. "I Like Peace" is not to be missed.
7:30 p.m. Wednesday, July 10, at the Philosophical Research Society, 3910 Los Feliz Blvd., Los Angeles. Free.
McSweeney's Quarterly launches issue 56 at Skylight
A thoughtfully curated literary journal is still one of the best ways on the planet to read the latest work by established authors and emerging voices alike. McSweeney's Quarterly has been in the game since 1998, and more notable writers than can be named here have graced its pages. The latest issue, its 56th, includes work by Emerson Whitney, Jose Antonio Vargas and Dantiel W. Moniz, all of whom will headline at Skylight Books for the launch party. Rub elbows with soon-to-be household names and fellow in-the-know readers.
7:30 p.m. Thursday, July 11, at Skylight Books, 1818 N. Vermont Ave., Los Angeles. Free.
---