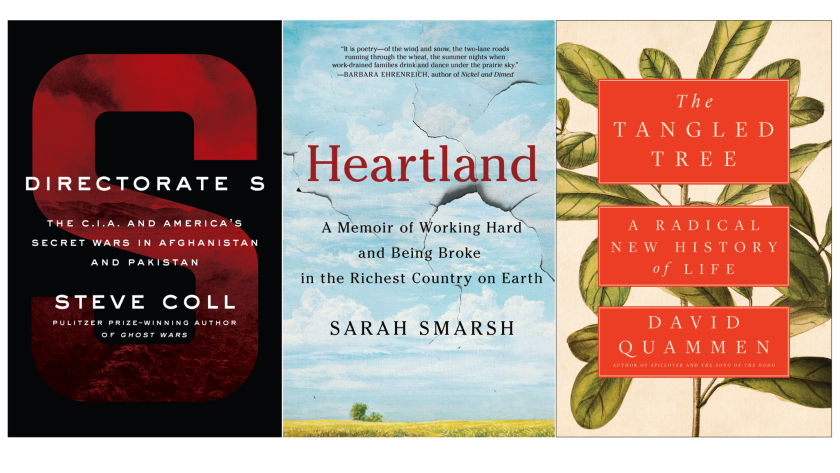 <p>The longlist for the National Book Award for Nonfiction was announced on Wednesday, with books on history and social issues making up the bulk of the nominations.
Notable titles on this year's list include Steve Coll's "Directorate S: The C.I.A. and America's Secret Wars in Afghanistan and Pakistan," David Quammen's "The Tangled Tree: A Radical New History of Life" and Carol Anderson's "One Person, No Vote: How Voter Suppression Is Destroying Our Democracy."
Anderson is one of a few authors nominated for a book about social and economic issues. Joining her on the list are UCLA law professor Adam Winkler ("We the Corporations: How American Businesses Won Their Civil Rights") and Harvard University fellow Sarah Smarsh ("Heartland: A Memoir of Working Hard and Being Broke in the Richest Country on Earth").
Some of the nominated books focus on history, including Colin G. Calloway's "The Indian World of George Washington: The First President, the First Americans, and the Birth of the Nation," Jeffrey C. Stewart's "The New Negro: The Life of Alain Locke" and Victoria Johnson's "American Eden: David Hosack, Botany, and Medicine in the Garden of the Early Republic."
California social critic Rebecca Solnit, author of "Men Explain Things to Me," made the longlist for "Call Them by Their True Names: American Crises (and Essays)."
A shortlist of five nominated books will be revealed on Oct. 10. The winners of the National Book Awards will be announced at a ceremony in New York on Nov. 14.
The full list of nominated books is below.
"The Indian World of George Washington: The First President, the First Americans, and the Birth of the Nation" by Colin G. Calloway (Oxford University Press)
"One Person, No Vote: How Voter Suppression Is Destroying Our Democracy" by Carol Anderson (Bloomsbury)
"Directorate S: The C.I.A. and America's Secret Wars in Afghanistan and Pakistan" by Steve Coll (Penguin Press)
"Brothers of the Gun: A Memoir of the Syrian War" by Marwan Hisham and Molly Crabapple (One World)
"American Eden: David Hosack, Botany, and Medicine in the Garden of the Early Republic" by Victoria Johnson (Liveright)
"The Tangled Tree: A Radical New History of Life" by David Quammen (Simon & Schuster)
"Heartland: A Memoir of Working Hard and Being Broke in the Richest Country on Earth" by Sarah Smarsh (Scribner)
"Call Them by Their True Names: American Crises (and Essays)" by Rebecca Solnit (Haymarket Books)
"The New Negro: The Life of Alain Locke" by Jeffrey C. Stewart (Oxford University Press)
"We the Corporations: How American Businesses Won Their Civil Rights" by Adam Winkler (Liveright)
---