'Black Panther' director Ryan Coogler will join Ta-Nehisi Coates at his L.A. book tour stop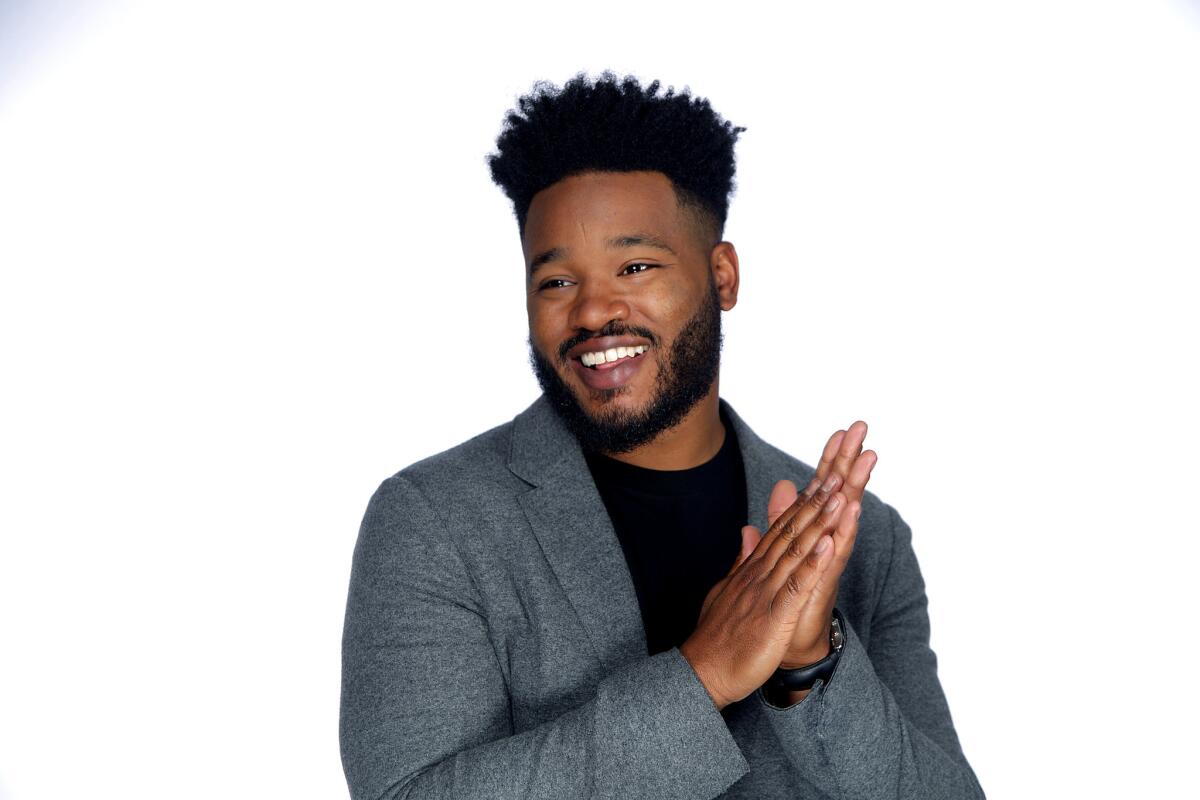 National Book Award-winning author Ta-Nehisi Coates will bring his new book tour to Los Angeles in October, where he'll be joined by a special guest: "Black Panther" director Ryan Coogler.
Coates is scheduled to discuss his forthcoming novel, "The Water Dancer," with Coogler at the West Angeles Cathedral in Jefferson Park on Oct. 17. The conversation will be presented by ALOUD — a program of the Library Foundation of Los Angeles — and local bookstores Chevalier's Books and Eso Won Books.
"The Water Dancer" is the first novel from Coates, best known for his nonfiction bestsellers "Between the World and Me" and "We Were Eight Years in Power: An American Tragedy." The novel follows Hiram Walker, a 19th century African American man with mysterious powers, who escapes slavery and becomes a conductor on the Underground Railroad.
The novel, which will be published by Random House imprint One World, is slated for release on Sept. 24.
Book lovers! Sign up for the new L.A. Times Book Club for upcoming author events »
Coates and Coogler have a major interest in common: Both have created works based on the Marvel superhero "Black Panther." Coogler's 2018 film, starring Chadwick Boseman, Michael B. Jordan and Lupita Nyong'o, was a box-office smash and earned seven Academy Award nominations. Coates is the head writer of the current "Black Panther" comic book series.
In 2017, Variety reported that Coates and Coogler were also working together on an upcoming film, "Wrong Answer." The movie, starring Michael B. Jordan and based on a New Yorker article about a standardized test cheating scandal in Atlanta, is reportedly set to be written for the screen by Coates and directed by Coogler.
Coates' book tour, which will kick off at the Apollo Theater in New York on Sept. 23, will take the author to 20 cities across America. He will have one other stop in California, appearing two nights in October at the Sydney Goldstein Theater in San Francisco.
Coates' L.A. appearance will be co-presented by a local business dear to his heart: Eso Won Books, the 30-year-old Leimert Park bookstore that's become an epicenter of African American literature in Southern California. In 2016, Coates told the New York Times that Eso Won was his favorite bookstore.
"It is part of the larger community of independent bookstores that writers celebrate, but its specific mission is to make sure black authors always have a home," Coates said. "This is important to me, not because it's the world that I spring from but because it is the river I continue to drink from."
Information about tickets for Coates' appearance in L.A. can be found at the Library Foundation of Los Angeles website.
Get the latest news, events and more from the Los Angeles Times Book Club, and help us get L.A. reading and talking.
You may occasionally receive promotional content from the Los Angeles Times.